Resident Evil is one of the biggest franchises in video gaming history.
From its beginnings as a basic survival-horror game (with some of the worst voice acting in history), it has since spawned eight games in the main series (so far) and countless side games and spinoffs.
Oddly for a video game, despite some goofy/weird exceptions most of the guns and equipment from the games are based on real-world weapons, making it an particularly rich source of airsoft loadouts and themed games.
Combat Knife
Resident Evil's Combat Knife is a classic from the series (starting in RE 2, anyway) and does a decent job at hacking and slashing enemies…at least until it breaks when its durability gauge inevitably depletes.
The game's combat knife is essentially modeled on the standard M9 bayonet, which, as we mentioned in our guide to airsoft knives, is essentially the US Army's go-to multipurpose field and utility knife.
The Matrix M9 is an airsoft safe replica of the M9 and is a pretty close replica of what your character might pick up and use in Resident Evil (minus the back serrations).
More than that, the Matrix M9 is comfortable to handle, sports a decent 7 inch rubber blade and is pretty solidly built, making it a very usable and safe airsoft knife.
It's also highly affordable.
Typically sold for under $9, it also won't blow the bank and is ideal for cosplay, decoration and, of course, general airsoft use.
Beretta M92F
While it might not be the most popular weapon in Resident Evil, the M92F pistol is definitely the most ubiquitous.
Practically every game starts the player out with this handy Beretta, and in many cases it stays useful for most of the game.
It was therefore important for us to find an airsoft gun that was both true to the game's design (and true to life) and offered decent performance on the field.
In the end, the choice was pretty clear – we decided on the Tokyo Marui Samurai Edge.
As we discussed in our in-depth review of the pistol, the gun is based on the unlockable M92F "Samurai Edge" Custom and has a variety of really cool Resident Evil details and features including a cool metal "S.T.A.R.S RPD Special Team" engraving and a realistic looking Racoon City badge on the grip.
While it is unfortunately made largely from ABS plastic, the gun is typically Tokyo Marui – well-built and solidly put together – and so should last quite some time if handled properly.
It's also compatible with just about all Tokyo Marui M9/92F parts, so it can be upgraded pretty easily.
In terms of power, the gun chronos at around 270 or so FPS on duster (about 310 or so on green), so while admittedly not all that powerful it is about what we expect from stock Marui pistols and means it should have no issue with any FPS limits you might encounter.
It's also pretty snappy, with its light weight giving it a quick cycle that makes delivering follow up shots super easy.
It's also pretty good on gas, getting around 75+ shots per fill from its 26 round mag.
On the downside, with its fixed hop up the gun is more of a close range option, more at home at sub-50 foot encounters than picking off targets at longer ranges.
It's also not the cheapest pistol out there, usually coming in at around $200.
That said, it is a beautiful looking, well made and highly effective airsoft pistol with cool RE designs and features and, in our opinion, it can be an excellent option whether you're looking for a themed airsoft pistol or looking to step up your cosplay.
Remington M870
This venerable shotgun is featured prominently in most Resident Evil games- not surprising given how popular they can be with real life military and police forces.
Unlike the M92F, though, the weapon looks radically different depending on which game you're playing.
When it comes to airsoft M870s, we tend to favor the Tokyo Marui M870 gas powered shotgun.

There are a number of different variants of these shotguns, from the close quarters-oriented Breacher, ideal for replicating the look and feel of Resident Evil's W-870, to the full size/full stock TM M870s, which are a good match for the series' standard pump-action shotguns.
Whatever variant you decide upon, Tokyo Marui M870 shotguns tend to have a similar build quality.
Gas powered, they are built around a fairly realistic alloy metal frame and tend to be pretty solidly put-together, with smooth pump actions, cool looking (if not true to life) markings and badges, and very little in the way of rattling or looseness in our experience with handling them.
More than that, they tend to feature on-demand multi-shot action, allowing users to switch from a more powerful single shot to a simultaneous blast of up to six BBs, replicating the effect of a real steel shotgun better than most and making them a heck of a lot of fun to use.
Their smooth pump action also makes delivering follow-ups a lot more simple, and their gas-powered action provides a far more exciting and realistic experience than a typical spring-powered option.
One thing to note is that these aren't the most powerful or accurate shotguns out there – mainly hitting at around 300 FPS and to 65 feet or so – but, hey, they're shotguns, not carbines.
Like other Marui options, they aren't the cheapest guns out there, but on the whole they are well worth their price tags, being well-built, gas powered and capable of delivering a cool and fairly realistic shotgun experience.
Or
Grenade Launcher
Resident Evil 3, 5 and 6 all feature a multi-barrel grenade launcher that is, well, a blast to use.
For those interested in having an airsoft multi-barrel of their very own, we recommend the ICS MGL.
For one thing, it looks pretty much identical to the grenade launchers found in Resident Evil games, making it great for enthusiasts and cosplay fans.

More than that, this is one of the few multiple grenade launchers available for airsoft.
Most airsoft grenade launchers are one-shot models, usually based around the M203, but the ICS MGL offers revolver-style multishot functionality – it can be fired six times before you reload it.
So, for sheer firepower alone it earns quite a few points.
The ICS MGL is a very well made gun.
Made from reinforced polymer, the gun is quite durable and its revolver action is very smooth, with its barrels firmly clicking into place with each trigger pull.
The gun is also very customizable with five rails for mounting accessories and other gear, something that's pretty uncommon for airsoft grenade launchers, and is definitely worth taking advantage of.
Finally, this airsoft grenade launcher just feels great to use- the feedback and heft make it feel realistic in the hands, and it's very satisfying to unload a full drum of six grenades to ruin somebody's day.
On the downside, this launcher is a chunky boy.
While it's not all that heavy, weighing in at just under five pounds, it is pretty bulky and, at 28 inches long, around the size of a carbine rifle.
It wouldn't be easy to carry another primary alongside it, so if you choose the ICS MGL , it's almost certainly going to be your main gun in any open field games (aside from a pistol).
That said, as these are generally sold for under $200, they're not overly expensive, especially given their automatic functionality, cool action and accurate (both to real life and the Resident Evil games) design.

Rocket Launcher/RPG
Finally, there have been plenty of different rocket launchers used in the Resident Evil series and they can be a fun addition to any RE-themed loadout.
On the whole, if a big bang is what you're all about, we feel that the Matrix CNC Metal Airsoft RPG is a great choice, being almost a perfect double for the games' rocket launcher, looking very much like those used in Resident Evil 4, 5 and 6.
The Arrow Dynamics/Matrix CNC Aluminum RPG is an all-metal beast, complemented by faux-wood accents of course, and is built to last, meaning you won't have to worry about it giving out on you in the heat of battle.
One notable feature is the folding sights, which are metal and flip up nicely from the frame of the launcher, adding to the overall realism and utility of this RPG.
When it comes to ammunition, the weapon relies on 40mm grenade shells, which are pretty easy to find and aren't that expensive to pick up, which is always nice.
In essence, the RPG located at the top of the gun is a dummy and users slide 40mm airsoft shells into the top portion.
The gun then fires a shower of BBs in a wide arc from the front with every shot…something like an airsoft shotgun on steroids.
Surprisingly, the price tag isn't as daunting as you might expect for a rocket launcher.
At $269, it's a reasonable investment for those who want to embrace the role of a rocket launcher on the airsoft battlefield.
And let's face it – it's an RPG; that alone earns it major cool points.
However, there are some downsides. Assembly can be a bit tricky-it's described as a challenge kit, after all- so be prepared to invest some time and patience.
In addition, it's worth noting that airsoft RPGs are bulky and somewhat cumbersome – if you're planning on using this on the field prepare to commit to the role and configure your loadout accordingly.
That said, the Matrix CNC Aluminum Full Metal Airsoft RPG is an attention-grabbing addition to any airsoft arsenal.
Its durability, reasonable price, and undeniable awesomeness make it a worthwhile investment for players who want to take their airsoft experience or cosplay loadout to the next level.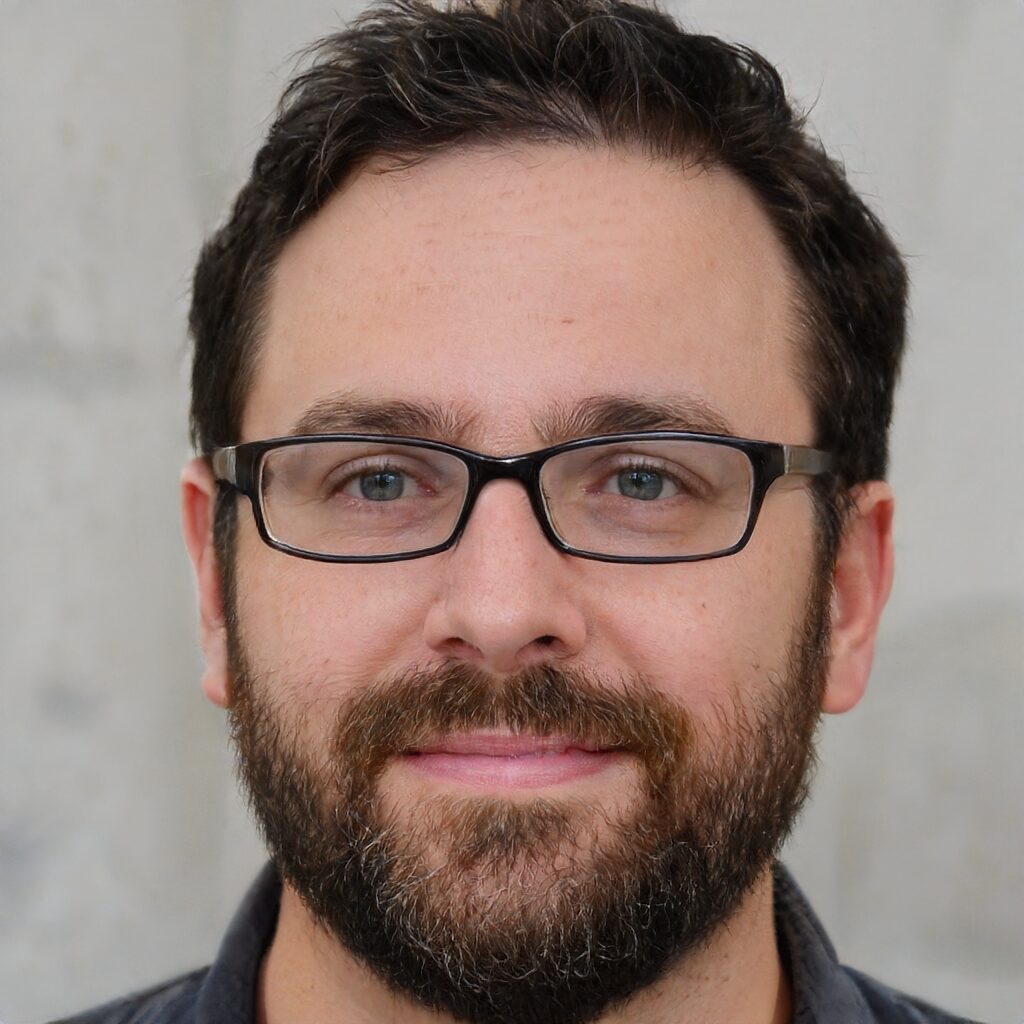 David Lewis – A longtime airsoft and airgun enthusiast and collector, our editor David's lifelong passion for tactical sports began in high school with some friends, a cheap knock-off airsoft M4, and an open field behind his parents' house.

When he's not plinking around, he enjoys sharing his knowledge of airsoft and helping those just starting out.