Ventilate your opponents with this airsoft chopper

Durability and Build Quality

95%
| | |
| --- | --- |
| Pros | Cons |
| ✅ Great value for Money | ❌ Although very realistic, its size and weight can make it a little more cumbersome for some airsoft players |
| ✅ Solid, durably built, full metal | ❌ V6 gearbox has some proprietary parts |
| ✅ Great to look at, vintage style airsoft gun | |
| ✅ Realistic look, feel and weight | |
| ✅ Hits hard | |
| ✅ Surprisingly accurate | |
| ✅ Easy to repair and maintain | |
| ✅ Very easy to adjust hop up | |
There aren't many weapons that are fondly remembered and respected decades or even centuries after their debut, and the list of guns that fit this bill is even shorter.
These guns don't just perform amazingly well, there's something about their design that sticks in the mind and earns them a place in our popular consciousness.
The Thompson submachine gun definitely deserves a place on that list.
Also known as the Tommygun, the Trench Broom and, affectionately, as the Chicago Typewriter for its association with Chicago's organized crime in the 1920s, the Thompson submachine gun still conjures up images of bootleggers and outlaws, loot in hand, trading fire with federal agents.
Yet, despite its popular association with the mob, the Thompson SMG has a more heroic reputation than most realize, being widely used by Allied forces in WW2.
The Tommy gun was issued to officers, NCOs, commandos and paratroopers alike.
Its compact size, high rate of fire and powerful, 45 caliber stopping power made it highly popular and highly effective during raids and in the close-in street fighting troops often found themselves engaged in.
As such an interesting, historic and iconic weapon, it's unsurprising, therefore, that so many airsoft players want to get their hands on one.
Cybergun's Thompson M1A1 AEG is a fully licensed electric airsoft replica of the classic, military-issue Thompson submachine gun and, at first glance, seems fairly faithful to the real steel version.
If you're interested in getting a Tommy for yourself, read on as take a look at this airsoft replica and find out whether it lives up to the legend, or if it's just another tall tale.
Specifications
| | |
| --- | --- |
| Airsoft type | AEG – Submachine Gun |
| FPS | 340-370 @ 0.20g |
| Rounds Per Second | 10-12 |
| Action | Full Auto/Semi Auto |
| Outer barrel | Non-threaded |
| Inner Barrel | Approx. 270mm |
| Hop up | Adjustable |
| Gearbox | Full metal V6 |
| Motor | Long Type |
| Construction | Metal Upper receiverABS lowerWood simulation furniture (real wood on some models)Metal gearing, metal bushings |
How closely does the Cybergun Thompson resemble the real thing?

| | | |
| --- | --- | --- |
| | Cybergun Thompson M1A1 | Auto Ordnance M1A1 |
| Weight (empty) | 6.46 lbs (2.9 Kg) | 10.8 lb (4.9 kg) |
| Length | 31.7 in (805 mm) | 31.9 in(810 mm) |
| Barrel Length | 10.6 in (270mm) | 10.5 in (267 mm) |
| Action | Auto, Semi | Auto, Semi |
| Ammo | 6mm BB | .45 ACP |
| Capacity | 450 hi-cap box | 20-30 round box mag, 50-100 drum |
| Construction | Metal/ABS with wood furniture | Metal with wood furniture |
| Sights | 2-way adjustable Rear | Fixed Rear |
The Cybergun Thompson M1A1 is an officially licensed AEG replica of the Auto-Ordnance Company's Thompson submachine gun and so there is a lot of attention to detail here, which is good for enthusiasts and those into milsim and roleplay.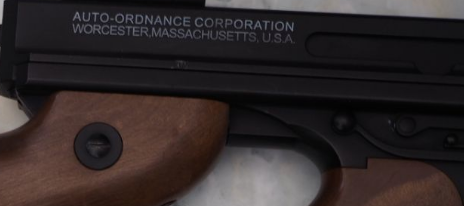 The overall look of the Cybergun Thompson is fairly close to the original, with the body and barrel coming in at approximately the same length.
Similar to Auto-Ordinance's real steel version, Cybergun's model comes with a mock bolt (since it is AEG), and polymer simulated wood furnishings (real wood furniture is also available).
It even comes with an OD green sling, which is kind of fun (although a WW2-era Kerr sling would have been probably more period-correct).
One thing that's kind of cool is that the Cybergun replica keeps a lot of the quirky features that can be found on the original's body, such as the lever-like magazine release, which you sort of press up to use, and the duck billed-safety and fire-select toggles, which are kind of fun even if they do take some getting used to since there are two of them.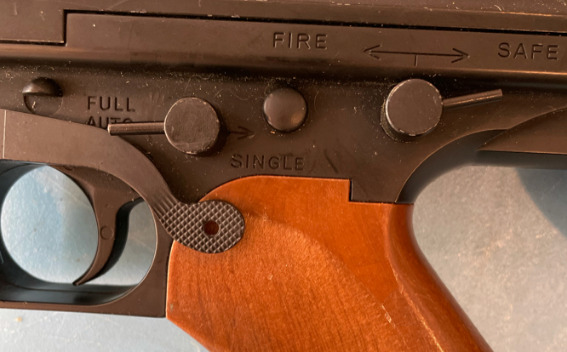 It also has a bit of advantage on the original Thompson in that the rear sights are 2-way adjustable (compared to the real steel's fixed rear sights), which helps with accuracy and shooting.
Also unlike the real steel version of the Thompson, however, the Cybergun M1A1 only has a metal upper receiver, its lower receiver is ABS.
In terms of weight, the Cybergun tips the scale at a hefty 6.46 lbs (2.9 Kg) empty, which feels solid in hand but is still considerably lighter and easier to carry than the beefy 10.5 lb real steel model, which is nice when you actually have to carry one of these around for long periods of time.
Finally, as an officially licensed model, it does have all the markings you might expect, proudly proclaiming the gun as being a Thompson Submachine Gun, being made by Auto Ordnance, and the caliber (6mm, not .45 obviously).
Cybergun Thompson M1A1 AEG: How Does It Perform?
Build-quality and Construction
The Cybergun M1A1's externals are fairly well put together.
It has a metal upper receiver and barrel assembly, which gives it a very to life solid feel, as well as increased durability and heft.
The furniture is made of high quality polymer with a simulated wood grain finish that really does look like wood- this doesn't add much to performance, but is fairly durable, low maintenance and, and as we'll see later on adds quite a lot to its appearance.
There is also the option of purchasing a version with real wood furniture, should you desire.
The combination of metal uppers and fairly durable furniture means that the Cybergun Thompson M1A1 will probably be able to withstand most of the scrapes and bangs of an airsoft game a little better than an all polymer version, especially for those of us who love to run and gun.
This Thompson does use an ABS lower receiver, however, so it's not really a full metal replica. That said, the ABS plastic feels fairly solid and we think should stand up to fairly rigorous use with much of an issue (and probably be less affected by weather).
Similarly, it does come with synthetic wood furniture, i.e. polymer, which looks great but feels like, well, plastic.
This isn't necessarily bad, as it does cut down on some weight and make the gun a little more manageable as an SMG and does withstand casual abuse, dings and scratches a little better than real wood.
The internal components of the Cybergun M1A1 are also well-made. It includes an adjustable hop up and uses a full metal V6 gearbox (like their P90 replicas) with KA steel gears and metal bushings that provides good air seal, is fairly reliable and should be durable enough to last for some time under normal use.
Interestingly, and good news for tinkerers, is the fact that the Cybergun M1A1's internals are Tokyo Mauri compatible.
This means that this airsoft submachine gun is simple to modify or upgrade, and that spare parts (if needed) are very easy to find. While the M1A1's out-of-box performance is very good (more on that below), you can improve it or customize it pretty easily if you want, which is pretty cool.
Altogether the Cybergun M1A1 is very well put together in our opinion.
We heard no rattling when using it, and we didn't feel any wobbling or looseness in the grips. Everything has been fitted together properly, from the grips to the gearbox.
This is actually quite a nice surprise given that the original Thompson (due to manufacturing constraints at the time) was quite well known for its rattling, clattering nature.
One minor issue we had with the Cybergun Thompson M1A1 was the location of its battery. As you might expect, it's set in the butt of the rifle but requires the user to partially unscrew the stock and swing it downwards in order to access it. This isn't ideal, since it is a little more unusual than most other SMGs and makes swapping batteries in general a bit trickier for those familiar with other builds.
This isn't a major flaw, though, and with a bit of practice a user will soon find themselves able to change the Cybergun M1A1's batteries quickly and easily.
The gun is built for an 8.4V battery and while you can upgrade it to a 9.4V (a common upgrade on these) you might need to shave the compartment a bit to accommodate it, which in turn requires a little care so as not to render it unstable.
Performance and Accuracy
Unlike the real steel model, which was developed in the 1920s, the Cybergun M1A1's vintage-looking frame contains all modern parts (a benefit of airsoft replicas), with a pretty torquey all metal v6 gearbox, so it perhaps comes as no surprise that the Cybergun M1A1 lives up to its heritage and delivers pretty impressive performance..
This Thompson is extremely smooth when fired and, in terms of FPS, it delivered around 340-370 FPS in our tests and had a respectable rate of fire, between 6-700 seven hundred BBs per minute (in line with the actual Thompson oddly enough).
This does mean that it is a little on the powerful side as an AEG SMG, in the class of a VFC MP7 and a little more powerful than their stock MP5.
Oddly enough this sort of fits given that the Thompson, is a .45 caliber SMG.
This makes the Cybergun Tommy a pretty good all arounder, and can be great for outdoor skirmishes, but you will have to be careful with indoor and CQB games with stricter FPS limits and may even have to change springs, depending on the field.
In terms of accuracy, the M1A1 delivered the goods in that field too.
Since this is an SMG, and it is a Tommy gun whose main selling point is its looks, we weren't really expecting much in the way of accuracy, but were pleasantly surprised.
We were able to get decent groupings (for an SMG) at ranges of about 50 feet (15m), even getting results when firing on full-auto, which makes this a pretty good medium range option.
The Cybergun M1A1's mag well does get a little getting used to.
It has a sort of track that magazines use to slide home, which can make its box magazines feel a little right or sticky when inserting them.
Similarly, as with the real steel Thompson, you do have to press the magazine release lever to slide mags in, which does add a little extra time to swapping mags and means it's the ideal choice for mag dropping enthusiasts or those who like to slam mags home.
It's important to note that this isn't Cybergun's doing, it is simply how Thompsons were built.
On the other hand, when mags are inserted they are there to stay.
We didn't feel any looseness or wobbly and, importantly, there was no clattering.
This tight and solid fit also meant we didn't experience any feeding issues and fired off volleys of BBs without any real problem.
One thing we did like about the Cybergun M1A1 is that it is Tokyo Marui parts compatible, so its pretty easy to find aftermarket parts to upgrade it should the mood strike you, from magazines to gearboxes.
Handling
The Cybergun M1A1 is an SMG and so is relatively compact compared to full rifles.
Yet, as far as SMGs, at around 31.7 inches (805mm) it is a bit long, mostly due to its classic stock, and is particularly long when compared to more modern historic replicas, such as the ~27 inch MP5, or the ~26 inch Uzi.
Similarly, with its metal construction and furniture, the Cybergun Thompson M1a1 is quite a hefty little piece, even in airsoft form, coming in at a similar weight as a full size AK47 airsoft replica.
This doesn't make the Thompson a bad gun by any means.
Firing and using the Cybergun M1A1 is a very unique experience. It is a very solid and weighty gun and it exudes gravitas.
This is a gun that you just want to hold at your hip and tear things up, but even if you do choose to exert a little more self-control it is surprisingly accurate as well, especially for an SMG.
Similarly, even though it is a bit heavier and bigger than more modern SMG options, at around the same length as an M4 carbine, it will certainly handle just fine in close quarters (and trenches, should you find yourself in one).
We probably just wouldn't use it for speedsofting.
Maintenance
As an AEG, maintaining the Cybergun Thompson M1A1 is fairly straightforward and simple.
Adjusting the hop up is fairly simple, since it's pretty much exposed, and can be done with a very strong fingernail or a small screwdriver.

and taking the thing apart for the occasional lube is really a matter of unscrewing the stock and depressing a couple pins to decouple the receivers.
The solid metal gearbox and gears are pretty decent quality and should last some time and really the most important thing is to keep it clean.
And that is important with these Thompson models.
The Cybergun M1A1 is a fairly realistic replica, which means the ejection port is exposed.

Since the hop up is conveniently located there, over time that grime, dust and dirt can make their way into the gun and the hop up if you're not careful.
Another thing to consider is the gearbox.
The V6 gearbox is quite smooth and delivers impressive power, and it is metal with metal gearing so it should last some time with minimum maintenance.
On the downside, since it is a lot less common than V2s and V3s that float around the airsoft world, it can be a little bit trickier to replace completely if it breaks, and the cylinder heads, nozzles and tappet plates are proprietary to the V6.
That said, it is compatible with most V2 gears, motors, pistons and piston heads, which should cover most repair work and upgrades, should you find yourself in the mood to tinker with it.
Magazine type and capacity
The M1A1 comes out of the box with a hi cap box-type magazine that can hold an impressive 450 rounds.
Like other Thompsons, these mags run on a sort of track system, which requires mags that have particular guiding fins, so you will need compatible mags.
Luckily, this airsoft gun is Tokyo Marui compatible so Thompson mags won't be exactly hard to find online – King Arms, Snow Wolf and (obviously) Tokyo Marui all use Thompson mags that are quite similar.
If you are after a WW2 look, the box magazine should do fine (although the 450 rounds do speed by if you give into the urge to let 'er rip).
If you are in more of a gangland mood, Cybergun's Thompson can obviously be fitted with a hi cap drum mag
Price
Coming in at around $170, with metal uppers, official licensing, quality materials, tight construction and good performance, the Cybergun Thompson M1A1 AEG is pretty good value for money
At this price point it is considerably more affordable than many other licensed metal SMG replicas, such as an MP5 that might cost well north of $250.
All this is especially true when you consider that the Thompson is a pretty niche, historical airsoft gun, which usually tends to command a higher price altogether.
Cybergun Thompson M1A1 Pros and Cons
Advantages
Awesome to look at, accurate Thomspon replica
Although it has some differences here and there that you might expect with an airsoft gun, the Cybergun Thompson M1A1 AEG is a pretty accurate 1:1 replica of the Auto-Ordnance real steel model.

As such, it can be a welcome addition to WW2 milsimers, those interested in role play or those interested in a quality SMG and just want to bring a little old school charm to their local skirmish.
And the Thompson submachine gun is a really cool and interesting airsoft gun style that can add a lot to any historic collection and just feels great to spray BBs with in general .
Good value for money
The Cybergun Thompson M1A1 AEG is an officially licensed replica with trademarks, has metal receivers and metal gearbox, contains some high quality parts, shoots straight, shoots accurately and does this all for under $200.
Like the Thompson itself, that's not something you see everyday.
Solid, well built construction
We found the Cybergun Thompson AEG to be well built, with no rattling or loose parts.
Although not as heavy as the real steel version, the gun still feels nice and hefty in hand, feeling solid and of high quality. With metal uppers and metal gearbox and gearing, it should last for some time as well.
Although its furniture out of the box is simulated, they do feel pretty good for polymer and for those interested in the real thing, there are a number of aftermarket wood kits that fit just fine.
Packs a punch
Much like the real steel .45 cal version, this vintage style Thompson packs a surprisingly modern wallop, easily hitting 340 FPS+ with some users reporting hitting 380 or more from time to time.
Put it on full auto and you can easily hit a true-to-life ROF of 6-700 BBs per minute, which will give your opponents something to think about.
Surprisingly accurate
We'll admit that we didn't have much of an expectation of accuracy for this historical SMG replica and its 270mm inner barrel.
While it's certainly not a sniper or marksman's weapon of choice, the Cybergun M1A1 gave us fairly consistent and tight groupings at 50 feet and could even reliably hit targets further out, making it quite accurate for a typical SMG.
Customizable
Being Tokyo Marui compatible, there are a plethora of aftermarket parts, spares and accessories that can be added to this fairly easily, making it relatively easy to maintain, repair and upgrade.
Users can easily swap out the furnishings, alter the gears, the motor, the piston and more.
Drawbacks
Thompsons have some quirkiness that takes getting used to
With a magazine lever and track system, two safety and fire control switches, and some other odd features, Thompson SMGs are quite different to handle than most modern guns and can take some time for users to get used to.
Bigger and heavier than many modern SMGs
Like other Thompsons, the Cybergun Thompson M1A1 is a big boy. At around 30 inches long and weighing over six pounds empty, this isn't a sleek and compact tactical option that you'll be using to creep around a CQB field or run and gun through a speedsoft game.
V6 gearbox is less common
Although it is all metal, delivers consistent and smooth performance, and is broadly compatible with parts from V2s, the Cybergun Thompson M1A1 uses a V6 gearbox that contains some unique parts and isn't as widely used in other airsoft guns as your typical V2/3.
Battery access is a little odd
To access the battery, users have to partially unscrew the stock and then swing it downwards, which can be finicky.
Similarly, the Cybergun Thrompson comes with an 8.4V battery, which fits well, but if you want to upgrade to a larger battery you might need to do some modification to the stock, which can cause instability if you're not careful.
Bottom Line
The Cybergun Thompson M1A1 AEG offers airsofters good, accurate reliable performance and the unbeatable experience of being able to use a replica of one of the most iconic guns out there.
It uses high quality parts and upgrades easily, so you can keep up with other players or keep pace with your own increasing skill.
It looks good, feels nice in the hand and so, all things considered, if you're looking for a good quality, authentic Thompson airsoft replica, the Cybergun M1A1 is well worth its price tag and hard to beat.
Ted Clark– Hailing from Florida, Ted has been an avid airsoft enthusiast since he was in middle school. When he's not checking out and reviewing airsoft guns, he enjoys picking off his enemies one by one on the field as a sniper.