Shotguns are a popular gun choice for militaries, police and security forces the world over, and are often a standard item for home defense and hunting.
There's a good reason for that: they're large, intimidating and can deliver a devastating blast of shot.
Airsoft shotguns can offer players many of the same benefits and can therefore be a great choice for short to medium range games.
Capable of volleying a barrage of BBs with a single trigger pull, they can be a great addition to any airsoft team arsenal (particularly in CQB) but, as with any airsoft gun, the challenge is in picking the shotgun that's right for you.
There are a ton of different models and makes of airsoft shotgun out there and, sadly, there's also quite a bit of junk, too.
To help figure out which airsoft shotgun is right for you, below you'll find some of the models that we think are the best use of your hard earned money.
Short on Time? Check out our choices for the best airsoft shotguns around
But First, What To Look For In An Airsoft Shotgun
When evaluating an airsoft shotgun, there were a couple of factors which we consider to be quite important to airsofters. These are:
Reliability: In any airsoft match, you need to be sure that you can depend on your weapon to do what it's supposed to.
If an airsoft weapon is finicky or prone to misfires, that's a pretty serious knock against it. Airsoft shotguns have a reputation (deserved or not) for a little looser quality than other replicas, so we always make sure to do our homework, noting any obvious potential points of failure, and take a far closer look at common user complaints.
Performance: Being primarily used in indoor/CQB events, airsoft shotguns are in a tricky position compared to rifles and carbines.
They need to strike a fine balance between delivering enough FPS to be fun to use (and able to actually reach their target) and still being indoor legal.
As a result, when picking an airsoft shotgun we tend to set a lower floor of about 240 FPS and a hard upper limit of 390-400 FPS, since any such airsoft shotgun would violate indoor range limits.
Accuracy vs Spread: Similar to FPS, airsoft shotguns are also in a bit of a peculiar spot when it comes to accuracy. While a shotgun does actually need to hit what it's aimed at at some distance, the point is actually to get a little spread and ideally hitting multiple targets at once.
And it's a fine balance, too.
Too much accuracy and your BBs will all slam into one person which, while hilarious, sort of misses the point. Too much spread, meanwhile, and you risk missing everything.
Cost: Like it or not, very few of us can boast an unlimited airsoft budget. The more you spend on your weapon, the less you'll have to spend on everything else you'll need, like ammunition, gear, accessories, secondaries, etc.
This is especially true for airsoft shotguns that, let's face it, aren't likely to be most people's primary or even day-to-day secondary guns.
A good airsoft shotgun shouldn't be all that expensive, and if it is it should, at the very least, provide enough value to justify its costs.

Weight and Size: Shotguns are primarily an indoor airsoft gun and are intended for more close-in work.
If they are too long, they can be awkward and hard to maneuver in tight spaces. While real steel shotguns can get pretty long for accuracy and range (47+ inches long), we tend to limit our consideration of airsoft shotguns to around 40 or so inches for full length/full stock versions, and favor those that take a more compact form.
Similarly, in terms of weight, while you don't want an airsoft shotgun to feel like a toy, it's also important that it feels solid and is easy to carry, maneuver and shoulder when needed. As such, we tend to favor those that are around 5-6 lbs, which is a fairly realistic weight for a shotgun.
Fun: Airsoft is meant to be fun and therefore an airsoft shotgun needs to be fun to shoot. Fun is very subjective, so we don't usually put a lot of riders on it but, overall, we feel to qualify as fun an airsoft shotgun should feel solid in hand, have a nice feeling action, have a decent recoil and sound (if gas), not be too hard to rack (if a pump) and actually, you know, work.
Best Gas Airsoft Shotgun -Jag Arms Green Gas Shotgun (JAG Arms Gas Scattergun)
| | |
| --- | --- |
| Manufacturer | JAG Arms |
| Power | Gas |
| Action | Full Blowback |
| FPS | ~320-370 FPS @ 0.20g BBs |
| Total Length | 37.4 in (950mm) |
| Weight | 6.01 lbs (1770g) |
| Construction | Metal with polymer (optional wood) furniture |
| Shots | 28 rds per shell, 9 ⅓ or 4 ⅔ shots per shell |
| | |
| --- | --- |
| PROS | CONS |
| ✅ Gas power makes pumping a breeze, especially for follow ups | ❌ Not the cheapest airsoft shotgun out there |
| ✅ Solid construction | ❌ Slightly fewer rounds per shell than others |
| ✅ Easy to refill gas tank | |
| ✅ Compatible with Tokyo Marui shells | |
| ✅ Variable burst modes – 3 and 6 bbs per pull | |
| ✅ Feels great to shoot | |
| ✅ Plenty of variants with different looks and for different purposes | |
| ✅ Even traditional looking models come with easy mounting Picatinny rail | |
| | |
The JAG Arms Scattergun is our top all-around airsoft shotgun for a few reasons.
To start with, its design is a mix of metal frame and polymer furniture (there is also the option of getting them with real wood furniture, giving it a more traditional shotgun look), which gives it a solid feel and a realistic heft – coming in at around 6 lbs it isn't too far off from the real steel Remington 870.

It is a gas-powered airsoft shotgun and is designed to run Green Gas, and so delivers follow up shots a lot easier and quicker than spring models. The gas fills a tank built into the gun – a behemoth of a tank in the stock on HD versions that can fire off 120 shots before refill, and slightly smaller ones in the grip on more tactical models – making the JAG Scattergun easy to refill and gives it a satisfying feel to shoot as well.
Now, it's important to note that Gen 1 JAG Scatterguns did have an issue with gas leaks, but this issue has largely been resolved with new models being sold (Gen 2). And if it does pop up, this issue does fall under the company's warranty, which is nice.
In terms of performance, the JAG has decent power to it as well, firing off its first shot somewhere around 370 and averaging in the range of 330-350 FPS, meaning it should be able to be used in most games, indoors, CQB or outdoors.
Interestingly, the JAG Scattergun has multiple burst mode options. It can toggle between three and six shot firing mode with the flick of a lever located inside the ejection port, letting you conserve ammo or go full rock n' roll, whatever the situation calls for (or whatever you like).
Appearances really do matter, and the JAG Scattergun comes through here too.
Based on the classic Tokyo Marui 870, the traditional looking JAG Scattergun HD looks great, closely resembling a stock real steel Remington pretty closely. Its full buttstock shoulders nicely and the rack is solid and firm without being too hard to pump, in our opinion.
The JAG also comes in a myriad of variants, as well, which can suit different tastes and play types. For example, the JAG Arms Scattergun comes in a modern combat shotgun style with extended picatinny rails, keymods and pistol grips on the SP series and there are a few CQB oriented styles with the Reaper, Super CQB and sawed off models, as well. 
One thing we really liked is that all models come with at least one top-mounted picatinny, for the easy addition of optics or other accessories.
Pricewise, the JAG Scattergun series takes something of an affordable departure from the more upmarket Tokyo Marui 870, usually coming in at sub-$200, or nearly half the price of its airsoft inspiration.
Although not the cheapest airsoft shotgun around by far, considering the more than decent build quality, features and performance, that's not bad value for money.
Check out our in-depth review of the JAG Arms Scattergun Series, or
Best CQB Airsoft Shotgun – Elite Force Tactical Force Tri-Shot Shotgun
| | |
| --- | --- |
| Manufacturer | Elite Force/Umarex |
| Power | Spring |
| Action | Pump (tri shot) |
| FPS | ~250 FPS @ 0.20g BBs |
| Total Length | 22.83 in (580 MM) |
| Weight | 2.43 lbs (1100g) |
| Construction | Metal barrel, polymer receiver |
| Shots | 30 rds/shell, 10 shots per shell |
| | |
| --- | --- |
| PROS | CONS |
| ✅ Inexpensive | ❌ No ready fixed stock – can be harder to use for beginners or to use at range |
| ✅ Highly compact design is easy to maneuver in CQB conditions | ❌ Not the greatest range |
| ✅ Reliable and smooth spring action | |
| ✅ Handy side saddle included | |
| ✅ Three picatinnies, top and on both sides of pump, give more options for optics/accessories | |
| ✅ Pump picatinny rail located on side, a little more user friendly than bottom | |
| ✅ Lightweight | |
| ✅ Solid performance at indoor/CQB FPS | |
| ✅ Decent spread at 100 feet | |
| ✅ Comes with speed loader and 7 shells | |
The Tactical Force Tactical Force Tri-shot is an airsoft shotgun designed for players who like to get up-close and personal.
It's a pump-action, spring-powered tri shot with a short, compact design that makes it a breeze to draw and maneuver in tight spaces and around corners. It's also quite lightweight, at under 3 lbs (1.3 KG) and so is easy to carry as a secondary or as a backup for clearing rooms with a sweeping barrage of BBs.
In terms of look and feel, the Tactical Force Tri-Shot looks like a combat shotgun and feels solid. Despite being made of ABS plastic, it feels sturdy and has a snappy pumping mechanism that adds to the realism.
The Tactical Force comes complete with a side saddle, which aside from looking pretty cool, allows you to store spare shells right on the gun itself. This is really handy, especially with faster paced CQB games where you may not have time to fumble a shell from a belt or pouch.
The Elite Force Tactical Force offers decent performance for a spring airsoft shotgun, delivering around 250 FPS, which while not jaw dropping is perfectly fine considering most indoor/CQB field limits.
Although it's not pinpoint accurate – you won't be sniping other players at range with this shotgun – it offers reliable performance and gives a nice shot spread that can be quite helpful when used in close quarters.
In terms of accessories, the Tactical Force has three picatinny rails, one on top and two on the sliding forestock at the 3 and 9 positions, which makes it quite easy to mount optics and other CQB accessories (such as a flashlight and/or lasers) to it.
Interestingly, unlike many other tactical airsoft shotguns, the side-mounted rails on the forestock are actually a little more logical since they keep the bottom of the forestock smooth and unencumbered for easier racking. .
On real steel shotguns, undermount rails allow users to mount a vertical foregrip, letting users better handle recoil and rack their shotguns a little easier. Given that this is an airsoft gun and doesn't take a ton of force to rack a spring, it's kind of unnecessary and, in CQB, can get caught or hung up on things.
And when not in use, undermount rails are kind of annoying when pumping.
Finally, the Tactical Force Tri-Shot ships with a lot of extras as well, along with your new airsoft shotgun, you'll also get a speed loader and 7 shells, each of which holds 30 BBs (10 shots), so you're able to do a lot of damage right out of the box.
Of course, it isn't all good news.
The Tri-shot's lack of a stock is a bit of a problem. It makes shouldering and racking the shotgun a bit harder than it should be- believe us, you will certainly feel the difference after a long game.
Also, the Tri-Shot is also clearly an indoors and CQB weapon.
Accuracy falls off greatly at mid-range, and hitting small targets past about 100 feet (35m) is tough.
Now, if you're playing CQB, it's barely noticeable, but outside, at longer range, it might be an issue.
That said, given the reasonable price, features and its overall build quality, we think the Tactical Force Tri-shot is a great shotgun for anyone who likes to look their opponents in the eyes.
Best Spring Powered Airsoft Shotgun – CYMA Standard Full Metal M3
| | |
| --- | --- |
| Manufacturer | Cyma |
| Power | Spring |
| Action | Pump (Tri-shot) |
| FPS | ~300-320 FPS @ 0.20g BBs |
| Total Length | 40.98 in (1040 MM) with full stock25 in (635mm) for CQB without |
| Weight | 5.5 lbs (2494g) |
| Construction | Metal receiver, polymer stock |
| Shots | 30 rds/shell, 10 shots per shell |
| | |
| --- | --- |
| PROS | CONS |
| ✅ Entry level price | ❌ Length and strong spring means its a little tougher to pump than some others |
| ✅ Pistol grip makes it very easy to hold and shoulder | ❌ Doesn't come with too many extras and only comes with 1 shell |
| ✅ Full metal receiver adds to durability | |
| ✅ Strong, high powered spring | |
| ✅ High compatible with other shells | |
| ✅ Hits pretty hard | |
| ✅ Accurate with integrated metal sights | |
For its price, the CYMA M3 is one of the better spring shotguns out there for both indoor and outdoor use.
The CYMA M3 is a fairly true to life take on the classic Benelli M3, with a solid 5.5lb (2.5 KG) build that gives it a realistic look, feel and heft.
The CYMA M3 also has a full metal receiver and metal outer barrel that gives the gun a bit more durability, meaning it can stand up to some tougher handling than some of the ABS airsoft shotguns out there.,
There are a couple variants of the CYMA M3 out there, a traditional full shotgun with stock and more CQB-oriented versions with either retractable stocks or without.

Regardless of which model you choose, the CYMA M3 has a combination pistol grip, which makes shouldering and firing the gun easier and far more comfortable, letting users raise and lower it a little more intuitively.
The internals are nothing to sneeze at, either.
A fairly standard triple barrel/tri-shot shotgun, the CYMA has a tight spring that helps it deliver around 300-320 FPS at .20g (pretty good for a spring shotgun) and has pretty good accuracy even well past 100 feet.
In terms of shells, as is typical of CYMA, the M3 is a highly compatible airsoft shotgun and can take shells from Tokyo Marui, Evike, CYMA and others.
Despite this respectable build and performance, the CYMA is also quite inexpensive, coming in just north of $100, making it an attractive option for both beginners and more experienced players alike. .
On the downside, the CYMA M3 tends to be a bit long. With a full stock it comes in at just over 40 inches long. The CQB model comes in around 25 inches long, which while not terrible is a bit longer than some other dedicated CQB airsoft shotguns out there.
The longer length can make it a bit cumbersome to use in close quarters.
Additionally, the CYMA M3 only comes with a single shell, which is fewer than most other airsoft shotguns.
While airsoft shotgun shells are hardly that expensive, especially considering that the CYMA M3 is fairly compatible with a variety of shells, it would have been nice to get more than just one in the box.

Overall, however, we still feel that the CYMA M3 is one of the better spring airsoft shotguns, especially considering its price, performance, ease of use, build quality.
Best Airsoft Shotgun Under $100 – FABARM STF12 Pump Action Tri-Shot
Specifications
| | |
| --- | --- |
| Manufacturer | Bo Manufacture |
| Power | Spring |
| Action | Pump |
| FPS | ~300 FPS @ 0.20g BBs |
| Total Length | 24 in (610mm) |
| Weight | 3.9 lbs (1770g) |
| Construction | Polymer |
| Rounds | 30 Rd per shell (10 shots per shell) |
| | |
| --- | --- |
| Pros | Cons |
| ✅ Sub $100 price | ❌ Pump action is a little stiff at first |
| ✅ Very lightweight | ❌ Not enormously accurate |
| ✅ Modern, tactical look | ❌ Can feel a little plastic-y |
| ✅ Removable front/rear sights for better accuracy | |
| ✅ 20mm Picatinny top and bottom rails for easy accessory mounting | |
| ✅ Decent ~300 FPS | |
| ✅ Compatible with Tokyo Marui Shells | |
| ✅ Stock and pistol grip options available | |
If your heart really says get an airsoft shotgun but your wallet is begging for mercy, the FABARM STF12 Pump Action Tri-Shot is a great budget shotgun that will scatter your enemies without breaking the bank.
Coming in at quite a bit less than $100, the STF12 is a tri-shot shotgun with a fairly modern, tactical look.
It is lightweight, owing to its ABS construction, quite short and easy to handle. At around 24 inches (610mm) it can easily swing around any corner or be slung across your back during a game.
Out of the box, the shotgun comes with a pistol grip, which makes it easy to shoulder, fire and maneuver, as well as two picatinny rails (one top mounted and one undermounted on the forestock), for the easy addition of optics and accessories.
It also comes with removable front and rear metal red/green fixed sights, which are kind of cool to look at.
In terms of performance, you do get a fairly reasonable bang for your buck. The FABARM STF12 delivers about 300 FPS with .20g BBs, which is pretty good for a spring and allows the shotgun to be used in pretty much any indoor or CQB game without much of a problem.
In terms of firepower, it comes with two shells that can hold 30 BBs (10 shots per shell) and can be used with Tokyo Marui shells, making it fairly compatible and easy to shop for.
Finally, it is a licensed model and has FABRAM trademarks. How valuable those might be is highly dependent on the user, but they are nice to look at and are something a little different than the standard Benelli and Remington markings on the field.
On the downside, it isn't the most accurate shotgun out there. It has a decent spread and while it will hit its mark at 100 feet, it's really more for closer work.
Similarly, while the build quality is fairly solid, its pump action can be a little stiff and its lightweight ABS construction can make it feel a little plastic-y sometimes.
That said, all things considered, the FABRAM STF12 is quite affordable, hits hard, offers reliable performance and looks great, making it a great option for those who don't want (or can't) spend a lot of money on an airsoft shotgun.
Best Double Barreled Shotgun – KJW/Farsan 0521 Real Wood Double-Barreled Gas
| | |
| --- | --- |
| Manufacturer | KJW/Farsan |
| Power | Break |
| Action | Gas |
| FPS | ~330-350 FPS @ 0.20g BBs |
| Total Length | 39.37 in (1000mm) |
| Weight | 5.99 lbs (2718g) |
| Construction | Metal alloy frame with optional wood furniture |
| | |
| --- | --- |
| Pros | Cons |
| ✅ Full Size, double barreled airsoft shotgun | ❌ Expensive |
| ✅ Metal alloy frame with real wood furniture | ❌ It is full shotgun size – quite long |
| ✅ Realistic locking break-action | ❌ Not a huge amount of scatter |
| ✅ Dual Trigger/Double barreled- double shots | |
| ✅ Classic double barrel styling with full stock | |
| ✅ Surprisingly accurate | |
| ✅ Barrel end is removable if you want a sawn off look without cutting | |
| ✅ Surprisingly lightweight | |
Not every airsofter is in love with the look and feel of a pump action shotgun. Some prefer the clean, classic looks and style of a traditional double barrel shotgun.
For those who would like to enter an airsoft field lock, stock and with two smoking barrels, the KJW / Farsan 0521 is a great choice.
And that's not just because there are very few double barrel airsoft shotguns, either. The company has put a lot of thought into the construction of the 0521 Double-Barreled Shotgun.
To begin with, it has a metal frame that can be purchased with either polymer or real wood furniture.
We personally like the wood, as it tends to lend the shotgun a far more classic and high quality look, but regardless the Farsan double-barrel is quite well built.
The gun operates with a snappy break action – meaning the barrels snap open and swing downwards for inserting and removing shells. The break lever is very sturdy and feels quite solid, making it very pleasing to crack the KJW open to load it.
The shells are gas-filled and the ones included with the gun can hold up to 5 BBs. When fired, each shell propels their contents towards the target in a single blast, ideally peppering your opponent with 6mm BBs and a healthy dose of awe, shame and regret.
As would be expected of a double barrel, it has two metal triggers meaning you can fire either barrel independently or both together, unleashing a storm of BBs in a single blast at a single target.
If that's not enough, there are additional shells on the market that can be filled with up to 14 BBs per shell, letting you pepper your enemies with up to 28 BBs in one go.
Unfortunately the shells are proprietary to the model and, over time, users may need to replace and lube the o-rings to prevent leaking, although these are fairly easily found at most hardware stores.
On Green Gas, the Farsan 0521 Double Barrel delivers impressive performance of around ~350 FPS with a recoil you can really feel, especially when both barrels are set off.
It is quite accurate as well. There isn't as much scatter with the Farsan 0521 as many other airsoft shotguns, delivering its BBS in a more concentrated area. This shotgun will easily hit targets to 150 feet and, with a little careful aim, will hit well past that.
On the downside, this shotgun is quite long and, with two barrels and traditional shotgun grip, is a little more unwieldy to handle in some CQB games.
And, since it is a classic double barreled hunting shotgun replica, it has no rails or accessory options to speak of.
Beyond its size, while it shoots far and accurately, it does mean that the Farsan 0521 isn't great in terms of spread. At most reasonable ranges, its BBs will hit a single man-sized target, which, while certainly ruining one player's day, means you can't easily get multi-hits.
Finally, this isn't a cheap airsoft shotgun by any means. At just under $300, this gentleman's shotgun isn't for those on a budget.
Overall, though, if you love a classic double barreled shotgun (and you have the money), the KJW/Farsan double barreled gas shotgun can provide performance, accuracy, range and straight up good looks.
Best Electric Airsoft Shotgun – Tokyo Marui AA-12 Sledge Hammer
| | |
| --- | --- |
| Manufacturer | Tokyo Marui |
| Power | Automatic |
| Action | Electric (AES) |
| FPS | ~260 FPS @ 0.20g BBs |
| Total Length | 33 in (810mm) |
| Weight | 9.12 lbs (4135g) |
| Construction | Polymer |
| | |
| --- | --- |
| Pros | Cons |
| ✅ Electric shotgun delivers massive airsoft firepower | ❌ Pretty Expensive |
| ✅ Metal inner frame | ❌ Unique AES Gearbox |
| ✅ Relatively tight, 3x 6.03mm barrels | ❌ Heavy and bulky |
| ✅ Triple hop ups for maximum adjustability | |
| ✅ Unique styling | |
| ✅ CQB/indoor friendly FPS | |
| ✅ Combo picatinny and M-LOK rails for maximum accessory mounting options | |
| ✅ Built in protective FET prevents surge damage | |
There aren't very many automatic electric airsoft shotguns on the market.
Airsoft shotguns are already something of a niche product compared to rifles, pistols and SMGs, and with their scattershot capabilities can be a little tricky to build gearboxes for.
That said, true to their reputation for innovation and quality in airsoft, Tokyo Marui has one and, also true to their reputation, it is something to behold.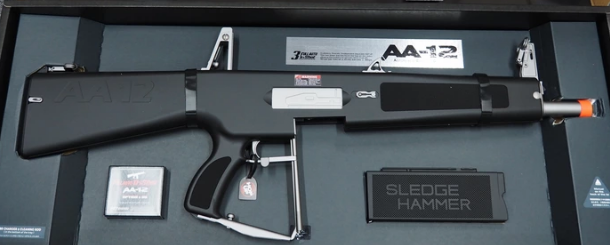 The Tokyo Marui AA-12 is based on the Atchisson AA-12, an automatic combat shotgun originally developed in 1972.
The Tokyo Marui AA-12 has a triangular polymer outer body with a reinforcing metal frame that is built tough.
Although fairly compact for a full length shotgun and stock at 33 inches (810mm), the AA-12 tips the scales at over 9 lbs (4 KG), giving it a substantial and very true to life heft that, luckily, is fairly well balanced and helped along by twin sling attachment points at the huge metal adjustable tower sights.
Everything about the looks of the AA-12 screams intimidation and raw power…and it delivers.
A tri shot automatic shotgun, the Tokyo Marui AA-12 launches BBs from each of its three tight-bore (6.03mm) barrels using a uniquely designed, self-lubricating 3 Cylinder Mechabox gearbox at a rate of 10 RPS.
That's per barrel.
In other words, in total, the Tokyo Marui can output 30 BBs per second.
Like an AEG, it uses a proprietary 93-round midcap magazine (with a rubberized diamond pattern that actually feels quite nice to the touch) and, for when you want to terrorize the field completely, has the option of running a 3 000 round drum magazine.
And you will want the drum since, at 30 BBs/sec, you will burn through the magazine very quickly and, as the big dog on the field, you will attract a volley of return fire as you try and reload.
Also rather uniquely for an airsoft shotgun, the AA-12 uses adjustable hop ups. Three individual hop ups, in fact, that can be set to three individual settings meaning you can customize the spread of your shots to be narrower or wider at distance, which is, honestly, wild.
FPS-wise the AA-12 delivers around 250-260 FPS, which while not particularly impressive (it is a Tokyo Marui after all) means you'll be able to run it in just about any field.
It is, however, highly accurate. The Tokyo Marui AA-12 will reliably drill targets 100-150 feet away with little issue, and can even fire further out due to its adjustable tower sights.
On the downside, as much of a domination tool as it is on the field, the AA-12 is a beast to carry and hold. It is bulky, with a chunky and thick triangular frame, and weighs nearly 10 lbs empty.
This is largely due to its durable reinforcing frame and solid construction, and although it is fairly well balanced, it can be awkward to hold at first and some may find it harder to carry around in longer games.
Additionally, unlike most Tokyo Marui AEGs (and their clones) that can be modified and customized due to their fairly standardized components, the Tokyo Marui AA-12's parts are fairly proprietary due to the way it operates and can't be upgraded or swapped with other components.
In a similar vein, the Tokyo Marui AA-12 only runs on a 8.4V NiMH battery, not being able to run (or shutting down protectively due to its integrated FET) with other voltages or batteries such as LiPos.
The most obvious downside to the AA-12, however, is its price. The AA-12 comes in at just under $500. Although not the most expensive airsoft shotgun on the market, it is quite pricey.
That said, if you can afford it (and can carry it) – buy it.
The Tokyo Marui AA-12 offers unique looks, innovative technology and performance that will let you dominate just about any player on the field.
Are Shotguns Useful in Airsoft- Why buy one?
They're cool
Let's face it – shotguns are cool. They are big, they are intimidating and they have a strong connection to movies, television, music, video games and popular culture in general.
Airsoft shotguns often replicate the look, feel and handling of many popular models, from pump action shotguns, to double barreled classics, to bullpups, combat shotguns and beyond.
Like LMGs, rocket launchers and more, certain airsoft shotguns, such as sawed off, can give users the ability to handle and own a replica of something they would likely never be able to own otherwise due to federal laws and restrictions.
They're fun to use
Looks aside, airsoft shotguns also replicate much of the action of loading and firing a real steel shotgun, making airsoft shotguns something of an experience to use.
Depending on the airsoft replica and its particular action, users can load replica shells, rack a pump, break the breach open, or even cock a lever Terminator-style – there's a lot of good physical action when using an airsoft shotgun that really adds to the overall fun and is extremely satisfying.
They can be great for milsim and themed games
From WW1, WW2, Korea and Vietnam all the way to the Iraq War and beyond, militaries have made frequent use of shotguns for breaching, insurgent control and CQB, and this can be represented on an airsoft field with an appropriate airsoft shotgun.
Similarly, shotguns are a popular feature in many movies, video games and television shows, and those looking to run a particular style or theme (apocalyptic survival or zombie hunting, for example) can use airsoft shotguns to replicate the experience and, well, have a blast.
They can be fairly inexpensive to buy
While some airsoft shotguns can be quite expensive, many good quality models (even full metal gas versions) can be picked up for $100-200 and may come standard with interesting features such as rails, pistol grips and M-LOKs, making them a relatively affordable choice to add to an airsoft collection.
And if you're really on a budget, you can easily get a cheap plastic version for less than $40 (as long as you don't expect it to last very long).
They can deliver a volley of BBs – good for CQB
Airsoft shotguns often use a multi-barrel set up to spray a volley of several BBs per trigger pull (typically 3 in a tri shot), allowing users to hit multiple targets at once, especially in highly confined areas.
And to be honest, if you're quick on the rack, there's nothing quite like unloading 30 or so BBs into a closed room full of other players.
What Problems are typical of Airsoft Shotguns
Non-adjustable hop ups
Unlike most other airsoft guns, many airsoft shotguns don't come with adjustable hop ups (even on more expensive models).
As a result, you can't always adjust the spin on your BBs and so can't really adjust its range.
While this is usually not such an issue with CQB, which is really where airsoft shotguns shine anyway, it does limit their usefulness in other game types.
Difficult repair and modification
Airsoft shotguns are notoriously a pain to open and repair/upgrade compared to their rifle cousins, with many having lots of small screws, delicate parts and tending to break when tinkered with too much.
They also tend to have some fairly complex components, with tri shots having to deal with multiple inner barrels fed through a hop up system and pump action shotguns having a whole additional slide/spring system.
And, as always, the more things that can go wrong, probably will.
Similarly, while seemingly straightforward, spring shotguns in particular are hard to upgrade due to the need to balance the spring power with the ability to rack the gun. It is far too easy, for example, to end up with a shotgun that is just too hard to rack properly.
Similarly, there tends to be fewer parts available for upgrade and replacement of individual guns.
As a result, more often than not, a broken airsoft shotgun ends up being a paperweight and it is usually more time/cost-effective to simply replace them than attempt a repair.
Reputation for poorer quality control
Airsoft shotguns are something of a niche item to airsoft manufacturers compared to their usual money making replicas such as AKs, AR, pistols and more.
As a result, some manufacturers (even those normally known for producing high quality airsoft guns) may not spend as much time ensuring the quality of their shotgun lines, which can lead to loading problems, component issues and sudden, unexpected failures.
Gas airsoft shotguns can fire hot
Despite being ideally suited for CQB, quite a few gas shotguns are actually quite powerful, hitting a FPS of 400+.
While fun to spray your friends with and making them good for getting range, they can be considered illegal to use in many indoor fields.
They sell out quickly
As more of a niche airsoft product, airsoft manufacturers tend not to make quite as many airsoft shotguns as they do AKs and AR variants.
As a result, supply doesn't always meet demand and high quality airsoft shotguns frequently sell out.
Bottom Line
Airsoft shotguns are something of a niche product in airsoft and are prone to a few issues that have given them a questionable reputation over the years in the airsoft community.
Despite this, with their unique actions, they offer a far different handling experience than a typical rifle, SMG or pistol, as there is little as primally satisfying as dramatically racking a shotgun or suddenly giving your enemies both barrels.
All things considered, a good airsoft shotgun can be a lot of fun and add a lot of value to your game, particularly if you love indoor and CQB play.