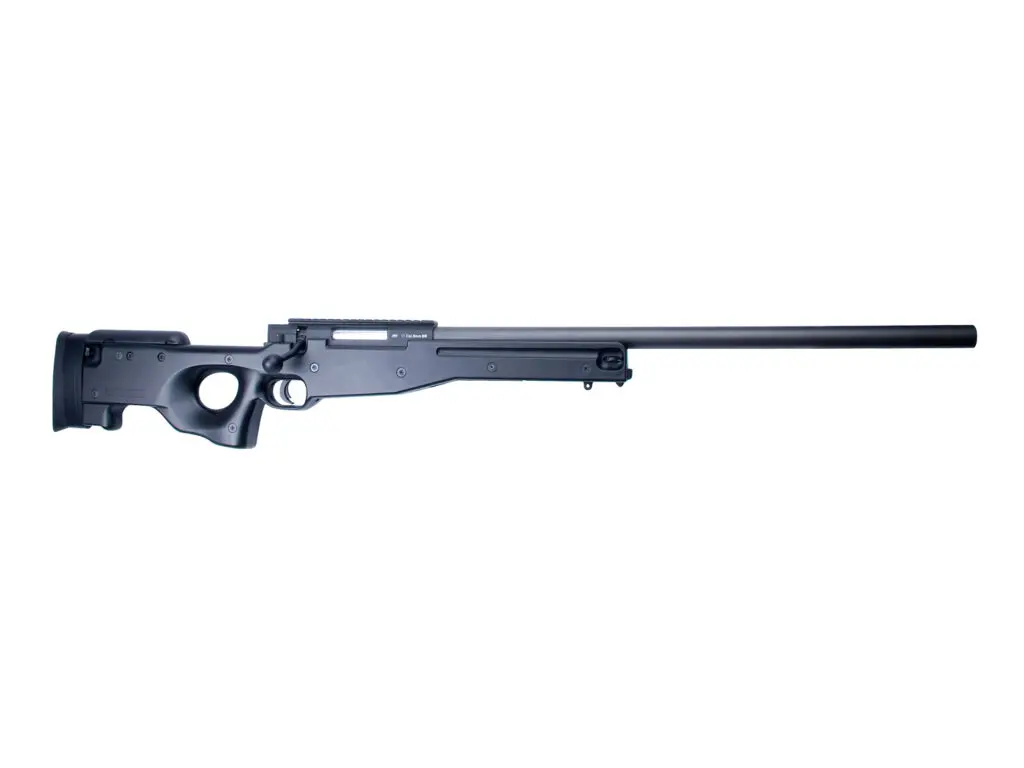 Durability and Build Quality

90%
| | |
| --- | --- |
| ✅ Affordable airsoft sniper platform | ❌ Bipod not included |
| ✅ Well-built, well put together | ❌ Hop up adjustment from bottom of gun |
| ✅ Powerful | |
| ✅ Good accuracy at range | |
| ✅ Cool design | |
| ✅ Comfortable to handle and hold | |
| ✅ Customizable, upgradable | |
| ✅ | |
Based on the renowned Accuracy International AW (Arctic Warfare) 308 sniper rifle, which has been used by military and police forces around the world for decades, the ASG AW 308 has become something of a popular choice for those looking for a first airsoft sniper rifle.

Quiet, reliable, lightweight and pretty affordable, the ASG 308 definitely seems to check off a lot of boxes for airsoft players who want a gun that lets them reach out and touch opponents without giving away their position.
In this review, we'll take a closer look at the ASG 308 sniper rifle, examining its features and performance, to help you decide if it's worth a spot in your collection.
Specifications
| | |
| --- | --- |
| Manufacturer | ASG |
| Power | Spring |
| Action | Bolt |
| FPS | 430 FPS @ 0.20g BBs |
| Hop up | Adjustable |
| Inner barrel | 19.5 inch (495 mm), 6.08mm diameter |
| Total Length | 44.9 inches (1140 mm) |
| Weight | 6.6 lbs (3Kg) |
| Construction | Metal alloy with polymer furniture |
How closely does the ASG AW 308 resemble its real steel counterpart?

| | | |
| --- | --- | --- |
| | ASG AW308 | Accuracy International AW308 |
| Weight (empty) | 6.6 lbs (3 kg) | 14.3 lbs (6.5 KG) |
| Length | 44.9 in (1140 mm) | 46.5 in (1180) |
| Barrel length | 25.1 in (637 mm) | 26 in (660 mm) |
| Construction | Metal with polymer furniture | Aluminum chassis with polymer panels, steel barrel |
| Picatinny rail positions | Top Rail | Top Rail |
The ASG 308 is by and large a pretty realistic replica of the Accuracy International AW308, sharing many of the design elements and aesthetics as its esteemed real steel counterpart.

In terms of physical dimensions, the ASG 308 is 44.9 in (1140 mm) long with an outer barrel length of 25.1 inches (637 mm), which is very close to the real steel AW308's 46.5 in (1180 mm) length and 26 in (660 mm) barrel.
One major difference between the ASG 308 and the AI AW308, however, lies in their weight.
A spring airsoft gun, the ASG AW 308 weighs just 6.6 lbs (3 kg), which is a good deal lighter than the real steel version, which tips the scales at around 14.3 lbs, largely due to the use of more traditional polymer in its build compared to the AW308's famous full-length, panel-covered aluminum chassis.
While this does mean that the gun may not exactly feel 100% like a real steel AS308, it also means that the ASG is easier to handle and maneuver around with for longer periods of time, something that we will discuss a little later on..
Finally, the ASG AW 308 is an officially licensed airsoft replica, so it has official trademarks and markings from Accuracy International across its receiver.
Based on a military rifle, there aren't quite as many logos or trademarks to gaze at as can be found on some other airsoft guns out there, but adds an extra layer of authenticity to the airsoft rifle that we think milsim enthusiasts and collectors will appreciate.

How Well Does the ASG AW 308 Perform as an Airsoft Rifle?
Build-quality and construction
The ASG 308 is based on the L96 platform and is made from a mix of aluminum alloy and polymer materials.

The bolt, bolt handle, barrel, and trigger assembly are all made of metal alloy, which makes them durable and able to withstand the gun's higher FPS spring-powered action.

The aluminum alloy feels solid and sturdy, and it should be able to handle most of the bumps and knocks that the gun may encounter during gameplay.
The gun's lower frame, on the other hand, is made of reinforced nylon fiber polymer, which helps keep the gun lightweight and well-balanced while still providing significant strength and durability.

We found that the fit and finish of the gun were quite good, with minimal wobbling or looseness when we handled it.

The bolt action was smooth, and although the body was made of plastic, it felt firm and didn't flex when we squeezed it, which is always a good thing.
The ASG 308 features a 20mm metal Picatinny-style rail at the top, which makes it easy to attach scopes and other optics to the gun.
One thing to keep in mind is that the ASG 308 doesn't come with any iron sights, front or rear, so an optic of some kind will be required to make any real use of the gun on the field.
Users can, of course, choose to do some drilling and attach their own iron sights if they really want to and have the time and energy for it, but we think that would be kind of silly given the likely purpose of this kind of gun.

It's worth noting that the gun's threaded outer barrel is threaded, albeit a little larger than the standard 14mm CCW threads found on most airsoft guns, at around 20 mm in diameter and positive, which isn't that uncommon for these kinds of bolt actions.

This means that while you can more easily attach your choice of suppressors or other barrel accessories to the gun, you'll probably need an adapter to fit the vast majority of 14mm versions that are out there.
Inside, the ASG is well put together and is a pretty solid example of a Type 96 airsoft rifle, especially for the price.
The AW 308 comes with a metal cylinder, brass ported cylinder head, polymer piston and a metal spring guide, all of which feel solid and should stand up pretty well over time to the gun's action.
The ASG 308 also comes with a standard 6.08mm brass barrel that is smooth and cleanly finished.
The trigger mechanism, meanwhile, is a 45-degree system and quite sturdily built on the inside, with a good amount of thick metal parts.
In general it is a step up from the cheaper pot metals used on other guns in this price range.
While most serious airsoft snipers may want to upgrade to a unit with 90-degree sears to handle stronger springs, the stock internals of the ASG 308 are already very strong and reliable in and of themselves and should do nicely for most beginners.

The ASG 308 comes with a screw-type hop-up unit with a plastic arm that is adjustable from the bottom of the gun.

While this is not a top-down configuration, it's still relatively easy to make adjustments on the fly…unless, of course, you're stuck in a prone position as it will require you to lift the gun to access the hole.
The bucking for the ASG 308 is very similar to a VSR and is quite hard, which gives the gun the capability of handling middleweight BBs quite easily. and it can fit most stock AEG nubs, which is kind of nice and makes upgrading the gun just a little easier.
Performance and Accuracy
In its stock form, the ASG AW 308 is a pretty strong performer.
Out of the box, the gun is capable of delivering quite a wallop, chronoing at around 430 or so FPS using 0.20g BBs.
This makes it considerably more powerful than some other spring powered rifles out there, the TM VSR10 springs instantly to mind, which (combined with a fairly capable ASG hop up unit) can really help send those heavier BBs quite a distance and generally shouldn't fall under most airsoft field sniper limits (usually set at a hard 500 FPS or so for single shot bolt actions).
It's also decently accurate for an entry-level airsoft rifle, particularly once you load it up with heavier weight BBs, such as 0.32s or 0.36s and fit it with some decent optics.
Using 0.36s, we saw the gun fairly easily hit targets at around 150 feet (45 m) out, and even hit somewhat reliably at the 180+ foot (50 m) range, which isn't bad at all.
In terms of feel, the gun's trigger is pretty smooth and the bolt does draw back nicely.
Although not exactly a hair trigger, the pull is pretty light and there is no real play to speak of, which is always nice to see.
The gun isn't the quietest rifle we've ever seen, giving off a good pop when fired, which is perhaps not exactly unexpected when you consider its stock power.
It's not terribly loud but, when compared to the whisper-like VSR, it is something that more stealth-obsessed players may want to plan around when firing from concealment at opponents at mid-range.
Handling and Feel
As we've mentioned, the ASG AW 308 is based on the Accuracy International AW308, which is known for its ergonomic design and comfortable handling.
The ASG comes with a modern looking adjustable (with screw in plates) plastic stock with rising plastic cheek rest that sits solidly in the crook of your shoulder and is fairly comfortable to shoulder for long periods, due to a nice and thick soft rubber butt pad.
The gun's grip is made out of molded plastic and curves gently to the front of the receiver.
This provides ample room for hands of all sizes (gloved and non-gloved alike) and allows users to get a firm, pistol-like grip on the rifle, which can help when keeping things stable at distance.
At around 6.6 lbs, the gun isn't particularly heavy to hold, being mostly on par with other popular airsoft sniper rifles, although with its plastic frame and metal barrel it can be a bit front heavy, especially if you attach a bipod to it.
That said, the balance of the gun is a little less relevant than it might be with an airsoft assault rifle as you're probably going to be lying in wait rather than running with it.
Interestingly, the gun comes with a quick-release bipod attachment, which is kind of cool and can save users the need to screw or clip things into a RIS, although the gun's bipod is sold separately.
The bipod and quick-release system does use a kind of steel pin device, however, which means that it is proprietary to this design and so limits the kinds of bipods you can attach to this rifle (without adding an RIS or drilling some holes into the underside, that is).
Users should note that there is a gas version of the gun, which does come with an RIS on the underside, but this review really is all about the spring-powered version.
As with most other bolt-action airsoft rifles, the ASG AW 308 is largely configured for right-handed shooters as its bolt handle is located on the right hand side.
The mag release, however, is located in front of the magazine itself, which does make things a little easier for left-handed users.
Maintenance and Upgrades
The ASG AW 308 is a spring-powered, bolt action airsoft rifle and is, consequently, quite reliable and less maintenance-heavy compared to a typical AEG or GBBR.
There aren't, for example, any batteries, valves, gears or cartridges to deal with with this gun and, by and large, as long as the main spring and essential compression-building components are intact it should shoot.
If you do have to do some quick repairs or cleaning, disassembling the gun isn't all that tricky.
Once users undo a couple hex screws located on the underside of the gun, having removed the magazine and checked that the gun is empty of course, the lower receiver essentially lifts cleanly off the trigger mechanism and barrel, which can then be separated and dealt with individually.
When it comes to upgrades, the ASG AW 308 is not exactly a Tokyo Marui L96 standard, but it does pretty readily accept APS2 standard parts, being essentially similar to the popular Wells MB01.
You can pretty easily, for example, find upgraded barrels, bipod adaptors, replacement parts, 90-degree trigger units, stainless steel cylinder heads, steel spring guides, hardened pistons, upgraded hop ups and much more.
Magazine Type
The ASG AW 308 comes with a pretty typical metal 30 round box magazine with plastic internals.
When we handled it, the magazine sat pretty securely in the AW and fed very reliably, avoiding some of the double feed issues that plague some rivals.
Further, the gun seems to be broadly compatible with most Well or APS2 Type 96 mags, although they can be a bit of a tight fit and may require some filing.
This general compatibility can lower the cost of ownership (although brand new ASG spares are pretty cheap to buy anyway) and can give users some added flexibility when it comes to mag capacity.
Price
Note: All prices correct as of writing, all prices in USD.
The ASG AW 308 is actually pretty affordably priced.
Usually coming in at just over $120, it is quite inexpensive compared to other sniper rifle platforms such as the Tokyo Marui VSR or the Amoeba, and even fairly affordable compared to other L96 options, such as the CYMA L96, the Tokyo Marui AWS or even the Wells G96.
Although the gun isn't top of the line by any stretch of the imagination, we feel that when you consider its out of the box performance, good build quality and generally decent upgradability, it does make the gun pretty good value for beginners looking to try their hand at airsoft sniping.
Or
Advantages of the ASG AW 308
Affordable
Usually priced at well under $150, the ASG AW 308 is fairly affordably priced as a sniper platform, being considerably less expensive than most other starter guns of similar quality and even more affordable than other notable Type 96s.
Well built
The ASG AW 308 is made with decent alloys and a reinforced polymer frame and is pretty well put together, so it should stand up to most day-to-day handling.
Further, while it's not a top of the line unit, it does use a fair amount of durable metal components on the inside, including a solid trigger unit, a well-finished barrel and a decent hop up unit capable of handling heavier BBs pretty well.
Powerful
The ASG has pretty decent power behind it, as well, chronoing in around 430 FPS with 0.20s, which should give it enough oomph to get the job done but still slide under any bolt-action, single shot FPS limits that a field might have.
Accurate
We saw the ASG AW 308 hit targets fairly easily at around 150 feet or so, and even hit targets past 180 feet without any modification or upgrades, making it a pretty accurate out of the box platform.
Comfortable to handle
The ASG's lightweight and ergonomic design, combined with its nice thick buttpad and modern stock, make it fairly easy to shoulder and handle for extended periods of time – something you always want to see in a sniper weapon.
Customizable and upgradable
The ASG AW 308 is pretty compatible with most APS2 Type 96 parts, which means that finding replacements and upgrades for it isn't that much of a challenge.
Disadvantages
Bipod not included
Although it can accept one and has a quick change system specifically for it, a bipod isn't usually included with the spring-powered ASG AW 308, which is kind of a downer.
In addition, the quick change L96 bipod system, while making things a bit more convenient for the user, does mean that you can't just chuck any old bipod onto the gun unless you get an RIS adaptor.
Hop up could be placed more conveniently
While it does provide decent enough spin, the ASG AW 308 has a screw-type adjustable hop up unit located on the bottom of the gun, which can be a bit hard to adjust on the fly if lying prone compared to a TDC.
Bottom Line
If you're a relative newcomer to the world of airsoft sniper rifles and are looking for a gun that won't break the bank, handles well enough out of the box and still has the ability to accept a few choice upgrades later on, the ASG AW 308 just might be the right gun for you.
Will Martin – Will has been into airsoft and paintball for well over 10 years, and has done it all – from upgrading and fixing gearboxes as a tech to building custom airsoft loadouts for his friends to supporting off those friends as a DM.