Durability and Build Quality

94%
✅ Very cool, aggressive design and trades
❌ Non-programmable
✅ Exceptionally durable, solid
❌ Users may want to upgrade MOSFET eventually
to keep up with performance
✅ High quality, high performance internals
✅ Well put together
✅ Powerful, accurate
✅ Excellent ROF
✅ Easy to use quick change spring system
The Umbrella Corporation Weapons Research Group is as well known in the firearms community for its unique firearms and accessories as it is for its rather intimidating logo and trademarks.
The EMG Helios EMG Umbrella Corporation Weapons Research Group M4 is an officially licensed airsoft gun that successfully replicates many of the design features and details that the company is known for.
With its capable build quality and performance, the EMG Umbrella Corporation M4 made quite a splash among airsoft players upon its release and quickly became a popular and frequently recommended option for beginners and experienced players alike.
To find out if this M4 lives up to its reputation, and to find out if its worth your time and money, we decided to take a closer look.
Specifications
| | |
| --- | --- |
| Manufacturer | CYMA/EMG Helios |
| Power | AEG |
| Action | Semi, Auto |
| FPS | ~ 400 FPS @ 0.20g BBs |
| Hop up | Adjustable |
| Inner barrel | 14.3 inch (363 mm – carbine) |
| Total Length | 35 inches (893 mm) |
| Weight | 6.3 lbs (2.84 Kg) empty |
| Construction | Aluminum alloy receivers, polymer furniture |
Note: The EMG Umbrella Corporation line of M4 airsoft guns come in a variety of different styles (and colors), including a full AR rifle, an M4 carbine, a PDW and an SBR.
While the overall dimensions, inner and outer barrel length and even stock can be quite different between these models (making them handle slightly differently in close quarters), their internals and features (M-LOK, threaded outer barrel, QBS spring change system) are the same and the guns generally offer more or less the same level of airsoft performance.
Consequently, picking between them really boils down to taste and size preference.
While this review focuses on the EMG Umbrella Corporation carbine M4, for the most part the information contained herein can be applied to the entire product range.
How Much Does the EMG Umbrella Corporation M4 Carbine Resemble A Real Steel M4?

EMG Umbrella Corporation M4
Colt M4 Carbine
Weight (empty)
6.3 lbs (2.84 Kg)
6.43 lbs (2.92KG)
Total Length
31 in (812 mm) collapsed

35 in (893mm) extended
29.75 in (756 mm) collapsed
33 in (838 mm) extended
Mag type
STANAG
STANAG
Barrel Length
14.3 inch (363 mm)
14.5 in (368 mm)
Caliber
6mm
5.56×45mm NATO
Construction
Metal
Steel
Rail positions
M-LOK, Top rail
Varies
Inspired by the firearms and accessories produced by the Umbrella Corporation Weapons Research Group, the EMG Umbrella Corporation M4 AEG is a thoroughly modern and custom take on the venerable Colt M4 platform.
To be sure, the EMG does have a classic M4 profile, matching its real steel counterpart pretty closely in terms of its overall size and weight, something that is helped along by its alloy construction.
Further, the gun possesses a pretty typical airsoft AR manual of arms, with its fire selection lever, bolt catch, charging handle, body pins, mag release and more being located pretty much where you would expect and operating in a standard manner.
From there, however, the EMG Umbrella Corporation M4 takes a definite turn towards the more modern and tactical, sporting an M-LOK handguard, full length picatinny rail, custom straight line pistol grip and an aggressive three-prong flash hider.
The gun also sports a rather unique fire selector that replaces the typical AR select fire iconography with a custom, Umbrella pattern – no bullet, bullet and Umbrella (for auto).
This design adds a bit of a unique touch to the gun and is pretty cool.
Although perhaps not exactly a readily familiar motif, it is pretty intuitive to use.
Finally, it is worth noting that the EMG Umbrella Corporation M4 is an officially licensed airsoft gun and sports a number of trades that are laser etched across its receivers.
There is, for example, a cool Umbrella logo on the gun's mag well, as well as a sizable "Umbrella Corporation" brand marking on the reverse.
While perhaps not quite as well-known as Colt or Sig, we feel that these trades are sure to appeal to firearms enthusiasts in the know, airsoft collectors and fans of Sci-Fi/Horror games.
How Does The EMG Umbrella Corporation M4 Carbine Perform As An Airsoft AEG?
Build-quality and construction

The EMG Umbrella Corporation M4 is inspired by CYMA's acclaimed Platinum M4 series, which we've talked about elsewhere, and shares that gun's premium build quality.
The EMG is a full metal affair, sporting high quality aluminum alloy receivers that strike a good balance between overall durability and weight and are generally a significant step up from the usual zinc-heavy pot metals that are seen on many rivals.
This use of metal is complimented by the use of nylon-reinforced polymer, notably in the grip and stock, which is a bit more true to life and considerably more sturdy than ABS.
More than that, EMG has done a good job with the gun's build quality.
When we handled it, we found the receiver and stock to be firmly attached, showing not a whole lot of wobble, rattle or looseness (something that's not exactly uncommon on airsoft M4s, particularly those that use M-LOK or Keymod handguards and crane-style stocks).
Further, all the controls felt properly and securely installed and we felt no looseness when we thumbed them into place/action, which is always nice.
As a result of all this, the EMG Umbrella Corporation M4 is a pretty hardy airsoft carbine overall and we feel that it should stand up to most of what a typical airsoft game can send its way.
In terms of accessories, EMG has provided users with a considerable amount of potential options with this gun.
Notably, the EMG Umbrella Corporation M4 comes with a slim CNC'd aluminum M-LOK handguard.
This gives users the ability to mount accessories to a number of 3, 6, 9 and 12 positions across nearly the entire length of the handguard and gives them a number of offset positions to work with, as well, which aren't usually available in more typical rail designs.
An M-LOK handguard also has the benefit of being considerably smoother than a quad-rail set up, which allows users (particularly those who favor a c-clamp grip) to get a more comfortable hold on the gun and makes it less likely to snag on gear or clothing in CQB situations, which is always appreciated.
In addition, the M-LOK gives the gun a pretty cool and tactical skeletonized look and goes a fair way in reducing the gun's overall weight and front-heaviness.
On the downside, of course, it does mean that users will have to pick up and make use of small floating picatinny rail sections, which will need to be attached first before mounting any accessory.
In addition to the gun's M-LOK handguard, the EMG Umbrella Corporation M4 also comes with a 14mm CCW threaded outer barrel underneath its aggressively-styled flash hider, which makes it quite easy to attach mock suppressors, tracer units and other popular barrel accessories to it.
When it comes to iron sights, the gun does come with some pretty standard metal folding tower sights.
These sights are adjustable and, perhaps more importantly for most players, fold flat when not in use, which (like the M-LOK handguard) helpfully prevents them from snagging or otherwise getting in the way during CQB games.
Inside, it's clear that EMG has put quite a bit of effort into this gun and the internals are actually pretty impressive for a mid-priced airsoft AEG.
The Umbrella Corporation M4 comes with a metal, heavily reinforced and radiused TM-compatible V2 gearbox with 8mm steel bearings.
Inside, users will find factory short-stroked CYMA steel gears in a 13:1 (rather than the usual 18:1) ratio.
In addition, the gun comes with a polymer piston with full metal teeth, an aluminum ported piston head with dual o-rings, a high compression cylinder, steel spring guide and a microswitch trigger.
The gearbox also comes with CYMA's very modern QBS (Quick Buffer System) quick change spring system, which allows users to quickly pop springs in or out of the gun without having to access or open the gearbox.
Instead, users can access the spring guide by simply loosening the castle nut towards the rear of the gun and popping the stock off the buffer tube.
This reveals a cap, which can be unscrewed to allow the spring guide and spring to come out.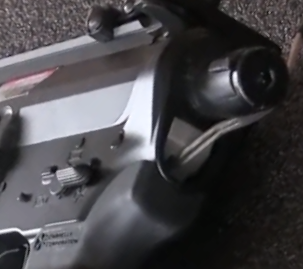 As a result, swapping springs into or out of this gun is super easy and gives the gun quite a bit of flexibility, with most users probably being able to downpower the gun in a parking lot should they be suddenly surprised by an indoor field's FPS restrictions.
The EMG, like the CYMA Platinum M4, does come with an ETU.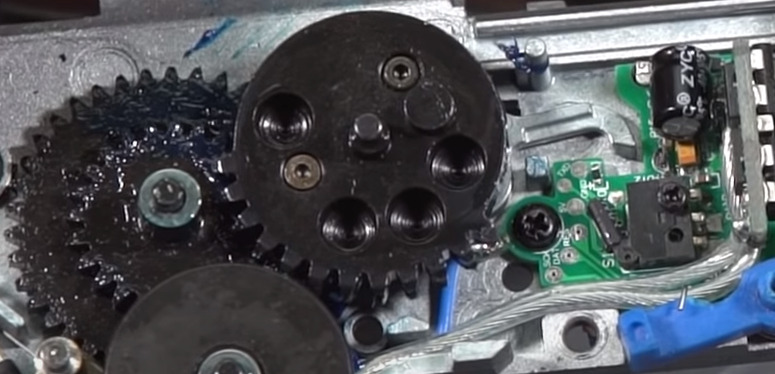 Although a few users did report some issues with the CYMA Platinum MOSFET/ETU in earlier models, CYMA has put a good deal of effort into improving these and modern units are reliable and fairly capable as a result.
That said, they are (sadly) not programmable MOSFET/ETUs and so those interested in adding useful features such as burst mode, pre-cocking and trigger customization will have to upgrade to a 3rd party ETU, such as a Gate Aster or Perun.
Depending on the MOSFET/ETU upgrade, it can take a bit more skill to fit and wire everything up properly due to the metal reinforcements of the gearbox.
Nonetheless, the EMG's gearbox is powered by an impressively torquey and capable ~ 22K / 21TPA motor with neodymium magnets and is propelled through an extremely well-finished and crowned ~363 mm long tightbore brass barrel.
Along the way, BBs pass through a metal CYMA hop up, which (like the Platinum M4 series) provides a good bit of spin and allows the gun to handle heavier weight BBs (.28s, .32s) without any issue.
Sadly, and also like the Platinum, the hop up uses a wheel-like gear adjustment knob, rather than a standard and easier to adjust rotary system, which can make tweaking the gun's hop a little more fiddly.
The EMG Umbrella Corporation M4 does, however, come with a fully-functional bolt catch, which holds the gun's bolt back and means users don't have to fumble around with the charging handle when making hop up adjustments or risk having it suddenly slam back on their fingers.
Finally, when it comes to the gun's stock, the EMG comes with a pretty nice AR-style crane stock.
This stock extends and collapses pretty easily, with several positions to suit users of different arm lengths and, thanks to a pretty thick rubber pad, shoulders pretty comfortably.
It also provides a good deal of space for the AEG's battery, which we always appreciate, and users should have no trouble sliding 11.1V butterflies into the gun.
Users should note that modern iterations of the EMG Umbrella Corporation M4 come wired to Deans, rather than the mini-Tamiyas of previous models, which offers a number of benefits such as slightly greater overall reliability, lower resistance and offers greater ease of use when it comes to removing and replacing batteries.
Performance and accuracy
Much like its construction, when it comes to its on-field performance the EMG Umbrella Corporation M4 is quite impressive.
With 0.20g BBs and fitted with an 11.1V battery, the gun chronos at around 400 FPS, giving it more than enough power to hang with the big boys outdoors and, thanks to its QBS system, is pretty easy to bring down to ~350 FPS to suit indoor and CQB games.
Perhaps even more than that, thanks to its torquey motor and stock short-stroked 13:1 gear set, the gun has an exceptional rate of fire when set to automatic.
On 11.1Vs, it is capable of hitting a blazing 28 RPS, putting it well beyond the capabilities of most of its immediate competitors, such as the Trident or the Ronin, and on par with the speedsoft-oriented G&G SSG-1.
Even when running on comparatively weaker batteries, such as 7.4V LiPos, the gun is still capable of hitting 17 RPS, which still puts it head and shoulders above the typical 13 or 14 RPS that most other airsoft M4s offer.
The gun is pretty accurate as well (when set back to semi, obviously).
We saw the gun get pretty tight groupings at 50 feet (15m) and saw it hit center mass-sized targets pretty reliably to the 180-200 foot range (54-60m).
Consequently, the gun can be an interesting option for those interested in longer-range tactics or (thanks to its readily modifiable V2 gearbox) even those interested in a DMR platform.
Handling
In general, we found the EMG Umbrella Corporation M4 to be pretty easy to handle.
As we've mentioned, the gun comes in a variety of different sizes and configurations, but even the carbine is fairly easy to maneuver around with (at 31 inches collapsed) and is, at just over 6 lbs, pretty easy to carry.
The gun's skeletonized M-LOK handguard makes the front end fairly light, which makes the gun a lot less tiring to carry in a ready position and allows users snap between targets a lot more quickly.
The gun's grip is a little unorthodox.
Designed to replicate those made by the Umbrella Corporation Weapons Research Group, it has a very straight, streamlined profile that offers a reduced angle and lacks the typical lower lip found on most M16-style grips.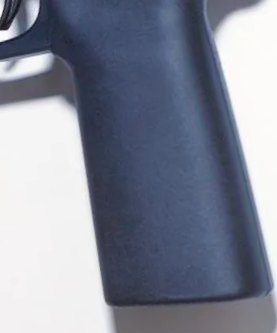 While perhaps a bit unfamiliar to AR-fans, it does allow users to hold the gun at a bit more of a natural angle, which can help in reducing wrist fatigue.
There are two kinds of grips out there, one with little texturing and one with some significant stippling across the front and sides.
While the former can make it a bit more tricky to get a good hold on the gun when wet or when wearing slick gloves, the latter is quite grippy, allows users to grab on to the gun pretty tightly and is what we would recommend those interested in the EMG go for (or upgrade to), if possible.
Finally, the gun is largely configured for right hand use but can be set up to accommodate left-handed users.
While the mag release is right hand optimized, for example, the fire selector is reversible, the QD sling point is ambidextrous and the charging handle can, of course, be drawn by either hand.
Maintenance
As with other airsoft guns based on the AR/M4 platform, the EMG Umbrella Corporation M4 is actually fairly easy to disassemble and maintain.
After locking the bolt back, users simply have to pop the front body pin and slide the upper receiver forwards and off the lower to reveal the gun's gearbox, trigger mechanism, hop up and more.
Similarly, being based largely on the CYMA Platinum M4, finding replacement parts and upgrades for this gun is pretty easy (although it does come pretty well put together out of the box).
Although reinforced pretty well and radiused, the gearbox is a TM-compatible V2 and so finding and replacing gears, cylinders, pistons and more is pretty easy and even cost-effective.
Further, there are a number of CYMA and 3rd party upgrades available for the gun, including improved tappet plates, hop ups, barrels, cylinder heads, valves, MOSFET/ETUs and more, which are fairly easy to find online.
Magazine Type and Capacity
The EMG Umbrella Corporation M4 comes with a polymer CYMA 200 round midcap magazine that comes in a pretty cool, easy to hold Magpul-style design.
On the whole, the magazine fits into the EMG smoothly, locking into place without much force and feeds quite reliably, which is always a good thing.
The EMG does have excellent magazine compatibility, as well, being able to accept most STANAG-style M4/M16 mags, such as those from Matrix, Tokyo Marui, CYMA and others.
This not only allows the gun to make use of the many different types of M4 mags out there (such as low caps, high caps, box mags, tracer mags and more), but also means that it can be quite easy and cheap to pick up spares, which can reduce the gun's long term cost of ownership by quite a bit.
Price
Note: All prices current as of writing. All prices in USD.
As there are a number of different models of the EMG Umbrella Corporation out there, prices can vary quite a bit.
In general, however, the carbine version of the gun comes in at around $320-340 or so.
This does place it at the more affordable end of mid-range AEGs, putting it around the same price range as a Krytac Alpha and making it a little less expensive than the VFC Avalon, Krytac Trident and quite a bit less expensive than a Tokyo Marui MTR16 or ICS CXP.
That said, for the price, the gun does offer quite a bit of value for money, being very well built inside and out, offering good build quality, excellent accuracy, blazing speed, a user friendly design and a good deal of power to boot.
EMG Umbrella Corporation M4 Pros and Cons
Pros
Cool trademarks and looks
With its cool Umbrella Corporation trademarks, unique fire selector and highly aggressive design, the EMG Umbrella Corporation M4 is almost as much fun to look at as it is to shoot.
High quality, high-performance internals
Out of the box, the EMG Umbrella Corporation M4 includes a variety of high performance parts including a heavy duty gearbox, short-stroked, heat treated steel gears in a 13:1 ratio, a full metal toothed piston, microswitch ETU, tightbore brass barrel and much more.
Powerful and accurate
Thanks to the attention paid to its design and build, the EMG Umbrella Corporation M4 can deliver quite a bit of performance on the field, hitting opponents at around 400 FPS and at distances of up to around 200 feet.
Durable and well-built
The EMG is a full-metal build and, being made of solid aluminum alloys and reinforced polymer, it can take most of what can be reasonably thrown at it.
Further, the gun is well put together and we found very little in the way of annoying wobbling, squeaking or rattling when we handled it.
Excellent ROF
Set the EMG to full auto and it can fire off BBs at some pretty impressive speeds – up to 28 RPS with an 11.1V LiPo.
Truly quick quick change spring system
Unlike many of its rivals, the EMG Umbrella Corporation M4 uses a true quick change spring system that allows users to access and swap its spring without having to open the gun or its gearbox.
Cons
Non-programmable
Sadly, while the gun comes with a microswitch ETU, it cannot be programmed for burst mode or other advanced functions.
You'll probably want to upgrade to a high end MOSFET later
The EMG Umbrella Corporation M4 contains a number of high performance internals and can really deliver quite a bit of power and speed when fitted with a decent battery.
Consequently, users might want to upgrade the gun's ETU to a heavier duty 3rd party MOSFET/ETU to both protect the gun's contacts and make the most out of its performance.
Bottom Line
With their durable metal receivers and high quality stock internals that deliver power, speed and accuracy in equal measure, if you're looking for a higher-performance airsoft M4 with cool trades and don't want to spend too much money, the EMG Umbrella Corporation M4 series has you covered.
Will Martin – Will has been into airsoft and paintball for well over 10 years, and has done it all – from upgrading and fixing gearboxes as a tech to building custom airsoft loadouts for his friends to supporting off those friends as a DM.