Durability and Build Quality

89%
| | |
| --- | --- |
| Pros | Cons |
| ✅ Well priced GBB SMG | ❌ Can shoot too hot for CQB out of the box |
| ✅ Very compact, lightweight | ❌ Barrel not threaded |
| ✅ Hits hard | |
| ✅ Accurate at range | |
| ✅ Impressive rate of fire | |
| ✅ Fun blowback action and sound | |
| ✅ Accurate design | |
| ✅ Good gas efficiency | |
Airsoft M4s and AKs are great, capable and are usually great all around options.
But sometimes a situation calls for a more…discrete solution…but one that doesn't skimp on firepower.
The KWA MP9 is something of a legend in the airsoft community, being a compact gas blowback SMG with a reputation for delivering highly capable performance at a price that enthusiasts can actually afford.
To find out if this small gun lives up to its larger than life reputation, we decided to take a closer look.
Specifications
| | |
| --- | --- |
| Airsoft type | Gas blowback |
| FPS | ~380-400 FPS @ .20g BBs |
| Rounds Per Second | ~ 22 RPS |
| Gas Type | Green Gas |
| Outer barrel | Non-threaded |
| Inner Barrel | 5.5 in (140 mm) |
| Hop up | Adjustable |
| Construction | Nylon-reinforced receivers, steel outer barrel |
How does the KWA KMP9 compare to a real steel B&T MP9?
| | | |
| --- | --- | --- |
| | Classic Army Nemesis X9 | AR-19 PDW |
| | | |
| Weight (empty) | 4 lb (1.81 KG) | 3.08 lb (1.4kg) empty |
| Length | | |
| Stock extended | 20.75 in (527mm) | 20.59 in (523 mm) |
| Stock retracted | 11.96 in (304mm) | 11.92 (303 mm) |
| Fire Selection | Semi, Auto | Semi, Auto |
| Ambidextrous safety | Yes | Yes |
| Ambidextrous mag release | No | No |
| Mag type | 48 round 9mm-style Stick type | 15-30rd 9mm sticks |
| Construction | Nylon Reinforced Polymer | Metal |
| Picatinny rail positions | Top, right side, undermount on some models | Top, undermount on civilian TP9 variants |
Overall, the KWA MP9 is a faithful airsoft replica of the B&T MP9, matching its real steel inspiration quite closely both in terms of looks and overall dimensions.
Both the real steel and the KWA MP9 are made from reinforced polymer and are largely the same length and weight, with the B&T (perhaps unusually) being very slightly lighter and fractionally shorter in length.
All the switches, buttons and details are correctly placed and functional on the KWA, including its two stage trigger, selector button and mag release.
There are two versions of the Brügger & Thomet MP9 out there – the milspec MP9 and a semi-auto civilian variant, the TP9.
The TP9 is broadly similar to the MP9, modified slightly to adhere to civilian firearms codes. Most notably, it has a fire selector lever, manual safety and replaces the integrated forward grip with an undermounted Picatinny rail.
The KWA MP9 is largely modeled on the MP9, although it does offer a version with an undermounted rail, in what we can only imagine is something of a nod to the popular TP9.
In terms of trademarks, if you live in the US there are none really to speak of beyond the typical KWA markings.
While not particularly critical to most airsoft players, it might be a bit of a downer for those looking for maximum authenticity.
KWA MP9: How Does It Perform?
Build quality and construction
Like its real steel inspiration, the KWA MP9 is a mostly polymer airsoft gun.
Most of the gun's body and frame are made of nylon-reinforced polymer, with only the outer barrel and bolt carrier (as well as some other switches and buttons) being made of metal.
While perhaps not quite as tough as a full metal build, the reinforced plastics used by the KWA MP9 are fairly high quality and provide it with enough durability to stand up to the typical knocks and bangs of an airsoft game while keeping the overall weight of the gun down significantly.
And KWA has done a pretty good job overall with quality control on the MP9.
The gun feels very rigid and sturdy in hand, the switches and buttons all feel properly installed, snappy and secure, the stock folds back and locks into place nicely, and generally speaking we didn't feel any wobble or looseness when handling it.
The gun comes in two variants – one with a polymer forward grip molded into the lower receiver and one without.
Depending on the model, this means that there can be either two or three picatinny rail attachments on the MP9.
There is a full length top rail, a short rail on the right hand side and, if you choose the model without an integrated forward grip, one on the underside of the gun, as well.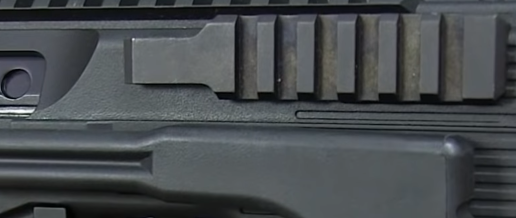 The side rail is, interestingly, made of metal so it should be a little more durable and less prone to chipping when attaching and detaching various accessories, particularly those from real steel firearms, which is nice.
This means that it is pretty easy to add different optics, lasers, flashlights or custom forward grips to this gun, making it quite customizable despite its rather small size.
If you do go with the forward grip-equipped model, the chunky grip is pretty comfortable to hold.
Because the KWA MP9 is an airsoft gun its intended purpose – keeping the gun steadier and on target when on full auto – isn't really a factor here, but it is aesthetically pleasing, true to life and makes the gun just a little easier to handle and maneuver with in close quarters, at least in our opinion.
And although it's not detachable, meaning you won't be able to swap it for a different grip style, being molded into the lower receiver means the grip won't get loose or rattle around when running and gunning.
Also attached to the gun are a pair of plastic sights.
The sights are plain black, and while they can provide somewhat adequate sighting when used in bright areas or on high contrast targets, they aren't the best in low light or when placed on low-contrast targets.

In fact, the front post is a little small and low lying, and can be easily lost on low contrast targets or in low light conditions.
Ultimately while the sights can be used as backup in a pinch, we think you'll probably want to use a reflex or red dot sight with this gun.
Unfortunately, while the KWA MP9 seems like it is just screaming for a suppressor, the gun does not come with a threaded outer barrel but uses a tri lug barrel instead.
While there are suppressors designed specifically to fit this gun, such as those produced by Angry Gun, if you want to add your favorite suppressor or tracer unit, you'll probably need to get an adaptor.
That said, much like the G&G ARP9, the KWA MP9 comes out of the box with an integrated flash hider/amplifier that gives the tiny SMG a pretty impressive sound when fired.
Although probably not ideal when you're trying to creep around your targets or stay stealthy, it does make the MP9 a lot of fun to shoot.
The gun comes with a side folding stock that increases the overall length of the gun by about 8" or so and is made of the same reinforced polymer as the gun itself.
Although made of plastic, the stock is pretty hard-wearing and does its job fairly nicely, avoids the rattle and clatter that cheaper metal stocks can be prone to.
It also locks securely to the side of the gun and stays in place when you're moving around, which is always helpful when you're trying to stay stealthy in a CQB game.
Performance and accuracy
Although small, the KWA MP9 is mighty where it counts – on the field.
Although it runs on green gas, with 0.20g BBs we saw the MP9 hit a very impressive ~380-400 FPS, which is enough to shame much larger primary airsoft rifles and more than enough to send opponents scattering.
On the downside, however, it does mean that out of the box the KWA MP9 is too hot to use in most CQB and indoor games, which is a shame since its construction is ideally suited for tight spaces and fast-paced games.
That said, there is a low power bolt option that can be purchased for and installed in the gun. Doing so drops its power to a far more manageable and CQB-friendly FPS, typically to the low to mid 300s.
There is also a flue valve modification for the MP9 that drops the FPS to more indoor appropriate levels, but installing it is a little more tricky and most users will probably just want to stick with the lower power bolt.
Although the bolt does do the job nicely and make the gun a great and very useful little CQB airsoft gun, it does make things a little more annoying if you like to alternate between indoor and outdoor games.
Like the real steel model, the KWA MP9 is capable of automatic fire as well as semi.
When in full-auto the gun is capable of a pretty impressive rate of fire for a gas gun, with an eyebrow-raising ~22 RPS, about on par with some of the more notable AEG staples of airsoft CQB, such as the ARP9 or Nemesis X9.
Combined with the stock ~400 FPS it isn't, however, something we would recommend that you use on anyone at close range.
In fact, shooting the MP9 on either setting can be something of an experience.
Despite having a two stage trigger, the MP9 is responsive and snappy and the gun has an excellent blowback action, especially for a green gas gun.
The built in metal amplifier gives the gun an excellent rapport, providing a very noticeable "clack" with every shot and the gun's rate of fire makes it an absolute dream to fire on auto, even if it does empty its mag in a couple seconds.
In terms of accuracy and range, the MP9 is certainly no slouch.
Out of the box and firing at full force, we saw decent groupings at 50 feet (15m) and the gun hit man sized targets fairly reliably all the way out to 150 feet (45m).
When on low power, the gun is obviously at home at ranges under 60 feet, but can and will hit targets beyond that.
The guns accuracy is helped along by a pretty decent and fully adjustable hop up unit, which is accessed by drawing the bolt back.
The hop up isn't exactly the easiest to adjust, however, being somewhat recessed and requiring the use of a specialized included tool to really get it moving.
That said, KWA has made the bolt catch fully functional, so the bolt can be locked back and users don't have to try and fiddle around while holding the charging handle back like on some other airsoft guns.
Finally, the KWA MP9 is also fairly gas efficient. On semi, the gun can go through about 2-2.5 magazines before refilling, so it won't cost a lot to run over time.
Handling and feel
Picking up the KWA MP9 the first thing you'll probably notice is its size.
The gun is extremely compact – at around 11.9 inches (304 mm) long with its stock folded (and a hair over 20 inches long when extended), the gun is smaller than most other CQB-oriented SMGs out there, including the G&G ARP9, the Nemesis X9, and even the Krytac Kriss Vector.
And at just over 4 lbs (1.81 KG), it's pretty light and easy to carry, too.
About the size of a large airsoft pistol, and not really weighing a whole lot more, the KWA MP9 really straddles the line between SMG and machine pistol, and its dimensions and weight really make it easy to handle in tight quarters and for extended periods of time.
It also makes the gun exceptionally easy to use one handed, which can come in handy in fast paced and dynamic airsoft games,
The gun's grips are mildly textured, with a 90s style horizontal line pattern around the front and back and continuing to the front of the gun, which gives users a little more to hold on to when drawing the rear charging handle.
Using the gun can be a little unusual for those used to a more AR-style or pistol-style airsoft gun.
Like its mil spec inspiration, the KWA MP9 does not have a selector switch per se but instead has a button running through the grip with two markings – a lone dot and three dots in a triangular formation – indicating semi-automatic and automatic fire, respectively.
While we would wager that most users would probably prefer a more standard selector switch (as found on the real steel civilian TP9), the button-style is fairly intuitive and easy to use once you get the hang of it.
Similarly the gun's mag release is a little unusual.
Rather than being found in front of the trigger, it is located on the grip as a small, ovular metal button.
Finally, the trigger has two stages, with an integrated safety built into it.
To fire off a first round, users have to really give the trigger a deliberate pull to disengage the safety and let off a BB.
The idea here, as with the real steel version, is to limit the chance of an accidental misfire, which the system does pretty well, albeit at the cost of making snapshots a little more challenging to pull off.
Some users don't really mind this longer, somewhat squishy, initial trigger pull, while others can get a little frustrated at times.
Either way it can take a couple tries to really get the hang of it.
In terms of ambidextrousness, the KWA MP9 is something of a mixed bag.
While the selector switch and rear, AR-style charging handle can be used easily with either hand, the sling point and mag release are more right-hand oriented.
Finally, the side-folding stock is a lot of fun to use and, when closed, dramatically reduces the overall size of the MP9 and, helpfully, folds flat and locks nicely into place.
When extended, the plastic stock is very firm and sturdy, which allows users to hold the MP9 on target a little more steadily.
That said, it is a fixed stock and cannot be adjusted for arm length.
While this wasn't much of a problem for us, those with longer or shorter arms may find it a little more challenging to shoulder the MP9 and may therefore prefer to fire it machine pistol style.
Maintenance
Compared to some other SMGs and pistols that we've reviewed, the MP9 does take a bit more work to strip.
In case its looks haven't made it clear, this isn't an M4 clone and taking it down is a little different, although far from the nightmare that some of its more overly dramatic detractors have made it out to be.
Essentially, the KWA MP9 requires users to unscrew a couple fasteners located at the front and top of the gun before pushing a button located at the rear that allow its receivers to come apart.
Once this button is pushed and the screws are out, the top receiver essentially pops off and then it's just a matter of making sure the gun's spring doesn't fly out and get lost.
Making sure routine maintenance is done carefully and on a flat surface, instead of say in the backseat of a car, can go a long way in preventing any sudden disasters.
Magazine type and capacity
The KWA MP9 comes with a fairly long and somewhat heavy 48 round green gas magazine.

Unlike the actual MP9's rather famous polymer magazines, the KWA version is made of metal and is fairly sturdy, being able to take most of the abuse an average airsoft game will throw at it.
For those who aren't fans of the long 48 round mag, there are short 20 round mags available for the gun as well, which sit more flush against the grip.
For those who feel the need to hook the gun up to an HPA system and let 'er rip, there are drum mags for it as well.
In terms of compatibility, the KWA MP9s that use the NS2 system can be a bit more finicky, but tend to accept KSCs using System 7 and those from ASG.
On the downside, mags for hte MP9 aren't exactly cheap and can run up to around $60 or so for a spare 48 rounder (depending on where you shop).
Price
Note: All prices current as of writing, all prices in USD.
In an absolute sense, the KWA MP9 isn't exactly a cheap airsoft gun and can come in around $250-300.
That said, it is a gas blowback SMG and comparable GBB MP7s, UMPs or SMCs can easily cost $100 more, making the MP9 a relatively affordable option all things considered, even if users will probably also have to factor in the cost of a low power bolt to get the most out of it..
In fact, at this price point, the KWC MP9 GBB is competitively priced with some of the big names in airsoft AEG SMGs, such as the ARP9, the Nemesis X9, but significantly less expensive than the Scorpion Evo 3 A1 and the Krytac Kriss Vector.
Overall, then, given the MP9's good build quality, power, accuracy, rate of fire, gas blowback action and its compact size, we feel it can represent pretty good value for money.
Or
Or
KWA MP9: Pros and Cons
Pros
Decent price
Gas blowback rifles and SMGs aren't notoriously all that cheap and are often outside the budget of most airsoft players.
The KWA MP9, however, is a green gas-powered GBB SMG that usually comes in at a sub-$300 price point, putting it in the same ballpark as some popular CQB-optimized AEGs.
Highly compact, lightweight airsoft SMG
At under a foot (30.5 cm) long with the stock collapsed and weighing well under 5 lbs, the KWA MP9 is a highly compact SMG that is very easy to use in close quarters. Users can easily maneuver around obstacles and sweep around with it, all while sending an accurate stream of BBs at their foes.
Powerful
The KWA MP9 knows how to deliver a capable punch.
Out of the box it can send a stream of BBs towards its targets at around 380-400 FPS, which is very respectable.
Accurate
Despite its size the KWA MP9 can deliver accurate fire at range.
Out of the box it is capable of hitting targets at 150 feet out (although you'll probably want to use an optic instead of its integrated sights), and can group nicely at the 50 foot range.
Great Rate of Fire
As an SMG should be, the KWA MP9 is capable of fully automatic fire and does so very capably.
Considering it is a gas blowback airsoft gun, the gun delivers a pretty impressive ~22 RPS and can empty its relatively generous 48 round mag at your opponents in a matter of seconds.
Great blowback action and sound
Although it's only a green gas airsoft gun, thanks to its build and included amplifier, users really can hear and feel the KWA MP9 in action.
Although you might want to invest in a suppressor if strategic stealth is the name of your game, the gun is a lot of fun to fire.
Very accurate replica
While it isn't an officially licensed airsoft replica with all the B&T trades, KWA has done a great job replicating the overall look, feel and even construction of the MP9.
Overall, the gun looks right, feels right, is the right size and all its components and switches are functional and correctly placed.
Good gas efficiency
The KWA gets about 2-2.5 magazines per fill of green gas which, for a gun that delivers a high FPS rate and has great sound and blowback action, isn't bad at all and means that running and gunning with it won't hurt your wallet quite in the long run quite as much as some other options.
Cons
A little too hot for CQB and indoor games
Although its size, weight, design and heritage make the KWA MP9 a natural and somewhat obvious consideration for CQB airsoft games, its out of the box ~380-400 FPS rate means it can be a little too powerful for most indoor and CQB fields with FPS restrictions.
Users interested in using it on such fields will need to invest in a low power bolt or other method of adjusting its power downwards.
No threaded barrel
The KWA MP9 uses a somewhat unusual outer barrel tri lug system and forgoes a more typical 14mm threading.
Consequently, users who want to suppress its sound or add a tracer unit to the barrel will need to purchase specific accessories or adaptors.
Magazines can be a little on the pricey side
Being made of full metal and using a somewhat proprietary gas blowback system, the KWA MP9's magazines, although cool and relatively expansive, can be a little on the pricey side, coming in around $60 (depending on retailer).
Bottom Line
The KWA MP9 has a reputation for being one of the best GBB airsoft SMGs out there.
And it's not hard to see why.
With excellent power, build quality, blowback action, and accuracy all within a frame not much longer than a 1911, and for about as much as some well-known AEGs, whether you're a CQB enthusiast or are just looking for a compact primary the KWA MP9 is a great GBB option to consider.
Will Martin – Will has been into airsoft and paintball for well over 10 years, and has done it all – from upgrading and fixing gearboxes as a tech to building custom airsoft loadouts for his friends to supporting off those friends as a DM.