Durability and Build Quality

96%
| | |
| --- | --- |
| Pros | Cons |
| ✅ Good value for money | ❌ Can be too powerful for some fields |
| ✅ Very realistic AK47 airsoft replica | ❌ EBB introduces extra parts into AEG internals |
| ✅ Powerful | |
| ✅ Highly accurate | |
| ✅ Excellent, durable build quality | |
| ✅ TM-compatible V3 | |
| ✅ Cool electric blowback action | |
| ✅ 14mm CCW threaded barrel | |
| ✅ Nicely finished, real wood furniture | |
CYMA is something of a gold standard when it comes to airsoft AKs, usually offering a good balance of quality, performance and reliability at a more than reasonable price.
The CYMA CM046 is a realistic, mid-range airsoft AK47 with a twist.
It contains an electric blowback system that provides a more realistic firing experience while maintaining the consistency and reliability of an AEG, all at a price that's significantly more affordable than many rivals.
To find out if this airsoft AK47 truly lives up to the CYMA reputation, and to help you decide if it is worth a spot in your collection, we decided to take a closer look.
Specifications
| | |
| --- | --- |
| Manufacturer | Cyma |
| Action | AEG EBB |
| FPS | ~420 FPS |
| Hop Up | Adjustable |
| Inner Barrel | 455mm |
| Outer Barrel | 14mm CCW threaded |
| Total Length | 34.3 in (870 mm) |
| Gearbox | V3 |
| Motor | 22 TPA short type high torque |
| Weight | 7.63 lbs (3.46 kg) |
| Construction | Steel receivers, aluminum alloy barrel assembly, real wood furniture |
How does the Cyma CM046 compare to a real steel AK47?

| | | |
| --- | --- | --- |
| | Cyma CM046 | Kalashnikov AK47 |
| Weight | 7.63 lbs (3.46 kg) | 9.5lbs (3.8 kg) |
| Overall length | 34.25 in (870 mm) | 34.25 in (870 mm) |
| Action | Select Fire Semi/Auto | Select Fire Semi/Auto |
| Caliber | 6mm | 7.62×39mm |
| Capacity | 600 BBs (Hi cap) | 30 round box |
| Construction | Steel, aluminum alloy, wood | Stamped steel, wood |
| Sights | Adjustable AK-type | Adjustable AK-type |
| Rail | None | None |
The CYMA Standard CM046 is pretty much a 1:1 replica of the classic Kalashnikov.
The airsoft rifle is an extremely close match for a real steel AK47, matching it in length, height and overall dimensions pretty closely.
Similarly, CYMA has done an excellent job at matching the AK47's externals, as well.
The CM046 has all the AK features you could want, such as the classic large metal selector switch (with Cyrillic firing options, obviously), adjustable AK iron sights, accurate sling point attachments, and more.

Interestingly, the gun is even constructed like a classic AK47, with a full metal body and actual wood furniture, which gives the gun a classic AK heft.
That said, being an airsoft gun rather than an intermediate caliber automatic rifle from the 1940s, the CYMA is a bit lighter than a real steel Kalashnikov, tipping the scales at around 1.87 lbs less than the famously hefty AK47.
In terms of trademarks or distinctive markings, to the chagrin of collectors, there aren't many to speak of.
Ironically, this can be said to make them a little more like the actual AK47, which tended towards the purely functional and were not exactly not known for their high degree of branding.
CYMA Standard AK47 CM046: How does it perform?
Build Quality and Construction
The CYMA CM046 AK47 is a full metal airsoft rifle.
Its upper and lower receivers are made of decently heavyweight steel, while the gun's barrel assembly, safety switch, sights, charging handle and similar pieces are made of a fairly durable aluminum alloy.
Interestingly, and unlike most other AKs on the market (especially at this price range) the CYMA comes with real wood furniture (stock, handguard and grip) that really give the gun a realistic look and feel.
The wood is pretty decent for an airsoft gun, too.
The materials used are pretty weighty, smooth and have a nice factory finish that make them a significant step up from the usual plastics and metals used on most affordable to mid-range airsoft AKs.
As a result of its build, the CYMA Standard AK is, very much like a real steel Kalashnikov, very tough and durable compared to most airsoft guns and its body is almost certain to be able to hold up to most of the rough, day-to-da handling an airsoft player can throw at it.
While they certainly make the CM046 quite sturdy, the use of metal and wood does, however, make the gun fairly heavy, which is something we'll discuss a little later on.
In terms of build quality, CYMA has done a good job with the CM046.
The gun feels well put together, the charging handle reciprocates smoothly when fired and the selector switch is securely fastened to the frame, clunking nicely into position when used.
Like other airsoft AKs, there can be a slight amount of sideways wobble around the handguard and magazines when twisted hard, but otherwise we found the gun to be pretty solidly and tightly put together and it doesn't make a lot of clattering or noise when running and gunning, which is always a plus with full metal AK47s.
Being a 1:1 replica of a vintage Kalashnikov, there are no rails on this model, so adding optics, modern sights, flashlights, lasers or other accessories can be a lot more difficult than with more modern AKs, such as a 74, an AK12 or even the Vityaz, requiring some modification to the metal body.
The CYMA CM046 does, however, come with a 14mm CCW threaded barrel, so adding mock suppressors and tracer units to the gun is actually quite easy, even if purists may scoff.
When it comes to the CM046's sights, the gun does come with pretty standard and period-correct AK47-style leaf sights located just to the front of the dust cover.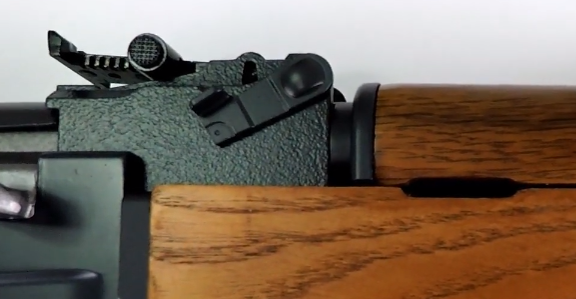 These sights are fully adjustable, with the rear moving up or down with a squeeze of the side buttons and the front with a little metal tool that's included in the box.
Inside, the CYMA Standard AK47 is pretty decent and about what you might expect from a CYMA AK.
The gun comes with a metal, Tokyo Marui-compatible V3 gearbox, with nicely shimmed 18:1 metal gears, metal bushings and bearings, and a plastic, but metal toothed, piston.
Powering all this is a CYMA 22 TPA short-type motor with neodymium magnets that provides a considerable amount of torque for a stock part.
The CM046 also comes with a tightbore brass barrel and a typical AK-style adjustable, slide hop up that offers pretty good spin out of the box and is conveniently located under the charging handle, which can helpfully be kept open by flicking the sector switch to "safe."
The gun doesn't come with a mosfet out of the box, however, so adding one will be necessary if you want to run the gun with an 11.1v LiPo.
One thing to note, however, is that this particular model's gearbox has an electric blowback mechanism, or EBB, and so looks and acts slightly different than a typical TM V3.
Similar to a TM Recoil Shock, the CYMA CM046 gearbox has a physical mechanism that reciprocates and is designed to both provide an added vibration sensation ("recoil") when fired, as well as move the charging handle back and forth in a similar way as a gas blowback.
This can be pretty cool and lots of fun to fire, although it does add a few recoil-specific parts to the gun, such as its piston, to the otherwise standard and highly upgradable V3 gearbox, so finding replacements can be a bit more work than with a non-EBB.
Finally, the gun's battery is located in the stock of the gun, which has plenty of room to accomodate most batteries, especially when compared to airsoft AKs that put their battery compartments under the dust cover.
Oddly, in order to access it, you do need to unscrew the buttstock plate in order to do so. While we suppose this keeps everything nice and secure, it can make taking out the battery a little more annoying and time consuming.
Performance and Accuracy
True to its namesake, the CYMA CM046 AK47 is a hard hitting airsoft assault rifle.
Using 0.20g BBs, we saw the CYMA put out around 420 FPS using a standard 8.4v battery, meaning the gun can easily go toe to toe powerwise with just about any airsoft M4 out there.
That said, it can be too powerful out of the box for indoor and CQB FPS limits and may need a spring change in order to be field legal.
Users should note, however, that the gun does not have a quick change spring system, so upgrading and downgrading the spring can be a little trickier than more modern designs and necessitates the removal of the gun's gearbox.
The CM046 is capable of semi and automatic fire (as is only right for an AK) and is an electric blowback model.
As a result, everytime the gun fires it vibrates pretty noticeably and the metal charging handle quickly reciprocates with a fairly loud metallic clank.
Although, being an EBB system, it will never truly reach the recoil action of a true gas blowback, it does give the gun a more enjoyable and realistic feeling than a standard model while still maintaining the overall consistency and reliability of an AEG.
Some airsofters can be a little EBB-shy.
Typically, electric blowback AEGs are more expensive, the added mechanics in the gearbox can be something that can eventually go wrong, and EBBs are often prone to compression issues.
That said, despite the added components, CYMA has kept the overall sturdiness and quality of the CM046 pretty high, with users online reporting enjoying many years of use without any significant issue.
Similarly, the consistent and high FPS of the gun should put to rest any nervousness about compression that potential users might be concerned with.
Although it's not exactly optics-ready, in terms of accuracy the CYMA is pretty decent with its iron sights.
We saw the gun get decent groupings at the 50 foot range with no problem, and the gun was capable of hitting targets fairly reliably around 150 feet (45 m) or so.
It's not exactly a sniper platform, but it should handle itself well in outdoor games and serves pretty well for casual target shooting and plinking.
Finally, when firing on automatic, we saw the CYMA get around 12-13 RPS, which is decent enough and pretty standard for a stock airsoft gun of this type running without a LiPo.
Handling and Feel
True to AK-form, the CYMA AK46 CM046 is a heavy airsoft gun.
With its all metal construction and use of actual solid wood for its furniture (rather than plastic or even aluminum), the gun tips the scales at nearly 8 lbs (3.46 kg).
Although this does make the gun very realistic (in fact, we would consider a lack of heft on an AK47 to be something of a negative), the gun can be somewhat tiring to carry around for extended periods if you're not used to it.
That said, the CM046 is surprisingly balanced, with most of the weight of its mechanicals kept in the center and the rear wooden stock and battery balanced out by the wooden handguard and metal barrel assembly, the gun is pretty easy to maneuver around with and put on target once you get used to the weight.
When it comes to ergonomics, well…the CM046 is modeled closely after a post-war battle rifle built for function over form and comfort.
The grip and handguards are solid wood and are sanded down and finished quite nicely.
While they look beautiful, feel nice to the touch and are period-correct, they aren't really textured, molded or grippy (especially when compared to modern assault rifles) and things can get a bit slippery when wet.
Finally, in terms of ambidexterity, as an AK the CM046 is more right-hand oriented.
Although the mag release is in an ambidextrous position, the gun's charging handle, selector switch and rear sling mounts are designed for right-hand users.
Magazine type and capacity
The CYMA CM046 AK47 comes with a metal 600 round hi-cap AK-style curved magazine that is pretty sturdy and pretty realistic in size and weight.
It feeds quite reliably and slides into and sits in the magwell pretty solidly, although it can produce a typical hi-cap rattle.
Those who hate hi-caps h can pick up a 140 rd. midcap instead, which is a little smaller but a lot quieter.
There is actually a plethora of magazine types out there for CYMAs and users have their pick, with drums, dual mags and, of course, Bakelites all easily and widely available for the gun.
Finally, being a CYMA, the CM046 has good magazine compatibility as well.
Users can pick up and use mags from Tokyo Marui, LCT, Nuprol, E&L and more, which can keep the gun's overall running cost down.
Price
Note: Prices correct as of writing, all prices in USD.
The CYMA Standard AK47 CM046 typically comes in around the $250 range (depending on retailer).
Although perhaps more expensive than AKs from the more affordable Sports line, the CM046, in true CYMA style, is quite good value for money.
AEGs with electric blowback mechanisms tend to be on the expensive side due to the added components and sophistication of construction, with Recoil Shock AKs from Tokyo Marui for example costing well over $500 and those from LCT costing well over $400.
Add in the fact that this AK47 is well-built, well-put together, accurate and uses steel and real wood in its construction, and we feel the CYMA is quite a good deal overall.
Or
Or
CYMA AK47 CM046 Pros and Cons
Advantages
Good Value
Compared to other name-brand EBB AEGs that can cost $500 or more, the CYMA CM046 is pretty affordable.
Add to the fact that it is a full metal airsoft AK47 replica with high-quality wood furniture, reliable internals, excellent build quality and performance, and the CM046 offers quite a bit of value for money.
Realistic AK47 design
The CYMA Standard AK47 CM046 is a pretty accurate 1:1 replica of a real steel AK47, being a good match for the classic firearm in looks, dimensions and even construction.
Powerful
Out of the box, the CYMA CM046 chronos well over 400 FPS, letting it go toe-to-toe with just about any other primary on an airsoft field, so you won't have to worry about sacrificing power and usability for looks.
Accurate
Although the real steel AK47 was never really known for its laser-like precision, the CM046 is very accurate and long-ranged, easily hitting targets 150 feet (45 m) out with little effort.
High quality, durable construction
True to its inspiration, the CYMA CM046 AK47 is very rugged and well-built.
It is a full-metal construction, with steel receivers and various alloy components, as well as beautiful, well-finished and stained solid wood furniture.
As a result, it is an airsoft rifle that will stand up to most of the rough handling a typical airsoft game can throw at it…and look good while doing it.
Good V3 compatibility
The CM046 uses a metal, TM-compatible V3 gearbox that can take advantage of the wide variety of replacement and upgrade parts that are available for the build, making repairing and/or improving the gun's performance a much simpler and less expensive task.
Electric blowback action is pretty cool
While it's not exactly the same as a gas blowback, the EBB action of the CM046 is definitely noticeable and the metallic back and forth of the gun's charging handle when fired is both enjoyable to hear and a lot of fun to look at.
At the same time, the gun maintains many of the benefits of being an AEG, including more consistent FPS, fewer problems in cold weather, less maintenance requirements and a cheap, rechargeable power system.
Disadvantages
Shoots too hot for some fields out of the box
Out of the box, the CYMA CM046 chronos at 400+ FPS, which means it will probably be way higher than most indoor or CQB field limits will allow.
And because the gun does not come (as of writing) with a quick change spring system, swapping the spring out can be a little more involved.
EBB does introduce some extra parts into the AEG internals
While the CM046 is pretty reliable, as are most CYMAs, the EBB it includes as a part of its gearbox does mean that there are extra parts to keep track of with this gun, some of which may be a slightly different than non-blowback models, such as the piston.
Bottom Line
CYMA is known for its high quality AKs, and if you're looking for an AK47 airsoft gun with a little something extra, the CM046 might just be what you're looking for.
Extremely realistic, reliable, solidly built, accurate at range, powerful and with a noticeable and fun electric blowback action, the CM046 is an AK47 AEG that will bring a smile to your face without blowing your budget.
Will Martin – Will has been into airsoft and paintball for well over 10 years, and has done it all – from upgrading and fixing gearboxes as a tech to building custom airsoft loadouts for his friends to supporting off those friends as a DM.