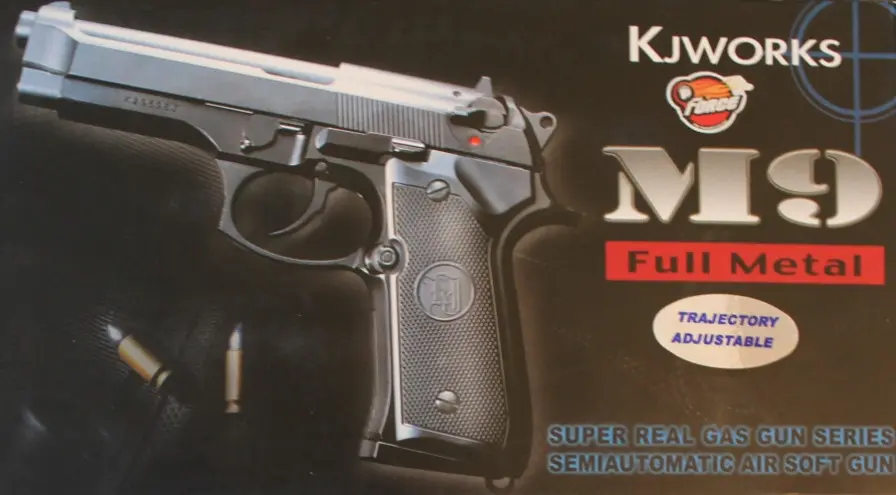 Durability and Build Quality

93%
| | |
| --- | --- |
| Pros | Cons |
| ✅ Durable, full metal construction | ❌ Barrel not threaded |
| ✅ Realistic look and feel | ❌ Grips can be a bit too thick for smaller handed players |
| ✅ Well-balanced power, good for indoor and outdoor games | ❌ Fixed sights |
| ✅ Can run CO2 and green gas without issue | |
| ✅ TM-compatible | |
| ✅ Fun, snappy blowback action and sound | |
| ✅ Pretty accurate with decent range | |
| ✅ Good gas efficiency | |
If you're looking for an airsoft gas pistol that's based on a classic military firearm but those ubiquitous 1911s just aren't doing it for you, an M9 might be what you're looking for.
And if you're in the market for an airsoft M9, chances are you've probably been pointed in the direction of the KJW M9.
Based on the legendary Beretta M9, the KJW M9 has developed something of a reputation for being a sturdy reasonably affordable airsoft pistol that can reliably deliver the goods where it counts – on the field.
To find out if this reputation is well-deserved, and whether it deserves a spot in your collection, we decided to take a closer look at KJ Works' M9.
Specifications
| | |
| --- | --- |
| Manufacturer | KJW |
| Power | Green Gas, Red Gas, CO2 |
| Action | Semi Auto, Gas Blowback |
| FPS | ~ 320 FPS @ 0.20g BBs |
| Hop up | Adjustable |
| Inner barrel | 4.1 inch (105 mm) |
| Total Length | 8.5 inches (217 mm) |
| Weight | 1.41 lbs (640g) empty |
| Construction | Full metal slide and frame |
| Rounds | 25 + 1 |
How closely does the KJW M9 resemble the real thing?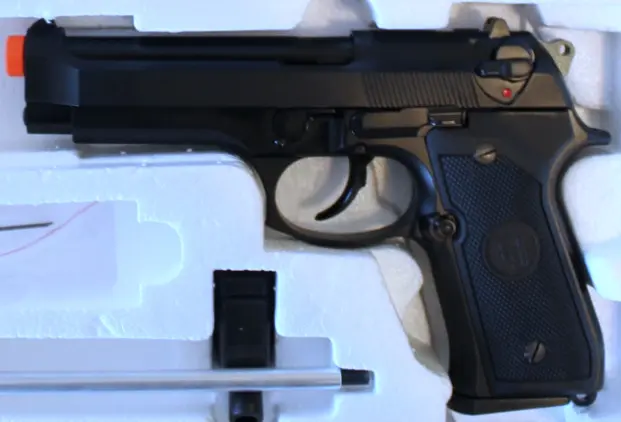 KJW M9
Beretta M9
Weight
1.41 lbs (640g) unloaded
1.98 lbs (~900g) loaded
2.14 lb (970 g) unloaded
2.55 lbs (1.16 kg) loaded
Barrel Length
5 inch (127 mm)
5.87 in (149.10 mm)
Overall length
8.5 in (217mm)
8.5 in (217mm)
Action
Semi automatic
Semi automatic
Caliber
6mm
9mm
Capacity
25+1
15 rounds standard
Construction
Aluminum alloy
Steel
Sights
Adjustable rear
Adjustable rear
Rail
6 O' Clock
None
KJW has an excellent reputation for building accurate and well-made airsoft pistols, and their M9 replica is no exception, matching the real steel Beretta pretty closely in terms of overall dimensions and looks.
In fact, aside from some slight weight differences due to the use of different materials in its construction, the KJW M9 is practically a 1:1 reproduction of the legendary 9mm sidearm.
All the external levers, buttons and details are present and accounted for. These details are located where they should be, including the M9s ambidextrous safety lever, and they are functional.
A notable difference between the KJW M9 and its classic real steel inspiration is that the latter doesn't usually come out of the box with a rail mount.
Although this does detract from the realism a bit, we don't think most users (outside of really picky milsim enthusiasts, anyway) will really mind the added customizability.
In terms of trademarks, well, there aren't really any to speak of.
This isn't a licensed reproduction, so the usual Beretta M9 slide inscriptions are absent from the slide. Similarly, and sadly enough, the tri-arrow Beretta logo is absent from the textured grips. 
There is, however, a nicely stylized gothic-style KJ Works logo that you can look at.
How Well Does the KJW M9 GBB Perform as an Airsoft Gas Pistol?
Build-quality and construction
The KJW M9 is a full metal airsoft gas pistol.
Its frame and slide are made of an aluminum alloy and its internals are similarly reinforced, making the gun fairly durable and sturdy-feeling compared to other semi-auto airsoft pistols, especially those made of cheaper pot metals and more brittle alloys.
This durable construction is actually quite important as the gun is designed to run both green gas and CO2 mags.
Because its internals are reinforced and its slide is made of fairly solid metal, there is less of a likelihood of the gun self-destructing over time due the increased PSI of CO2, something we feel most airsofters will probably appreciate.
The M9 also feels very well put together.
The levers, buttons and slide all function smoothly and feel solidly attached, and there was no clattering or rattling when we handled the gun, which is nice and can be a real benefit if you plan on using the KJW M9 as a stealthy CQB sidearm.
The gun does have some heft to it as well.
With a mag loaded it comes in at just under 2 lbs, which is fairly realistic for an M9 and (along with the metal construction) makes the gun feel a lot more like a real steel firearm.
It should be noted that the outer barrel of the KJW M9 does not come threaded stock, so adding a suppressor can be something of a challenge without purchasing and installing a threaded replacement.
The gun does come with a bottom rail, however, which means that adding a laser or flashlight accessory can be quite easy.
In terms of sights, the KJW M9 comes with replica metal white-dot M9 sights.
These sights sit fairly prominently and are pretty easy to aim with, and their white-dots provide them with better visibility in low light conditions and when aiming at low-contrast targets.
They aren't, however, adjustable, which is something of a drawback.
Inside, the KJW M9 is pretty solidly built, something you might expect given its ability to run CO2 cartridges.
While the inner barrel is brass, the slide is visibly reinforced and the gun comes with a bright blue reinforced and CO2-ready loading nozzle, as well as a fairly thick recoil spring.
The KJW M9 also comes with an adjustable hop up unit, a 0.5mm grub screw style that can be set using an included hex key.
Unfortunately, much like many other TM-inspired 1911 and M9 airsoft pistols, the hop up adjustment is located under the slide, so you'll have to strip the gun in order to adjust the spin, something that's not always so easy to do when the BBs are flying.
Performance and accuracy
Although not an FPS monster on either green gas or CO2, the KJW M9 is a pretty solid performer.
On green gas, we saw the gun get around 320 FPS or so using 0.20g BBs while on CO2 we saw it get around 360 FPS with 0.20s.
This makes the gun a good all-around choice that is ideally suited to most airsoft games, including outdoor and indoor/CQB events.
In terms of accuracy and range, we saw the gun get good groupings to about 50 feet (15 m) and it was able to hit center mass fairly reliably up to about 100 feet (30 m) or so, which is pretty decent for an airsoft pistol.
Some users report being able to hit targets past 130 feet or so with the KJW M9, although we didn't try this ourselves.
Trigger response is fairly smooth and consistent, although its double action pull is a little on the heavy side at around 5 lbs or so.
The gun's blowback action is pretty sweet, as well.
Even when running green gas, when fired the gun's recoil is snappy and, thanks to its metal construction, makes a very enjoyable "clack" with every shot, something that becomes more noticeable on CO2.
In terms of gas efficiency, once its mags are worked in the KJW M9 can get about 90-100 shots per fill, or about 3-4 mags, which isn't bad at all.
Users have, however, reported some issues with the stock mags, such as initially sticky mag valves that can waste gas the first time they are used, although this issue seems to resolve itself after the first reload or so.
Luckily, the KJW M9 has fairly high compatibility with other TM M9 style mags, such as those produced by WE Tech, Tokyo Marui, HFC and Action Army.
Interestingly, the slide lock is actually functional, so the slide remains open when a magazine is empty, a game-friendly feature we always appreciate and that we feel adds a touch more realism to the overall experience.
Handling and feel
In terms of handling, the KJW M9 is a pretty well-balanced and easy to hold airsoft pistol.
At around 8.5 inches (217mm) long it is a full-sized sidearm, around the same size as one of the many popular 1911s out there, such as the Tokyo Marui Hi Capa or the Elite Force 1911 Tac, and has a similar intimidation factor while still being easy to deploy and maneuver around with in close quarters.
At just over 2 lbs (~ 900g) loaded, the KJW M9 has some heft to it, but not enough to be a burden – it weighs somewhere around average in terms of weight for an airsoft gas pistol.
Its weight, combined with its alloy build, means that it feels very much like an actual firearm in hand.
One thing to note about M9s and their replicas, however, is that they are best for medium and large hand sizes out of the box and their profile be a little beefy for those with smaller hands, although thinner grips can help in this matter.
In general, KJW has done a great job replicating the overall design features of a Beretta M9.
The gun has a set of relatively deep serrations towards the back of the slide, which allow users to get a firm grip when racking the slide in all conditions.
At the same time, the gun's checkered plastic grips and backstrap give users a nice, solid hold of the gun, even when wearing gloves or when wet.
KJW's attention to detail extends to the gun's ambidextrousness.
As with a real M9, there is a functional safety located on either side of the pistol, which is good news for left-handed users.
The magazine release is right hand only, however.
Maintenance
The KJW M9 is pretty easy to maintain, all things considered.
It is a pretty accurate replica of an M9 and disassembles in much the same way.
To separate the upper and lower receiver's, you simply Depress and turn the side lock counterclockwise before pulling the slide forward.
Doing so will expose the recoil spring guide, hop up unit and barrel assembly, which are all located in the slide.
From here, users can check for damage, do some cleaning and occasionally apply very light lubricant to the various parts that need it (trigger, hammer mechanism, slide rails, etc.)
They can also adjust the hop up, if need be.
Although not quite as common as an airsoft 1911 clone, replacement parts for the KJW M9 are fairly easy to find online, something that is helped out by the fact that the gun is Tokyo Marui compatible and so will accept many of the ™ parts floating around out there.
Magazine type and capacity
The KJW M9 comes with a 25 round metal magazine.
Depending on what you buy online these can be designed to run on green gas or CO2.
The gun is largely compatible with mags from other Tokyo Marui inspired M9s, such as those by WE, HFC or Tokyo Marui itself.
This can make things a little easier (and potentially less expensive) when buying spares and allows users access to the variety of mags out there for these M9s, such as 50 round long mags and even gas-fed drums.
Accessories & Customizability
In terms of accessories, out of the box the KJW M9 is a little more limited than some other airsoft pistols out there.
While the gun has a undermount rail, which is perfect for adding things like lasers and flashlights, its outer barrel isn't threaded, so it doesn't accept suppressors and barrel-mounted tracer units easily.
That said, because the KJW M9 is TM compatible, there are a ton of aftermarket available for it that can really help usess customize it to taste.
There are, for example, 14mm threaded outer barrels that can be dropped in for those who love their suppressors.
There are also upgraded hop ups and buckings, tighter bore barrels, different spring gauges, various custom grips and much, much more.
Price
Note: All prices correct as of writing, all prices in US.
The KJW M9 tends to come in just north of $100, typically around the $120-130 range depending on the retailer.
This makes it middle of the range as far as airsoft gas pistol prices go, and puts it squarely in the same ballpark as other primary sidearms such as the Tokyo Marui PX4, Elite Force 1911, and the similarly dual-powered ASG CZ P-09.
Although not the cheapest airsoft pistol out there, it is a durable, accurate, reliable and decently powerful airsoft pistol with a flexible gas system that makes it a great all around choice.
And, for those of you who might be sick of them, it isn't another 1911 clone.
Or
Or
Advantages of the KJW M9 GBB Pistol
Durable, full metal construction
The KJW M9 GBB's slide and frame are made out of a pretty solid aluminum alloy.
This allows the gun to better withstand the increased PSI of CO2 and lets it withstand the typical rigors and knocks of airsoft use without much of an issue.
Realistic look and feel
KJW has done an excellent job replicating the overall look and dimensions of Beretta's M9, and the metal construction of their M9 airsoft pistol really makes it feel like you're holding the real steel version.
Well-balanced power
At around 320 FPS on green gas, and 360 or so on CO2, the KJW M9 isn't exactly an FPS monster, but it is a good all around option that can be used in pretty much any airsoft field, whether indoors or out.
Can run CO2 and Green Gas
The KJW M9 can accept both green gas and CO2 magazines, and is built well enough to handle either gas. This means users can take their pick – green gas when faced with stricter FPS limits or CO2 if they are outdoors or when the temperature starts dropping.
Tokyo Marui compatible
The KJW M9 is Tokyo Marui compatible and as such can accept a greater variety of M9 replacement parts, aftermarket accessories and even magazines, all of which make owning the gun a lot easier and more cost effective in the long run.
Snappy blowback and sound
A gas blowback pistol, the KJW M9 has a short, snappy blowback action that makes it a lot of fun to handle and its metal construction gives it a satisfyingly audible clack when fired.
Good gas efficiency
The KJW M9 is also pretty light on gas consumption. On green gas it's not uncommon to see 90-100 or so shots per fill, or about 3-4 mags per fill.
Disadvantages
No threaded barrel
Out of the box, the KJW M9 doesn't come with a threaded barrel, so it doesn't readily accept suppressors or other barrel accessories.
Grips can be a bit thick for those with small hands
As with other M9 replicas, the KJW M9 can be a little wide for players with small hands, who may need to fit thinner grips to compensate.
Fixed sights
The KJW M9's sights are non-adjustable, relying on the under-the-slide hop up to really adjust for elevation.
Bottom Line
With its good looks, solid metal construction, accurate and balanced performance and ability to use both green gas and CO2, the KJW M9 really stands out as an excellent all around airsoft pistol choice.
So if you're in the market for a durable and well-made airsoft gas blowback pistol to use as a sidearm or primary, and you want something that's not a 1911 or Glock, the KJW M9 might be just what you're looking for.
Ted Clark– Hailing from Florida, Ted has been an avid airsoft enthusiast since he was in middle school. When he's not checking out and reviewing airsoft guns, he enjoys picking off his enemies one by one on the field as a sniper.