The Belgian badboy is a well made and affordable airsoft alternative to the M4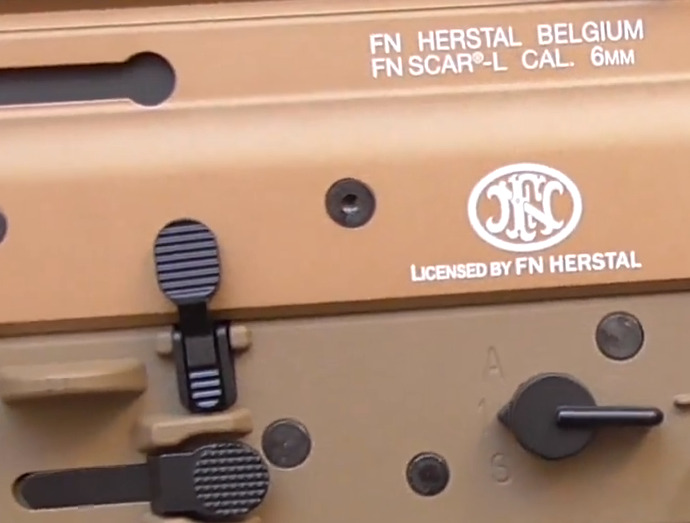 Durability and Build Quality

95%
| | |
| --- | --- |
| Pros | Cons |
| ✅ Reasonably priced, full metal, officially licensed airsoft SCAR | ❌ A little chunkier than a typical M4 to hold |
| ✅ Realistic replica | ❌ Some users reports Hi Caps can be a little snug |
| ✅ Solid build quality | |
| ✅ Good performance and accuracy | |
| ✅ Lots of potential for accessories | |
| ✅ Versatile stock keeps things compact and comfortable | |
| ✅ Great alternative to typical M4s | |
| ✅ Upgradable | |
The Cybergun Herstal FN SCAR-L is an officially licensed airsoft replica of the well-known FN Herstal SCAR-L assault rifle.
The SCAR (Special Operations Forces Combat Assault Rifle) was developed in 2004 and was FN's famous entry into the Special Forces Combat Assault Rifle (SCAR) competition, a trial designed to find a rifle capable of being issued to US Special Operators.
Despite ultimately winning against other esteemed files such as the HK416, and the venerable M4, and being used in field tests by the 75th Ranger Regiment, the SCAR ultimately failed to replace the M16/M4 as an rifle of choice.
It was deemed by Army brass to be ultimately too expensive to fully replace the M4 and the improvements in accuracy and reliability were too marginal to be worth the cost of a project on that kind of scale.
Still, the FN SCAR did find its way into the arsenals of various special forces units over the years, mainly in the form of the SCAR-L and SCAR-H – the SCAR L being the light version of the SCAR assault rifle platform, designed for NATO standard 5.56 rounds, while its big brother the SCAR H is chambered for 7.62.
As an officially licensed replica, Cybergun's SCAR-L can be an affordable way for airsofters to get their hands on this relatively cool and innovative firearm and have something a little different than a standard M4 to take to the field.
But is it worth your money? Let's take a closer look.
Specifications
Airsoft type
AEG – Assault Rifle
FPS
360-380 @ 0.20g
Rounds Per Second
11-12
Outer barrel
Threaded – 14mm negative
Inner Barrel
300mm
Hop up
Adjustable
Motor
Long Type
Gearbox
Full metal V2, metal gears
Construction
Metal upper receiver
Metal barrel assembly
Polymer lower receiver
Folding Stock
Picatinny rail w/ flip up sights
How closely does a Herstal FN SCAR-L Airsoft Rifle resemble the real thing?
Cybergun Herstal SCAR-L Airsoft Model vs. Real-life SCAR L
| | | |
| --- | --- | --- |
| | Cybergun Metal SCAR-L AEG | FN Herstal SCAR-L |
| Weight (empty) | 7.5 lbs (3.4 kg) | 7.28 lbs (3.3 kg) |
| Length | | |
| Stock extended | 30.11 in (765 mm) | 31.02 in (788 mm) |
| Stock retracted | 28.54 in (725mm) | 28.5 in (724 mm) |
| Stock folded | 20.86 in (530 mm) | 21.25 in (540mm) |
| Ambidextrous safety | Yes | Yes |
| Ambidextrous mag release | Yes | Yes |
| Construction | ABS Polymer/aluminum | Polymer/aluminum |
| One piece upper receiver | Yes | Yes |
| Picatinny rail positions | 3, 6, 9, 12 | 3, 6, 9, 12 |
There is a lot of attention to detail with the Cybergun, which should please milsim enthusiasts and everyday skirmishers alike.
As with the original, the airsoft version has fully functional ambidextrous controls for both the magazine release and safety, a folding/flip up front plastic sight, as well as removable and folding rear plastic sights that are adjustable for elevation and windage, and realistic sling and webbing mounts.
In terms of weight the Cybergun comes in at about 7.5 lbs (3.4 kg), which is in the ballpark of an actual SCAR-L, and the airsoft version is roughly the same dimensions in terms of length with stock fully extended, retracted or folded.
Since it is an officially licenced airsoft replica, the SCAR L does come with all the official markings on it that one might expect, including the FN Herstal logo, weapon name and even caliber (6mm, obviously), which gives the gun a very authentic look that airsoft owners will appreciate.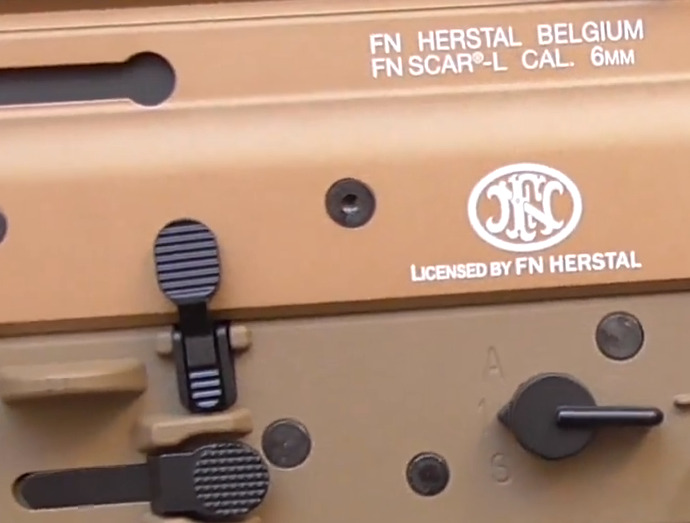 And these are laser etched, so they should stand up to weathering over time, although users might have to touch them up with white paint here and there as years go by.
Cybergun Herstal SCAR-L: How does it perform?
The Cybergun Herstal SCAR-L is designed to be used as a primary airsoft rifle and presents an interesting alternative to the various M4 and AK47 replicas that are so common in airsoft games.
Build-quality and construction
There are two versions of the Cybergun Herstal FN SCAR-L – a standard polymer and a full metal version.
For this review, we looked at the full metal version.
As with many airsoft assault rifles (and, interestingly, the real-life SCAR-L), the Cybergun Herstal FN SCAR- L's lower receiver is made of lightweight plastic, which, while not the most fun to hold, cuts down on overall weight significantly and is pretty sturdy.
Much like the real SCAR series, it does have a full metal upper receiver and barrel assembly (aluminum alloy), that gives it increased durability and gives the SCAR a much needed bit of heft.
This greater use of metal in its construction does allow it to withstand the knocks and bangs of an airsoft game a little better, especially for those of us who get a little carried away with our running and gunning.
Internally, the Cybergun SCAR-L uses a standard V2 metal gearbox with pretty durable CNC steel gears (standard 18:1 gearing) and 8mm bearings, which is nice, delivers pretty good performance out of the box and should withstand pretty good use for some time.
For those who like to tinker, it is upgradeable and can be swapped out as needed with a drop-in or other Cyma parts
Although ours didn't, some versions of the SCAR-L come with a Mosfet as well, which make them LiPo-ready, in which case they can accept a 7.4v Small Type LiPo.
The SCAR-L's hop up is pretty decent and adjustable but, unfortunately, is unique to the model, which makes options for replacing them a little trickier than if they used a generic M4 for those interested in doing so.
That said, the inner barrel is decent out of the box and has a tighter 6.04mm bore, while the outer barrel is made of aluminum and negatively threaded and can therefore accept suppressors, suppressor tracers and more fairly easily and without any adaptors, which is cool.
Overall, we found the SCAR to feel fairly solid out of the box.
We didn't find a lot of wiggle or loose parts, and when handling it everything stayed more or less where they were supposed to be.
Perhaps more importantly, there wasn't a lot of undue rattling or noise when we handled it, which allowed us to move around more stealthily, which is a definite plus for a primary.
One thing we appreciated is that Cybergun did make sure to include a latch for the folding stock that keeps it secured and still when closed, which prevents clattering when on the move.
We also liked that Cybergun seems to have gone the extra distance with the battery wiring by surrounding them with a protective coil spring as they exit the gun and connect to the buttstock.
Given that this model does allow for the use of a butterfly battery that seats in the stock, wires could otherwise get crimped or caught when folding.
The only downside to this is that this setup can get in the way if a user wants to wire up a custom MOSFET (if their model doesn't come with one) to make it LiPo ready and may require a bit more tinkering and on the fly thinking to fit things in neatly and properly again.
One of the more notable features of the SCAR is the fact that the handguard and upper receiver are one piece, and this is carried through to this airsoft replica.
This one piece construction provides the gun with increased rigidity and giving users a continuous top picatinny rail that extends all the way to the buttstock, which is in addition to rails at the 3. 9 and 6 o' clock (sides and bottom).
This not only looks really cool but makes the Cybergun SCAR-L great for adding accessories, such as various optics, flashlights, lasers, back up iron sights and so on.
Finally, aesthetically speaking, there is a lot to enjoy with the SCAR-L.
The charging handle pulls nicely, there is a functioning bolt catch that makes adjusting the hop up a lot easier, and the bolt locks with a nice racking sound that, although not the loudest thing we've ever heard, is fairly satisfying on an AEG.
Performance and Accuracy
Overall, we found the gun to be highly accurate for the price point, hitting center mass fairly reliably at just over 100 feet out (30m) and even getting some pretty tight groupings well past 150 feet (45m).
In terms of FPS, we got the Cybergun FN Herstal SCAR-L AEG to deliver around 360 to 380 FPS @ .20g BBs and around 330 or so with 0.25g BBs, getting about 11-12 RPS with the included 9.6v small butterfly battery.
Although it isn't the fastest airsoft gun out there, it is decent and will do the job well as an assault rifle as long as you don't rely on it as a stand-in for an LMG.
Handling
The Cybergun FN Herstal SCAR-L is very comfortable to hold and use.
For a metal replica it is fairly lightweight and well-balanced overall.
We found that carrying this SCAR-L around, even for extended periods of time, was quite easy and is made easier by the different sling mounts available to the user, which allows them to attach various sling styles and configurations to suit their preference.
In terms of feel, the SCAR-L does feel a lot like an airsoft HK or even an M4, although the one piece upper receiver and the assorted rails does give it a slightly chunkier, bulkier profile overall that, for those with small hands, can take a little getting used to.
It should nonetheless feel more or less natural to players who have experience using an AR platform inspired airsoft rifle.
A large part of this comfortable handling is due to Cyberguns accurate replication of the real FN SCAR-L's highly adjustable buttstock and cheek rest.
The SCAR's stock is fairly unique and somewhat famous amongst gun enthusiasts, looking something like a ski boot and is affectionately known in certain circles as the "Ugg boot."
Its overall looks depends on your taste, and although some users love it we found it to look a bit dated and somewhat bulky.
Looks aside, however, there is no denying its functionality and Cybergun did a great job of replicating the SCAR-L's stock in this regard.
Like the original, the Cybergun Herstal SCAR-L buttstock is both foldable and telescoping.
There is a fully functioning cheek riser (3 points of rise) to help keep your head in one spot when firing off BBs, which is nice if you're attaching high profile optics and need something that can raise up and keep you comfortable.
There are six positions of extensibility, so users can retract or pull out the stock pretty freely for maximum adjustability.
Overall, Cybergun's SCAR-L can go from over 30 inches (765mm) extended to a pretty compact 20.8 inches (530mm), so wWhile it'll never be your SMG of choice, it does gives the Herstal SCAR-L a surprising amount of adjustability for an airsoft gun and makes it very easy to use for users of most sizes and arm lengths to hold and fire.
This adjustability in length also makes the Cybergun surprisingly usable in a variety of airsoft games, from CQB to wide open fields.
And of course the stock folds nicely to the side.
As we mentioned earlier, Cybergun actually did a pretty good job here at making sure that all the wiring extends out and neatly and reliably folds with the stock, allowing the AEG to function even with the stock completely folded, for those of us who like to shoot from the hip.
In terms of shooting, controls for both the magazine release and safety are ambidextrous, which is not only a faithful replica of the original but makes it a lot easier for lefties to use as well, which is nice.
Maintenance
The Cybergun SCAR-L disassembles fairly easily for maintenance.
A few taps of the body pins should see the upper and lowers come apart pretty easily and without much fuss, much like an M4.
As with most other airsoft guns where the battery is located in the buttstock, you do have to be a little more careful, and this is especially true with this model of SCAR-L where users will have to pay more attention with the folding stock and making sure the wires and protective springs stay together and reassemble neatly so they don't get damaged later on.
Beyond that, the hop up is easily accessible through the ejection port and the locking bolt does actually function, holding the bolt in place and making it easy to fiddle around with everything.
Magazine type and capacity
The Cybergun FN Herstal SCAR-L uses a typical STANAG airsoft magazine, making it pretty interchangeable with most M4 AEG magazines, which is nice.
While the gun does come with a high cap magazine, it tends to be a bit of a tight fit and some users report that they sometimes need to give it a bit of a tug to get it out of the mag well.
We feel that this model really does best with midcap magazines, and is fairly tolerant of them, being able to accommodate m4 midcaps from a variety of brands such as G&G, Dytac, KWA and more.
This can be quite useful as these mags are pretty commonplace and this can be a potential money saver if you have some of these lying around anyway.
While users report being able to fit some other hi-cap airsoft magazines to this model, they are susceptible to feeding and fit issues and can be a bit tight around the magwell, similar to the included hi-cap.
Price
Note: Prices are correct as of writing and are in USD. Always check below for latest prices, discounts and availability.
Coming in at just over $200, Cybergun Herstal FN SCAR-L Full Metal AEG is a pretty affordable airsoft assault rifle option, especially when you consider that it does use metal components, is pretty well put together and is fully licensed by FN Herstal.
Despite being a bit more uncommon and a little more of a specialty item than your typical airsoft M4 or AK, it is within the same ballpark as a metal version of these two more ubiquitous options.
As a result, we feel that the Cybergun Herstal FN SCAR-L Full Metal AEG is pretty good value for money, all told.
Advantages
Affordable
Cybergun's officially licensed and full metal version of the SCAR-L comes in at just over $200 and isn't all that much more expensive than the more commonplace metal M4s or even AKs.
Accurate replica of the real steel version
Cybergun has done a good job with its metal SCAR-L. It is a pretty faithful airsoft representation of the SCAR-L in terms of looks, being 1:1 in size, keeping many of its more interesting features and being fairly close in weight and handling.
Cool looking alternative to an M4
If you're looking for something that will help you stand out in a sea of tacticool AR variants, the SCAR-L can do that and draw some admiring glances as well.
Easy to handle, very versatile airsoft option
Very much like an M4 or HK415, the Cybergun SCAR-L is fairly easy to hold, easy to carry and, with its adjustable, collapsable stock and sling point attachments, easy to use in game.
As an airsoft assault rifle, it is a good option as a primary rifle whether you're playing in a skirmish, CQB or open field games.
Solid build quality, especially for the price
Although affordable for an officially licensed, metal replica, the Cybergun SCAR-L AEG is fairly well put together.
Out of the box, we didn't find it to rattle or be loose, the stock folded neatly and properly away, and while some users find it to have some issues with hi-cap magazines, with mid cap mags we found it to feed and fire reliably,
Good performance and accuracy
We found that the Cybergun Herstal FN SCAR-L Full Metal AEG had decent performance and accuracy, getting up to 380 or so FPS and being able to hit targets pretty reliably at distance.
Easily customizable, lots of potential for accessories
This version of the SCAR-L has an adjustable hop up, an upgradable gearbox and motor, a threaded outer barrel and a variety of integrated rail systems on its handguard.
Consequently, there is a lot going for it that those who love to accessorize and that those inclined to tinker will appreciate.
Versatile stock, helps the gun become nice and compact
The Ugg Boot stock of the SCAR-L isn't to everyone's taste aesthetically, but when folded does make the SCAR-L significantly more compact.
As Cybergun has put some thought and effort into making it lock nicely into place (and not interfere with its power cabling), this model of SCAR-L can easily be used with the stock collapsed, making it good for tight spots.
Drawbacks
Its looks can be somewhat polarizing
Although we think it's cool, not everyone is a big fan of the SCAR-L's chunkier looks and its stock can be particularly divisive on the field.
Some users report magwell can be prone to fit and feeding issues with hicaps
Although we had no real issues with the Cybergun SCAR-L, some users have reported having fit and feed issues with hi-cap magazines, with the magwell being a little snug and some hi capacity magazines not fitting well.
These issues do tend to be resolved by using mid caps, however.
A little chunkier than an M4/AR, can be a little harder for those with small hands to hold
The SCAR-L is a bit chunkier around the handguard, which can make it a little tougher than the more slender M4/M16 for smaller airsofters to hold at times.
Bottom Line
While it never really became army standard, the SCAR-L is an interesting weapon and certainly an icon in the firearms community.
If you want a SCAR-L to use in your next airsoft game, the Metal Cybergun Herstal FN SCAR-L AEG is a high quality and well made option whose affordable price tag and officially licensed good looks belie its ability to deliver a stinging lesson to your opponents. 
Ted Clark– Hailing from Florida, Ted has been an avid airsoft enthusiast since he was in middle school. When he's not checking out and reviewing airsoft guns, he enjoys picking off his enemies one by one on the field as a sniper.