Red dot sights are highly practical devices that can help airsoft players shoot quickly and more accurately.
Aiming a bright red dot is a lot quicker and easier than needing to properly align your weapon's sights on a target.
If you love the feeling of running and gunning and close to medium range and want to hit your opponents faster and more accurately, then you probably want to consider an airsoft red dot sight.
There are a lot of different models out there and, unfortunately, a lot of tacticool but poorly made replicas that are more likely to fall apart than help you win a game.
That's why we looked through dozens of red dot sights across the airsoft and real steel worlds to help you find a good quality model that best suits your needs and budget.
In A Rush? Check Out Our Top Picks For Airsoft Red Dot Sights
But First, What Do We Look For In An Airsoft Red Dot Sight?
Red dot sights can be complex little devices and when it comes to using them with airsoft guns there are a few things that we take into consideration.
Price
As cool and impressive as some of the optics tech out there can be, it's important to keep an eye on your budget.
After all, while airsoft is fun and exciting, it's not exactly hunting or defence, and the ballistics and build quality of the average airsoft gun don't really warrant spending $1000+ on optics .
Further, with BBs flying back at you at possibly 400+ FPS, keep in mind that whatever you purchase can get badly damaged in game.
That said, you don't want to go too cheap on this either, since you're more likely to end up with something that doesn't work right or falls apart soon after using it for the first time.
Typically, we feel that most users should be able to pick up a pretty decent airsoft red dot sight for between $50-100, with some exceptional, premium models in the $100-250 range, should they have significant features or qualities to bring to the table.
Build quality
Obviously, build quality is something we consider to be quite important. Yes, it is airsoft and no airsoft optics aren't subject to the same extreme use as a firearm, but it is your money and you don't want these things falling apart.
That said, any red dot sight should be well-constructed, typically out of metal, with a tight frame, a clear red dot that doesn't wash out easily in the sun, adjustments that reliably work and rail attachments that won't damage your airsoft gun.
When considering the build of a red dot sight for airsoft, we feel it is also important to consider their size and weight.
A red dot sight should only be around 2-3 inches long, allowing it to be used on a greater variety of airsoft models (like SMGs and even pistols) and leaving room for other attachments and accessories.
Similarly, they need to be relatively lightweight, ideally under 7 oz (200g)..
As with a real gun, you don't want to make your airsoft gun top heavy and unbalance it. This is particularly true with airsoft replicas, as many are made of lightweight ABS plastics and a heavy device sitting on top of it will change its dynamics and really feel awkward.
Red Dot Size
With red dot sights, it's important that the reticle is small enough not to obscure the target completely at range but still big enough to easily see, especially on moving targets at closer range.
Reticles are measured with what's called "minutes of angle" or MOA. Borrowed from geometry, this is the angular measurement of a circle.
Most red dot sights range from 2 MOA (smallest) to 8 MOA (largest).
We lean more towards accuracy and usually feel that red dots of about 2-3 MOA provide the best balance of visibility, accuracy and ease of use for airsoft.
But, given that the average airsoft game takes place within about 100 yards or less, are firing fairly spherical BBs, and are aiming at roughly man-sized targets, it's really more about personal preference and comfort than anything else.
Battery Life
When you're using a red dot sight, the last thing you want to happen is for it to suddenly run out of battery in game, especially if you've removed any iron sights from your airsoft gun.
Most good red dot sights are good for about 30, 000 hours or more, which can save you if you are the type of person to forget to turn your sight off overnight.
Although less common in airsoft and more a thing with real steel optics, it's also important to pick a sight with commonly available batteries, so you're not stuck waiting on Amazon.
Adjustable Reticle Brightness
Ambient light conditions can play a big role in how easy it is to see and use your red dot sight in an airsoft game.
Too bright around you and your little red dot will be harder to see, too dark and your red dot will become a distracting, blazing red circle obstructing your vision.
Because you want to be able to use your red dot sight in any condition you may find yourself in, you want to be able to control the intensity of your reticle as much as possible.
Better quality red dot optics offer more fine control over intensity, letting you really set your optics up to suit your preference under any lighting condition, whereas cheaper models tend to have only a couple settings and expect you to make do as best you can.
Obviously, we prefer the latter.
Zero Magnification
It seems like it goes without saying, but it often doesn't. A red dot sight is supposed to be 1x and used in close to mid-range shooting.
It is designed to help users get on-target quickly while maintaining situational awareness, something that isn't helped by looking through a scope that magnifies or distorts what you're looking at.
This is especially true for airsoft games, which take place at less than 100 yards (~90m), and for most airsoft users whose effective range will be somewhere around 40 yards (~36.5m) and for whom magnification isn't all that useful or desirable.
Riser Support
It's usually best if your red dot sight fits a standard riser mount.
If you plan on using your red dot sights on an airsoft gun that has fixed front sights, you may want to align your red dot sight with it (something called co-witnessing).
Even if your airsoft gun has removable sights, you may want to adjust the height of your sight to fit your natural line of sight and for general comfort when shooting.
Our Picks
Specifications
Best Overall Airsoft Red Dot Sight – Primary Arms Advanced Micro Dot
| | |
| --- | --- |
| Reticle | 2 MOA dot |
| Reticle color | Red |
| Style | Tube |
| Battery type | CR2032 coin |
| Length | 2.54 inches (6.45 cm) |
| Weight | 5.5 Oz (155 g) |
| Construction | Aluminum |
| Mount Type | Picatinny |
| | |
| --- | --- |
| Pros | Cons |
| Affordable real steel red dot sight | Windage and illumination knobs can be a bit too close together for some users |
| Up to 50, 000 hour battery life on lower settings | Included mount is low |
| 11 brightness settings | |
| Compact | |
| Removable base, easily mounted | |
| Highly durable – lightweight aluminum construction | |
| Fog resistant, water resistant, shock resistant | |
| Lifetime warranty | |
Primary Arms is a well-known and respected optics manufacturer in the firearms world, and their Primary Arms Advanced Micro Dot is perfect for airsofters looking for a high quality, well-made red dot sight that will last.
The first thing you notice about the Advanced Micro Dot is its size – at about 2.5" long and weighing just a few ounces, it is a compact and lightweight tube-style sight that should sit comfortably on just about any airsoft gun, from rifles to SMGs, which allows airsofters with larger collections make the most out of it.
Yet despite its size, the little Advanced Micro Dot is solid. Made out of corrosion-resistant and durable aircraft-grade 6061 aluminum , the sight is designed to stay zeroed when used on real steel ARs, AKs and even shotguns, meaning it will easily survive most things airsoft will throw its way.
In fact, the sight is rated as fog resistant and waterproof, so you can pretty much use it in any field condition, which is nice.
The reticle is a small, 2 MOA dot, which covers roughly 2 inches or so of a target at 100 yards.
It does, however, only come in red. Although red is perfectly fine and is the most commonly used reticle color, those who like green dots on their sights (as they are a little easier to use in daylight) are pretty much out of luck.
That said, the Primary Arms Advanced Micro Dot does offer a high level of control over reticle intensity, with 11 brightness settings that allow users to easily set the dot's brightness to a preferred intensity given light conditions.
Interestingly, there are even a couple brightness settings designed to be used with night vision, in case you want to make your airsoft game very high speed.
Brightness, along with windage and elevation, are controlled with three fairly sturdy knobs that project from the top and right side of the device. While the topmost knob is fairly straightforward to use, given the size of the Advanced Micro Dot, the side knobs are a little close together and a little more care is needed when using them.
Those who feel they have trouble (such as those with larger fingers or who are less than dextrous) may want to look at the SLx Advanced Push Button Micro Red Dot that uses rubberized buttons instead.
The sight comes with an easy to use, removable Picatinny base that will fit most compatible airsoft rifles (or adaptors). The base it comes with is a low base, making the device sit a little low out of the box for us, but there is a riser mount option available separately.
The Micro Dot's Battery life is actually quite impressive, being designed for extended hunting trips and the like it can reach up to around 50,000-hours on a lithium CR2032 coin battery, which should be more than enough for most airsoft events.
Pricewise, the Primary Arms Advanced Micro Dot tends to come in sub-$200, which makes it an accessible and even affordable real steel option for airsofters looking for something that is built to last.
Overall, because of its durable build, compact size, useful features, high usability and affordable price, the Primary Arms Advanced Micro Dot is the most well-balanced red dot sight we've seen and is our choice for best all around airsoft red dot sight.
Best Premium Reflex Airsoft Red Dot Sight – Vortex Venom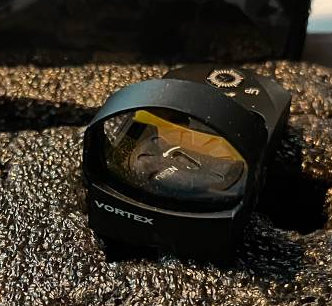 | | |
| --- | --- |
| Reticle | 3 MOA dot |
| Reticle color | Red |
| Style | Reflex |
| Battery type | CR 1632 |
| Length | 1.9 inches (4.83 cm) |
| Weight | 1.1 Oz (31.2 g) |
| Construction | Aluminum |
| Mount type | Weaver/Picatinny |
| | |
| --- | --- |
| Pros | Cons |
| Real steel red dot sight | A little Expensive for airsoft |
| Up to 30, 000 hour battery life on low settings | Included mount is low |
| 10 push-button brightness settings with auto brightness mode | Buttons can be a little small and fiddly for users with big hands |
| Extremely clear, wide (26.5mm ) view lens | |
| Compact | |
| Extremely lightweight | |
| Highly durable – lightweight aluminum construction | |
| Durable- fog, moisture and dust resistant exterior | |
| Lifetime warranty | |
The Vortex Venom is a compact, durable and highly lightweight real steel reflex sight that offers a lot of interesting features in a small package.
If you're interested in a reflex red dot sight for your airsoft gun and don't mind paying a little more for quality, this should be at the top of your list.
At just under 2 inches (4.8cm) long and weighing in at a feathery 1.1 Oz (31.2 g), the Vortex Venom is highly compact and ultralightweight.
In fact, you can stick this sight on pretty much any airsoft gun, from rifle to pistol, from polymer to full metal, and not only will it fit aesthetically, but you will hardly notice any difference in weight.
It's also quite sturdy. Being made of high quality, weather resistant aluminum with an anodized coating, it is designed to take the recoil and day to day use of a real firearm and therefore will likely stay zeroed through even the most rigorous airsoft blowback.
Despite its size, the Venom has a fairly broad and multi-coated lens that offers a very wide and crystal clear field of view (26.5 mm compared to an typical 23-24) and resists glare fairly well.
The 3 MOA dot is nice and bright and its brightness is easily adjusted with the push of a button. There are 10 settings to play around with and there is even an auto-adjust function – the Venom contains a small light sensor that picks up ambient light and adjusts the reticule automatically.
Unfortunately, while the buttons are conveniently located and easy to use, they can be a little on the small side for those with very large hands.
The Vortex Venom can be mounted on both Picatinny and Weaver rails, and so should fit most airsoft rail systems pretty easily. As a compact reflex sight it does sit a little low, however, so you will probably want to invest in a riser mount for it.
In terms of battery, it runs off a fairly standard and easy to find CR 1632, and as it is designed for real firearm use, which includes longer shooting outings, it does last. On low power, the Venom will run for up to 30 000 hours, and about 150 hours on higher power settings, which is quite good for even longer airsoft events.
Pricewise, while the Vortex Venom is very affordable as a real steel gun sight, coming in north of $200, it is a little pricey for an airsoft reflex sight.
That said, the Vortex Venom is a well-made, easy to use, durable and highly capable red dot sight that can be used on a variety of airsoft guns and, properly cared for, should deliver a high level of performance for years of use.
Best Premium Tube Airsoft Red Dot Sight – Holosun HS403B "Shake Awake"
| | |
| --- | --- |
| Reticle | 2 MOA dot |
| Reticle color | Red and green |
| Style | Tube |
| Battery type | CR 2032 |
| Length | 2.44 inches (6.2 cm) |
| Weight | 4.3 Oz (122 g) |
| Construction | Aluminum |
| Mount type | Weaver/Picatinny |
| | |
| --- | --- |
| Pros | Cons |
| Real steel red dot sight | Changing the battery is a little more awkward, requires torx wrench |
| Very good on batteries- up to 50, 000 hour battery life on medium brightness, 25, 000 hours on high | Isn't as easy on/off as other models, requires a torx screw |
| 12 brightness settings with memory function | |
| Compact | |
| Lightweight | |
| Highly durable – water, fog and shock resistant | |
| Shake awake – battery saving sleep function | |
If you're looking for a more upscale, high quality red dot optic for your airsoft gun and you prefer an encased, tube-style look , the Holosun HS403B might be just what you're after.
At 2.44 inches and 4.3 Oz, the HS403B is fairly compact and not too heavy and should feel at home on most airsoft gun styles and builds.
Made of high-grade aircraft aluminum, the device is also quite durably built. In fact it is commonly attached to (and holds zero on) shotguns and rifles and so will do quite well in most airsoft situations, being able to stand up to the usual knocks, scratches and bumps of a typical run and gun skirmish.
Looking through the device, the view and reticle are crisp and clear. The reticle itself is a sharp 2 MOA, making it great for high accuracy shooting, and can be switched from red to high contrast green, which is pretty cool.
There are 12 brightness settings to adjust the Holosun HS403B's visibility with, 10 daylight and 2 night vision compatible settings, making the device highly customizable and usable in different ambient light conditions.
Interestingly, the device comes with what they call a Shake Awake function. When left idle, the HS403B goes into a sort of sleep mode that ends when the device is jostled. This helps save battery, but more interestingly the device will remember your brightness settings and readjust itself when it reboots, which is quite helpful.
The Holosun HS403B comes with low and ⅓ Co-Witness mounts and fits on most picatinny/weaver rails. Unfortunately, it is designed to be very securely mounted and isn't quite as fast or easy to put on or take off as some other sights, requiring the use of the included Torx screw and wrench.
Batterywise, the HS403B uses a fairly common CR 2032 coin battery, and it really, really makes good use of it.
On medium power (5) the device can last for up to 50, 000 hours while on brighter settings it can last a whopping 25, 000 hours, so you probably won't have to worry about it cutting out on you even during an extended weekend airsoft event.
Putting the battery in is a bit more work than some other models, you have to unscrew a small tray, insert the battery, and then tighten it all back up, making sure that all the protective o-rings are in place.
That said, once the battery is in, it's in and protected from water and debris, which is nice.
Pricewise, the Holosun HS403B is actually a relatively affordable real steel sight, but in terms of airsoft it is a little on the pricey side, typically coming in at just under $200.
That said, the Holosun HS403B is a rugged, high-quality, easy to use, highly adjustable and extremely efficient real steel tube red dot sight that can last for years and would be at home with any collection of airsoft guns.
Best Airsoft Red Dot Sight Under $100 – Bushnell Trophy TRS-25
Specifications
| | |
| --- | --- |
| Reticle | 3 MOA dot |
| Reticle color | Red |
| Style | Tube |
| Battery type | CR 2032 |
| Length | 2.48 inches (6.3 cm) |
| Weight | 3.73 Oz (106 g) |
| Construction | Aluminum |
| Mount type | Weaver/picatinny |
| | |
| --- | --- |
| Pros | Cons |
| Real steel red dot sight under $100 | Reflective coating on lens gives a bit of a green tint |
| Up to 30, 000 hour battery life on low settings | Battery life a little lower than some other real steel models at ~3-5 000 hours on mid-brightness |
| 11 brightness settings | |
| Highly compact | |
| Very lightweight | |
| Durable, water, fog and shock resistant | |
Bushnell is one of the more respected names in sporting optics and their affordably priced and highly popular entry-level Bushnell Trophy TRS-25 can be one of the best real steel red dot choices for budget-minded airsofters.
The TRS-25 comes as a nice, compact tube-style sight, at about 2.5" long (6.3 cm) and just under 4 oz (106g), it feels at home on most airsoft guns, sitting nicely on everything from rifles to pistols, whether all metal or ABS.
Although it is affordably priced for an actual firearm sight, being a Bushnell product, the TRS is well built and sturdy. Made of aircraft grade aluminum, the TRS-25 is water resistant, fog proof and shock resistant and should stand up to most things an airsoft field will throw at them. .
The Bushnell TRS-25 offers a 3 MOA red dot that is decently bright. There are 11 settings to help you adjust for brightness, which is pretty impressive given the price.
The lens of the TRS-25 is multicoated, which gives it good glare resistance for outdoor use or for airsoft games under bright lights, but unfortunately gives the TRS a slight green tint. While we didn't much notice or care, others may find it a bit distracting.
The TRS-25 can be mounted on both Picatinny and Weaver rails, and comes with a 1/3 co-witness mount. Otherwise, it does sit somewhat low but does fit pretty much any mount with a Picatinny rail if you need to raise it.
In terms of battery, it runs off a standard, easily found and inexpensive CR2032 coin-style battery, which is nice and keeps costs down.
Its battery power is shorter than some other sights out there, lasting somewhere between 3 and 5 000 if left on mid-brightness settings, but considering the price and cheap/ubiquitous battery it should be fine, especially for airsoft purposes.
Pricewise, the Bushnell TRS-25 is considered a highly affordable real steel red dot sight, and we would say is also a highly affordable airsoft red dot sight, as it typically comes in at less than $100.
Considering its durable build quality, features, performance, size and capabilities, we believe the Bushnell TRS-25 excellent value for money and likely the best red dot airsoft sight you can buy for under $100.
Best Airsoft Red Dot Sight Under $50 – Aimsports Micro Reflex
Specifications
| | |
| --- | --- |
| Reticle | 4 MOA dot |
| Reticle color | Red/Green |
| Style | Tube |
| Battery type | CR2032 (included) |
| Length | 2.25 inches (5.71 cm) |
| Weight | 4 Oz (113.4 g) |
| Construction | Aluminum |
| Mount type | Picatinny/Weaver |
| | |
| --- | --- |
| Pros | Cons |
| Budget-friendly red dot sight for airsoft | Somewhat shorter battery life than many others at 2,000 hours on low |
| Durable aluminum construction | Red dot a big large compared to others on our list at 4 MOA |
| Can select green/red reticle color | |
| 5 brightness levels | |
| Compact, Lightweight | |
| Fog proof, shock-resistant | |
Let's face it, when it comes to decent quality optics under $50, the pickings can be a little slim.
In the airsoft world, while there are plenty of options at this price range, sadly, most are relatively poorly made replicas that tend to fall apart or stop working soon after use.
The Aim Sports Micro Reflex red dot sight, however, is an entry level real steel reflex sight that can be a great option for airsofters dipping their toes into the world of optics or for those on a stricter budget.
The Micro Reflex is compact and lightweight, at just 2.25 inches and about 4 oz. it will fit nicely on most airsoft guns, even more lightweight, polymer pistols.
Designed for use on real steel rifles and pistols, the Micro Reflex is sturdily built as well, being made of aircraft grade aluminum, with a glare-resistant coated lens and chunky, textured knobs for adjustment.
The Micro Reflex housing is fogproof and shock-resistant, and its durable construction should be more than well-suited for even the rougher airsoft games.
In terms of reticles, the Aim Sports Micro Reflex offers dual illumination modes, offering users a choice of red and green which is nice, as well as 5 brightness levels.
Although perhaps not as flexible in terms of visibility adjustment as some of the other sight on our list, it does do the job well in most cases and, considering the budget price, is pretty good.
The reticle is a 4 MOA dot, which should be fine for most airsoft engagement ranges, and it comes out pretty clear and bright even in daylight.
The Aim Sports Micro Reflex attaches to most weaver and picatinny rails, but sits low and will probably need a riser mount if you plan to use it with iron sights.
In terms of battery, it runs off the common and inexpensive CR2032 coin-style battery.
On low setting it should last about 2,000 hours, which is less than some upper market sights on this list, but it should last through most airsoft engagements and is honestly fine considering the price and the cheap cost of new batteries for it.
Pricewise, the Aim Sports Micro Reflex may not be the most premium real steel optic out there but it is well-made and highly affordable, often being sold for under $50.
At this price point it is competitive with many replica airsoft red dots that don't offer anything near the build quality and usability of this sight, and so we feel it is a highly attractive budget option for airsofters.
Overall, considering its durable build, affordable price, good performance and features, the Aim Sports Micro Reflex is a great little entry model red dot sight, and if you have less than $50 or so to spend on your airsoft optics, we feel it should be at the top of your list.
What types of red dot sights are out there?
Red dot sights use a very simple design to get the job done – an LED emitter projects a reticule onto the glass of the device, which bounces back onto your eye.
Although they come with many small, stylistic differences, there are two main designs of red dot sights you'll see out there – open reflex sights and tube red dot sights (sometimes confusingly called red dot scopes).
Reflex sights – the optics on a reflex sight is usually more open to the elements, that is without any enclosure. Users aren't peering through a scope to use it, allowing them to keep greater awareness of what's around them and giving them a wider field of vision, almost like a heads-up display.
Tube red dot sights – Sort of look like miniature scopes. The optics are encased in a tube, protecting them from the elements and any occlusions, and users have to look into it to use it, again much like a scope (but without magnification, obviously), which reduces their overall field of view and reduces their situational awareness a bit.
What are the advantages of a red dot sight in airsoft?
Relatively inexpensive accessory
Although you can certainly run up a bill when shopping for a red dot sight for your airsoft gun, generally speaking you can pick one that will work fairly well for less than $100.
Fast target acquisition
Compared to iron sights, red dot sights provide users with an easy and intuitive way to tell if they are on target – a bright red reticle appears at the center.
Once zeroed in, you don't have to worry about posts or alignment, you simply aim the dot on the target and fire.
Infinite eye relief
When dealing with scopes, you often have to contend with eye relief, meaning how close you have to mount it relative to your eye in order to get optimal focus.
Short eye relief means you need to mount the optical device towards the rear of the gun, while long eye relief means you can mount it more far forward.
Red dot scopes have what's called infinite eye relief, meaning you can mount them pretty much wherever you'd like on your airsoft gun to suit your comfort or any other accessories you need or want to add.
Allow for greater situational awareness
With red dot sights, users can keep both eyes open while aiming, meaning there isn't much of an effect on peripheral vision and situational awareness (as opposed to a scope or iron sights which require greater concentration and focus to use).
The ability to shoot with both eyes open can also be helpful for airsofters with a weaker dominant eye.
Look really cool and are fun to use
Finally, let's face it – a good part of airsoft is about how cool things look and a red dot sight can look really cool mounted to a rifle.
What are some disadvantages of airsoft red dot sights?
They are not always so well built
Unless you go with a more expensive, real steel model or upend airsoft optic, airsoft red dot sights aren't usually all that well built.
After all, they aren't really expected to contend with much beyond a few bumps and scrapes and the occasional CO2 blowback action, which is admittedly a far cry from true firearms.
As a result, many models are fairly flimsy and may fall apart or stop working after some time.
Most don't have any trademarks that are worth noting
Trades are somewhat important to many airsofters. It's no secret that people like to look at them and replicate the look of their favorite real steel firearms.
Unlike with airsoft guns, airsoft optics are usually made by small companies and generally don't come with any trademarks that anyone would notice or care about as, for obvious reasons, well-known brands known for quality optics won't just lend their names out to airsoft replicas.
You need to keep the line of sight in front of them clear
If you are someone who likes to accessorize the top of your airsoft gun with lasers, flashlights and more, you might be limited in what you can do once you've attacked a red dot sight since you'll have to keep the front of it clear from obstruction.
This can be a particular problem with airsoft guns that only have a single, top rail.
You will probably need to protect them
Unlike most of the real steel world (military and police obviously excluded), there is a high (almost certain) chance that someone will take a shot at you on an airsoft field.
With the BBs flying, it's easy for a red dot sight's lens to become damaged or destroyed, and thus users will need to take precautions to protect them, such as by installing an additional lens protector in front of it.
Can I use an Airsoft Red Dot Sight on my Real Steel Gun?
You can but you probably shouldn't.
While technically they use the same rails and there is nothing legally stopping you, replica sights commonly used in airsoft are usually not all that well built compared to actual red dot sights, being generally geared for looks over function and build quality.
Many tend to be made of inferior materials, undergo less quality control and generally offer fewer useful features to keep costs down.
Also, airsoft red dot sights don't have to be built to withstand recoil over the long term, meaning if they don't break after a few shots they will probably lose their zeroing pretty quickly.
Should I use a Real Steel Red Dot on my Airsoft Gun?
Certainly, if you can pick one up for the right price.
Real steel red dots are usually better built than their airsoft counterparts, and for that reason most of our list contains real steel models that can be used with airsoft replicas.
Put simply, compared to airsoft replicas, real steel red dot sights are built more durably, are more precise, undergo better quality control and often offer more features, such as better anti-fog, functional parallax correction and better controls.
Also, depending on brand, they tend to look and feel a lot cooler, and can look quite impressive on an airsoft gun.
One thing to consider is that real steel optics tend to cost a lot more than airsoft red dot sights, and people will be shooting back at and bumping into you, so there's a higher likelihood of it getting damaged while you play, so you will want to invest in a protective screen.
All told, however, if you can get your hands on these and are willing to take care of them , generally speaking they will provide far better performance in the long run.
Conclusion
Red dot sights not only look cool but are a great way to add a little quick shot accuracy to your airsoft games.
With so many poorly constructed, cheap models out there, however, it is important to do your homework and find models that will not only work but will last more than a few games.
FAQ