Durability and Quality

90%
| | |
| --- | --- |
| Pros | Cons |
| ✅ Lightweight and well built | ❌ ABS plastic slide |
| ✅ Quality TM internals | ❌ Not exactly cheap |
| ✅ Accurate with consistent firing | |
| ✅ Nice, snappy blowback and short trigger | |
| ✅ Comfortable to hold and fire | |
| ✅ Easy to upgrade, lots of aftermarket parts | |
From world renowned airsoft manufacturer Tokyo Marui, the Tokyo Marui Hi Capa 5.1 (GBB) is a gas blowback airsoft replica of a Para Ordnance P14-45 pistol, which is itself a higher-capacity derivative of the venerable M1911.
Keeping with its name, this airsoft pistol can be fitted with a Tokyo Marui high capacity magazine that allows it to hold 31 BBs rather than the usual 16 or 24, as well as more specialty extended magazines of 50 BBs or more available as well.
If a 1911-style airsoft pistol with some extra capacity sounds like it would be the perfect secondary for you, then read on as we take a closer look.
Specifications
| | |
| --- | --- |
| Airsoft type | Gas Blowback Pistol |
| FPS | ~270-280 @ 0.20g with 134a gas |
| Recommended Gas | Duster (134a gas) or green gas |
| Action | Semi Automatic |
| Outer barrel | Non-threaded |
| Hop up | Adjustable |
| Construction | ABS plastic slide, metal frame |
How closely does this model resemble a real steel pistol?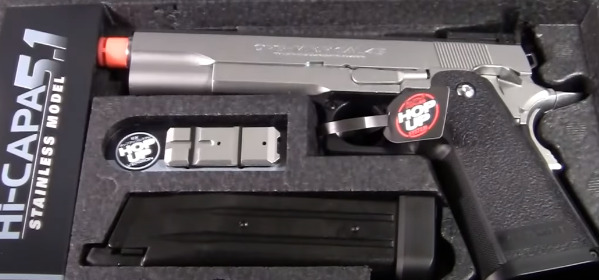 | | | |
| --- | --- | --- |
| | Tokyo Marui Hi Capa 5.1 | Para-Ordnance Hi-Cap 45 (P14-45) |
| Weight (empty) | 1.97 lbs (894 g) | 2.4 lbs (1.1 kg) |
| Length | 8.7 in (222mm) | 8.5 in. (216 mm) |
| Barrel Length | 5 in (127 mm) | 5 in (127mm) |
| Action | Semi-Auto | Semi-Auto |
| Capacity | 31 rounds + | 14 rounds |
| Construction | ABS | Steel (some are made of aluminum alloy) |
| Sights | Adjustable rear sights | Rear fixed |
| Picatinny rail positions | Optional 6 o'clock | – |
So the Tokyo Marui Hi Capa does look excellent and does look pretty close to the traditional real steel Hi Cap, with a few small differences here and there.
It is fractionally longer than the real steel version, a fraction of an inch give or take (~8.7 inch in the replica vs 8.5 inches for the 1911 and the Para Ordinance).
Being made of ABS plastic it's also obviously lighter, at about half the weight empty (~530g vs 1.1KG or 1.17 lbs vs.2.43 lbs).
Unlike the original Para, Tokyo Marui has gone the extra distance and added a few extra features and upgrades that weren't available on the basic Hi Cap P14-45 model, which can be quite nice.
It comes with adjustable rear sights, for example, as opposed to the fix low mounts that came standard on most P14-45 (you could, obviously, get adjustable ones if you were willing to pay for them).
Tokyo Marui also includes some standard features like nicer grips and ambidextrous thumb safety in addition to a beavertail safety, which makes it safer and easier for lefties to use.
That said, the TM Hi Capa 5.1 does lack any official markings, which can be a bit of a turn off for airsofters who value authenticity in their replicas.
That said, it is a Tokyo Marui and that maintains a certain cache of its own in the airsoft world , and the markings it does have seem more or less in the style of a Para-Ordnance and should be fine at a casual glance.
Tokyo Marui Hi Capa 5.1 GBB: How Well Does It Perform
Tokyo Marui is known for their excellent build quality with airsoft replicas, and the Hi Capa is really no exception.
Build-quality and construction
As is common with the company's other products, the Tokyo Marui Hi Capa 5.1 is not a full metal airsoft gun.
So as not to run afoul of Japanese regulations on airsoft guns, the slide is made of ABS plastic (yes, even our "stainless" model), while the frame is made out of an aluminum alloy.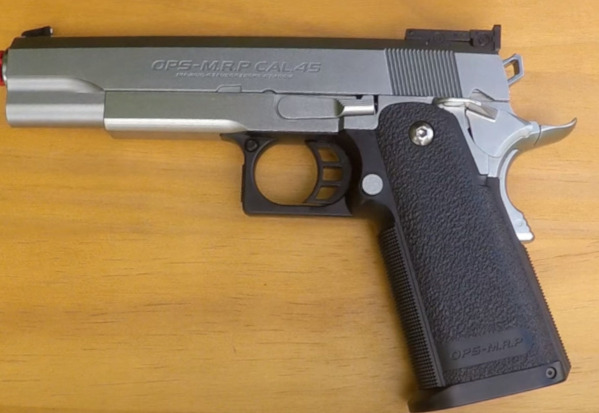 On the one hand, this makes the Tokyo Marui Hi-Capa 5.1 a pretty lightweight airsoft pistol, making it a joy to use for extended periods of time and making it a good choice as a dedicated secondary, since it won't add significant weight to a loadout.
In terms of usability, this reduced mass generally means it will consume less gas and have a somewhat faster cycle than its metal competitors and the polymer slide can function a little better and more reliably than metal in cold weather.
On the other hand, the extensive use of plastics does make the standard Hi Capa 5.1 a little less durable than a pistol with a metal slide might otherwise be.
The company even recommends using duster gas with the model as higher pressured gases can cause damage to the slide mechanism over time, as well as causing the stock O-rings to displace a bit.
It also means that the Tokyo Marui Hi Capa 5.1 doesn't feel quite as hefty and solid in hand compared to other models, which can reduce the user's sense of realism a bit considering it is based on a gun that weighs almost twice as much.
Gas-enthusiasts should also note that this is a very popular gun and there are a ton of aftermarket mods and upgrades available to increase its durability, such as aluminum slides.
In terms of overall size, as we mentioned it is very close to a Para Hi-Capa, but a little thicker overall than a standard 1911, so finding ready holsters for it can be a little trickier than other models.
That said, the gun as a whole is typical of Tokyo Marui quality.
In our experience, its magazines slid in and out easily and smoothly and, despite being made of ABS plastic, it did feel quite solid in hand and not at all toy-like, which we liked.
When handling it we didn't find any annoying rattling or any loose or ill-fitting parts, which is always a plus.
One thing to note is that the Hi-Capa 5.1 does not come with a threaded barrel, so if you want to add an airsoft suppressor you'll need to buy a threaded replacement outer barrel for it or an adaptor, which is somewhat unfortunate.
That said, the gun does come with an 20mm undermount rail, so it is quite easy to add flashlights, lasers and other attachments to the underside of the gun.
Oddly, the rail attachment does not come mounted to the gun. Instead it is offered as a separate piece that users will have to install themselves by drilling a couple holes into the underside of the gun.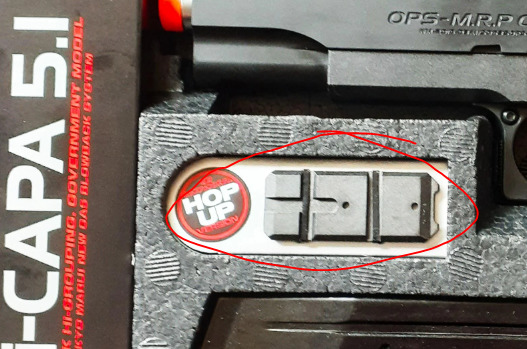 In terms of sights, the Tokyo Marui Hi-Capa 5.1 comes with fairly standard, adjustable 1911-style notch sights.
These sights work well and are mid-rise, so they aren't likely to snag on clothing or gear, and are pretty easy to see.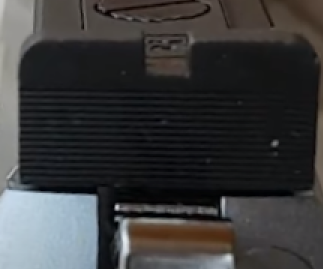 That said, they don't come stock with white dots, so they can be a little trickier to use on low-contrast targets or in low light settings if you don't replace them or add a little white dot here and there.
On the inside, the Hi-Capa is pretty well designed.
The gun features a 112mm high quality (although standard diameter) 6.08mm Tokyo Marui brass barrel, a metal recoil guide with rubber stopper to prevent undue wear and tear as the gun fires.
Although the slide is made from ABS plastic, the frame of the gun does include metal inserts and reinforcements, which make it much easier to swap in an aluminum or other metal slide, which is certainly a nice touch.
The hop up is located on the underside of the slide, much like many other airsoft 1911s and M9s, which means you will have to disassemble the gun before tweaking the spin.
However, the hop up does provide excellent spin and is a dial-type, so you can make fine adjustments pretty easy and without the need for any tools.
Performance and Accuracy
Out of the box the Tokyo Marui Hi Capa 5.1 is a very accurate airsoft pistol in our opinion.
We found that the Hi-Capa delivers around 270-300 or so FPS on green gas with 0.20g BBs.
While certainly no FPS monster, it does do the job nicely in outdoor games and will chrono in comfortably at about any CQB or indoor game, regardless of how strict their FPS limits are.
The blowback action of the gun when stock is quite slick and snappy. While the felt recoil is decent enough, thanks to the very light ABS slide the gun cycles at a pretty blistering rate and can be a blast to shoot (making it a good thing that it comes with a 30 round mag).
In terms of shooting, even unmodded the Hi Capa 5.1 has a pretty short trigger pull for an airsoft pistol and decent trigger response.
It's not a hair trigger by any means, but overall it doesn't take much to send BBs downrange with this replica.
All things being equal, this means less experienced users won't have to exert as much force, making it easier to maintain sight alignment when firing and it also allows more practiced users to achieve some pretty rapid firing if they so choose.
In terms of accuracy, we saw the gun group well past 50 feet (15m), reliably hit center mass at around 100 feet (~30 meters) out with standard 0.25 g / 6 mm BBs and duster gas, and had no real issues hitting a target (albeit with greater spread) at even 150 feet (50 meters) with a little concentration and practice.
Finally, gas efficiency is pretty good with the Hi-Capa 5.1, with the gun getting somewhere north of 90 shots or 3-4 mags per fill, which means it shouldn't be too expensive to run in the long term.
That said, users should be aware that if they are considering using green gas for extended periods of time they should consider upgrading to a metal slide, as the ABS plastic version may break over time.
Swapping slides for a more heavy and durable metal version can have its consequences, however.
In particular, a heavier slide will make the gun a little gas efficient and will reduce the cycle rate to some degree, although it will make the felt blowback action a little stronger.
Handling and feel
The TM Hi Capa 5.1 is a full length 1911-style pistol.
At over 8" long, it is nice and intimidating and will feel great in your hand when drawn.
It can be something of a handful if you are planning to exclusively use it for tight CQB games, in which case Tokyo Marui also offers a shorter 4.3 model you can check out.
At just under 1 Kg or 2 lbs, the Tokyo Marui Hi Capa 5.1 is pretty lightweight.
While perhaps not as realistic feeling as some other, full metal airsoft pistols out there, it does feel comfortable in hand and is easy to hold and carry around for extended periods of time.
In terms of grips, the Hi-Capa 5.1 comes stock with nicely textured ABS grips with diamond patterning on the front and back of its grips, as can be seen below.
Some users feel that this diamond pattern can dig into their palms and fingers a little too much, but we didn't have much of a problem with them (we love that feeling, in fact) and feel that they do a good job keeping the 5.1 firmly in hand during intense play, especially if your palms are prone to getting a little sweaty.
Of course , there are tons of aftermarket grips for this gun that can easily swap in as a replacement, so its not much of an issue either way.
The gun also comes with some nice serrations located towards the back of the slide, which give you something to hold on to when racking it.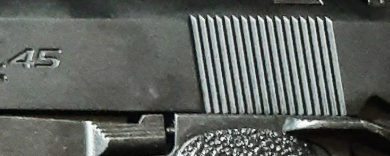 These serrations are pretty deep individually, and there are a lot of them, so it is quite easy to get a firm grip on the slide even when it is wet or if you are wearing gloves.
Finally, and unlike the smaller 4.3 and most other airsoft 1911s, the Tokyo Marui Hi-Capa 5.1 is left-hand friendly.
The gun sports twin safety levers on each side of the gun, so that lefties and righties can operate the gun with maximum comfort.

Sadly, though, the mag release is right hand only.
Maintenance
The Hi Capa 5.1 is pretty standard as far as gas blowbacks go in terms of maintenance.
Push back the slide so that its center aligns with the slide stop, pop out the body pin and the slide should separate from the frame.
The Hi Capa mainly requires routine GBB maintenance – cleaning and lubing up the barrel, spring guide, and internals on a fairly regular basis and checking the nozzles, pistons and seals on occasion.
Beyond that the gun is fairly easygoing, with the only caveat being the plastic slide mechanism, which users will need to take a peek at from time to time to make sure it remains in good condition (especially if using Green Gas).
Magazine type and capacity
The Tokyo Marui 5.1 Hi Capa is based on a high-capacity pistol and comes with a 31 round, full metal (and somewhat heavy) magazine.
For best fit and flushness, obviously it is meant to be used with Tokyo Marui Hi Capa 5.1 mags, but users do report being able to use other hi caps from companies like KJW, We Tech and more, so users can mix and match in a pinch.
That said, as always, slight differences in magazine construction can cause fit and feed problems so make sure to double check for compatibility.
The gun also is compatible with other models in the Hi-Capa range, such as the slightly smaller 4.3, which can make it a little easier to source authentic TM mags if you so desire.
Accessories & Customizability
A popular model, the Tokyo Marui Hi Capa 5.1 is extremely customizable with tons of replacement parts available on the market, giving its owners a lot of freedom to adjust it for looks and performance.
Parts for this particular airsoft pistol are plentiful and offered by a wide variety of companies, making it easy to shop around for parts at the best price.
Users are easily able to replace the gun's grips, outer barrel, inner barrel, slide and even the internal components…in fact, there is very little that can't be replaced on the Hi Capa 5.1.
With a little time, googling and effort, a Hi Capa 5.1 owner can essentially overhaul the entire gun.
The most common customization for this airsoft pistol is rebuilding it to accept a metal slide in place of the ABS stock plastic one.
This can help ensure a longer lifespan for the gun and allows it better handle green gas (or even propane) and gives the Hi Capa 5.1 a little more oomph when it comes to recoil (albeit at the cost of cycle rate and gas efficiency).
This typically requires replacing the outer barrel as well, which is something users might want to consider doing eventually since the stock barrel is not threaded and cannot accept silencers or amplifiers out of the box.
Overall, the wide availability of parts and easy customization of the Tokyo Marui Hi Capa 5.1 make it an ideal choice for those who like to tinker and modify their airsoft replicas.
Price
Note: Prices correct as of writing, all prices in USD.
Typically coming in at over $150 (depending on retailer, obviously), the Hi Capa 5.1 isn't exactly the cheapest GBB airsoft pistol out there and tends to be more on the premium end of the 1911 market.
It is more or less the same price as Tokyo Marui's other higher quality pistols, such as the Hi-Capa 4.3, and the MK23, not too far off from the Umarex Glock 17, and a bit more expensive than the TAC 1911 and KJW M9.
That said, the Hi Capa 5.1 is a snappy, accurate and well-built airsoft pistol that feels excellent in hand and has a number of realistic and fully functioning features not found on less-expensive airsoft replicas.
It is also a highly adaptable and customizable airsoft pistol that, with a little care, should last a long time.
Or
Or
Advantages
Lightweight and well built
The Tokyo Marui 5.1 Hi Capa GBB is typical of the company's eye for quality. Made of high quality ABS plastics, it is easy to carry around, decently sturdy, very well-built and fires accurately.
Accurate
With very little effort, users should be able to hit and get good groupings on targets well past 50 feet (15m) and potentially well past 100 feet (30m) using a stock 5.1 without much of an issue.
Stock internals are quite good
The 5.1 has a reliable gas system that delivers decent pistol performance with stable FPS, delivering consistent performance even on Duster gas.
Lots of parts and accessories to upgrade
A popular airsoft pistol, there is a lot of that can be upgraded with the Hi Capa 5.1. Aside from the grips, there are a ton of aftermarket barrels, hop ups, springs and more to tweak its performance and durability.
Smooth action
We found the 5.1 to fire smoothly, with a nice and responsive trigger and delivering excellent sound and snappy action to boot.
Gas efficient
Getting 3-4 mags per fill, the Tokyo Marui Hi-Capa 5.1 is a pretty gas efficient GBB pistol that shouldn't be too hard on the budget in the long run.
Drawbacks
Expensive
Although the Hi Capa 5.1 is a great gun and high quality, you will pay for it (especially if you go with the more durable and fancy Gold match model). Performance aside, it is significantly more expensive than a typical airsoft pistol.
ABS plastic slide and receiver
The Hi Capa is made of a polymer construction, which limits the type of gases it can be used with stock and impacts the long term durability if you're a run and gun type.
Bottom Line
The Tokyo Marui Hi Capa 5.1 GBBP can be an excellent addition to any airsofter's arsenal.
The 5.1 is lightweight, accurate and reliable and, while its ABS construction does limit the type of gas it should be used with to some degree, can still deliver a fair punch to your opponents.
Although not the powerful (or cheapest) 1911 replica out there, its looks, accuracy and build quality should serve you well in game and raise a few jealous eyebrows at the same time.
Ted Clark– Hailing from Florida, Ted has been an avid airsoft enthusiast since he was in middle school. When he's not checking out and reviewing airsoft guns, he enjoys picking off his enemies one by one on the field as a sniper.