Green Gas, CO2 – Why Not Both?
Durability and Build Quality

94%
| | |
| --- | --- |
| Pros | Cons |
| ✅ Accepts Green Gas or CO2, making it widely usable | ❌ Trigger pull can be a little heavy on double action |
| ✅ Durable full metal slide, nylon-reinforced polymer frame | ❌ Some proprietary parts |
| ✅ Officially licensed with trademarks | ❌ Replica CZ Slide is accurate – a little thin in profile, can require a little more force to grip when racking |
| ✅ White dot sights for better aiming on low contrast targets | |
| ✅ Highly accurate, can easily hit targets past 100′ | |
| ✅ Undermount rail makes it easy to add accessories | |
| ✅ Threaded barrel makes it easy to add suppressors | |
| ✅ Decent kick, sound and blowback action | |
| ✅ Gas efficient on CO2 | |
Buying an airsoft pistol can be a bit of a challenge sometimes.
You want something with power and kick, but at the same time it can't be so powerful as to be unusable in indoor and CQB fields, which are the natural home for airsoft pistols.
The ASG CZ P-09 seems to offer a solution to this airsoft conundrum.
When purchased with a full metal slide, this CO2-ready airsoft pistol can also run green gas magazines, allowing users to pare down their FPS should the situation call for it.
This little bit of design ingenuity makes these models of ASG P-09 quite flexible and has garnered a lot of attention in the airsoft community.
To help you figure out if this tactically flexible airsoft pistol is right for you, we took a closer look at this dual-use duty pistol.
Specifications
| | |
| --- | --- |
| Manufacturer | ASG |
| Power | CO2 |
| Action | Gas Blowback – Green Gas or CO2 |
| FPS | ~ 370-380 FPS @ 0.20g BBs |
| Hop up | Adjustable |
| Inner Barrel | 3.9 inch (100mm) – 14 mm negative thread |
| Total Length | 8.8 inches (2230 mm) |
| Weight | 2 lbs (920g) |
| Construction | Metal slide, nylon-reinforced polymer frame |
| Rounds | 25 |
How closely does the ASG CZ P-09 resemble the real thing?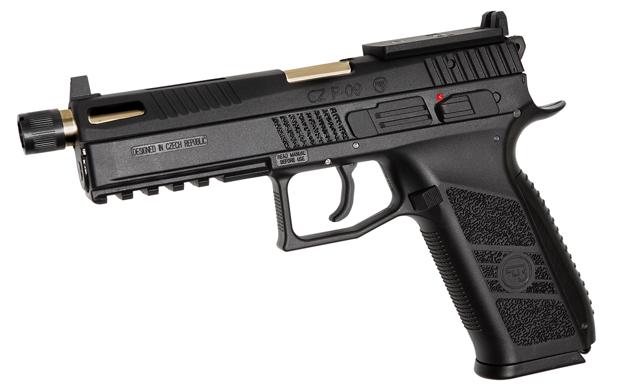 | | | |
| --- | --- | --- |
| | ASG CZ P-09 | CZ P-09 |
| Weight | 2 lbs (920g) | 1.94 lbs (878.84 g) |
| Barrel Length | 3.9 inch (100 mm) | 4.54" (115.31 mm) |
| Overall length | 8.8 inches (223.52 mm) | 8.1″ (205.74 mm) |
| Action | Single/Double | Single/Double |
| Caliber | 6mm | 9mm |
| Capacity | 25 BBs | 19+2 rounds |
| Construction | Polymer | Polymer Frame |
| Sights | Fixed front, adjustable rear | Fixed front, adjustable rear |
| Rail | Yes | Yes |
The ASG CZ P-09 is based on the CZ P-09, a full-sized, large capacity duty pistol popular with police and military units in the Czech Republic and around Eastern Europe.
The CZ P-09 is an modernized adaptation of the company's well-known CZ 75, being built with a lightweight, advanced polymer frame and sporting picatinny rails.
Overall, ASG has done a pretty good job at replicating the CZ P-09 in looks and feel.
The ASG CZ P-09 matches the real steel version pretty closely in overall dimension, being a little but longer and heavier than the original, at 8.8 inches (compared to 8.1 in the CZ) and 2 lbs (compared to 1.94).
While a polymer frame is usually a point of difference between airsoft guns and the real deal, in the case of the ASG P-09 it is actually another point of similarity.
Real steel CZ P-09s use a lightweight and durable, Zytel polymer frame (sort of a premium nylon-reinforced polymer made by DuPont that replaced traditional fiberglass polymers), and the ASG's nylon-reinforced polymer frame is a pretty close match.
The externals are a close match as well, with the slidelock, safety, mag release and undermount rail all true to life and located where they should be.
Similarly, just like its real steel inspiration, the ASG P-09 comes with rather unique texturing on the grips and under the slide and white tri-dot sights.
Because it is a licensed airsoft replica, the ASG CZ P-09 also comes with prominent CZ trademarks, with CZ P-09 engraved prominently across the slide and the stylistic CZ logo on the grips, all of which add authenticity to the airsoft pistol that sticklers for accuracy should appreciate.
How Well Does the ASG CZ P-09 Perform as a CO2 Airsoft Pistol?
Build-quality and construction
The ASG CZ P-09 is made of a mixture of polymer and metal components.
Like its real steel counterpart, the frame of the ASG CZ P-09 is made of high-quality, nylon-reinforced polymer, with some metal reinforcement here and there, while its slide and outer barrel are both made of metal.
As a result, the ASG P-09 feels very sturdy, rigid and well-built. When you hold the gun it feels very durable and solid, there's no real wobble or flex to it.
This construction also lends the gun a good degree of heft.
At around 2 lbs, and at nearly 9 inches long, the CZ P-09 is a big boy and replicates the feel of holding a real pistol quite well.
ASG also replicates CZ's somewhat controversial slide.
A little thinner than most, the slide is low profile and actually rides inside the slide rails.
Although it does make it a little tricker to grab onto when racking using the front serrations (you'll need to give it a good pinch), but does make the recoil and blowback a lot smoother and quicker and helps users get their shots on target faster.
All these design features really make the ASG P-09 stand out for its ability to make use of different airsoft gasses.
Its nylon-reinforcement and metal slide make it durable enough to be used with CO2 magazines, providing it with ample power and kick.
Yet the slide construction and its overall lightweight nature allows it to be used with Green Gas mags as well, should you need to reduce FPS to indoor or CQB limits.
All this makes the gun an extremely flexible and usable airsoft choice that can suit a variety of different airsoft games and roles.
(Note: Users should be aware that there are ASG P-09 models out there with a polymer slide that only run on green gas, but for the above reasons we prefer, and really recommend users consider, the metal slide.)
This flexibility is accentuated by the gun's options for accessories.
The ASG CZ P-09 comes with a 20mm undermount rail, which allows you to easily attach a wide range of accessories, such as lasers or flashlights.
It also comes with a 14mm CCW threaded metal outer barrel, so you can easily add suppressors or tracers without much of an issue, which is always nice.
It is also frequently sold with a pretty cool, foam-lined plastic carrying case, which helps protect the gun and makes carrying it around feel a lot more like a real gun.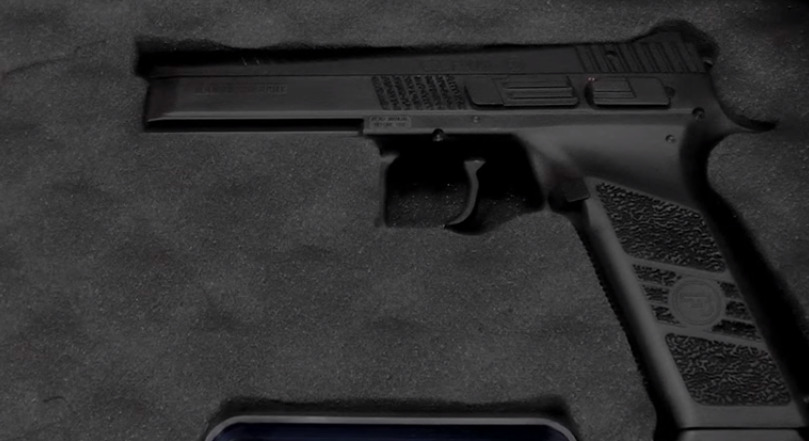 Performance and Accuracy
Being that the ASG CZ P-09 can run on green gas and CO2, it does offer fairly different performance characteristics, depending on what magazine and gas you load it up with.
On Green Gas, we saw the P-09 get between about 283-300 FPS using 0.20g BBs, which isn't bad and makes it perfectly usable in pretty much any CQB or indoor game.
Switching to CO2, you do get more a bang for your buck. The first couple rounds with the ASG CZ P-09 on CO2 do run a little hot, at around 380-390 FPS, but the gun does quickly settle into a groove of about 370-380 FPS.
With 380-ish FPS, it does deliver more of an entertaining punch, but can run afoul of fields with stricter FPS limits, which is why we feel the flexibility of switching to Green Gas can be so interesting for players.
If you're planning on going to a field with strict limits, you can simply bring and use your green gas mags.
On either gas, the gun has a nice snappy blowback and predictable if a little heavy and long when it comes to trigger pull on double action.
When drawing the hammer back for single action firing, however, the trigger is light and responsive.
In terms of accuracy, the CZ P-09 is actually very accurate.
On both Green Gas and CO2 we saw good grouping at up to 50 feet (15 meters) and could hit center mass targets at well over 120-130 feet (35-40 m) with little issue.
One thing that helps this along is that the gun has a pretty decent adjustable, screw-type hop up that, much like the 1911s, you have to disassemble the slide to access.
In terms of gas efficiency, on CO2 we saw around 75 rounds per 12g cartridge, so about 3 mags per fill, which is pretty good.
On Green Gas, the heavier metal slide does require a little more gas and we saw around 32-35 rounds per gas, or about 1.5 mags per fill.
Handling and feel
The CZ P-09 is a full-size, duty pistol, and the ASG replicates this well.
At almost 9 inches long, the ASG CZ P09 is a big gun that feels very substantial in-hand, particularly given its realistic 2lb weight.
That said, it maintains the width of its real steel inspiration and is pretty slim (about 1.25 inches) and easy to get a hold of.
This is particularly true given the gun's rather unique and interesting textured grip.
The frame has several stippled spots – both on the sides of the grip and directly above the trigger as a rest for your trigger finger.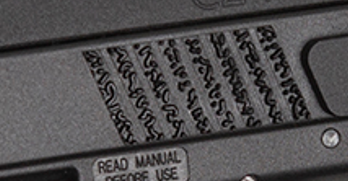 This stippling gives the gun a grittier feel and helps users get and keep a firm hold on the ASG even when wet or when wearing gloves.
The gun also has forward and rear slide cuts, serrations that can give users more options and extra grip for racking the slide.
This extra grip on the slide is especially important given that it sits low, CZ-style and needs a bit more of a finger-squeeze to get a proper hold of.
The CZ P-09 also has a exposed hammer, which is fully functional and allows the gun to be used in both single and double action, which is nice, although there is no manual decocker.
Finally, the ASG P-09 comes with white tri dot sights, which do help with shooting, being easier to make out when aiming at low-contrast targets (like a black silhouette or a player wearing dark clothing).
That said, users should be aware that they are fixed and the rear sights can't be adjusted for windage or elevation.
Once you do get the hang of it, however, the ASG CZ P-09 is very easy to handle and comfortable to use.
For left-handed users, there are some concessions.
It does have an ambidextrous on-frame safety, but the mag release and slide catch are located on the left.
Maintenance
As with other airsoft gas blowback pistols, the CZ P-09 will need periodic maintenance to keep it working properly over time, especially if you're prone to switching between CO2, propane and Green Gas regularly.
Also keep in mind that there are a couple versions of this gun floating around, one that is designed for Green Gas only (called the Duty model or Green Gas Version) with a polymer slide, and one with a sturdier that can accommodate both.
Obviously, you shouldn't try to run CO2 on the model not designed to handle it since it will void any warranty and probably will break.
Disassembly of a CZ pistol is a little different than a 1911, but not overly complicated.
Once you've removed the magazine, the real trick is to pay attention to these little notches at the back of the slide. The key is to draw the slide back slowly, until the notches are aligned vertically.
Once aligned, you can remove the slide catch, return the slide to its regular position before being able to pull it forward.
After that, everything more or less continues as normal with a gas airsoft pistol. With the slide off you can access and lube the frame rails, and access the spring, polymer blowback chamber, check the o-rings, striker and more.
When it comes to repair and upgrades, keep in mind that this is a KJW OEM and therefore contains a few proprietary parts, such as nozzles, cylinders, buckings and such, that aren't always compatible with typical Tokyo Marui measurements.
That said, there are a number of custom and replacement parts for KJW pistols and things like maple leaf buckings can be easily modded to fit this gun.
Magazine type and capacity
The ASG CZ P-09 with a metal slide is typically offered with a 25 round mag that is designed for a 12 oz CO2 cartridge.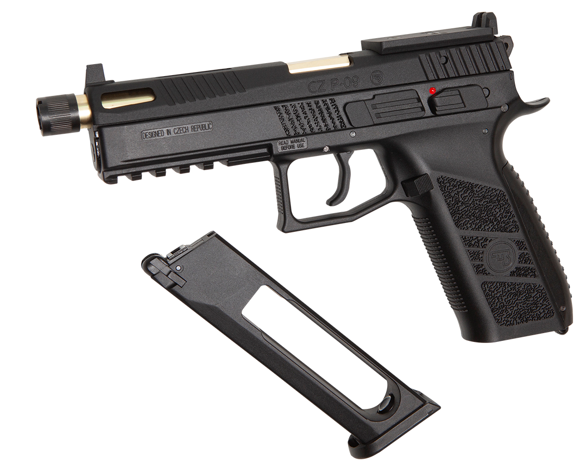 If you want to run these on Green Gas you will need to purchase a Green Gas fillable mag, which are fairly easy to find and also hold 25 rounds.
Accessories & Customizability
The ASG CZ P-09 does have a few ready options for accessories, with a 14mm CCW threaded barrel (for suppressors and tracer units) and an undermount picatinny rail, which allows for the addition of flashlights, lasers and such.
In addition, although we haven't tested it, there are Optic Ready models, which have an RMR mounting plate attached to them out of the box, which will allow users to add red dot sights and more.
In terms of customizability, while there isn't quite as much available for these as there might be for a Tokyo Marui compatible pistol, there is still some freedom to tailor them to your liking.
With a little shopping around on the internet you can find, for example, custom grips, tighter bore barrels, improved buckings and more.
Price
Pricewise, the ASG CZ P-09 comes in around $140 or so, depending on the retailer, and overall we think it is a great airsoft pistol gun for the money.
Although not the cheapest CO2 airsoft gun out there, particularly considering it isn't full metal, it is highly accurate, well-built, officially licensed, accessorizable and pretty gas efficient.
Further, the metal slide CO2 version's ability to switch between harder hitting CO2 and indoor-friendly Green Gas makes this gun highly flexible and far more usable for airsoft players, especially those just starting their collection, than other airsoft pistols.
Advantages of the ASG CZ P-09
Feels very realistic
At almost 9 inches long and nearly 2 lbs, the CZ P-09 is a full-sized duty pistol replica with a good amount of heft that feels like holding a real steel pistol in-hand.
It also is frequently sold with a plastic, foam-lined case that, aside from giving the gun a fancier and more protective storage option, really gives you the feeling of having received a real steel firearm.
Well-built, durable
The CZ P-09 uses a combination of a metal slide nylon-reinforced body that, like its real steel counterpart, really makes it feel tough and durable. Further, all the externals (slide catch, safety switch, hammer) are all properly and firmly attached to the gun, functioning smoothly without a lot of rattling or looseness when handling it.
Highly flexible and widely useable
As long as you purchase a CO2-ready model (i.e. with a metal slide), the ASG CZ P-09 is sturdy and flexible enough to run on either CO2 or Green Gas, with magazines available for either, something that's not all that common with airsoft pistols.
As a result, due to the ability to switch gasses, it can easily be used in outdoor airsoft games as well as indoor and CQB fields, where stricter FPS rules may apply.
Accurate and has excellent range for a pistol
The ASG CZ P-09 performs quite well, providing decent FPS on CO2 and Green Gas, and a high level of accuracy and range.
With the help of its adjustable hop up, out of the box the ASG P-09 should be able to hit torso-sized targets well past 120 feet.
Pretty gas efficient on CO2
Despites its performance and flexibility, the ASG P-09 isn't a gas hog and should allow users to get between 3-4 mags per fill on CO2, depending on temperature.
Good kick and sound
When running on CO2, the ASG CZ P-09 offers users a great experience, with a snappy slide, good blowback and a rather loud rapport for an airsoft pistol.
On green gas, while not quite as powerful, the blowback action still remains quite snappy, smooth and rapid, which is impressive.
Easy to accessorize out of the box
The ASG P-09 comes with a threaded barrel and a picatinny rail, which allow it to be fitted with a variety of accessories and extras right out of the box.
Some models even offer a RMR mounting plate, for the addition of optics along the top, should you feel the need to.
Disadvantages of the ASG CZ P 09
The CZ-style slide isn't the easiest to grab onto from the front
Modeled after the real steel P-09, the gun's slide rides inside the rails of the gun, rather than outside, which gives it a lower profile.
As a result, there isn't as much slide to grab ahold if you like to rack from the front, requiring users to use a bit more power when gripping it, which can take a little getting used to.
Trigger is a little heavy on double action
Although smooth and very predictable, when using the P-09 as a double action, the trigger is a little heavier than some other models, requiring a little more force to pull.
Some proprietary parts
Like other KJW models, the ASG P-09 does use a few parts that aren't Tokyo Marui standard. While replacement and upgrade parts are easily available online, they aren't quite as common as TM standard models
Bottom Line
Well made, accurate and easily configurable for both outdoor use and under strict FPS limits, the ASG CZ P-09 is a great all around airsoft gas pistol and an excellent choice to add to any airsoft collection.
Will Martin – Will has been into airsoft and paintball for well over 10 years, and has done it all – from upgrading and fixing gearboxes as a tech to building custom airsoft loadouts for his friends to supporting off those friends as a DM.