A laser can be a cool, aggressive and even menacing accessory to add to an airsoft gun.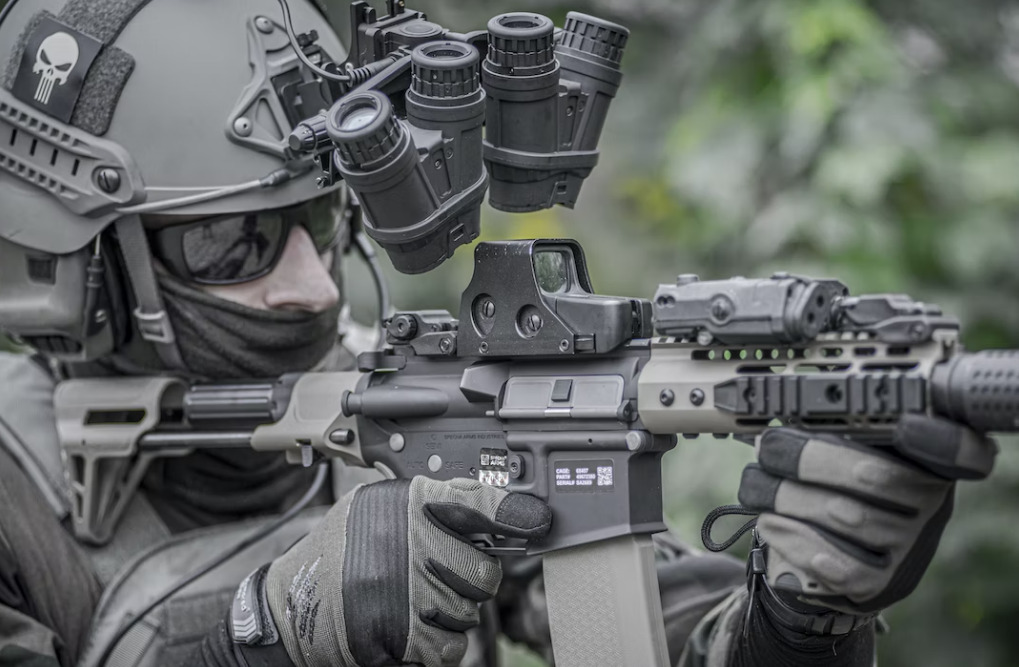 As in the real steel firearms world, aside from looking cool, laser sights can also offer some significant advantages under the right conditions.
Unfortunately, as with most things in airsoft, there are a lot of poorly made, possibly even dangerous, laser sights out there.
If you are in the market for a good quality airsoft laser and find yourself a little confused by the sheer amount of choice that exists, then read on as we find the ones most worthy of your time and money.
In A Rush? Check Out Our Top Picks
What We Look For In An Airsoft Laser Sight
Color
When it comes to airsoft, most lasers you'll find for a reasonable price will be red, largely because it's still generally cheaper to reliably build a red laser that's small enough to fit a pistol, SMG or other firearm.
Now, when it comes to lasers, generally speaking we like a green one.
That's because green light is about four times more visible on targets in brighter light than their red rivals.
That said, airsoft laser sights are something of a niche item and if the price is right and you are on a budget, a good red laser certainly isn't a deal-breaker for us, especially if you're mainly planning on using them in low light conditions where their relative lack of brightness won't be as much of an issue.
Battery life
A good airsoft game can last anywhere from 15-30 minutes in speedsoft to longer skirmishes that can last an hour or more.
The last thing you need is for your laser to conk out in the middle of a firefight, especially since changing their batteries isn't always the easiest thing to do in the field when BBs are flying.
While you probably won't be running your laser for an entire game, it can be comforting to know that you could if you really had to.
Broadly speaking, we like our lasers to at least be able to continuously run for an hour so that we can be a little more certain that, given a fresh set of batteries (and assuming we don't accidentally leave it on), they probably won't let us down for at least a few games. 
Weight
It's no secret that airsoft guns aren't usually all that heavy, not usually being made of materials designed to meet the specs and stresses of their real steel inspirations.
As a result, and particularly with pistols, it can be easier to ruin their balance by attaching numerous or unnecessarily heavy accessories, which can make them a little harder and/or more awkward to hold and use for long periods of time.
As a consequence, while any laser sight needs to be built somewhat sturdy to take some of the knocks and bangs that airsoft players can throw at it, we do like them to be fairly lightweight, usually well under half a pound (0.25kg).
Rail mounting
There can be a few ways you can mount a laser sight to your airsoft gun.
There are those that mount to a standard rail, those that mount to the frame of the gun somehow and those that attach to the gun's grip or trigger guard.
Recognizing that airsoft guns aren't always made of the same sturdy materials that real steel firearms are, and also recognizing that it often doesn't take much to really scratch them up or dent them, we tend to prefer those that mount to an existing rail system as swapping the laser on and off will be less likely to leave any permanent damage to the gun itself.
Best Overall – Crimson Trace CMR-201 Universal Laser Sight
| | |
| --- | --- |
| PROS | CONS |
| Bright | Pricey |
| 5 minute auto shut-off | |
| Up to 4 hour battery life | |
| Easy to install | |
| Ambidextrous controls | |
| Compact | |
| Works on just about any weapon type | |
| Excellent construction | |
| Quite durable | |
| 1 year warranty | |
| | |
| --- | --- |
| Wavelength | 633nm |
| Price | ⭐⭐⭐⭐ |
| Color | Red |
| Attachment | Rail (includes multiple adaptors) |
| Weight | ⭐⭐⭐⭐⭐ |
| Battery Life | ⭐⭐⭐⭐⭐ |
If you're looking for a high visibility laser sight that's well-made, bright, feature-rich and whose battery will last you throughout a long day of airsofting, the Crimson Trace CMR-201 just might be the right sight for you.
While it is made of reinforced polymer, rather than the aluminum alloy some other sights on this list are made of, the materials used are pretty durable and flex-free.
Intended for use on real steel shotguns and rifles, it should have no problem with airsoft AEGs and GBBs.
In fact, Crimson Trace has fitted this device with a patented rail locking system in order to keep it securely and firmly attached in all conditions.
When we looked at the device, once attached it really stuck in place and simply refused to budge from center no matter how much it was jostled or nudged, which is pretty cool.
The sight even comes with 4 inserts, which allows it to adapt to different manufacturer platforms, such as Glocks or Sigs, and lets it attach to pretty much any time of airsoft gun out there, from full rifles to railed shotguns, so those with more extensive and diverse airsoft collections can really put it to work.
Further, the CMR-201 has been designed to be as ambidextrous as possible, which is good news for left-handed airsofters, with little tabs or wings on each side that respond pretty well to a tap.
It is, of course, also fully adjustable for easy zeroing.
It's also quite a compact little sight, being only a couple inches long, so it should fit most pistols comfortably.
It is a little heftier than some of the more compact items on this list, however, although at 3.5 oz it's really not that much weight to add to your loadout.
In terms of performance, the CMR-201 red laser is very powerful and bright, being highly visible well past 100 yards or so and providing a fairly tight ( 1/2″) dot all the way out to 50 feet, which is pretty good.
Normally, you'd expect that much power to come at the cost of battery life, but that isn't the case here.
Rather impressively, the CMR-201 can run for up to 4 hours on a single CR1/3N battery.
Finally, adding a measure of peace of mind, the sight is backed up by a one year warranty.

On the downside, with a price tag just shy of $160, the CMR-201 is quite pricey for a red laser sight.
Adding to this price tag is the fact that the gun runs on disposables that, although quite long lasting, will need to be replaced every so often rather than recharged.
All in all, however, while perhaps not the most budget friendly airsoft laser sight out there, the Crimson Trace CMR-201 Universal Laser Sight is powerful, bright, compact, versatile, and long lasting and we feel that airsoft players can really get their money's worth and more with this device.
Or
Best Compact Option – Tacticon Compact Laser Sight
| | |
| --- | --- |
| PROS | CONS |
| Compact and Lightweight | Relatively short battery life (1 hr) |
| Durable aluminum construction | Can be a little powerful |
| Includes two sets of batteries | |
| Easy to install, use | |
| Easily adjusts for windage and elevation | |
| Comes with rail to let you add another accessory | |
| Lifetime warranty | |
| | |
| --- | --- |
| Wavelength | 625-650nm |
| Price | ⭐⭐⭐⭐ |
| Color | Red |
| Attachment | Rail |
| Weight | ⭐⭐⭐⭐⭐ |
| Battery Life | ⭐⭐⭐⭐ |
The Tacticon Laser sight is a very good choice for a laser sight if real estate is something of an issue for your airsoft gun.
Only about an inch long (30 mm) and weighing about an ounce (28 g), so it should change the dynamics, the Tacticon is quite small and lightweight and attaching it shouldn't require a lot of rail and shouldn't change the dynamics of your airsoft gun's handling too much.
This can be especially helpful if you plan on attaching this laser to a compact or subcompact airsoft pistol, such as a Glock 19X or similar.
Although small, the Tacticon is surprisingly durable thanks to a pretty tough aluminum alloy frame- you can take this sight along to even rougher games without much of a worry.

Yet, it's important not to let its compact dimensions deceive you – the sight is quite powerful. 
When we looked at the device it demonstrated great range and visibility, providing a clear, bright and focused dot at well over 75 meters, which is more than decent for an airsoft laser of this size.
In terms of installation, it mounts to any standard Picatinny or Weaver rail and is super easy to install. Using the included tools, it popped on quickly and securely, demonstrating no lateral movement or wiggle that we could notice.
Interestingly, the Tacticon comes with a rail attachment of its own, on the bottom of the device (or top, depending on your perspective) that lets users attach another accessory, such as a flashlight, which is good for airsoft pistol users.
It is also an adjustable laser sight, which is always welcome for devices at an affordable price point.
To adjust for elevation, you tinker with the adjustment slot on the top of the laser with an included hex key, and do the same with the adjustment hole on the side to correct for windage.
On the downside, generating a powerful and bright laser from such a small device can take some power and, taking only 3 LR41 batteries at a time (it comes with 6 in total), it can go through them fairly quickly if left on – getting about an hour of continuous use.
Similarly, due to the device's compact size, it can be a little tricky getting batteries in the device on the first try and you might have to use a hex key to sort of flatten them down and get them flush.
Overall, however, at around $30 or so the Tacticon is a sturdy, lightweight and highly compact choice of laser sight that is pretty easy to use and install.
It's also backed by a lifetime warranty, which we always find reassuring.
Or
Best Integrated Flashlight – Feyachi LF-38 Red Laser Flashlight Combo
| | |
| --- | --- |
| PROS | CONS |
| Excellent utility | No strobe function |
| Real steel laser sight | Can be a bit bulky |
| Easy to set up | |
| Durable aluminum build | |
| Weather, impact-resistant and shock-proof | |
| Great range on laser | |
| Flashlight has "momentary on" option | |
| Good value for money | |
| | |
| --- | --- |
| Wavelength | 650nm |
| Price | ⭐⭐⭐⭐⭐ |
| Color | Red |
| Attachment | Rail |
| Weight | ⭐⭐⭐⭐⭐ |
| Battery Life | ⭐⭐⭐⭐ |
It can sometimes be hard to pick the right accessory to use for your loadout – after all, they all have their place.
Sure, laser sights can be useful, but what if you think you might needa flashlight? They're not only great for seeing in low-light conditions, as we've discussed in other articles, they can be very useful for distracting or disorientating opponents with a quick flash.
Luckily, with a device like the Feyachi LF-38, you no longer have to choose.

The Feyachi LF-38 is an integrated sight originally designed for real steel firearms that combines a quality laser sight and a handy flashlight. 
Its red laser (also available in green as the LF 58) has quite a long range (around 900 feet or more in the dark and around 60 in day) and power (~5mW), while the powerful 200 lumen flashlight that sits atop it, can easily illuminate objects to about 100 feet or so. 
It also includes a "momentary on" feature which can help extend its battery life and can be useful tactically during a game, although there is no strobe function, sadly.
By and large, the LF-38 is easy to install and use. 
It has a built-in rail mount that allows users to easily attach it to (or detach from) any weapon with weaver or picatinny rails.
The controls are likewise simple, and give users the ability to use the laser, the flashlight or both at once with the flick of a plastic selector switch.
Additionally, originally intended for real steel firearms the LF-38 is built tough. 
It's made of aircraft-grade aluminum, is weather and impact resistant, and is also shock proof, so it is more than likely to be able to stand up to a typical airsoft game without any issue and should last for some time if properly cared for.
The device's careful design and use of high quality aluminum also keeps its overall weight down.
While the LF-38 is a couple inches long and contains a flashlight in addition to a laser, it only weighs about 1.57 oz (44 g), so it shouldn't add a lot of heft to any airsoft gun it is attached to.
On top of all this, the LF-38 is pretty affordable for a real steel accessory, typically coming in under $50 or so.
Battery life varies depending on how you use the device, but its laser should be good for a couple hours of continuous use.
On the downside, while the batteries are fairly powerful lithium CR123As, they are disposable rather than rechargeable, which can increase the device's running costs.
Another issue is its size.
Because it's two accessories in one, the LF-38 is also a bit bulkier than many other laser sights (nearly 2 inches tall x 1.5 wide) and its bit longer (nearly 3.5 inches long) than some others, and it may not fit some compacts or subcompacts without jutting out.
All that said, we feel that Feyachi's LF-38 is a very versatile device that is quite well built and offers a lot of value for the money, making it an ideal option for airsoft players who hate leaving a good accessory behind.
Best PEQ 15 Replica – VFC AN/PEQ15 Illuminator Laser & LED Light Combo
| | |
| --- | --- |
| PROS | CONS |
| Functional airsoft PEQ15 unit | Not the best battery life |
| Sturdy, well-built design | On the pricey side |
| Extremely accurate looks | |
| Functional and adjustable laser | |
| Decent enough LED light | |
| Functional, useful pressure pad | |
| | |
| --- | --- |
| Wavelength | 650nm |
| Price | ⭐⭐⭐⭐ |
| Color | Red |
| Attachment | Rail |
| Weight | ⭐⭐⭐⭐ |
| Battery Life | ⭐⭐⭐⭐ |
PEQ-style laser sights are very popular accessories in airsoft.
Replicating many of the aiming systems used by militaries and tactical police units around the world, these somewhat beefy units can add a welcome touch of realism to any modern loadout.
Popular airsoft manufacturer VFC's PEQ unit is one of the more accurate and reliable replicas out there, and unlike many airsoft PEQ 15 units out there, it isn't just an empty box –  it's actually quite usable in game.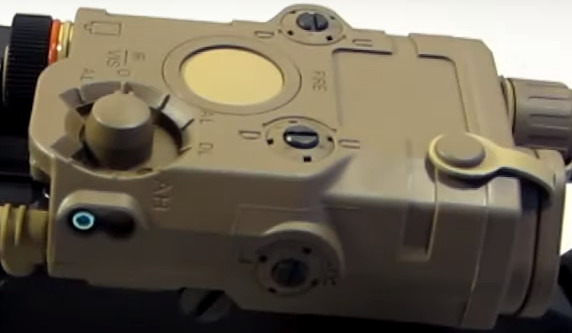 Typical of VFC, the PEQ15 Illuminator Laser & LED Light Combo replicates the overall look and feel of an ATPIAL (Advanced Target Pointer Illuminator Aiming Laser) matching the real steel equivalent very closely in terms of dimensions, looks and low profile design.
The unit is made of high quality nylon reinforced-polymer that, when we handled it, showed little signs of flex or creakiness, and the battery compartment was sealed with a nice rubber o-ring, providing a little more protection from the elements.
The exterior functions of the VFC looks much like a real steel PEQ, such as the famous ATPIAL-C , coming complete with large circular top activation button, toggle switch (complete with authentic AH, DL, AL, IR/VIS markings) and illuminator/IR illuminator/pointer/laser front units. 
The VFC PEQ15 Illuminator obviously doesn't come with all the bells and whistles of its real steel counterpart, but does come with a laser and LED light, which is really what you'd be looking out of such a device in an airsoft game.
The laser is a red laser and is well suited for CQB or mid-range use, offering a crisp and pretty bright dot to about 75 feet or so without much of an issue, although it will fade in brighter light.
It is, however, adjustable for windage and elevation, which is always helpful when zeroing.
Running on single a pretty standard CR123A, the included LED light shines at around 90 lumens.
While certainly not a replacement for a dedicated flashlight, and while it probably won't be very usable for dazzling opponents, it is conveniently located and is pretty good for moving around in the dark or even map-reading, if you're into MILSIM.
One thing we liked is that, while the unit can be operated by hand, it also comes with a removable remote pressure switch, which can make things very handy in CQB games and gives you more freedom to place the unit where you'd like.
On the downside, the VFC isn't the most battery efficient, getting around an hour or so's worth of run time on a single battery.
The pressure pad is also physically pretty big and has its activation located in the center of the unit, so you will have to be pretty accurate when pushing down for it to work correctly.
Finally, coming in at around $100, this unit isn't exactly cheap.
That said, for the price you do get a functional, true-to-life and well-made PEQ15 replica that you can take with and, more importantly, use on the field. 
Or
Best For Airsoft Rifles – Pinty 2.5-10×40 Tactical Rifle Scope
| | |
| --- | --- |
| PROS | CONS |
| Laser and scope | Not the most powerful laser out there |
| Good size, not too big or small | A bit heavy |
| Durable, Fogproof, waterproof | |
| Decent range on laser | |
| Red and green reticle | |
| 5 reticle brightness levels | |
| Decent scope with versatile magnification | |
| Affordable real steel scope for airsoft | |
| | |
| --- | --- |
| Wavelength | 532nm |
| Price | ⭐⭐⭐⭐⭐ |
| Color | Red |
| Attachment | Rail |
| Weight | ⭐⭐⭐⭐ |
| Battery Life | ⭐⭐⭐⭐ |
If you're looking for a laser sight but are also a fan of scopes, Pinty might just have the solution for you.
The Pinty 2.5-10×40 Tactical Rifle Scope is an integrated 2.5-10X scope that also includes a side-mounted red laser attachment. 
The unit can be attached to any airsoft rifle with a picatinny or weaver rail and, built to be mounted to real steel hunting rifles, it is pretty durably put-together.
With an aluminum body and nitrogen-sealed frame, the Pinty can withstand even more spirited airsoft play without much of an issue and is fog and waterproof, which is great for outdoor play.
The 40mm lens scope makes up the bulk of the unit's size, and is more than decent for the price.
It is capable of up to 10x magnification, but can adjust down to 2.5x for closer-in scenarios, and generally offers a clear field of view, although its eye relief is a little short which reduces your peripheral vision somewhat.
That said, if you are using this for airsoft purposes this is less of a concern.
The scope can switch between red and green illuminated reticles, and they have five brightness levels, which can be quite useful if you're moving between high and low brightness areas.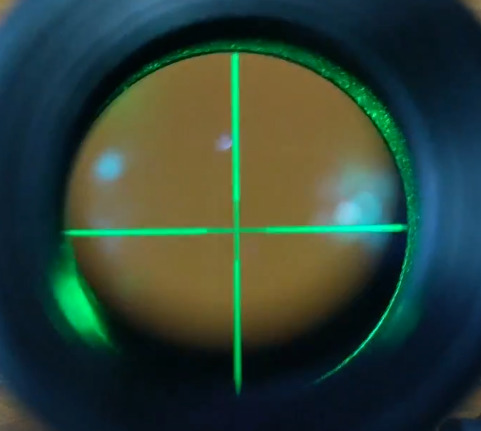 The red laser component, in the meantime, is pretty decent as well.
At 2 mW, it's not the most powerful out there but will easily be visible out to one hundred yards, which isn't the longest on this list, but is more enough in most circumstances.
It also means that it's far more battery efficient, easily getting a couple hours of continuous use, and can be a little safer to use than a standard 5 mW.
Finally, the Pinty is quite affordable.
Coming in around $50, it is a real steel option with an airsoft price.
On the downside, however, being a real steel scope means it is quite hefty.
The Pinty 2.5-10×40 Tactical Rifle Scope tips the scales at around 1.28 lbs (581 g).
Although it won't exactly strain your arms, it is heavier than many plastic airsoft options out there and can affect the overall balance of an airsoft rifle, which (let's face it) tend to be a little on the light side.
Overall, with its combination of affordable price, durable metal frame, decent scope and decent laser, if you are an airsoft rifleman looking for a good scope/laser combination, the Pinty is definitely one to consider. 
Or
Advantages to Airsoft Laser Sights
While they certainly look cool, laser sights do offer a few distinct advantages to an airsoft player.
Authenticity
Laser sights and law enforcement officials all around the world use laser sights on their firearms and adding one to your airsoft pistol, SMG or carbine can significantly increase the realism and authenticity of your loadout.
Precision without sighting
First, they can help users with target acquisition, especially when it comes to point shooting, or firing without using an airsoft gun's sights.
If you're in a situation where you need to pull off some snapshots while on the move, or are a fan of shooting from the hip, a bright red or green dot appearing more or less where you're aiming can be of great help.
Laser sights can also be helpful when shooting from cover or in other awkward positions where using an optic or sight isn't really all that easy to do.
Low light
One of the classic uses for laser sights in airsoft and in the real steel world is in low light situations, where a bright green or red dot becomes extremely visible and a great way to identify and aim at targets.
Psychological advantage
One of a laser sights greatest weaknesses, it's visibility to other players, can be turned into one of its greatest strengths.
The sudden appearance of a green or red laser light on a wall or a staircase nearby can throw more gunshy opponents off their game and cause them to freeze, potentially bottlenecking them and making them easier pickings in a game.
Disadvantages
All fun aside, lasers can have a few downsides that airsoft players need to consider.
\
They're not great when it's bright out
Being lasers, the bright green or red dot that you fell in love with online or on YouTube has an unfortunate tendency to quickly wash out and become hard to see in brighter light conditions.
They aren't always legal to use
To start with, there's the fairly serious issue that not every location allows players to use laser sights or even mount them.
Some airsoft arenas feel they're too dangerous to other players, others that they're too distracting, and some even believe they provide too much of an advantage.
Regardless of their reasoning, their word is usually law and trying to get away with attaching a laser sight can get you swiftly banned.
Therefore, it is always a good idea to check the rules of your local field before you make a purchase.
In a similar vein, some countries actually prohibit airsofters from mounting lasers altogether, which can of course get you into significantly more trouble than a simple field ban.
They can be dangerous
Let's talk a little about the danger of laser sights.
Even the low wattage lasers used in pointers and airsoft laser sights can be dangerous and it's a really stupid idea to shine a laser of any kind into someone else's eyes (or into a scope), as it can cause significant ocular damage.
While you might think that this is common sense, injuries keep happening and a good number of people frown on the use of laser sights because of it.
They're conspicuous
Another downside of laser sights is visibility.
If you can see the laser, so can your opponents and they will know you're in the area and your general direction.
That makes ambushing unsuspecting opponents much harder and it's not exactly hard for even semi-crafty players to follow a laser back to its source.
Bottom Line
Although a bit controversial in the airsoft world, under the right conditions, laser sights can be a game changer in terms of play.
They're also a lot of fun to use and a really cool accessory in general to add to a loadout.
That said, as they are devices that can hurt other people, we can't stress enough that it is always important to be safe and keep them away from other player's eyes.
Will Martin – Will has been into airsoft and paintball for well over 10 years, and has done it all – from upgrading and fixing gearboxes as a tech to building custom airsoft loadouts for his friends to supporting off those friends as a DM.