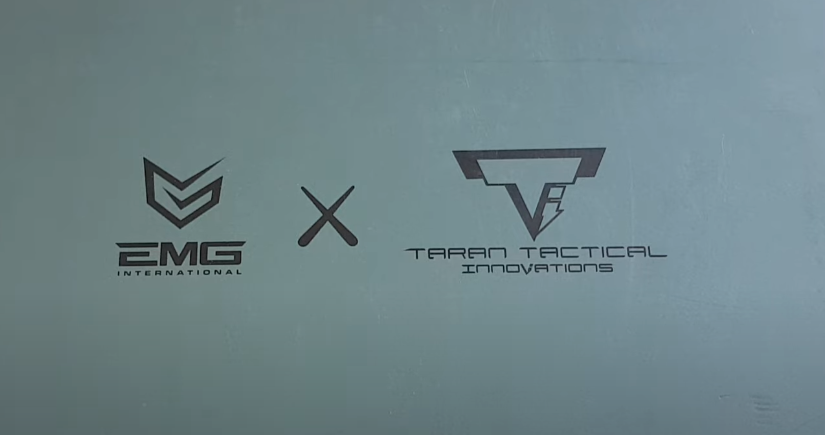 Durability and Build Quality

96%
| | |
| --- | --- |
| ✅ Really cool looking, aggressive design | ❌ Not the cheapest GBB pistol around |
| ✅ Very realistic | ❌ Can be a bit hot for some stricter fields |
| ✅ Full metal, CNC aluminum construction | |
| ✅ Powerful | |
| ✅ Accurate | |
| ✅ Good accuracy and range | |
| ✅ Highly responsive w/ snappy blowback | |
| ✅ Cool fiber optic sights | |
Taran Tactical Innovations is a company that is well-known among enthusiasts for their high-end, competition-ready firearms, but is perhaps more popularly known for the guns they produced for the John Wick franchise. 
Appearing as John Wick's sidearm of choice in the third installment of the series, the TTI Combat Master captured our attention with its cool and distinct looks, as well as for the devastation and mayhem it yielded on-screen.
The TTI/STI Combat Master 2011 is an officially licensed airsoft replica of this firearm produced by EMG and has become a fairly popular and in-demand GBB pistol since its release.
To find out if it is worth your time and money, and whether it truly lives up to its Hollywood reputation, we decided to take a closer look.
Specifications
| | |
| --- | --- |
| Manufacturer | EMG |
| Power | Green Gas, CO2 |
| Action | Semi Auto |
| FPS | ~ 370 FPS @ 0.20g BBs |
| Hop up | Adjustable |
| Inner barrel | 4.72 inch (120 mm) |
| Total Length | 9 inches (230 mm) |
| Weight | 2.2 lbs (1 kg) empty |
| Construction | CNC aluminum slide and frame |
| Rounds | 25 |
How Much Does A STI 2011 Combat Master Airsoft Pistol Resemble The Real Steel Taran Tactical?
| | | |
| --- | --- | --- |
| | STI Combat Master 2011 | JW3 TTI Combat Master |
| Overall length | 9.0 in (230 mm) | 9.05 in (235 mm) |
| Weight | 2.2 lbs (1 KG) | 2.5 lbs (1.13 KG) |
| Action | Semi automatic | Semi automatic |
| Caliber | 6mm | 9mm |
| Capacity | 25 | 17-21 rd |
| Construction | Aluminum frame, slide and nylon-reinforced polymer grips | Steel slide, frame, Coyote Bronze DLC coating on frame |
| Sights | Adjustable rear, fiber optic front | Adjustable Ken Sights rear, fiber optic front |
| Rail | 6 O' Clock | 6 O' Clock |
The Taran Tactical / STI Combat Master 2011 airsoft pistol is an officially licensed replica of the TTI JW3 Combat Master 2011 Hi-Capa, a gun famous for its role as John Wick's sidearm of choice in the third installment of the popular series.
EMG's STI Combat Master is a highly accurate and realistic take on this Hollywood icon, matching its real steel inspiration quite closely in terms of its overall dimensions and weight, as can be seen from the chart above.
More than that, the gun sports many of the JW3 Combat Master's more distinctive details, including an anodized rose gold barrel, lower rail, skeletonized trigger and hammer, ambidextrous controls, oversized mag release, a competition-style DVC stippled grip, rear Ken Sight, fiber optic front sight, flared mag well and more.
As it is an official airsoft replica, the STI Combat Master 2011 also comes with a variety of cool Taran Tactical trades and roll marks across its slide and frame, something that we think collectors and enthusiasts will particularly enjoy.
These include a large "Taran Tactical Innovations" brand mark etched along the left hand side of the slide, the company logo on its top and an outline of the state of Texas in several locations (STI International's logo).
The gun also features the words "Combat Master" rather prominently etched across the right hand side.

While not exactly what we might call subtle (not that this rose gold-and-black gun is exactly low-key in any event), it should leave little doubt in an opponent's mind as to what they are facing.
How Does The TTI / STI Combat Master 2011 Perform As An Airsoft Pistol?
Build-quality and Construction
The STI Combat Master is a full metal airsoft pistol that we feel, on the whole, has been excellently built and put together.
The gun's slide and frame are made of CNC'd aluminum, which makes the gun very solid in-hand and a good deal more durable and resilient compared to its softer, alloy-heavy (or plastic) competitors.
In fact, the only real use of plastic on this gun is in polymer grips and trigger (admittedly we would have preferred it to be made of metal, as well), which are themselves nylon-reinforced and pretty resistant to cracking and damage.
As a result, the STI Combat Master is fairly hard-wearing and we feel it should be able to stand up to the rigors of a typical airsoft game without a problem, as well as effectively handle higher PSI gasses (like red or CO2) without breaking.
In terms of its construction, the fit and finish of the gun is quite good, as well.
The gun felt quite sturdy in our hand when we handled it, with little to no slide play and a minimum of barrel play.
Further, the Combat Master showed no signs of looseness, clattering or bending and all of its controls (slide stop, mag release, trigger and safeties) seemed properly and snuggly fitted into the frame.
Like its sister gun, the Sand Snake, the Combat Master has a nice and chunky mag release extension that projects from the side of the frame. 
While perhaps a bit unusual compared to a typical 1911 or Glock, it does make releasing mags a little easier to do without having to change or alter hand position, which is particularly helpful for those with small hands.
That said, this projecting release does make it a bit harder to slide the Combat master into a typical holster, although the button can be fairly easily removed if need be.
Interestingly, the Combat Master comes with a little port-like compensator, which is located towards the end of the slide.

In a real steel pistol this compensator would help reduce muzzle flip, but given that this is an airsoft replica, it's mainly there for looks (although it does reduce the slide weight to some degree, which we will discuss in a bit) and does give the gun a modern and aggressive profile, especially when combined with its skeletonized hammer and trigger set.
This compensator also allows users to get a nice look at the gun's rather unique anodized bronze-coated outer barrel, which gives the gun a really cool rose gold-on-two-tone-black look that is quite striking and does make the gun stand out among its peers on the field just that much more. 
Accessory-wise, the Combat Master comes with a standard rail at the 6' O Clock, which allows users to freely attach their choice of lasers, flashlights and more to the gun.
Given the gun's 5.4 inch slide, however, users should probably keep in mind that smaller accessories may look a bit…underwhelming on this gun, so it's probably best to pick up more sizable attachments for it.
In addition to its rail, the TTI/STI Combat Master comes with a threaded outer barrel, although like many other pistols it is 11mm, rather than a more standard 14mm, and so may require the use of an adaptor that is, sadly, sold separately.
Interestingly, and unlike its Sand Viper cousin, the Combat Master does come with sights, so users won't have to rely quite as much on RMRs and/or their gut when aiming.
The sights are low-rise, which is nice as they won't snag quite as much on gear or clothing in CQB situations, and are fully adjustable, which is always useful.
The front sight is a pretty cool fiber optic affair, which aside from looking cool gives the gun better visibility and accuracy in the dark and on low-contrast targets.
Its rear sight is a fairly standard 1911-style adjustable competition rear sight.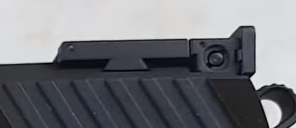 In general they do a pretty good job at aligning on target, although we do feel that some users may benefit from some white dots to help out in low light conditions.
Internally, EMG has done a pretty fine job with the Combat Master. 
The gun comes with a well-finished 120 mm, tighter-bore inner barrel, an adjustable and rotary-style hop up unit located under the slide, and a good deal of reinforcing metal that lets the slide deal with its own blowback action without sustaining any real damage, even when using CO2.
The gun also comes with a pretty durable recoil spring system, which helps give the gun more kick and a faster cycle.
One thing to note is that the recoil spring guide is made up of two components and is held together with a small grub screw – a small quirk that, while we didn't have any issue with it, might be something for users to pay attention to during maintenance. 
Performance and Accuracy
Overall, the STI Combat Master 2011 is a pretty solid performer as an airsoft gas pistol.
Once it was settled in, we saw the gun chrono around 360 FPS using 0.20g BBs, meaning the gun has enough oomph to keep up with competitors, even if it does make it a bit on the powerful side when it comes to stricter CQB and indoor fields.
Range and accuracy are pretty solid with this gun, as well.
Using 0.30s or other middleweight BBs and with a little concentration, we saw the gun reliably hit targets well past the 140 foot (42m) range.
Where the gun really stands out in our opinion is with its trigger response and blowback action.
The gun's trigger is extremely crisp and responsive, with very short travel, a smooth and light break and a good reset.
Further, thanks to its lightweight and ported construction, the gun's CNC aluminum slide manages to cycle pretty quickly.
Consequently, it is very easy to send off snapshots and double tap your opponents with this gun.
Finally, in terms of gas efficiency, the Combat Master is, unfortunately, fairly average, getting around 2-2.5 mags (around 40-odd shots) per fill.
Handling and feel
In general, the Taran Tactical / STI Combat Master airsoft pistol is pretty comfortable and easy to handle.
At 9 inches long and weighing over 2 lbs, it is a substantial sidearm choice, being larger than the Sand Viper, the TM Hi Capa 5.1 and the Umarex Glock 17.
Further, being a double stack, its grip is a bit on the thicker side.
That said, the gun's distinctive deep cut lightening serrations allow users to get a strong grip when drawing back the slide, with or without gloves.
Further, the gun's distinctive scale-like DVC stippled grip helps users get a firm hold of it in all weather conditions. 
At the same time, the enlarged and cut trigger guard helps the gun sink into and sit in a user's hand pretty comfortably, providing additional support and stability when compared to a typical 2011 squared version.
In addition, the gun's flared mag well, aside from making the gun look pretty cool, allows users to more reliably slide a magazine home by providing an integrated guide of a sort that can help prevent misfeeds.
Finally, the STI Combat Master is ambidextrous, sporting dual safeties and a chunky, reversible mag release that make it easy to use for both right and left handed users.
Maintenance and Upgrades
Although it's not exactly a TM Hi-Capa, the STI Combat Master 2011 airsoft pistol does have decent parts compatibility.
Aside from its OEM parts, the gun will accept most WE and AW internals, which means that, aside from its somewhat proprietary 5.4 inch barrel and recoil guide, finding parts for it is pretty easy.
In addition, due to the Combat Master's relative and growing popularity in the airsoft world, there are a number of ready upgrades available for the gun, including tight bore barrels, upgraded hammer sears, expanded nozzles, steel slides, upgraded hop ups, valve knockers and more.
Magazine type and Capacity
The EMG Taran Tactical / STI Combat Master 2011 comes with a 25 round metal double stack magazine (available in green gas and CO2) with a flared base to suit the gun's magwell.
EMG produces a couple magazines for this gun, including a 34 round extended mag, which is pretty sweet and will give users a bit more of an opportunity to take advantage of its snappy performance. .
In general, we found that this magazine sits quite nicely in the gun, sliding in and out without a problem and feeding BBs reliably and without any real gas leaks.
In terms of compatibility, the gun will work with most WE and AW Hi-Capa mags, including extra large 50 rounders, especially if fitted to an EMG Combat Master base plate, which can be picked up separately.
Price
Note: All prices correct as of writing, all prices in USD.
The EMG TTI / STI Combat Master 2011 can usually be picked up for just under $200, making it a little less expensive than their Sand Vipers and Pit Vipers.
The gun is more on the mid- to upper end of GBB pistols, being a bit more expensive than a standard Tokyo Marui HI Capa 5.1 or an Elite Force/Umarex Glock 17 and around the same price as a TM FN Five SeveN or some Sig Sauer ProForce 320s.
That said, for the money you do get an airsoft pistol that is full metal, well put-together, durable, highly capable, cool to look at, officially licensed and, of course, Hollywood famous. 
Or 
Advantages of the airsoft STI Combat Master 2011
Cool, aggressive design
With its lightning cut serrations, compensators, stippling, skeletonized hammer and trigger and "rose gold" outer barrel, the EMG STI Combat Master's cool and distinctive looks help it stand out in a sea of generic 1911s and M9s.
CNC aluminum construction
The STI Combat Master 2011 is quite durable and well-built, being largely made of CNC aluminum, rather than the zinc-heavy alloys favored by most competitors.
Very realistic
EMG has done a great job replicating the look and feel of a real steel Combat Master, with the airsoft pistol matching its inspiration pretty closely in terms of size, weight, design and distinctive features.
Powerful
Chrono'ing at around 360 FPS on green gas, the EMG Taran Tactical STI Combat Master 2011 has enough power to keep up with its competitors and strike a little fear into the hearts of opponents.
Accurate
The gun is also fairly accurate, being able to reliably hit targets to around 150 feet or so without much of an issue.
Snappy blowback and responsive trigger
The STI Combat Master 2011 is pretty responsive for an airsoft GBB pistol, with a snappy cycle and a quick and smooth trigger that allow users to deliver a rapid succession of shots with minimal effort.
Cool fiber optic/low rise sights
Like the real steel version, the EMG STI Combat Master comes with fully adjustable, low rise rear sights and a cool fiber optic front sight that should help users get on target in all conditions and lighting.
Disadvantages
Not exactly cheap
At just under $200, the STI Combat Master isn't the cheapest airsoft pistol around and, while it's also not the priciest, it will take a bite out of an airsoft budget.
Can be a bit hot for some airsoft fields
At around 360 FPS, the EMG STI Combat Master may chrono in a bit high for some strict indoor and CQB fields.
Bottom Line
Whether or not you're a fan of the John Wick series, with its gorgeous looks, excellent build quality and great performance, the snappy EMG STI Combat Master 2011 is a great airsoft pistol to add to just about any collection.
Will Martin – Will has been into airsoft and paintball for well over 10 years, and has done it all – from upgrading and fixing gearboxes as a tech to building custom airsoft loadouts for his friends to supporting off those friends as a DM.