G&G's Compact Pistol Caliber Airsoft M4 Packs A Punch
---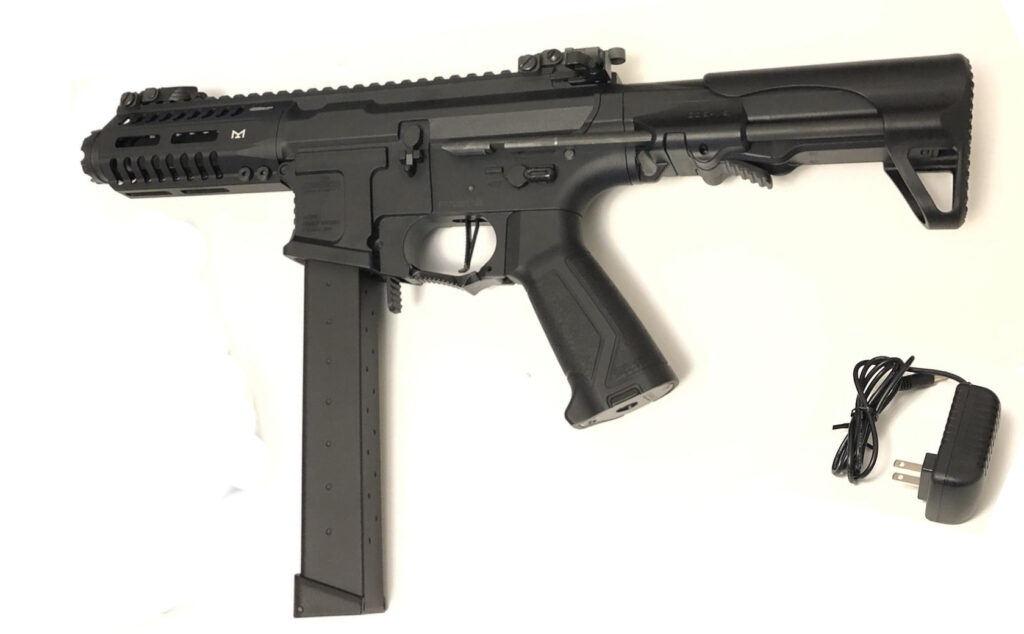 Durability and Quality

94%
| | |
| --- | --- |
| Pros | Cons |
| ✅ Highly compact SMG style M4 | ❌ Proprietary magazines |
| ✅ Strong, well-balanced FPS, accurate | ❌ PDW stock is a little small inside, has 2 positions |
| ✅ Can be used for CQB as well as outdoor games | |
| ✅ High-quality internals and build quality | |
| ✅ Short, responsive trigger | |
| ✅ Very easy to add accessories | |
| ✅ Highly upgradable internals | |
| ✅ Several mag options, including drum | |
Many airsofters love the look and feel of an M4, as can be seen by the dominance of M4s (and their many variants) on airsoft fields around the world.
Yet, sometimes the situation calls for something a little more compact that will let you more easily maneuver around, such as in indoor ranges and CQB games.
If this sounds familiar, an SBR airsoft carbine might be just what you're looking for.
The G&G ARP9 AEG is a popular airsoft SBR that has a growing fanbase, particularly where CQB games are concerned.
Sporting a cool 9mm/Pistol Carbine Carbine look, it is more compact and easy to handle than a typical airsoft M4 carbine, while retaining enough common AR features to be immediately usable by those familiar with the M4.
The question is, is the small G&G ARP9 AEG mighty enough to perform when the BBs start flying?
To answer that, we decided to take a closer look.
Specifications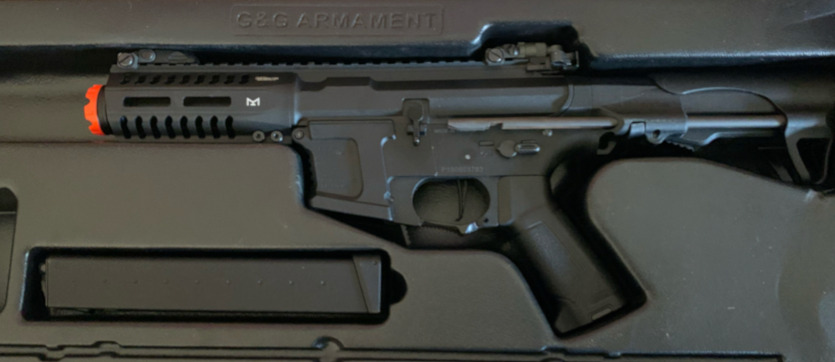 Airsoft type
AEG
FPS
~350-360 @ .20g BBs
Rounds Per Second
21-22 RPS
Outer barrel
14mm CCW threaded
Inner Barrel
5 in (128mm)
Hop up
Adjustable
Motor
Long Type
Gearbox
V2- Full Metal
Construction
Polymer upper receiver
Polymer lower receiver
Polymer PDW Stock
Metal M-LOK handguard
Picatinny Rail
How closely does G&G ARP9 AEG Airsoft Rifle resemble the real steel M4 Carbine?
G&G ARP9 AEG VS Real Steel M4
G&G ARP9 AEG
M4 Carbine
Weight (empty)
5.18 lb (2.35 KG)
6.43 lb (2.92 kg) empty
Length
Stock extended
23.23 in (590mm)
33 in (838 mm)
Stock retracted
19.69 in (500mm)
29.75 in (756 mm)
Ambidextrous safety
No
No
Ambidextrous mag release
Yes
Yes
Mag type
9mm-style Stick type
STANAG
Construction
Polymer
Metal
Picatinny rail positions
12 o' clock
M-LOK at 3, 6 and 9 o' clock
Varies
The G&G ARP9 is designed to replicate the style of a short barreled rifle (SBR) M4, and as such its looks are a significant departure from a stock M4 carbine.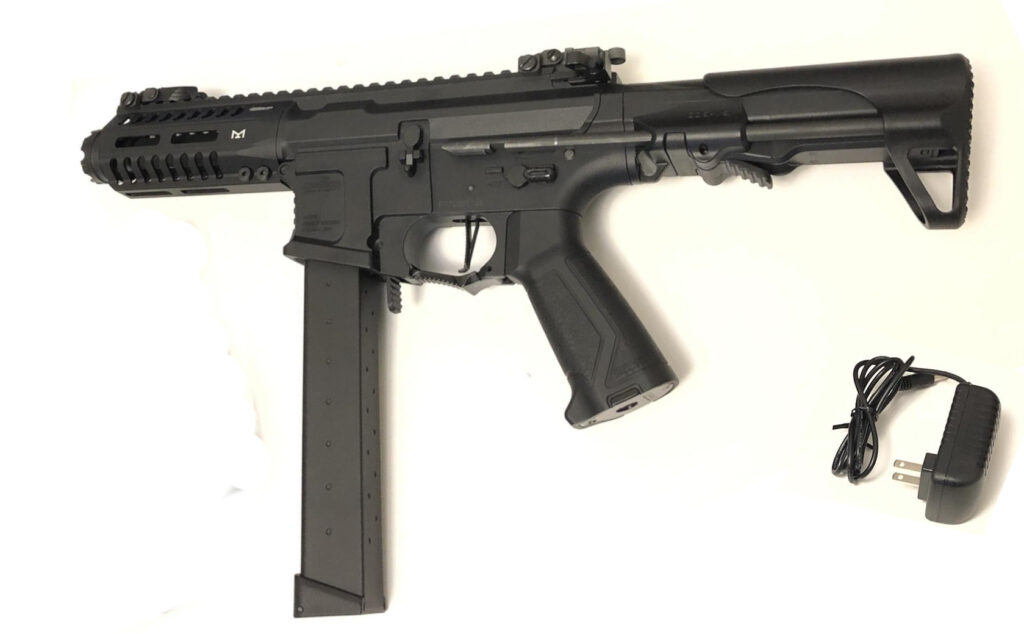 The ARP9 is far more compact than a real steel carbine M4, just about 10 inches shorter in fact, and a little bit more lightweight at about 1.25 lbs (.0.57 KG) lighter, reflecting its CQB-optimized nature.
It is also far more aggressively styled than an M4 in our opinion, with a slightly recessed outer barrel, sharper angles, skeletonized M-LOK handguard, and PDW buttstock.
Similarly, the ARP9 is a Pistol Caliber Carbine (PCC) replica, accommodating 9mm replica stick type mags, rather than the standard box-type STANAG magazines that most AR types use to hold their 5.56mm ammo.
Obviously, it isn't a licenced Colt model and doesn't have the traditional M4 trademarks, either, but rather G&G's own markings.
G&G ARP9: How does it perform?
Build-quality and construction
Despite it's miniature size, the G&G ARP9 is quite well built and it seems like G&G put a lot of thought into its construction both inside and out.
Its construction is mixed metal and polymer, with both receivers and stock being polymer, the M-Lok handguard and barrels being made of aluminum, and some of the body components and accessories (such as the flip up sights) being made of metal alloy.
While it isn't an all metal airsoft replica, the ARP9 does use nylon-reinforced polymer material, which is highly durable (more so than most cheap metals, in fact) and serves to keep the ARP9 pretty light and easy to handle.
Overall, the gun is well put together, feeling quite solid in hand with no creaking or loose parts that we could notice.
Outer Barrel
In terms of barrels, the ARP9 comes with a 14mm counterclockwise threaded outer barrel that makes it really easy to attach suppressors or tracer units.
Out of the box the ARP9 comes with a pretty aggressively-styled loudener, or sound amplifier, which does give this little airsoft gun an amusingly outsized voice, which we loved – with the amplifier attached the ARP9 is definitely not a shrinking violet on the field.
Surrounding the outer barrel is an aluminum M-LOK handguard, which is pretty cool.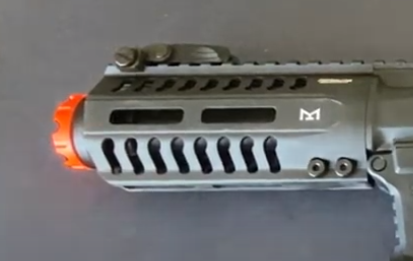 In addition to the 20mm picatinny located at the 12' clock, this extra system allows users to add accessories to the 3, 6, and 9 o' clock positions, while keeping its overall weight down and giving the gun a cool skeletonized look.
Because the M-Lok doesn't jut out or have sharp corners like a picatinny rail, it also serves to keep the ARP9's handguard smooth, preventing it from snagging as much on clothing when in use, which is nice.
That said, the M-Lok does require users to add a small rail attachment before they can attach an accessory, which is an extra step compared to the picatinny system.
There are two metal adjustable flip up sights located on the ARP9's 20mm picatinny rail. They are fairly sturdy, they don't wobble around so much and they do lock into place nicely and so shouldn't suddenly collapse at the wrong moment.
Inner Barrel
As might be expected, the ARP9 has a very short inner barrel, at 5 inches (128mm) long.
It is a fairly standard 6.08mm aluminum barrel, which is decent enough and does the job pretty well out of the box, and there is room for an inner barrel upgrade or extension in the gun, which is something we appreciate.
Internals
Inside the ARP9, things get a little more impressive.
The G&G ARP9 shares a lot of its internals with the well-known G&G ARP556.
It is based on the Tokyo Marui system and has a pretty decent V2 full metal gearbox with durable steel G&G gears (~18:1 standard gearing) and 8mm bushings, which is pretty decent out of the box and means the gearbox should last for some time.
The gearbox is fully upgradable and there are a ton of parts floating around if you want to get your hands dirty tinkering around with this gun.
It's also mated to a flat trigger, which shortens the travel somewhat and gives users more options when it comes to finger placement (great for those with larger or smaller than average hands) and is great for snap shots and quick drawing, since you don't have to get your finger on the same spot to get a good pull.
The ARP9's motor is a long-type Ifrit 25000 G&G, a high quality choice that delivers decently high torque.
The gun ships with a fairly tight spring (something like a M155) as well, and together these help the ARP deliver impressive performance and helps compensate for the guns shorter barrel
While the motor is torque-y enough, it is a 17TPA motor, so it does a good job at balancing torque and speed in our opinion.
Interestingly, the ARP9 comes standard with a pre-installed inline mosfet/ETU system wired up with Mini Tamiya connectors to accommodate a 11.1V LiPo (not included, sadly).
While not the most advanced unit on the market it does make the ARP9 LiPo-ready and the ETU can help improve trigger response and is programmable to fire 3 round bursts as well as automatic, which is kind of cool and adds to the gun's flexibility in-game.
Unfortunately, the mosfet, fuse and connectors are located in the stock, which tends to make the battery compartment a little more cramped.
The G&G ARP9 comes with a rotary hop up unit with a split-mound/W-style bucking, and is easily accessible from the dust cover when the charging handle is drawn back.
We like rotary style hop ups, since they are really easy to adjust with your finger or a pen.
Unfortunately the bolt catch is non functional on this model so you do have to hold the charging handle back while you adjust, which can be a little annoying at times.
Stock
In keeping with the CQB design theme, the ARP9 comes with a collapsible, buffer tube GOS V5 Personal Defense Weapon (PDW) stock.
It is made of reinforced polymer and rides on twin alloy bars which adds a little extra durability and stability to the platform.
The PDW is pretty smooth and easy to extend, although there are only really two positions to it, extended and collapsed (more on that later).
There is an ambidextrous, buffer tube style single-point sling attachment located on the bottom of the stock.
While perhaps a bit unusual for those used to more full sized rifles with two-point slings, this single-point is fine for a gun this size and its intended, close quarters purpose.
Given the shorter barrel, since a two-point would probably get in the way more than it would help.
Performance and Accuracy
We were actually pleasantly surprised by the performance delivered by the little ARP9.
With .20g BBs, we got around 350-360, and just under 330 with 0.25 BBs, so FPS-wise, the ARP9 delivered the performance we would expect from an M4 SBR or a good quality SMG.
While not an FPS monster, it'll hit hard enough for most indoor and CQB games.
It was also pretty consistent in its performance, with not that much variation in terms of power compared to many other airsoft guns out there.
Finally, in terms of rate of fire, we saw an RPS of about 21-22 with the recommended 11.1v LiP, which is pretty slick and should let the ARP9 do well in most fast paced games, and even a decent speedsoft contender with some minor modifications.
Put a drum mag on this and we think it should keep your opponents heads down pretty nicely.
Accuracy-wise, the G&G ARP9 gave us some excellent groupings at 50 feet (15 M) and 100 feet (30 M) and had no issue reliably hitting center mass at 150 feet (45 M) without too much spread.
The only problem in terms of accuracy with the ARP9 is that it can be a little trickier for some users to shoulder due to its compact stock and lack of adjustability.
Overall, while not an FPS monster, the ARP9 hits quickly, decently hard and, perhaps as importantly, delivers consistent performance.
Interestingly, while its looks essentially scream indoor CBQ use, its range, accuracy and overall consistent performance make it a decent outdoor airsoft option as well.
Handling
The first thing you notice about the G&G ARP9 is how lightweight and compact it is.
With the buttstock collapsed, the ARP9 comes in at under 20 inches (500 mm) and so is easy to hold, swing around and use in a CQB environment.
Yes, despite being a compact, polymer airsoft gun, the G&G ARP9 does have some nice heft to it. At just over 5 lbs (2.3 KG) it isn't that far off from a carbine M4m and so has a solid, realistic feel to it in hand.
In terms of shooting, the ARP9 has a short, crisp trigger pull and is fairly responsive, especially when using a LiPo.
Interestingly, the G&G has a SMG style mag release rather than a standard M4. This is a thumb-style mechanism located to the rear of the mag well, which you depress to release the magazine.
This kind of changes the handling of the gun a bit if you are more used to M4s and isn't the best for doing mag drops when you're running and gunning, but it is a fully ambidextrous option that is easier to use overall than a a button and doesn't require you to strain your index finger if you have smaller hands, which is great.
The PDW stock keeps the arp very compact and is fairly sturdy and durable (and gives the gun a more high speed look to boot).
That said, because it only has two positions (extended, collapsed) you won't be able to fiddle around with it as much as a typical five or six point stock to allow it to fit your body type, different environments or any tactical gear you might be wearing.
Maintenance
As an AEG that is based on the AR platform, maintenance with the G&G ARP9 is pretty straightforward.
Pop the body pins, being careful not to use anything too pointy/hard (like a screwdriver) so you don't damage them, and the upper receiver comes off easily, providing access to the inner barrel and hop up.
Interestingly, the upper receiver is spring loaded, so after popping the body pin you'll hear a nice click as the upper receiver juts forward on its own for easy disassembly.
Hop up adjustment is similarly easy.
Located under the dust cover, users simply draw back the mock charging handle and hold it open (unfortunately the bolt catch doesn't work on this model), and the hop up is exposed.
As a rotary, it can be adjusted by simply turning the dial forwards or back.
In terms of replacement parts, the ARP9 is a fairly popular model by G&G and OEM/compatible parts, from barrels to motors to gearboxes, are readily available in case something breaks.
While it does offer impressive performance out of the box, the G&G ARP9 is a highly customizable airsoft gun if you're the tinkering type.
The gearbox, motor and gears are easily upgraded (or replaced), the OEM mosfet/ETU can be swapped out, the stock can be replaced, and there are quite a few upgraded barrels on the market specifically designed for the ARP9, which is nice.
Magazine type and capacity
The G&G ARP9 comes with a hi-cap stick-style magazine that holds 300 BBs. The magazine is polymer and feels pretty sturdy with a nice texture to it.
As with other hi-caps the magazine does require a bit of winding and users do report experiencing some double feeding towards the end of its cycle.
That said, there are low and mid cap mags available for the ARP9, holding 30 and 60 BBs respectively, which do solve some of these issues.
If you want to escalate things on the field a little more, there is a 1500 round drum you can get, but the G&G version is a manual that, although it doesn't require batteries, means you have to wind it up yourself.
The ARP9's magazines are proprietary, which means they don't take just any G&G 9mm-style mag and can be kind of expensive as a result.
Price
Note: All prices current as of writing. All prices in USD.
In an absolute sense, the G&G ARP9 isn't exactly a cheap airsoft gun, with models typically coming in the $250-290 range.
That said, compared to other M4 SBRs, or the more premium G&G Honey Badger style PDW15, its price is relatively reasonable and somewhere in the middle of the pack, usually costing a little less than the comparable Classic Army Nemesis X9 and the ARES M45X-S AEGs. 
Given the amount of accessories and quality internals that come stock with the ARP9, we think its price represents pretty good value overall and can be a solid choice for pretty much any airsofter.
G&G ARP9 Pros and Cons
Advantages
Compact design excels in close in airsoft
At between 19 and 23 inches, the G&G ARP9 is a highly compact M4 variant that makes it extremely easy to maneuver in and sweep around close quarters fields. It is extremely easy to hold and carry, even if you are loaded up with equipment, and still manages to deliver fast, relatively hard hitting and accurate performance.
Decent FPS, highly accurate and consistent fire
Although the ARP9 isn't a 450+ beast when it comes to FPS (much like other SBRs), it does deliver a fairly respectable and consistent punch – between 320-330 FPS @ 0.25g BBs/350-360FPS @ .20g BBs.
Beyond its power, the ARP9 also delivers a relatively high RPS (21-22) and is highly accurate, being able to nail center mass at 150 feet out with little issue.
Solid internals and build quality
G&G put a lot of effort into the internals of the ARP9, providing it with a torquey 25000K motor, tight springs, metal V2 gearbox with steel gears, 8mm bushings, rotary hop up with split-mound buckings, and an inline programmable mosfet/ETU.
Similarly, with its nylon-reinforced polymer construction, metal sights and aluminum M-LOK handguard, the ARP9's exteriors feel solid and well-put together, with little wobble, flex or looseness.
Good heft to it
Despite being quite small and made of polymer materials, the G&G ARP9 doesn't feel like a toy at all thanks to its 5 lb heft that, while not particularly heavy by any stretch of the imagination, gives it a very realistic and quality feel in hand.
Short, snappy trigger response
When we fired the ARP9 using the recommended 11.1v LiPo, we found its trigger response to be short and snappy, with very little lag and excellent trigger pull from the flat trigger.
Sounds great to fire out of the box
The ARP9 comes with a crown-shaped amplifier that does an excellent job at giving the ARP9 an outsized voice that announces its presence on the field.
Multiple rail options make it easy to add on accessories
The G&G ARP9 AEG comes with both a 20mm picatinny rail and a M-LOK handguard, which allows users more room to add components at the 12, 3, 6 and 9 positions (and offsets, as well, with proper rails), which is especially important given the overall compact size of the gun.
Highly upgradable
The ARP9's gearbox, motor and barrel assembly are all easily upgradable and there are tons of aftermarket parts and options for the gun online.
Various magazine options
The G&G ARP9 comes with a 300-rd. Hi-cap, but there are also low and mid-caps available for it, as well as drum options.
Quite ambidextrous for an AR variant
While the safety is located only on the left side of the gun, as is typical of stock ARs, its mag release and sling attachment points are ambidextrous and make using the gun a lot easier for left-handed airsofters to use comfortably.
Drawbacks
Proprietary magazine
The ARP9 uses a specific, proprietary magazine, meaning only ARP9 stick mags will fit. And, if you do have other 9mm style airsoft guns, they can't make use of the ARP9's mags, reducing its cross-compatibility for those with larger collections.
Stock PDW has only 2 positions, is a little cramped
The PDW, while it does keep the size of the ARP9 down and is a cool stock in general, only has two positions – extended and collapsed- and so doesn't offer users as much adjustability for shouldering it comfortably in different scenarios as some other buffer tube stocks.
Additionally, it does get a little cramped in there, with the battery, mosfet and fuse all being located within the same compartment, making it harder to upgrade the battery size.
M-LOKs can be a bit fiddly compared to picatinnies
Although it is very cool, lightweight and less likely to snag in CQB games, the M-LOK handguard does require an extra step to attach accessories. Users have to first attach a rail to the M-LOK before adding an accessory, which can slow things down a bit.
Bottom Line
Short Barreled Rifles (SBRs) and Pistol Caliber Carbine replicas are becoming increasingly popular in the airsoft world due to their easy to carry, short overall length and aggressive styling and performance.
Accurate, consistent and with durable, high quality internals, the G&G ARP9 AEG stands apart as a great choice for indoor airsoft games and CQB or as even a flexible, unique and compact primary airsoft rifle.