Durability and Quality

90%
| | |
| --- | --- |
| Pros | Cons |
| ✅ Solid and well built | ❌ ABS plastic slide |
| ✅ Compact with realistic heft | ❌ Not the most powerful airsoft pistol |
| ✅ Accurate with consistent firing | ❌ Proprietary magazine |
| ✅ Good attention to detail, cool rotating barrel | |
| ✅ Hop up is easy to access, adjust | |
| ✅ Comfortable to hold with different backstraps to fit hand size | |
| ✅ Included rail, lots of aftermarket parts | |
Gas blowback airsoft pistols can be a heck of a lot of fun and very useful as a secondary option in most airsoft games.
However, most airsoft fields are a sea of 1911, Sig and Glock replicas, and finding a worthwhile alternative can be something of a chore.
Enter the Tokyo Marui PX4.
Introduced in 2004, the Beretta PX4 has a reputation as one of the more fascinating and better performing 9mm pistols produced by the company.
Interesting enough as a dual action/single action 9mm, the Beretta PX4 Storm comes with swappable backstraps and includes a pretty cool rotating barrel that helps reduce muzzle rise and increases accuracy when in use (and turned quite a few heads when the pistol was launched).
The Tokyo Marui PX4 has produced a fairly faithful airsoft replica of this cool Italian pistol and below we'll do a deeper dive into this airsoft replica to see if it is worth your time and money and, more importantly, if it can give those 1911 and Glock users a little something to think about on their way home.
Specifications
| | |
| --- | --- |
| Airsoft type | Gas Blowback Pistol |
| FPS | ~240 duster, 260-280 @ 0.20 Green |
| Recommended Gas | Duster, Green Gas |
| Action | Semi Auto |
| Outer barrel | |
| Hop up | Adjustable |
| Construction | ABS plastic 20mm rail at 6 O' ClockRotating Barrel Swappable back strap |
How closely does Tokyo Marui PX4 resemble the real thing?
Tokyo Marui PX4 VS Real Steel Beretta PX4 9mm
| | | |
| --- | --- | --- |
| | Tokyo Marui PX4 GBB | Beretta PX4 9mm |
| Weight (empty) | 1.83 lbs (840 g) | 1.73 lbs (785g) |
| Length | 7.64 in (194mm) | 7.68 in (195 mm) |
| Barrel Length | ~3.6 in (91mm) | 4 inches (101 mm) |
| Action | Semi | Semi |
| Capacity | 25 BBs | 15 rounds |
| Construction | ABS | Polymer |
| Sights | White, three-dot sights | White, three-dot sights |
| Picatinny rail positions | 6 O clock | 6 O clock |
True to Tokyo Marui's reputation for build quality, this is a remarkably realistic airsoft replica of the Beretta ,even if it's not an officially licensed version.
The Tokyo Marui PX4 matches the real steel version fairly well in overall dimensions and, like the Beretta it is polymer construction, being made of ABS plastic.
It is a tad heavier than the Baretta when empty, oddly enough, due to the real steel PX4's use of advanced polymer materials and famous lightweight design.
This is something that is a bit unusual in airsoft, where you expect the replica to be on the lighter side.
The externals match the real steel PX4 pretty well, with the slide lock, safety, undermount rail and mag drop all located where they should be.
Tokyo Marui even includes a couple alternate backstraps (3 in total) that can be swapped in and out based on personal preference and hand size, just like the real steel PX4.
The PX4 is famous for its barrel action, which rotates when the slide recoils, and Tokyo Marui has included this in its replica as well, which is nice.
Because this isn't a licensed version of the Baretta PX4, however, while there is nice markings on the side of the pistol, it says PX4 Custom rather than the actual PX4 Storm.
If you are a stickler for accuracy and trademarks, this can be a bit annoying, but for most users we think it's close enough.
In fact, the PX4 even has little engraved serial numbers on it, which as far as we can tell are amusingly the same for all Tokyo Marui PX4s (PX16244, for those curious), but are a nice touch regardless.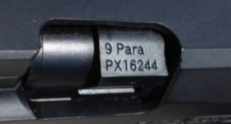 Tokyo Marui PX4 GBB How does it perform?
Build-quality and construction
Like many other Tokyo Maruis, the PX4 is a full ABS plastic pistol.
It is very well put together fit and finish-wise, there is no rattle or looseness from the slide or pins, the slide mechanism was smooth and we found the magazine to slide home easily and snugly.
While the safety was a little stiff at first, after a few toggles it worked itself loose and was quite smooth and easy to engage thereafter.
While the build is solid, its receivers and slide are made of plastic and, typical of Marui, the company recommends it run on duster gas, rather than green since higher compression gases can damage the slide over time.
Although many users do run it on green gas, if you're very interested in running green gas you might need to upgrade the slide and spring accordingly.
That said, since it is ABS plastic rather than metal, it will perform a bit more consistently in most temperatures and won't experience the kind of swings in performance in inclement weather than metal constructions might.
True to the real steel PX4, Tokyo Marui went the extra distance to include a rotating barrel mechanism.
When the slide is drawn back during firing, the barrel rotates, which gives the pistol a little bit of a more interesting action and is more true to life.
The Tokyo Marui PX4 comes with a 20mm rail attachment under the barrel (at the 6 o' clock position), which makes it quite easy to attach different accessories, such as flashlights and lasers.
The outer barrel isn't threaded, however, so if you're interested in adding a suppressor or a tracer unit you'll need an adaptor.
Performance and Accuracy
Being a Tokyo Marui, the PX4 isn't a monster in terms of FPS.
On the company-recommended duster gas, we found it shooting around 250-260 FPS.
If you are still interested in using Green Gas (which we wouldn't recommend if you want to keep this thing stock for a few years) we hit within the 280 range using 0.20g BBs.
Overall it is quite consistent and should be fine for most airsoft pistol uses, just keep in mind you won't be blowing 400s with this pistol unless you decide to do some modification.
It is a very accurate airsoft pistol drilling targets reliably within 50 feet (15 M) wasn't an issue, and we were even able to take it out to 100 feet to center mass more or less reliably, which impressed us for an airsoft pistol of this size.
Like the real steel model, the Marui's PX4 has white three-dot sights that do help with aiming, especially in low light conditions and make keeping the gun on target fairly easy.
Finally, the Tokyo Marui PX4 is also pretty gas efficient. We found we could get between 2-3 mags before refilling or 50-75 shots depending on the temperature, which is pretty decent overall.
Handling and Feel
In terms of handling, the PX4 is a pretty compact airsoft pistol.
At just over 7 inches long (190 mm), it is smaller than many other popular airsoft guns, such as the 1911 or the Glock 17, which can make it a great choice for CQB games or as an easy to carry secondary.
It's also a fairly easy to carry airsoft pistol, it is nicely balanced and sits comfortably in hand.
Despite its size, coming in at 785g, the Tokyo Marui PX4 definitely has some heft to it.
It doesn't feel as much like a toy as some other airsoft pistols, despite its all plastic construction, and it comes in somewhere in the middle in terms of weight for airsoft pistols, weighing less than most 1911 replicas but a little more than some Glock 17s.
The Tokyo Marui PX4 has nice slide cuts at the front and back of the slide, which look great and make it easy to rack from both positions. They also help users get a proper grip on the pistol even when wet.
The gun also has a fully functional ambidextrous safety, making things easier for left handed airsofters, and a reversible mag release, which is helpful.
In terms of its profile, we felt the Tokyo Marui PX4 to be nice in hand, a little chunkier than a slimmer 1911 replica, and is ideal to hold for those with small to medium sized hands.
That said, it does include various backstraps for different hand sizes so that if those with big hands find it a bit too slim for their liking, they can attach the included large sized backstrap, which pops into place pretty easily and expands the grip.
The safety is a little different than other models. It doesn't lock the slide, hammer and trigger per se, but decocks the gun, disengages the firing mechanism and brings the hammer forward which is interesting.
When it comes to feel, made of lightweight ABS plastic, the PX4 cycles pretty quickly and has a nice snappy and short recoil to it, which shouldn't be a surprise since the PX4 uses the well-regarded Tokyo Marui 15mm cylinder.
On that note, the rotating barrel actually rotates 45 degrees counterclockwise when fired, which is kind of interesting.
Since this isn't a real gun, this doesn't have as much real-life functionality to it, as a rotating barrel is designed to absorb the stronger physical recoil of a gunpowder shot and reduce rise.
But it is a nice touch in an airsoft pistol, and really demonstrates Tokyo Marui's attention to detail. It's also kind of fun to watch if you have a moment.
Maintenance
In terms of maintenance, the Tokyo Marui PX4 disassembles pretty much like a Glock.
Press the take down levers next to the receiver, pull down, push the slide out and it all comes apart pretty easily.
After that, it is really a matter of doing a routine GBB maintenance schedule – cleaning and lubing up the barrel, spring guide, and internals on a fairly regular basis and checking the nozzles, pistons and seals from time to time.
Tokyo Marui has also made adjusting the hop up quite easy with the PX4.
Located just under the slide, there's no need to disassemble the PX4 to adjust your spin like there is with many other Tokyo Marui (and similar) airsoft pistols.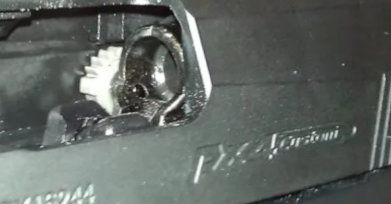 Instead you lock the slide open and, because it is a dial-type, use your fingers or a small screwdriver or allen key to turn the hop up dial,
This ease of adjustment is very helpful if you need to make an adjustment on the fly.
In terms of replacements and customization, it is a Tokyo Marui product and replacement parts are quite easy to find and there are a ton of customization options for the gun.
Users can easily upgrade the slide, add a tighter bore, improve the hop up buckings, upgrade the spring and more.
Magazine type and capacity
The Tokyo Marui comes with a 25 round metal/polymer magazine with full trademarks. It is loaded from the top or front and refilled from the bottom and supports both hfc 134a and Green Gas.
The mag is a little on the hefty side, at over half a pound (250g+), which adds to the PX4's realism and feel but is something to keep in mind if you are planning on strapping a few of these on you.
The magazine is, unfortunately proprietary to the model, so you won't be swapping it around with other 9mms.
That said, being Tokyo Marui, spare mags aren't hard to find on the internet and it is compatible with the WE Tech Bulldog 3PX4.
Price
The Tokyo Marui tends to come in around the $140 price mark, making it around the same price as their other gas pistols and about middle range compared to other good quality GBBPs out there.
The pistol isn't exactly cheap, but it is well-built, accurate, reliable, and feels really nice to hold.
It is also quite easy to use and maintain, easy to customize, and pretty left-hand-friendly.
Plus, the rotating barrel feature is quite fun to watch.
Tokyo Marui PX4 GBB Pros and Cons
Advantages
Solid and well built
We found that the PX4 has excellent fit and finish out of the box. Slides, switches and buttons all worked well, the action was smooth, it's fairly ambidextrous and there was no looseness or rattling.
Similarly, it cycles quickly and has a good short and snappy recoil that should please most users.
Compact
Like the real steel version, coming in at just over 7.5 inches (194 mm) the PX4 is a pretty compact pistol that makes it ideally suited to close quarters airsofter or as an easy to carry secondary.
Good, realistic heft
At 1.83 lbs (830 g) the Tokyo Marui PX4 is a substantial airsoft pistol. Despite being made of ABS plastics, it feels nice and solid in hand and doesn't have that toy-like feel that can plague more lightweight airsoft pistols.
Accurate and consistent performance
Despite its size the Tokyo Marui PX4 is accurate at the short to mid-ranges that airsoft pistols are designed for. We saw good groupings at 50 feet (15 m) and could hit center mass fairly reliably further out with little difficulty.
Strong attention to detail with actual rotating barrel
Tokyo Marui's PX4 is a fairly accurate replica of the real steel model. Although the trademarks aren't exactly 1:1, it does look the part and the external components are all where they should be.
Tokyo Marui has even gone the extra mile in replicating the PX4's characteristic rotating barrel, which is a cool feature.
Easy hop up adjustment
Unlike some other pistols out there, there is no need to take the Tokyo Marui PX4 apart to adjust its hop up. An easy to use dial-type, it can be accessed by pulling the slide back and locking it in place.
Good gas efficiency
With a lightweight ABS slide and strong overall build quality, the Tokyo Marui PX4 is pretty good on gas, even with the extra barrel rotation action. Depending on ambient temperature, we got between 2-3 mags per fill, which isn't bad at all.
Can be customized and accessorized fairly easily
As a Tokyo Marui product, there are a lot of aftermarket parts offered for the PX4 that can be used to upgrade the pistol for better performance.
Similarly, while the outer barrel isn't threaded, it does have a RIS rail, making it a snap to add on lights, lasers and other pistol accessories.
Drawbacks
ABS plastic slide
The slide and receivers of the Tokyo Marui PX4 are made of plastic. While this reduces the weight and makes the blowback quicker and snappier, it does reduce the overall durability of the pistol if using more compressed gasses.
Not the most powerful pistol out there
Consistent and accurate, the Tokyo Marui PX4 will certainly do the job for most airsoft games. That said, it is not an FPS beast and will not likely reach the 350+ FPS that some other airsoft pistols will.
Magazine is proprietary
Although not exactly hard to find, the PX4's magazines are proprietary to the model and there isn't a ton of cross compatibility with other, similarly styled airsoft guns.
Bottom Line
If you're looking for an well-made gas blowback pistol for your next airsoft game, and the usual slew of 1911s and Glocks isn't really doing it for you, Tokyo Marui's compact PX4 offers accurate and consistent performance in a well-built package that's almost as fun to watch in action as it is to fire at your opponents.
Ted Clark– Hailing from Florida, Ted has been an avid airsoft enthusiast since he was in middle school. When he's not checking out and reviewing airsoft guns, he enjoys picking off his enemies one by one on the field as a sniper.