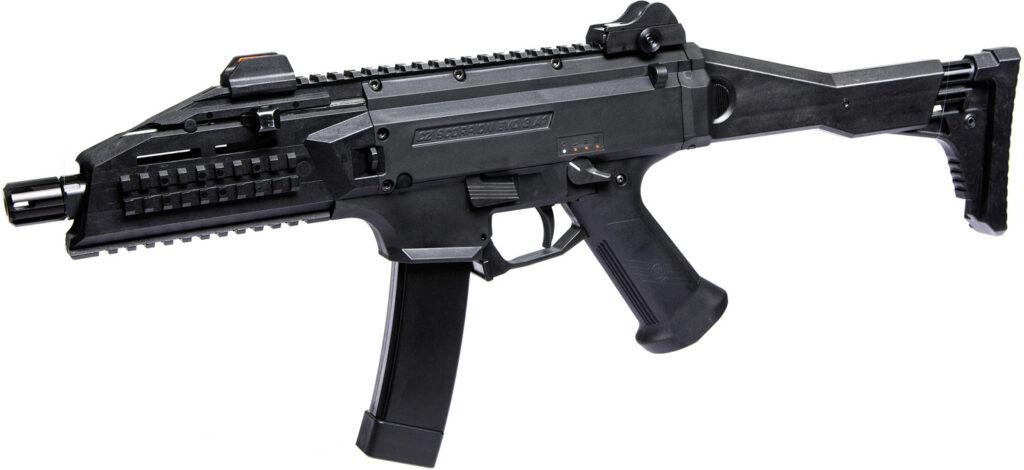 Durability and Build Quality

90%
| | |
| --- | --- |
| Pros | Cons |
| ✅ Highly compact | ❌ Not exactly cheap |
| ✅ Durable and realistic reinforced polymer frame | ❌ Battery compartment is a little small |
| ✅ Great FPS, highly accurate, good range | ❌ Some proprietary parts |
| ✅ Select fire with 3 round burst, auto and semi | |
| ✅ High quality gearbox, internals | |
| ✅ Comes with MOSFET and very capable ETU | |
| ✅ Empty magazine detection is very true to life | |
| ✅ Fast, responsive trigger | |
| ✅ Ambidextrous | |
| ✅ Quick change spring system | |
The ASG Scorpion Evo 3 A1 AEG has attracted a lot of attention in the airsoft since its introduction in 2014.
Based on the well-known CZ model of the same name, itself a more modern take on the highly-compact, Cold War classic – the Skorpion submachine gun, the Evo 3 A1's tactical, modern looks and reputation for delivering powerful performance out of the box has made it something of a gold standard when it comes to airsoft SMGs and carbines.
If you think you might be interested in picking up an ASG Scorpion Evo 3 A1 of your own, then read on as we dive into the details of this highly compact, hard hitting AEG.
Specifications
| | |
| --- | --- |
| Manufacturer | ASG |
| Action | AEG |
| FPS | ~400-420 FPS |
| Hop Up | Adjustable |
| Inner Barrel | 8.19 in (208mm), 6.04mm tightbore |
| Outer Barrel | 14mm CCW threaded |
| Total Length | 24.5 in (623 mm) stock extended |
| Weight | 5.3 lb (2.4 kg) |
| Construction | Polymer |
| Rounds | 75 |
How closely does the ASG Scorpion Evo 3 A1 resemble the real steel version?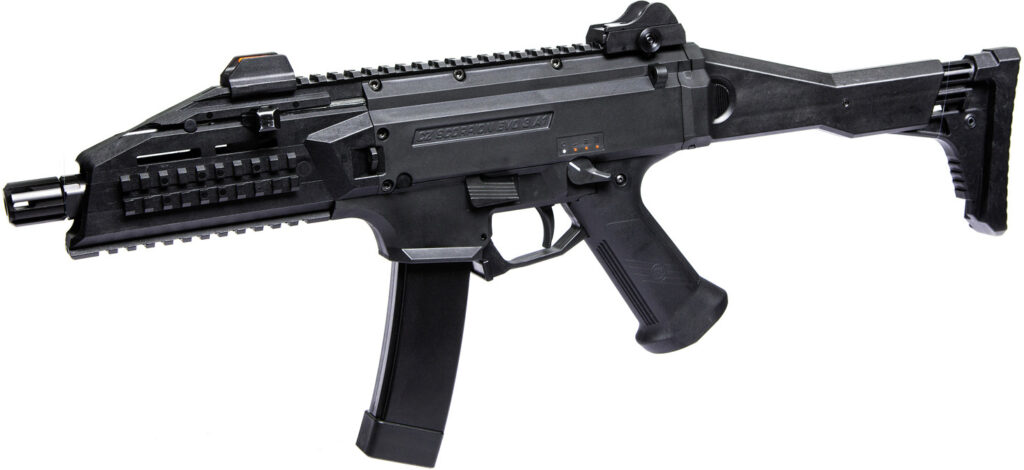 | | | |
| --- | --- | --- |
| | ASG Scorpion EVO 3 A1 | CZ Scorpion EVO 3 A1 |
| Weight | 5.3 lb (2.4 kg) | 5.51 lbs (2.5 kg) |
| Barrel Length | 8.19 in (208mm) | 8 in (196 mm) |
| Overall length | Collapsed: 16.7 in (425mm) Extended: 24.5 in (623 mm) | Collapsed: 16.54 in (420mm) Extended: 24.6 in (625 mm) |
| Action | Select Fire Semi/Auto | Select Fire Semi/Auto |
| Caliber | 6mm | 9mm |
| Capacity | 75 BBs | 30 rounds |
| Construction | Reinforced Polymer | Reinforced Polymer |
| Sights | Fixed front, adjustable rear | Fixed front, adjustable rear |
| Rail | Quad (12, 3, 6 and 9 o clock) | Quad (12, 3, 6 and 9 o clock) |
The ASG Scorpion is an officially licensed airsoft replica of the CZ Scorpion EVO 3 A1, and as such matches its real steel SMG counterpart pretty closely.
The ASG EVO A1 is more or less the same length and weight as the CZ at around 17-25 inches (stock folded/unfolded)and 5.3 lbs, respectively.
Interestingly, while the use of polymer instead of steel is something that typically acts as a point of difference between airsoft guns and real firearms, both the CZ and the ASG Scorpion AEGs are constructed using fiber-reinforced polymer, making them remarkably similar in feel and letting the ASG score quite a few points when it comes to realism.
The external of both guns are quite similar, as well. Both guns have a quad rail system, with an extended picatinny rail on top and side/bottom mounted rails on the rather short handguard, ambidextrous controls and a neat, side-folding (and extending) stock.
As it is a licensed replica, the ASG Scorpion Evo 3 A1 has all the trademarks that we would expect, and they match the real steel version pretty closely.
Much like the real steel Scorpion, the ASG comes with an extremely prominent Scorpion trademark engraved along the side of the upper receiver, which is both accurate and, we suppose, helpful if you forget what gun you're using.
The ASG also has a stylized CZ logo nicely engraved on both sides of the grip, as well as a "designed in the Czech Republic" engraved on the right side of the upper receiver.
ASG Scorpion Evo 3 A1 AEG: How does it perform?
Build Quality and Construction
Like its real steel counterpart, the ASG Scorpion Evo AEG is mostly made of reinforced polymer, with the outer barrel and flash hider made of metal.
While it isn't perhaps quite as tough as a full metal SMG, it will certainly stand up to most of the abuse a typical airsoft skirmish can throw at it and is far more durable than airsoft guns made with ABS plastics or cheap, pot-metal.
The Scorpion itself feels very rigid and sturdy, and ASGs attention to construction quality means there's no real wobble, looseness or flex to it.
Everything feels well put together with this gun, the stock locks nicely into place when folded and the selectors are nice and snappy, making a nice and audible click when thumbed into place, which is something you always want to hear, especially with polymer airsoft guns.
Now, the Scorpion Evo's looks tend to be a bit divisive among both airsofters and the firearms community. Some feel it is a little too…utilitarian, while others praise its modern, ruggedly tactical looks.
We personally think its angular looks are kind of cool to look at, but regardless of how you feel about its appearance, the ASG Scorpion Evo 3 A1's exterior is very functional and there is a lot that can be added to it.
There are four picatinny rail attachments on the gun, one full length top rail, two shorter side rails and a bottom, so there should be no problem adding your favorite optics, lasers or flashlights to this gun.
The gun's outer barrel is also threaded.
However it is a real-steel sized 18mm CCW, rather than the more common airsoft 14mm standard.
Although ASG does produce unique suppressors for this thread, unfortunately those looking to fit more-commonly-sized barrel extensions, mock suppressors, and flash hiders will need to buy an 18mm-to-14mm adapter.
Thread issue aside, the ASG Scorpion Evo e A1 AEG is a thoroughly accessorized airsoft SMG and users should have no issue making it as tactically kitted-out as they'd like.
Towards the back of the gun, the Evo 3 A1 AEG comes with a folding and extending stock, which can dramatically shorten the length of the gun, bringing it under 17 inches and making it perfectly suited for tight, CQB games.
If you're not a fan of folding stocks for whatever reason, it can be easily removed and fitted with adaptors that will let it take most M4-style buffer tube stocks.
One thing we think is pretty cool is that ASG Scorpion Evo 3 comes with a couple of cool iron sights. The front sight is a fiber-optic style sight (kind of like a tiny fluorescent glow stick, really), while the rear is a flip up style iron sight that is fully adjustable for windage and elevation.
Other than giving the gun a much more futuristic look and feel, the glowing front sight can be of great help when aiming in ambient light conditions or when sighting low-contrast targets (opposing players wearing all black, for example).
Inside, the ASG Scorpion Evo 3 A1 AEG is extremely impressive, as well.
The gearbox's frame is CNC machined metal and contains pretty decent parts, such as steel gears, 8mm bushings, a steel spring guide, and more.
As with many other ASGs, the gearbox is proprietary to the gun. However, many of its parts, including the gears, cylinder and cylinder head, are V2 and V3 compatible, so it is pretty upgradable and customizable as far as proprietary gearboxes go.
It is also fitted with a quick change spring system that makes it pretty simple to change springs.
Users only need to pop the stock off, push a button and they can pull the spring out through the back of the gun.
The gearbox is driven by an ASG Ultimate Basic motor, a short type motor with a fairly powerful magnet that is pretty torquey.
In addition, the gun's inner barrel is a 6.04mm tightbore.
Where the gun really starts becoming interesting is that it comes stock with a fair bit of quality electronics already installed.
The ASG Scorpion Evo 3 A1 AEG comes with a pre-installed ASCU MOSFET and ETU system. This gives the gun an improved trigger response and a 3 round burst mode, which is always cool.
More than just providing additional firing modes, the gun's ETU is actually pretty advanced.
It gives the gun advanced failure detection, which beeps and shuts the gun down if it detects a critical failure (like a short or broken gears) so as not to cause more damage to the gun.
It also provides the Evo 3 A1 AEG with low-voltage and empty magazine detection, powering the gun down if a drop in voltage is detected or if the magazine is emptied, which is kind of cool and adds a little bit more realism when shooting.
The ASG Scorpion Evo 3 A1 AEG is, of course, LiPo ready and is wired up to a Dean's T-plug.
Users should know that the gun is front wired and, given the size of the gun, it is a little cramped in there and a little more annoying to access compared to a rear-wired gun, so you'll be a little more limited when it comes to battery choice.
Performance and Accuracy
The ASG Scorption Evo 3 A1 is an excellent performer out of the box, which is perhaps unsurprising given the quality of its aforementioned internals and electronics.
The gun hits pretty hard with its stock spring, capable of delivering around 400-420 FPS using 0.20g BBs at a pretty decent 20-22 RPS or so.
Although a little powerful for some CQB fields, the gun can be brought down to more indoor-friendly levels by swapping in a less powerful spring, such as an M100 or M105, something that can even be done last second in a parking lot thanks to the gun's quick change spring system.
The gun is also quite accurate.
Below 50 feet (15 m), it is capable of delivering extremely precise groupings, and has no problems hitting targets well past 150 feet (45 m), making this SMG quite capable for both indoor and outdoor games.
Some users have even been able to hit center mass targets well past 200 feet (60 m) with some effort, which is honestly quite impressive.
Overall, the gun's microswitch keeps the trigger short, snappy and highly responsive, which is nice since the real steel version is known for having a bit of a heavy factory trigger pull.
Likewise, the gun is capable of selective fire, giving it increased versatility in game as users can choose between semi, auto and 3-round burst modes.
Finally, the gun comes with an adjustable hop up, located under the dust cover.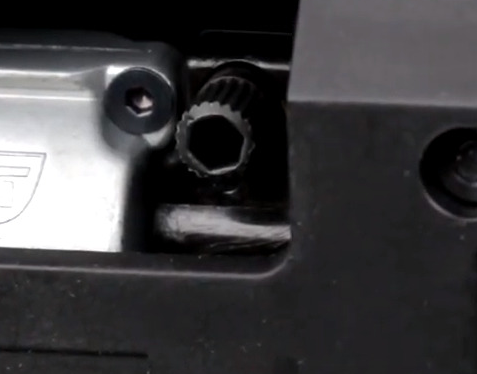 The hop up is a dial-type that is easy enough to adjust with an allen key (or your fingers if you're really nimble).
Although not quite as easy to work with as a rotary, it isn't too bad and, helpfully, the bolt catch is functional on this gun, so you can work with both hands.
Handling and Feel
The ASG Scorpion Evo 3 A1 is a pretty compact little airsoft SMG.
With the stock folded it is only about 17 inches long, making it quite a bit shorter than many MP5s out there and a little bit shorter than its main rival, the Kriss Vector.
As a result the gun is comfortable to handle in close quarters, maneuvering easily in tight spots and around corners.
When you pick the gun up, one of the first things you might notice is its heft. Coming in at over 5 lbs, the Scorpion is something of a big boy, weighing considerably more than a similarly-sized plastic airsoft MP7, for example.
That said, this does give the ASG a far more realistic feel than other plastic airsoft guns, which can sometimes feel like toys.
When you pick up the Scorpion it does feel like holding the real steel CZ, especially since the two guns are so similar in their weight and the materials used to make them.
The Evo A1 AEG is a little bit weighted towards the front, as can be expected with a short, boxy front-wired airsoft SMG, but the stock and internals do a decent job at providing some counterbalance.
With the stock extended, the Evo 3 A1 can be shouldered and held comfortably for extended periods of time.
Combined with its range, power and accuracy, this means it is also well-suited to most outdoor games, despite its size.
The stock itself folds to the side and is also extendable, with 3 points of adjustment and a prominent and easy to depress stock adjuster, which is handy for those with longer than average reach.
The gun's grip is quite nice and ergonomic.
Although not all that textured, the engraved logo and design as well as the front and backstrap do provide adequate grip and should do well in most situations, even for users wearing gloves.
As mentioned previously, the gun's bolt catch is fully functional. Because the gun's ETU comes with empty magazine detection (stopping the gun from firing when it detects the magazine is empty), when changing magazines users do have to press the bolt catch after inserting a fresh mag to get it firing again.
This actually replicates the functionality of real steel firearms, which adds an extra layer of realism to play…and is kind of cool to be honest.
One thing we do like is that, much like the real steel CZ, the Scorpion Evo A1 AEG is very ambidextrous.
The fire selector and magazine release are located on both sides of the gun.
Further, the gun's charging handle can be switched to left-handed use.
Maintenance
Disassembling the Evo A1 AEG isn't quite as simple as a standard M4 carbine, but it isn't too difficult to take down either.
Users have to unscrew the flashhider and nut, remove the handguard, press the spring guide to pop off the stock.
After that, users loosen various screws located in the grip and around the receivers.
These screws do add an extra step to the disassembly process, but they do serve to keep the gun nice and tight and prevent the gun from rattling around when in use.
As with other front-wired airsoft guns, replacing the battery is a little more tricky compared to rear-wired models, as they require users to pop off the handguard, which in turn requires the removal of the flashhider and nut.
Changing the Evo 3 A1's spring, however, is quite simple. It is accessible once the stock is folded and all users have to do is simply press the large and rather obvious spring release and the spring and guide slide right out.
In terms of replacement parts, the gearbox is proprietary but its gears, cylinder and cylinder head are V2 compatible, so it's not hard to source replacements or spares if necessary.
And, as with many other ASG airsoft guns, the company does produce a wide variety of replacement and upgrade parts that are easy to find online.
Similarly, because of the enormous popularity of this particular series, there are quite a few aftermarket upgrades available for it as well, including improved hop ups, rotary hop up wheel attachments, custom ETUs, tighter barrels, springs, gears, cylinders and much more.
Magazine type and capacity
The Scorpion Evo 3 A1 comes with a pretty quiet and smooth 75 round midcap polymer magazine.
The magazine design is proprietary, however, although ASG does produce a 375 round hi cap for it, which can help if you really want to lay down some fire.
Some third party manufacturers, such as Angel Custom, do produce drum mags and adaptors made for the gun, which is something users can keep in mind as well.
Price
As an officially licensed replica with strong capabilities and high quality internals and electronics, you wouldn't expect the ASG Scorpion Evo A1 AEG to be particularly cheap.
And you'd be right.
Coming in at just under $400, the Evo A1 AEG is fairly pricey.
That said, the Scorpion Evo A1 isn't just a great SMG, it is probably one of the best stock AEG airsoft guns out there today.
Out of the box, it's easy to carry, hits hard and fast, is highly accurate and it has a variety of fun and realistic functions that other airsoft guns simply don't.
So while the ASG Scorpion Evo 3 A1 AEG carries a fairly hefty price tag, in our opinion it delivers enough value to more than justify it.
ASG Scorpion Evo 3 A1 AEG Pros and Cons
Advantages
Well Built
The ASG Scorpion Evo 3 A1 AEG is made of a similar fiber-reinforced polymer construction as its real steel inspiration. As a result, it is very durable and can stand up to pretty much anything a typical airsoft game can throw at it..
Similarly, much like the CZ, its receivers are firmly screwed together, so there's not much looseness, or rattling to the gun when handled and the gun feels very sturdy overall.
Very Realistic
The Evo A1 AEG is an officially licensed replica of the CZ Scorpion Evo A1 and is engraved with all the appropriate trademarks. It also matches the CZ in terms of length, weight and even construction, making it a very realistic airsoft gun.
Fast, snappy trigger response
The Evo A1 AEG comes stock with an ASCU MOSFET and microswitch setup that keeps its trigger pull short, responsive and snappy, making it very effective, lively and fun to use in-game.
High quality gearbox and internals
The Scorpion Evo 3 A1 AEG is very well made on the inside, as well. The gun comes stock with a MOSFET, ETU, a reinforced CNC machined gearbox, steel gears, 8mm bushings, a very effective quick change spring system, torquey motor, a well-made hop up and tightbore barrel.
Quick Change Spring
The ASG Scorpion Evo 3 A1 AEG is fitted with a quick change spring system that takes only seconds to use. Users only have to fold the stock and depress the spring release button to access the spring and spring guide.
Has lots of power
Out of the box with a stock spring, the Scorpion should hit around 400-420 FPS, making it a fairly powerful airsoft gun in a very compact package.
Those wishing to use it in CQB, however, can use the quick change spring system to easily swap in a lower power spring in just a few seconds, which makes the gun quite versatile.
Great range and accuracy
In addition to being fairly powerful, the Scorpion has no problems hitting targets well past 150 feet and, with a decent hop up and adjustable sights, is more than capable of getting good groupings closer in.
Highly capable ETU
The Evo 3 A1 AEG's ETU is very versatile and has some fairly advanced capabilities. In addition to giving the gun a 3 round burst mode, it provides the gun with a failure detection system, a low voltage detection system and an empty magazine detector, all of which will automatically stop the gun in order to prevent damage to its components.
Automatic and burst mode functionality
Thanks to its ETU, the Evo 3 A1 AEG allows users to take advantage of semi, 3-round burst and automatic firing modes, adding extra versatility in-game.
Empty magazine detection is very realistic
The Scorpion's empty magazine detection adds a bit of real steel realism to an airsoft game. When a mag runs out, the gun will automatically stop firing and, after popping in a fresh mag, requires the user to release the bolt catch to continue, mimicking a real semi/automatic rifle or SMG.
Ambidextrous
The Evo 3 A1 is fully ambidextrous, which is good news for lefties. Its fire selection and mag releases are located and accessible on both sides of the gun, while the charging handle can be switched over to left-hand use.
Proprietary gearbox has some V2 compatibility
While the Evo 3 A1 AEG uses a proprietary ASG gearbox, several of its parts are compatible with more common V2 and V3 gearboxes, letting users take advantage of the many aftermarket parts and upgrades that are available for these.
Disadvantages
Pricey
At nearly $400, the ASG Scorpion Evo 3 A1 AEG isn't what we call a budget airsoft option and is more expensive than many, admittedly less-capable, SMGs out there.
Battery space a little cramped
Although it is 11.1V Li-Po ready, being a small, front-wired SMG means that the Evo 3 A1 AEG's battery compartment is somewhat small, which makes it a little tricky to use and can limit users in their choice of battery to some degree.
Proprietary gearbox and mags
Although there is some compatibility with the gearbox, the ASG Scorpion Evo 3 A1 AEG does use a proprietary gearbox and proprietary magazines, which limits its customizability to some degree.
Bottom Line
The ASG Scorpion Evo 3 A1 AEG has become something of a gold standard for SMGs in the airsoft world and it's not hard to see why.
The gun lis well built inside and out, hits hard, hits accurately and has a bunch of features that other models simply don't.
And, as an added benefit, its looks let it stand out in a sea of M4 carbines.
Will Martin – Will has been into airsoft and paintball for well over 10 years, and has done it all – from upgrading and fixing gearboxes as a tech to building custom airsoft loadouts for his friends to supporting off those friends as a DM.