If you're in the market for an airsoft gun and the typical line up of assault rifles, carbines or even SMGs aren't doing it for you, an airsoft bullpup might just be what you're looking for.
With their futuristic looks and more compact design, an airsoft bullpup can stand out on an airsoft field and are often modeled on famous and well-regarded military weapons, making them an excellent addition to just about any collection.
Problem is, bullpups aren't exactly the most common airsoft design, and as with many other niches in airsoft, it can be hard to find one that doesn't sacrifice performance for style.
To help out, we've put together this list of what we consider the best airsoft bullpups around.
In a Rush? Check out our picks for the best airsoft bullpups around
What we look for in a bullpup airsoft gun
Based on real steel guns
While bullpups aren't the most common gun design around, some models have been adopted by various military and security services around the world, becoming iconic firearms in their own right.
While, at times, airsoft manufacturers are known to create imaginative bullpups of their own design (or conversion kits for existing guns, for that matter) we focused more on airsoft bullpups that are based on real life models.
These tend to be more in line with what most airsofters are looking for when it comes to bullpups and they tend to be the models that give buyers the most trouble when it comes to finding one that's actually worth the money, since manufacturers tend to focus more on getting the exteriors right with these and may treat their interiors as an afterthought.
Accuracy and performance
Although the bullpup design really stands out for its looks, particularly with airsoft, they are still intended to be fully functional airsoft guns, and a potential replacement gun for more traditional (re: boring) designs.
As such, we felt the need to hold them to the same standards as the more traditional style of gun they would replace (airsoft assault rifles and SMGs).
While they obviously had to look good, they needed to have decently balanced indoor/outdoor FPS (300-400, typically) and be able to group at range, i.e. be able to hit their targets reliably at 100-150 feet.
Reliability
While an airsoft bullpup can be cool, it is also a niche item that tends to be bought for the way it looks, rather than its performance.
In the airsoft world, this often means that quality control can be somewhat hit or miss.
When considering bullpups for our list, we looked for guns that are well put together, built durably, shoot consistently and aren't likely to fall apart soon after opening.
Upgradability and customizability
With their unique trigger-forward design, airsoft bullpups often have to make use of some proprietary internals to get everything working right, which can make them hard to upgrade later on.
Consequently, we tended to look for guns that used as many common internals as possible, or whose most important parts are broadly compatible with aftermarket upgrades and replacements.
We also looked for airsoft bullpups that offered users a good deal of easy customization options, such as with threaded barrels and rail systems for the addition of optics, mock suppressors, lasers and more.
Our Picks
Best L85 Airsoft Rifle – ICS L85A2

| | |
| --- | --- |
| Pros | Cons |
| ✅ Extremely durable and realistic stamped steel construction | ❌ Not exactly cheap |
| ✅ Very realistic to handle and use | ❌ Some proprietary gearbox parts |
| ✅ Highly accurate and has excellent range | ❌ Needs rail adaptor for optics |
| ✅ Easy to disassemble and maintain | |
| ✅ Proprietary gearbox accepts many V2 parts | |
| ✅ Gearbox and internals are top quality | |
| ✅ Quick change spring system has low, medium and high settings – very adaptable | |
| ✅ Can get pretty powerful FPS-wise | |
| | |
First introduced in the 1980s, the British L85 is the standard issue rifle of the British Armed Forces and a sleek example of a modern bullpup design.
The ICS L85A2 is a faithful airsoft replica of the iconic UK battle rifle.
Much like the real steel version, and somewhat unusually for an airsoft rifle, it is constructed out of a full metal body made from stamped steel, and sports nylon-reinforced polymer furniture.
The result is an airsoft rifle that is solid, heavy, durable and about as realistic as it gets in terms of feel and design – at 8 lbs (3.65 KG) it feels like a real rifle and can take pretty much any punishment and rough handling the average airsoft game can throw at it.
Its exterior also sports fully adjustable flip up day and night sights, a prominent and true-to-life carry handle and 14mm CCW threaded outer barrel, for the easy addition of silencers and other barrel accessories.
The carry handle,however , does sit on Susat rails, so users will have to purchase rail adaptors in order to mount their choice of optics.
Inside, the ICS L85A2 is quite well made.
It does use a proprietary ICS gearbox design, which is all metal, heavily reinforced, and contains well-shimmed steel gears and 8mm bearings. That said, although proprietary, the gearbox does accept many typical V2 upgrades and replacement components, which is helpful.
More interestingly, ICS has fitted the L85A2 with a three-position quick change spring system that allows users to select between low, medium and high spring tension, changing the guns FPS output accordingly and making it highly adaptable to different game styles and field limits.
Finally, the gun also contains an adjustable, gear hop up and a pretty decent tightbore 6.05mm brass barrel.
In terms of performance, users can see between 340-410+ FPS out of this gun, depending on spring tension, and the gun offers excellent range and accuracy overall, making it an excellent and convenient choice for those looking for a bullpup to take to indoor and outdoor games.
In terms of mags, the L85A2 is pretty easy to shop for – it accepts pretty much any M4-style STANAG magazine and comes with 300 round hi-caps.
Overall, with its adaptable quick change spring system, realistic look and feel, good performance and high quality internals, the ICS L85A2 one of the best airsoft takes on the British SA80 bullpup and should serve as an excellent (and shall we say, properly cheeky) day-to-day M4 airsoft alternative.
Best P90 Airsoft SMG – Tokyo Marui P90 TR

| | |
| --- | --- |
| Pros | Cons |
| ✅ Very well made and put together | ❌ Not all that powerful out of the box |
| ✅ Fully licensed with trademarks | ❌ Only accepts P90 mags, is a little picky about non-TMs |
| ✅ Very accurate with excellent range | |
| ✅ Comes with tri rail system for easy customization | |
| ✅ TM V6 gearbox has plenty of aftermarket parts, accepts some V2s as well | |
| ✅ Gearbox and internals are top quality, has quick change spring | |
| ✅ Comes with mock suppressor | |
| ✅ High rate of fire – 25-28 RPS out of the box | |
| ✅ Torquey but quiet motor | |
The Belgian-made FN P90 is, alongside the Uzi and MP5, probably has one of the most famous and distinct submachine gun profiles out there.
Despite being introduced in the late 1980s, its compact, bullpup design remains striking enough to be the go-to gun for Hollywood producers, popping up in various movies, video games and tv franchises such as: Tomorrow Never Dies, Stargate, Breaking Bad, Resident Evil, Fallout, John Wick and more.
Being so prominent in gun and pop-culture, it is perhaps no surprise that the P90 is fairly popular in the airsoft community, as well.
If you're interested in picking up a P90 for your next game, we believe the Tokyo Marui P90 TR is probably your best bet.
Typically Tokyo Marui, the P90 TR is a very accurate, well built and faithful reproduction of the real steel P90 TR.
Its body is well put together and largely made of lightweight polymer, with a metal barrel assembly, and sports accurate and authentic FN P90 trademarks.
The gun comes with a 14mm CCW barrel, making it easy to attach the included mock suppressor (a nice touch) and other barrel accessories.
It also comes with the P90s rather prominent and somewhat unusual tri-rail system, which sort of sits atop the gun and provides a top rail and two small side rails so that users can freely add optics, flashlights, lasers and more.
Inside, the Tokyo Marui P90 TR sports a full metal V6 gearbox that is quite upgradable and customizable. As it is a Tokyo Marui gun, there are a good deal of aftermarket accessories for this, and (in a pinch) it can even accept certain V2 parts, of which there is certainly no shortage.
In terms of performance, the P90 TR is also typical Marui. Its FPS is limited by Japanese law to under 300 and users can expect to see around 250-270 FPS from this gun.
While not a heavy hitter, it is an excellent choice for CQB and indoor games.
That said, as with other Tokyo Marui airsoft guns it is extremely accurate, despite its size and FPS it will hit out to 150 feet (~45m) or so without much of an issue.
It also has an excellent rate of fire, getting 25-28 RPS out of the box on a 7.4 LiPo and users reporting easily reaching 35-40 RPS with a little modification.
Interestingly, because it uses Tokyo Marui's EG1000 motor, the gun is actually vry quiet when it fires, which is great for a bullpup since the gearbox is typically next to your ear.
In terms of mags, the gun uses standard airsoft P90s, many of which come with pretty cool mock bullets.
These aren't quite as common, cheap or intuitively inserted as STANAGS, but that is the nature of a P90. The Tokyo Marui P90 TR does accept aftermarket mags (although it can be a little picky at times), which can reduce the overall cost of ownership, which is nice.
Overall, if you're in the market for an airsoft P90, with its high accuracy and ROF, excellent build quality, customizability and plethora of aftermarket parts and accessories, the Tokyo Marui P90 TR should probably be your top choice.
Best Steyr AUG Airsoft SMG- ASG Licensed Steyr AUG A2 Sportline AEG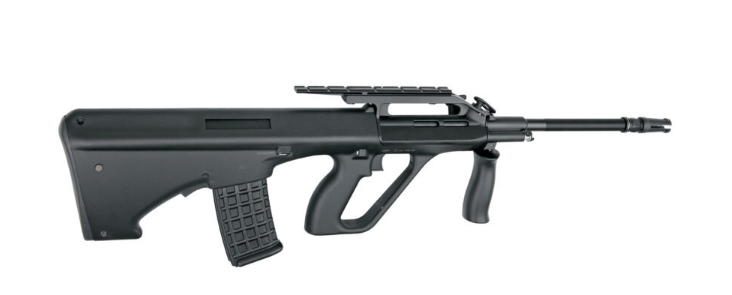 | | |
| --- | --- |
| Pros | Cons |
| ✅ Well put together | ❌ Two stage trigger can feel a little mushy at times |
| ✅ Fully licensed with trademarks | ❌ Only accepts AUG mags |
| ✅ Top rail for easy addition of custom optics | |
| ✅ Textured polymer is durable and nice to hold | |
| ✅ TM compatible, full metal V3 gearbox with quick change spring | |
| ✅ Gearbox and internals are top quality | |
| ✅ Very affordable | |
| ✅ Unique, vintage looks | |
| | |
The Austrian-made Steyr AUG is a classic military rifle whose retro-futuristic good looks have captured the imagination of firearms enthusiasts for decades, and the ASG Steyr AUG A2 Sportline is an airsoft replica that we feel does justice to this venerable bullpup.
Like the real steel Steyr AUG, the ASG Aug A2 is made of nicely textured and reinforced polymer and sports a sturdy metal barrel assembly. It is also sports officially licensed Steyr trademarks, which are kind of cool.
Externally, the A2 comes with a handy folding vertical grip, a textured stock, 14mm CCW threaded outer barrel and a period-correct top rail, which allows the ASG to easily accept a range optics and is largely the reason we selected the A2 over the more vintage A1 with its 1.5x fixed scope.
On the inside, ASG has done a fine job with the AUG A2.
The gun comes with a full metal, TM-compatible V3 that contains steel gears, 8mm bushings and a quick change spring system, allowing users to up or downgrade its performance, depending on the field.
And that's a good thing because the ASG Steyr AUG 2 delivers pretty strong performance out of the box, hitting 370-390 FPS with 0.20g BBs with pretty laser-like accuracy.
Like other Steyr AUGs, the gun does come with a two-stage trigger, letting users switch between auto and semi by pulling the trigger back in different ways.
While this is cool and eliminates the need for a selector switch, it can make the trigger pull a little mushy, which is typical of airsoft (and real steel) Steyrs, sadly.
The gun comes with a 330 round hi cap and, as an Steyr AUG replica, really only accepts AUG magazines, although it does accept those from different brands pretty well.
That said, the extra cost of having to find AUG magazines is offset by the fact that the ASG Steyr AUG A2 is very affordable, often costing well under $200.
For that price, and with the guns excellent overall balance of build quality, performance and upgradability, if you're in the market for a Steyr AUG, we feel the ASG A2 is the one to beat.
Or, find out more about the Steyr AUG and its history and use in airsoft in our guide.
Best Tavor Airsoft Rifle – IWI Licensed Elite Force Tavor TAR 21 Competition
| | |
| --- | --- |
| Pros | Cons |
| ✅ Very affordable | ❌ Sights are a little weird and set forward compared to other guns |
| ✅ Fully licensed with trademarks | ❌ Proprietary gearbox design |
| ✅ Pretty well balanced, lightweight and easy to hold | |
| ✅ Working bolt catch makes it easy to adjust hop up | |
| ✅ Strong out of the box FPS, suitable for indoor and outdoor use | |
| ✅ Easily accepts pretty much any STANAG magazine | |
| ✅ While proprietary, gearbox does accept many V2 parts | |
| | |
| | |
One of the more well known battle rifles of the IDF, Israeli Weapons Industries' futuristic Tavor TAR 21 has since been adopted by many armies around the world.
With their cool looks and ergonomic design, the Tavor is usually near the top of airsoft bullpup-enthusiast wishlists, and one of the better airsoft Tavors out there is Elite Force/Umarex IWI Tavor TAR 21 Competition.
A faithful reproduction, the Elite Force Tavor is made of textured polymer with a metal outer barrel, so it is still durable, feels relatively sturdy and is relatively impact resistant, and, since it is licensed, has all the IWI trademarks.
It's also easy to hold and lightweight, tipping the scales at around 5.5 lbs.
The TAR 21 model comes with a top rail, for easy mounting, as well as a 14mm positive threaded outer barrel (so may need an adaptor) and flip up sights.
It also comes with a fully functioning bolt catch, which makes adjusting the hop up a lot easier to do.
Inside the Elite Force Competition Tavor comes with a fully upgradable, full metal and reinforced gearbox with metal gears, a rotary hop up and 8mm bushings. It is a proprietary design, although it is compatible with many V2 parts on the market.
The gearbox also includes a quick change spring system, which is nice and helps the gun be down or upgraded as needed.
In terms of performance, the Elite Force TAR 21 is decently powerful, as well, and users should expect around 350-370 FPS @ 0.20g BBs. It has a solid RPS and can easily hit targets at around 150 feet out when stock.
The gun comes with a 300 round hi cap and is compatible with most M4-style STANAGs out there, so keeping it stocked with BBs is pretty easy and fairly cheap.
With good performance, decent build quality and quality internals, the Elite Force TAR 21 Competition stands out as a reliable and solid Tavor replica that, typically priced below $200, provides a lot of bullpup bang for the buck.
Best FN F2000 Airsoft Rifle- G&G FN Herstal FN F2000

| | |
| --- | --- |
| Pros | Cons |
| ✅ Very compact, about the size of an MP5 | ❌ Proprietary G&G gearbox |
| ✅ Good FPS, excellent range and accuracy | ❌ Only takes hi cap mags |
| ✅ Durable reinforced polymer construction | ❌ Somewhat mushy trigger |
| ✅ Tight bore barrel, well balanced motor and high quality internals with quick change spring | |
| ✅ Proprietary gearbox does accept many V2 parts | |
| ✅ Very solid, realistic to hold gun | |
| ✅ Unique looks | |
| ✅ High quality, G&G Green bucking and hop up unit | |
| | |
Belgium's FN makes our list again with their distinctive looking F2000 bullpup rifle.
Although not as popular or well-known as the P90, the F2000 has a somewhat distinctive look and charm and was FN's attempt to break into the assault rifle world with a futuristic bullpup design and was adopted in limited numbers by select countries, such as the Belgian Special Forces.
For fans of its unique looks and style there are a few airsoft models of the F2000 available for purchase, and the best of these, in our opinion, is the G&G FN Herstal F2000.
The G&G F2000 is officially licensed, so has all the FN trademarks that those wanting a more authentic experience might want, and (much like the real steel F2000) it is plastic, made of durable nylon reinforced polymer.
Also much like the real steel version, the G&G F2000 is highly compact. At just 710mm long, this airsoft rifle is just a tad longer than an MP5 submachine gun.
Despite its short length, the G&G F2000 replicates the original's bulky profile and weight, tipping the scales at 7.28 lbs (3.3kg) the gun has realistic heft and feels very solid in-hand.
Externally, the F2000 comes with an extended flat top and adjustable flip up iron sights, as well as a 14mm CCW threaded outer barrel, so adding optics and accessories isn't an issue.
Some versions of the G&G F2000 come with a replica fixed 1.5x scope. Although it is very distinctive and cool to look at, it is non-adjustable and, frankly, we feel that there are better (and lower profile) optics available that would better suit this gun in an airsoft game, so we recommend going with the flat top version.
Internally, the gun comes with a full metal, albeit proprietary, gearbox and a fairly torquey 18000 RPM motor.
This gearbox is somewhat compatible with other V2s (with the exception of a few components), so it is somewhat upgradable, but all told it is pretty decent stock, with steel gears, 8mm bearings and a handy quick change spring system.
The gun also comes with a tightbore barrel and an adjustable hop up that uses G&G's rather well-known green bucking, which definitely helps with accuracy and range.
In terms of performance, the G&G F2000 should get around 350 FPS with 0.20g BBs, making it a good all arounder (although this can be fairly easily modified with a spring change), and really excels with its range and accuracy, due its higher quality gearbox, barrel and hop up system.
Like many other bullpups, the G&G F2000's trigger can be a little mushy or even sticky at times.
Some models, however, have begun shipping with MOSFETs and ETUs that have drastically improved their firing, and we would recommend seeking these out.
In terms of mags, the G&G F2000 ships with a 450 round hi cap, but can accept most other STANAG type hi caps, which makes it a little easier to shop for.
Users should be aware that its gearbox, however, does have a quirk in that it makes the gun fairly picky when it comes to mags capacities and the gun really only works well with hi caps.
Overall, however, the G&G F2000 is built quite solidly, works very well out of the box, is surprisingly easy to hold, use and manoeuvre with, and replicates the unique look of the F2000 very accurately.
While the FN F2000's looks and style were always love it or leave it, if you are a fan of the gun the G&G FN Herstal F2000 is the way to go in our opinion.
What Is a Bullpup Airsoft Gun?
A bullpup airsoft gun is an airsoft gun that has most of its functional internals, magazines and actions located behind the trigger, rather than in front of it as with a traditional firearm design.
This essentially shifts most of the weight of the gun towards the stock and off of the support hand, so that rather than it being distributed evenly across the gun, the weight of the gun is on the user's shoulder.
Because the internals and hop ups are located far back, it also means that these guns can be fitted with a longer barrel while maintaining a relatively compact overall size. 
Pros and Cons of Airsoft Bullpups
Advantages of Airsoft Bullpups
Compact Design
By far the biggest advantage that airsoft bullpups have over conventional airsoft rifles is that they tend to be shorter in length while using more or less the same internals (full sized gearboxes, full length barrels, etc).
This can make them easier to handle and move around corners in CQB games while still delivering enough power to be usable outdoors.
Full length barrel
Although certainly not as influential as on a real steel bullpup, the length of inner barrel on an airsoft gun can have some effect on its overall performance.
Since airsoft bullpups can use full length barrels despite their compact size, this benefit can carry over.
No casing ejection, makes it easier for left handed users to use them
One big drawback of real steel bullpups is that they need some modification for left handed users, as the ejection port can otherwise be far too close to their face and cause injury.

As airsoft guns don't eject anything at all, this drawback is not as relevant and airsoft bullpups can be said to be a little more leftie-friendly than real steel versions.
Rear weighting makes it easier to swing around for quick target changes
With airsoft bullpups, the gearboxes and internal mechanisms are all pushed towards the back of the gun, towards the shoulder, which keeps the barrel and front of the gun quite light.
This makes it a lot easier and faster to swing the gun's barrel around and shift it from target to target.
We think they look pretty cool
Although it is a very personal thing, we think bullpups look pretty cool and they certainly will stand out in an airsoft field full of M4s.
Drawbacks
Can take time to get used to changing magazines
With magazines being inserted behind the grip and trigger, changing magazines with bullpups can feel a little odd for those who are more used to traditional airsoft designs, and can slow down new users somewhat in game.
May use proprietary parts and gearboxes
Being a little different in design, bullpups are more prone to needing unique internal parts compared to your typical airsoft M4, which can increase their price and make it a little harder to repair or upgrade them.
Niche product – not too many options out there
Bullpups are far more of a niche product than M4s, with a lot less demand, airsoft manufacturers don't always reserve a great deal of space for them in their product lines.
As a result, there are often fewer bullpups to choose from out there and, at times, it can be a take what you can get situation for fans.
Not everyone a fan of heavier weight near the shoulder
With bullpups most of the weight is located rearwards, rather than towards the front.
Some people are fans of this, due to it being a lot easier to handle the gun in close quarters, but it is also true that bullpups tend to be less evenly balanced than with traditionally designed guns, placing much of the weight on the firing hand, which can tire some users out over time.
…or the looks
At the end of the day not everyone is a fan of the bullpup design, if you're reading this chances are you're into it, but like everything else it is a matter of taste and other players may not be shy in letting their opinions be known to you.
Why aren't bullpup airsoft guns more popular?
Airsoft bullpups are something of a niche product, and there are a few reasons for this.
For one thing, there simply aren't as many real steel bullpups out there compared to traditional firearms, and so there are fewer guns to model replicas after.
Similarly, with fewer real steel examples, there are fewer fans of specific models, and thus less demand, something that's not helped by the fact that not everyone is a fan of the bullpup look and/or feel.
For another thing, when it comes to airsoft, barrel length isn't quite as important in airsoft as it is in real steel, so one of the main advantages of a bullpup design is somewhat reduced in its relevance to the game.
On a more technical side, they tend to be more expensive to produce for manufacturers, especially given the more limited demand for them.
Building a bullpup model requires companies to create a design where everything is shifted behind the trigger, which, if your main production line is dedicated to traditional replicas, makes things more complicated and more expensive.
Similarly, the unique design of a bullpup often requires the use of proprietary parts, which can be hard to source and ensure the quality of.
This quality control isn't helped by the fact that the bullpup design requires longer trigger linkages, which can lead to mushy triggers if not properly compensated for, something that raises the cost significantly.
Simply put, it is usually more profitable and sensible for a company to churn out another M4 clone than it is to build and sell an airsoft bullpup.
Bottom Line
Bullpup airsoft guns are a bit more of a niche product and good quality models aren't really the easiest to find.
With their more compact design, rifle-level performance and interesting looks, however, good quality versions can be an exciting alternative to traditional airsoft guns and can be well worth the extra effort of finding them.
Ted Clark– Hailing from Florida, Ted has been an avid airsoft enthusiast since he was in middle school. When he's not checking out and reviewing airsoft guns, he enjoys picking off his enemies one by one on the field as a sniper.