Take This Retro-futuristic Austrian Bullpup to Your Next Game
| | |
| --- | --- |
| Weapon Name | Steyr AUG |
| Weapon Type | Bullpup Assault Rifle |
| Country of Origin | Austria |
| Role | Various: Assault Rifle, Battle Rifle |
| Cool Factor | ⭐⭐⭐⭐⭐ |
| Modifiability | ⭐⭐⭐⭐ |
| Weight | ⭐⭐⭐⭐⭐ |
| Good for: | Pick up games, collection, milsim, indoor and outdoor skirmishing |
Brief History of the Steyr AUG
The Steyr Armee Universal Gewehr, or Steyr AUG for short, was developed by Austrian weapons manufacturer Steyr Arms AG in 1974.
Grabbing attention from the get go with its striking bullpup design and an advanced polymer construction, the Steyr AUG was eventually adopted by the Austrian and Australian militaries in 1978 and 1989, respectively.
The AUG and its variants have become icons in gun- and pop-culture, immediately identifiable for both their unusual, space age looks and features.
Interestingly, the Steyr AUG was (not so) briefly banned for importation into the US from 1989 to 2008.
Steyr AUG Specs
A proper Airsoft AUG replica (that of the classic and iconic A1, anyway) should be close to the following specs:
| | |
| --- | --- |
| Length | 31.1 inches (790 mm), |
| Barrel Length | 20.0 in (508mm) |
| Weight | 7.9 lb (3.6 kg) |
| Key Features | Progressive, two stage triggerForward grip Semi-translucent magazines1.5× telescopic sight w/ring reticleLeft sided polymer charging handleQuick detaching barrelPolymer construction |
Variants
The Steyr AUG has come out with a few variants over the years that airsoft enthusiasts should be aware of, as replicas exist for each model, although they are less common than the more iconic original.
Steyr AUG A2
Introduced in 1997, the A2 added some significant design changes to the venerable AUG A1, although by and large they look quite similar.
Most noticeably the company redesigned the charging handle to include a 1913 rail, which allowed for greater modularity in terms of optics, the option for a longer 24" barrel, and adding room to swap the forward grip for a bipod.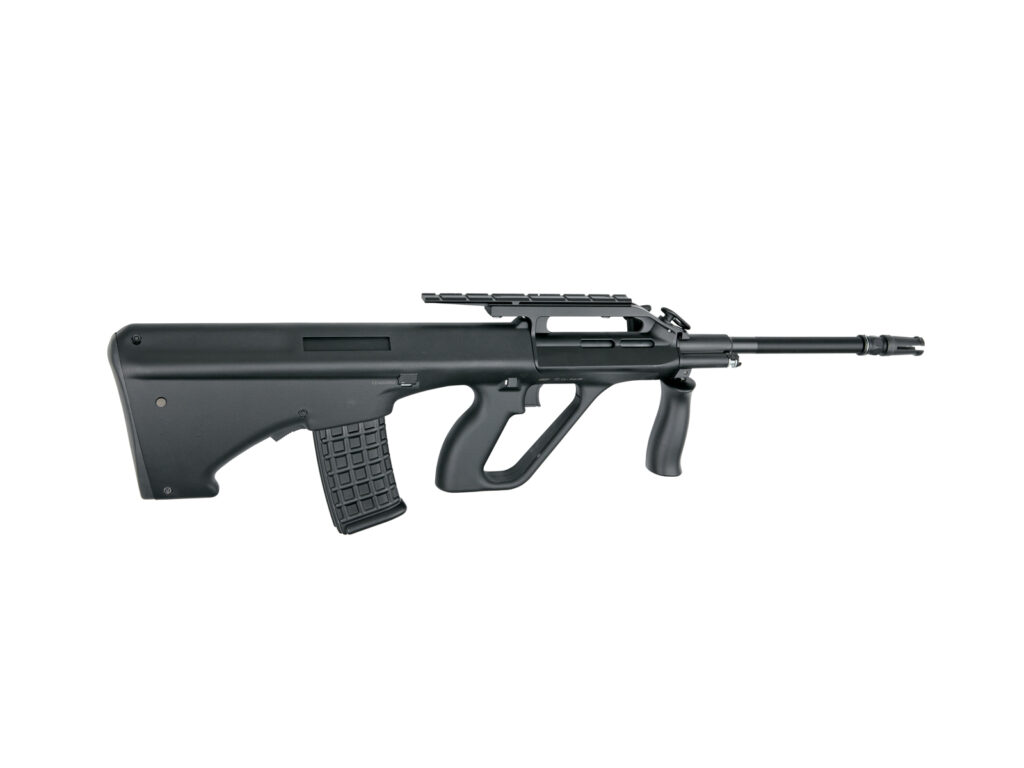 Steyr AUG A3
The Steyr AUG A3 was a later variant that added greater modularity to the platform, including a longer Picatinny rail, one mounted to its optic sight and an additional rail on the right side (on some models).
It also added an external bolt release and later variants introduced an optional quad rail.
What makes a Steyr AUG good for airsoft?
Cool, retro-futuristic design
If you show up to an airsoft field carrying an Steyr AUG, chances are you will get some appreciative nods.
In a sea of AKs and tactical M4s, the 60s-era retro space-age bullpup design of the AUG, with its built in grip, obvious polymer construction and highly tapered front end, is pretty cool.
While not everyone considers its bold styling particularly beautiful, it is an iconic design that will catch the eye.
Full size inner Barrel
Beyond looks, however, the Steyr AUG's design has some qualities that can help it perform on an airsoft field.
Much like the real steel versions, replicas of the Steyr AUG have a short overall length, nearly 4 inches (100mm) shorter than an AK and a couple inches shorter than a carbine M4.
Yet, despite their more compact size, they usually include a full size barrel and full size gearbox and mechanicals, giving them similar performance to a full airsoft M16 or AK but with an easy to carry, easy to maneuver design.
What this does is make the Steyr AUG very flexible in utility, making it a decent choice regardless of whether you're playing in an open field or in CQB, and a great choice if you plan on using it as your only primary.
That said, being a full on airsoft rifle rather than a carbine, they are prone to shooting at a full ~350FPS+, which can be a little too powerful for some CQB arenas, and some users may need to downgrade the spring accordingly.
Easy to hold, rear-weighting
The rear weighting of the bullpup design makes the AUG easier to hold and swing around.
Much like its real steel equivalent, an airsoft Steyr AUG is very light towards the front and most of its weight is towards the buttstock.
This makes it easy for users to hold for long periods without getting tired and allows it to be held single-handed fairly easily.
What are some disadvantages of an airsoft AUG?
Dual action trigger can be annoying
True to the real steel versions, airsoft Steyr AUGs tend to have an optional dual stage firing mode.
Pull the trigger halfway and it fires in a semi automatic mode. Pull it all the way and the AUG fires off BBs on automatic.
While interesting, it is easy for those not used to the system to make critical mistakes in game.
In fact, this progressive trigger is very polarizing in the airsoft community (as it is with the real steel version). Some users don't really mind, while others don't like it at all.
While better models do come with select fire functions as well, it does mean that most models do come out of the box with something of a sticky or mushy trigger feel.
Everything is set further back and closer together
As with other bullpups, with airsoft Steyr AUGs the magazine and all the components that drive the action (gearboxes, springs, pistons, batteries, switches, gears etc) are all located behind the trigger and set towards the butt of the gun (and even into the buttstock).
Although it depends on the model and manufacturer, in many cases this can make things a little cramped, making it harder to upgrade batteries or add components.
Also, for those who are more used to an M4 style airsoft gun, the magazine and its release location is located towards the back, giving the Steyr a different manual of arms that can make changing magazines awkward for experienced players who rely on muscle memory.
Similarly, the release's placement near the crook of your arm can interfere with quick magazine removal and hamper those who like to dramatically drop-free their magazines while running and gunning.
Airsoft AUGs: AEG or GBB?
With airsoft Steyr AUG, it's really the design, history and overall look that really makes it stand out in a sea of AR and AK variants, so, as with most airsoft guns, when it comes to electric vs gas it is a matter of personal preference and playstyle.
That said, its bullpup design does introduce some interesting considerations for players.
Like its real steel equivalent, the airsoft AUG's ejection port is a lot closer to your ear than with a traditional design.
While this less of a concern with an airsoft AUG than its real world equivalent, as airsoft guns won't eject spent brass in your face, in our opinion the blowback of a well made GBBR can be a little more distracting up close than the low whine of a gearbox.
But this obviously a matter of taste.
How much do AUGs usually cost?
Interestingly, despite being an airsoft bullpup, which is usually harder to find altogether than your standard airsoft AR or AK, and being a classic design intended for more of a niche audience, the Steyr AUG and its variants aren't really all that expensive.
If you can find one available for purchase, you can generally pick up a relatively decent AEG from a respected manufacturer for less than $250, and a pretty solid GBBR for under $500.
This means they're not all that much more expensive than upper level M4s and AKs, although you probably won't find as many really cheap options as you might with more common airsoft replicas.
Metal or Plastic?
The Steyr AUG was pretty advanced for its day in terms of construction.
Although more common today, The AUG's bullpup extensive use of fiberglass-reinforced polymers and lightweight aluminum components, such as the receiver, made it seem like it was a product of the space age.
As a result, unlike most classic replicas, such as a Tommy Gun, a MP5 or an Uzi, when it comes to airsoft the amount of metal vs polymer is less of an issue.
Airsoft Steyr AUGs can get away with using a polymer construction without any real loss of realism and feel, since that is mostly what the originals used.
Better quality models should have removable metal barrel assemblies and, obviously, metal gearboxes to ensure longevity and performance.
That said there are metal versions available and these can feel nice and solid when well built although you do need to pay closer attention to build quality since you don't want these rattling around.
How easy to customize and accessorize are these?
In terms of upgrades, things aren't too bad.

Most, shall we say TM-inspired, AUGs on the market come with V3 gearboxes and so can be upgraded fairly easily with most V2/V3 compatible gears and parts and are pretty easy to add a mosfet to without doing a lot of disassembly.
Similarly, many models do come with fully functional quick change barrels, which (aside from being true to the real steel versions) makes it far easier to mount custom barrels to the AUG, which is something of a plus.
On the downside, as with many bullpups, because everything is kind of shoved to the rear space can be at more of a premium, meaning that squeezing in aftermarket parts (particularly larger batteries in AEG models) can take a little more work and is probably best left to technicians and those with more experienced at home modding.
Like other classic airsoft replicas, however, Steyr AUG A1s and A2sa aren't the most ideal for those who like to really accessorize their guns i, especially compared to your standard airsoft M4.
Being developed in the late-1960s to mid-1970s, their design predates picatinny rails by quite some time, so easy off and on accessories can be a little trickier to deal with.
Depending on your need or desire for realism, many manufacturers do offer A1 and A2 models with pre-installed rails. While these aren't exactly true to life or historically accurate, they do let you attach better optics and accessories pretty easily.
That said, those who are really looking for an authentic look while still balancing customizability should probably look to the A3 models with their more modern, out of the box rail systems.
Our Recommendations
Like many other classic gun replicas, if you are interested in the Steyr AUG or one of its variants, it can be a little tricky to find one that's actually worth the money.
To help out, here's a list of some of the better quality options out there that we've seen.
The Classic A1- ASG AUG A1 Proline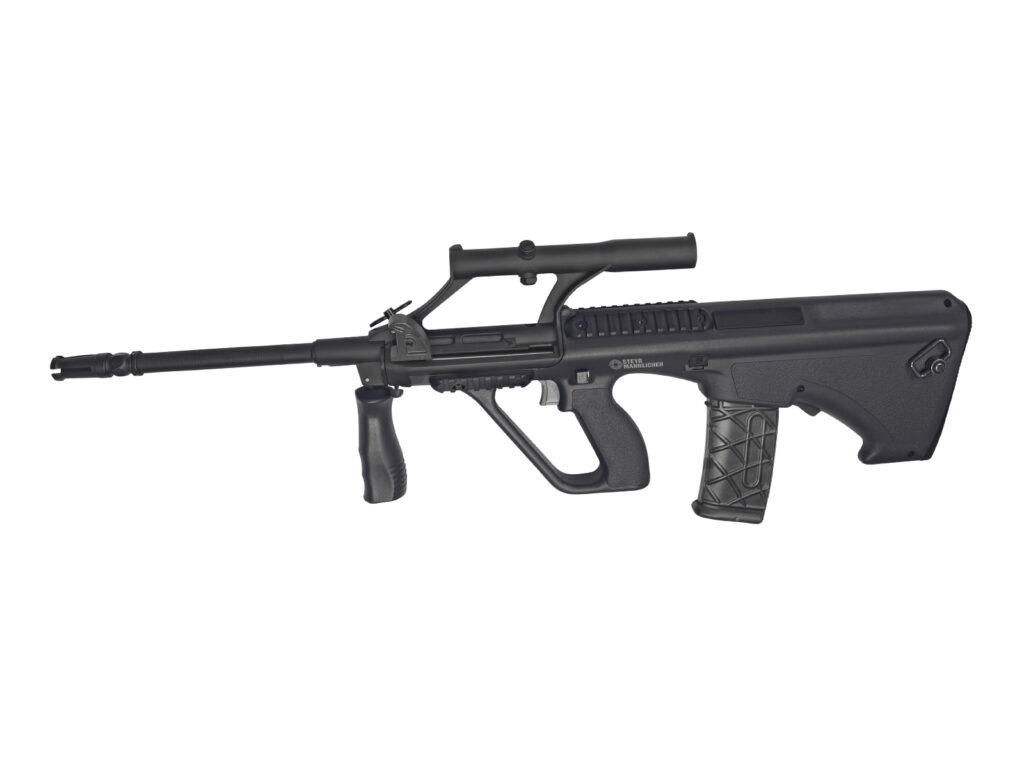 Specs
| | |
| --- | --- |
| Gearbox | TM-compatible Version 3, metal |
| Adjustable Hop up | ✅ |
| Rails | ✅ |
| Build | Mixed Polymer and Metal |
| FPS | ~390-400 on .20g |
| Hop up | Adjustable |
| Licensed | ✅ |
This AUG A1 licensed model provides users with a pretty exact the classic replica of a vintage Steyr with the official trademarks from Steyr Mannlicher along the body.
The gun is mostly made of polymer, with nice texturing on the body and grip. It does have a metal barrel assembly, which adds a nice feeling of durability to the gun that many other Steyrs lack.

Overall, the body is fairly sturdy and pretty decently put together.

More importantly, the barrel assembly allows the barrel to be easily removed and upgraded if necessary, as does the TM-compatible metal V3 gearbox, which gives users somewhere to go if they want to boost the performance of the gun later on.
It does perform pretty well out of the box however, with users reporting around 12 RPS and 390-400 or so FPS, so its definitely useable on the field and more than just a wall hanger.
Since it does hit around 400 FPS, it can be a little hot for some fields, but ASG has put in a quick change spring system, which will allow it to be downgraded fairly easily.

Interestingly the barrel is threaded (14mm CCW), so users can easily attach a suppressor or tracer unit if they like, an option that is always appreciated (although adding one is a bit unusual on this model of gun).
Replicating the look of the A1 to the fullest, there is an offset 1.5x scope attachment. It is functional, with a circular reticle and has a couple inches or so of eye relief. It isn't a sniper or DMR set up, but it does a good job out of the box and offers a fairly clear aperture that is handy for day to day skirmishes.
The proline A1 does have a couple offset rail mountings on the left side. While not exactly period correct, they do make this AUG far more functional in a wider variety of airsoft games, allowing users to add non-magnified red dots, flashlights or lasers, which can be useful for CQB (or scopes for someone who just isn't a fan of the 1.5x Steyr original).
Coming in at under $200, this AUG is pretty well built and can give users an authentic look and experience without breaking the bank.
Steyr AUG A2 – ASG Licensed Steyr AUG A2 Sportline AEG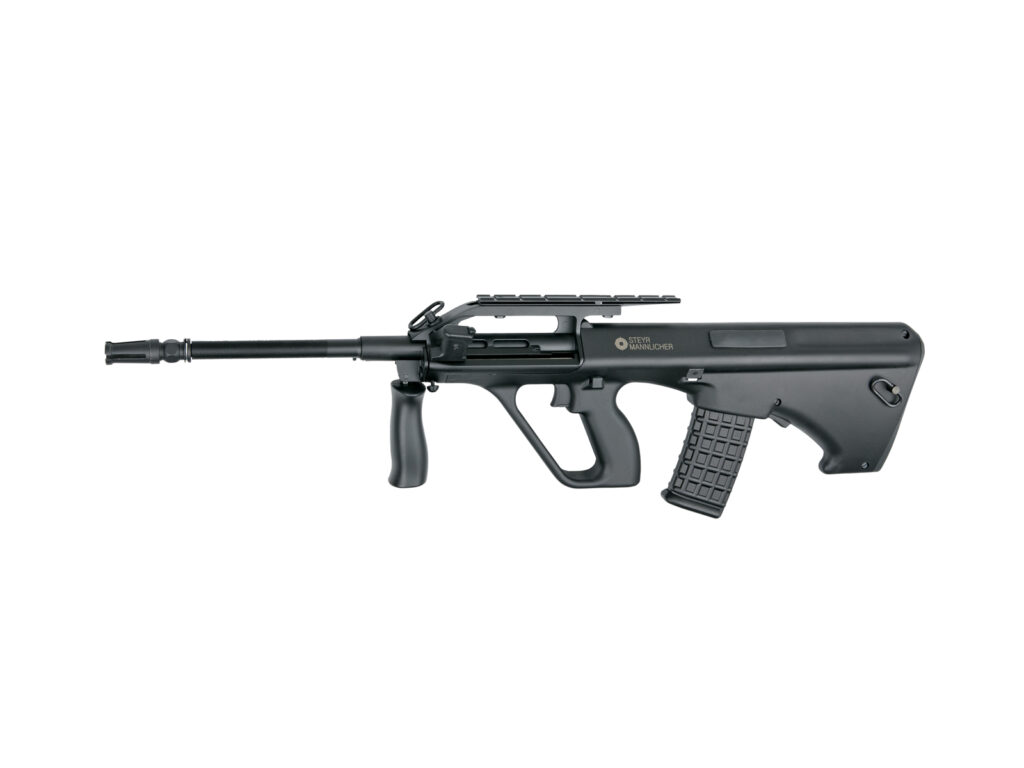 Specs
| | |
| --- | --- |
| Gearbox | TM-compatible Version 3, metal |
| Adjustable Hop up | ✅ |
| Rails | ✅ |
| Build | Mixed Polymer, metal |
| FPS | ~370-390 on .20g |
| Hop up | Adjustable |
| Licensed | ✅ |
If you want a Steyr AUG with the looks of the A1 but with a slightly more modern and streamlined feel, the ASG AUG 2 Sportline might be what you're looking for.
It is a pretty true scale airsoft gun and, like the ASG AUG 1, built with an all polymer construction and a metal barrel assembly.
Like the ASG AUG A1 it is fully licensed, with Steyr trades comes with an upgradable metal V3 gearbox and an easy accessible and adjustable hop up that can help it deliver decent and accurate performance, hitting opponents at to about 380 or so FPS, so it should be usable in most airsoft fields.
Visually, this AUG 2 is period correct, with a top mounted rail, which makes adding some optics a little easier, as well as a vertical grip, and if you do need more, it is compatible with most TM upgrade and aftermarket parts.
Coming in at around $150-160, sometimes less, the ASG AUG A2 is quite a good Steyr for the money.
Steyr AUG A3 – Steyr AUG A3 Proline Commando XS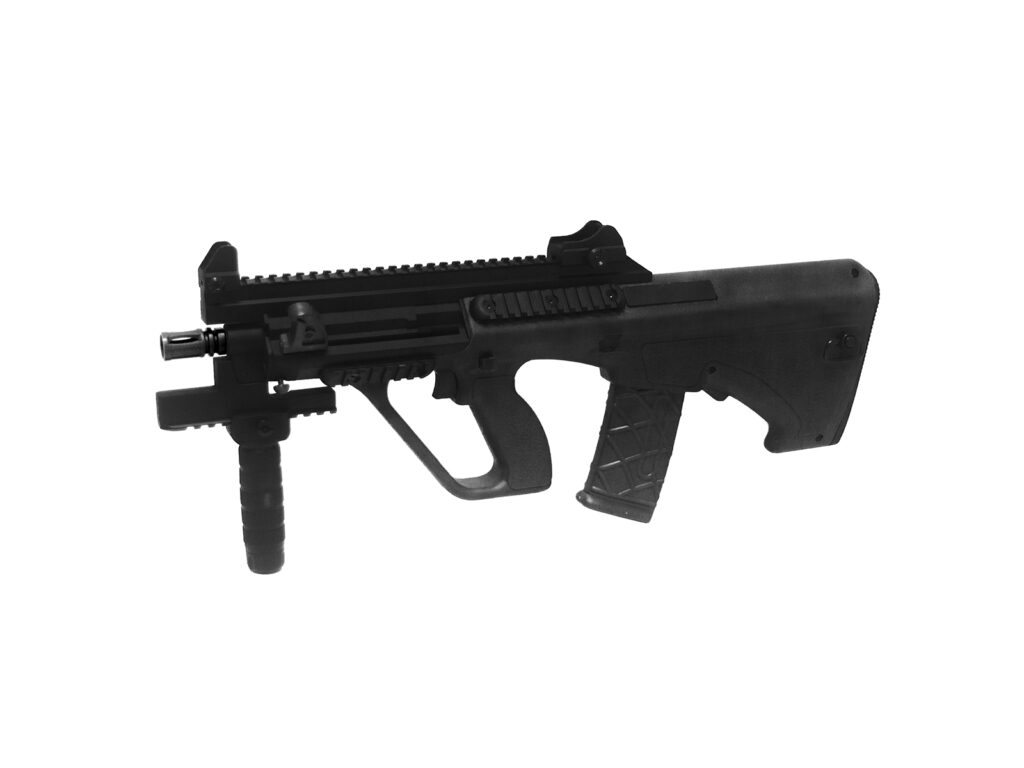 | | |
| --- | --- |
| Gearbox | TM-compatible Version 3, metal |
| Adjustable Hop up | ✅ |
| Rails | ✅ |
| Build | Mixed Polymer and Metal |
| FPS | ~390 on .20g |
| Hop up | Adjustable |
| Licensed | ✅ |
The AUG A3 was a significant departure from the classic AUG A1/2 looks, and the Steyr AUG A3 Commando takes things a little further with a far more adaptable and tactical design than its predecessors, although it still comes with Steyr trademarks, which is kind of nice.
The gun is quite a bit shorter than the A1 or A2, coming in at just over 23 inches (to the A1s 31.6), making it a lot easier to maneuver in close quarters.
And it is highly functional in CQB and indoor games, as well. The gun sports 7 rail mounts across its polymer body, 2 on the left, 3 on the right, one across the top and one undermount.
While this perhaps may not win it any beauty contests, it does give users a wealth of possibilities for adding accessories such as flashlights, optics, vertical grips and more to the weapon in pretty much their choice of location.
For those who really don't want that many rails, 5 of them can be removed from the gun, which is thoughtful. In addition to the rail system, the gun also sports a 14mm threaded barrel, allowing users to mount a mock suppressor or tracer, which, unlike the A1 and 2, actually fit the overall aesthetics of this airsoft gun pretty well.
Inside, the gun comes with a upgradable TM-compatible V3 gearbox with 7mm bushings, an easily accessible and adjustable hop up and a mosfet, making it lipo ready.
In terms of performance, the AUG A3 Commando XS shoots at ~390-400 FPS, which means it hits hard like its bigger brothers. If you are planning to use it in a field with stricter FPS limits, however, the gun does come with a quick change spring system, so you can easily downgrade it as well.
Coming in at well over $200, it is up there in terms of price Steyr, but it is quite well made, highly adaptable, upgradable and can be a great non-M4 addition to any CQB game overall.
Bottom Line
Although they aren't the most accessorizable and are prone to mushy trigger action, airsoft Steyr AUGs more than make up for it with their unique, retro-futuristic looks, compact design and full length barrel.
As a result an airsoft Steyr AUG can be an interesting and iconic bullpup to add to any player's collection. 
Will Martin – Will has been into airsoft and paintball for well over 10 years, and has done it all – from upgrading and fixing gearboxes as a tech to building custom airsoft loadouts for his friends to supporting off those friends as a DM.