The revolver is an iconic American firearm, which is somewhat ironic considering that the first revolver was actually developed in Europe.
Tidbits of history notwithstanding, it was Samuel Colt that really brought the revolver into its own and his Peacemaker helped define a major era of American history – the Wild West.
But revolvers aren't just for quick-draw cowboys. Police officers, the military, and shooters of all sorts have made good use of revolvers over the years, and they still have a significant fanbase. Even when semi-automatic pistols entered the market, many firearms enthusiasts stuck with the revolver actions because of their reliability, simplicity and distinct mechanism of action.
In fact, although not as popular as 1911-clones, many airsoft players choose to use an airsoft revolver as their sidearm of choice.
There are quite a few models of airsoft revolvers out there and, with a fairly complex mechanism and being something of a niche item, it can be a little hard to find one that works well and is worth the money – one that's not all hat and no cattle, if we're going to get into the spirit of things.
That said, whether you're going for a serious sidearm, are looking to complete a particular loadout or just love the idea of airsoft bullets and spinning cylinders, there's an airsoft revolver that can fit your needs.
To help you find one, we've put together this list of our favorites.
In A Rush? Here's a list of our top airsoft revolver picks
What We Look For In an Airsoft Revolver
Build Quality and Construction
Sure, an airsoft revolver might look cool, but there's not a whole lot of point to buying one if it just turns into a rattling, loose mess after a few games.
Airsoft revolvers tend to have some prominent moving parts that work a little bit differently than other airsoft pistols (the cylinder mechanism, most notably) and these should feel solid, without any worrying wobble, and function smoothly and reliably.
The last thing you want, after all, is to have your revolver's cylinder pop off and scatter your ammo when you're trying to spin it dramatically.
Similarly, they should be made of high quality materials, with good quality metal or nylon-reinforced polymer being ideal, since their more dynamic action and typically high FPS can put more stress on component parts.
Balanced power output
Usually, we love a good, high FPS airsoft gun and if you have something as impractically fun as an airsoft revolver, it might as well hit hard to make up for its limited shots.
That said, many airsoft revolvers run on CO2 and can shoot a little too hard to be useful indoors or on fields with strict FPS limits, limiting their practicality further.
As a result, we tend to look for pistols that sit around the 300-350 range, so they can be used in more types of games, and really consider those over 400 FPS if they bring a lot to the table.
Accuracy
Let's be honest, you're not getting an airsoft revolver for its ability to snipe opponents. That said, it is actually nice to be able to hit something more than a couple feet out.
While not as strict as we might be with a rifle, especially since most airsoft revolvers don't come with adjustable hop ups, we do look to see if an airsoft revolver can hit a center mass target (at least, most of the time) at over 50 feet or so.
When possible we obviously prefer those that do have hop ups, since their backspin dramatically increases accuracy and effective range.
Comfortable Grip
While airsoft guns don't have much in the way of recoil or kick, there is significant benefit to having an airsoft revolver with a well made, ergonomic grip.
Comfort aside, using a revolver involves a few more mechanical motions than a semi that require a firm grip on the gun, whether it's spinning the cylinder, thumbing the hammer or even spinning and flipping the revolver dramatically like you're Johnny Ringo from the movie Tombstone.
Being something of a showpiece, we also prefer airsoft revolvers that come with grips that are pleasing to look at, as well.
Cool Factor
With airsoft revolvers, function takes a backseat to form. In other words, you're not looking for a qualitative tactical edge when using these manual-loading six shooters.
As such, fun and coolness tend to become more important with these.
An airsoft revolvers mechanism of action should be fun and realistic to use and they need to look good – no blocky, oddball designs here.
Cost
At the end of day, an airsoft revolver is something of a novelty or niche item and isn't the most practical airsoft pistol choice.
Most likely it will be used as a secondary or sidearm and as such shouldn't really blow a hole in a budget as much as a primary rifle or SMG might.
That said, obviously any cost savings has to be balanced with quality since, and let's face it, there's a lot of junk out there, particularly with niche airsoft guns.
ASG Dan Wesson 715 – Best Overall Airsoft Revolver
| | |
| --- | --- |
| Pros | Cons |
| Great value for money | Full powered models can be too powerful for indoor/CQB use |
| Very gas efficient | |
| Adjustable hop up | |
| Full metal construction | |
| Accurate | |
| Comfortable to hold | |
| Excellent power with options for FPS friendly shells | |
| Same model available in different lengths and power levels | |
| Very realistic and cool looking | |
| Surprisingly easy trigger pull for a double action | |
The Dan Wesson 715 is a great overall airsoft revolver, and there are a few reasons that we feel comfortable saying that.
Let's start by looking at its construction.
The 715 has an all-metal frame, cylinder and barrel, all of which give it a nice and realistic heft and it is solidly put together – with no real rattling or looseness to its construction.
In terms of looks, the Dan Wesson 715 is officially licensed and modeled after the real life Dan Wesson .357 magnum revolver and, with its silver frame and a black rubber grip, ASG has made an extremely faithful replica.
In terms of performance, the 715 is quite powerful.
A CO2-powered airsoft revolver, full powered models can reach an FPS of well over 400. And it is pretty accurate at range, something that is helped out by the fact that new models include an adjustable hop up unit, located at the top of the gun.
For those interested in using these guns indoors or for CQB, ASG also helpfully offers low powered models that use power down shells and chrono around 320 or so FPS.
The 715 is also quite gas-efficient, getting around 90 shots per fill, or about 15 reloads, which makes it pretty cheap to run.
One thing we really like is that the Dan Wesson 715 comes in several different lengths.
If you want to go full-on hand cannon, there's the eight-inch barrel model, but we typically recommend the six or four inch models, as they tend to be more manageable on the field and easier to draw.
If you really want to go for the concealed-carry, 70s detective look, there is also a snub nose 2.5″ model, as well.
One thing to note is that only the 4 inch model comes with an undermount rail, for the easy attachment of flashlights or lasers, but the company does offer rail attachments you can buy for the other sizes in the range. 
Overall, with its good looks, build quality and high performance, coming in at around $100-120, the Dan Wesson 715 series is a great airsoft revolver option that can make a great choice for anyone looking for a .357 replica to take to their next game.
For more information, read our in-depth review of the Dan Wesson 715 series.
Marushin Anaconda – Best for CQB/Indoor games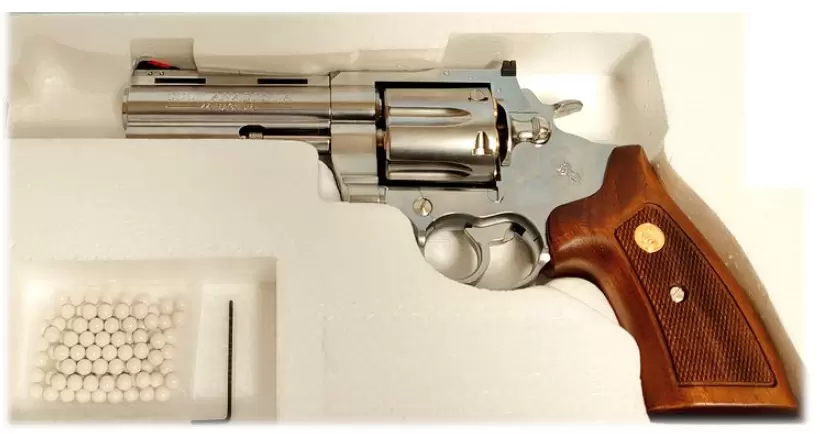 | | |
| --- | --- |
| Pros | Cons |
| Looks good | Pricey |
| Customizable | Lower FPS than some other options |
| Accurate | Not always so easy to find in stock |
| Feels good to shoot | |
| Reliable | |
| Good for CQB and indoor airsoft games | |
Airsoft revolvers can be prone to being a little over powered for indoor and CQB games.
If you're looking for an airsoft revolver that's both pleasing to look at and indoor-friendly, the Marushin Anaconda might be just what you're looking for.
As with other Japanese airsoft companies, like Tokyo Marui, Marushin guns are limited in their output and have an FPS of about 260 or so and it is effectively limited to Green Gas.
While perhaps not the best option for outdoor skirmishes, this does make the Anaconda ideal for CQB or indoor games since it can meet any field's FPS limits.
It's also quite reliable and accurate as well, so you can expect a nice, tight cluster of shots in your targets.
More than just a good indoor option, the Anaconda is actually quite a looker, too.
As with many other Japanese airsoft pistols, the Anaconda is made of ABS plastic but can be picked up in a variety of realistic styles, including blued steel and chrome.
Its grips are classically curved with wood-style diamond textured polymer grips that are really nice to hold and provide excellent grip.
The guns also come with authentic Colt trademarks including the iconic Colt stallion embossed on their side, making the gun one of the best looking airsoft pistols we've seen.
Typical of Marushin, the build quality is excellent. The ABS is fairly high-quality and durable, the gun is solidly assembled and it performs flawlessly.
The Anaconda feels good in the hand, as well. The grips are smooth and comfortable, while the weapon itself has a pleasing weight that keeps it from seeming too toylike.
In terms of length, Marushin offers the Anaconda in 4, 6 and 8 inch models, which all perform approximately the same, so it really does come down to a matter of taste and comfort.
On the downside, the Marushin Anaconda is somewhat expensive. At well over $200 it isn't what we might call a budget-friendly option.

That said, if you can afford it and are looking for an indoor/CQB capable, the Marushin Anaconda is a well-made, officially licensed airsoft revolver that's as beautiful to look at as it is to use.
Umarex Licensed Smith & Wesson Model 29 – Best .44 Magnum Replica
| | |
| --- | --- |
| Pros | Cons |
| Officially licensed | Trigger pull a bit heavy |
| Full metal construction | No rails or threaded barrel |
| Textured, imitation wood grips | Somewhat expensive |
| Durable | |
| Adjustable hop up | |
| Adjustable rear sight | |
| Extremely powerful | |
| Good gas efficiency | |
Now here's one that will really make your day – a fully licened.44 magnum airsoft revolver for Umarex with power that's (alright, almost) as impressive as its real steel inspiration.
The Umarex Smith and Wesson Model 29 is based on the iconic revolver that was once known as the most powerful handgun in the world – the .44 magnum made famous by tons of cop movies from the seventies and eighties, most notably Dirty Harry.
In terms of externals, as you might expect from an officially licensed replica, the Umarex S&W Model 29 is extremely realistic, with full trademarks and embossed S&W logos, and has a striking electroplated chrome finish, as well as nice, textured faux-wood grips that are quite comfortable to hold.
Being based on a gun that predates rail systems, the gun doesn't come with any rail attachments (or a threaded barrel), so adding silencers or optics to it isn't really an option.
That said, it is based on an iconic revolver from the 70s and you probably wouldn't want to anyway.
Looks aside, the Model 29 is quite well built, as well.
It is a full metal airsoft gun, giving it a very welcome durability and its parts have been fitted snugly and properly together. Its cylinder spins smoothly and there's no looseness or rattling to its body.
Like the real steel .44 it is a hard hitter, as well.
A CO2-powered airsoft revolver, it is capable of hitting around 430-450FPS. It probably won't be allowed anywhere near a CQB/indoor airsoft field, but it is an excellent option if you want to take it along for an outdoor skirmish.
The gun is quite accurate, as well. This is helped along by the fact that the gun has fully adjustable rear sights and, critically, an adjustable hop up unit on new models that provides better control over the gun's range.
Like other Umarex airsoft revolvers, the Umarex Model 29 has good compatibility with airsoft shells, capable of using those from Dan Wesson and Wingun as well standard Umarex legends, which should keep the cost down.
In fact, it comes with 12 very realistic, magnum-style bullets, so you'll have plenty to spare in case you're prone to losing them.
The gun is pretty gas efficient – you can generally expect to fire about eighty or so shots before the power starts to seriously drop.
On the downside, it is a double action and the gun's trigger pull is a bit heavy, being rated at about ten pounds.
Single action does feel considerably lighter, but is still noticeably heavier than some other airsoft revolvers. While this actually is pretty realistic, it means that the Model 29 isn't exactly a hair trigger.
With its full metal construction, official licensing and high build quality, the Umarex Smith & Wesson Model 29 isn't exactly a cheap airsoft revolver, either, coming in at just under $160 or so.
That said, the Model 29 is a fantastic airsoft revolver. It hits hard and accurately, it feels good, and it looks fantastic.
At the end of the day, you've gotta ask yourself one question: Do I feel lucky?
Well, do you?
Elite Force H8R Gen 2 – Most Functional In Game
| | |
| --- | --- |
| Pros | Cons |
| Highly affordable | Doesn't truly replicate real world revolver action |
| Well made and durable | Mags can wear out over a long time |
| Very easy to use | |
| 10 round daisy wheel magazines easy to reload | |
| Decent Power | |
| Gas efficient | |
| Adjustable hop up | |
| Green fiber optic sights | |
| Accessory rail | |
| Quite affordable | |
| | |
| | |

Elite Force's H8R model may well be the most popular and well known airsoft revolver on our list and it's not hard to see why.
The H8R is made of high-quality nylon fiber reinforced polymer that makes it surprisingly durable, CO2 capable and lightweight.
In fact, users have reported putting it through some pretty traumatic accidents – dropping it down a flight of stairs, smacking it against rocks, and more- all without anything more than cosmetic damage to the body.
The H8R is very accessorizable, as well. Although it doesn't have a threaded barrel, it does have top and bottom rails, which make it very easy to add optics, flashlights, lasers and other accessories.
In game, the H8R holds its own quite nicely.
It has a power of roughly 330-350PS, which is quite respectable and well balanced – the gun should be suitable for both outdoor and CQB/indoor games.
It's also pretty accurate, capable of hitting targets fairly easily to around 100 feet or so, thanks to its adjustable sights, which are fiber optic-style and make aiming in low light or on low contrast targets a lot easier.
The H8R also has an adjustable hop up, which provides much needed spin and accuracy at range. .
In terms of gas efficiency, you can reasonably expect to get about 120 shots per gas canister, which is quite good.
Now, where things get interesting for the H8R is with its reloading..
Rather than using single shot shells, the H8R uses daisy wheel magazine discs that hold ten shots apiece.
Reloading the gun is simply a matter of swapping entire discs, and is a lot faster than reloading shells once you get used to it. Plus, carrying spare discs is a lot easier than carrying various shells.
This places the gun squarely between a semi auto and a traditional revolver in terms of in-game practicality.
Finally, the H8R is a very affordable gun. At typically less than $80, it provides a lot of value but won't put that much of a dent in your wallet.
On the downside, the plastic discs do tend to wear out over time and, although you do get five, internal mechanisms can be a bit tricky.
Additionally, the use of discs rather than shells means the gun does lack some of the cool, real world functionality of an airsoft revolver – the whole cylinder itself doesn't rotate, for example, just the part holding the disc.

That said, on the whole, if you're looking for a solid, reliable, and easy to use revolver with modern style, good performance and reloads quickly, then the H8R is definitely the right choice.
Umarex Smith & Wesson M&P R8 – Best 8 Shooter
| | |
| --- | --- |
| Pros | Cons |
| 8 Rounds in the chamber | Not All that powerful |
| Comfortable grip | No hop up |
| Well made | |
| Good gas efficiency | |
| Comes with 16 realistic shells | |
| Looks good- quite realistic | |
| Feels very comfortable to hold and shoot. | |
| Good accuracy at close/mid range | |
| Easily adjusted rear sight | |
| Undermount rail for accessories | |
| | |
Umarex's Smith And Wesson M&P R8 is another fine licensed reproduction aimed at true firearm lovers.
Based on S&W's modern variant of the classic Model 27, the M&P R8, the Umarex R8 is a officially licensed airsoft with all the S&W trademarks prominently displayed on its modern-looking frame.
The R8 is a well made airsoft revolver, overall.
It is made of reinforced polymer, giving it decent durability while keeping the gun lightweight and easy to handle.
Its internal components are mainly metal, which means they should last a while.
The Umarex R8 comes with an undermount rail, which makes it easy to attach lasers or flashlights if you so choose, and it's pretty comfortable and easy to hold, thanks to its finger cut, ergonomic grip.
In terms of performance, the R8 does pretty well. It puts out a solid 350 or so FPS, which makes it good for both indoor and outdoor use and it has excellent gas efficiency, offering more than 150 shots per canister of CO2.
With no hop up, it is more of a close range/middle range gun, best used to about 60 feet or so, but is very reliable.
As a double action, its trigger pull is a little long, but not too bad,
Interestingly and like its real steel inspiration, the Umarex R8 holds eight rounds, which gives it a bit of an advantage over other six-shot airsoft revolvers.
In terms of price, the R8 is very affordable, selling for just under $90 and comes with 16 shells, which helps keep the cost down.
Overall, with its modern design, decent performance, an affordable price and a couple extra shots in the chamber, the Umarex Licensed Smith & Wesson M&P R8 is a solid airsoft revolver that can be a great choice if you're looking for a more modern take on a .357 classic.
Elite Force Legends Smoke Wagon – Best Single Action
| | |
| --- | --- |
| Pros | Cons |
| Extremely realistic, vintage revolver | Single action only |
| Comfortable grip | Slow to reload |
| Full metal frame with high gloss finish | No hop up |
| Metal bullets and functional ejector rod | |
| Excellent gas efficiency | |
| Good power (350-400) | |
| Really fun to handle and spin | |
| Well balanced | |
"Go ahead, skin that smoke wagon and see what happens!" – Wyatt Earp, Tombstone (1993)
So far, the airsoft revolvers we've looked at have all been based on fairly modern revolvers (of course, by modern we mean 20th century).
But if you're hankering for a six-shooter from the Wild West, all you need to do is strap the Elite Force Legends Smoke Wagon to your hip.
The gun looks like a genuine Single Action Army, complete with hefty full metal frame, imitation wood grips, and a shiny, silvery nickel finish.
In short, this is one good looking airsoft revolver.
Overall, Elite Force put some thought into this retro airsoft revolver and its build quality is quite good.
Its full metal frame gives the Smoke Wagon good durability, even if you drop it or drag it a bit. There's very little wobble andt feels good in-hand, thanks to a realistic weight (2.4 lbs) and a comfortable grip.
The gun is nicely weighted around the center, which helps if you want to spin or twirl it.
One thing that's kind of interesting is that Elite Force has added a small safety to the bottom of the gun, something that's perhaps not period-correct but it isl helpful and makes the gun much safer.
But just looking good isn't enough for an airsoft revolver- after all, if all you wanted was decoration there are much more affordable options out there.
Thankfully, the Smoke Wagon doesn't disappoint. It is pretty powerful, clocking it at around 350 FPS or so.
Because it has fixed front sights (front only, being period correct) and doesn't have a hop up, this is a close in/medium range gun, good for drawing down but not something you're going to rely on for accuracy at ranges over 50 feet or so.
In terms of gas efficiency, the Smoke Wagon is quite good and users should get around 150 shots in before needing to change CO2 cartridges.
One thing to note is that the Smoke Wagon is strictly a single-action airsoft revolver- you have to cock the hammer before each and every shot, so if you want to get some speed out of it you're going to need to practice your hammer fanning.
On the other hand, it does make the trigger considerably lighter than other models on this list, and the gun's cylinder and hammer action are really smooth and provide a nice, audible click when used, making the gun very enjoyable to handle.
It is important to note that, as with other single actions from the period, the gun is rear-loading. Rather than popping the cylinder out from the side, you have to manually load each metal bullet one by one, rotating the cylinder manually to access the next one.
This does slow down reloading quite a bit and, unlike more modern revolvers, there are no speed loaders to help move things along.
That said, Elite Force has included a functional, period correct ejector rod, that can pop out each round if you can't get them out on their own and is kind of cool to use.
Finally, there are fewer aftermarket options to holster the Smoke Wagon than with modern designs, since it is a pretty old school, single action.
At just under $130, the Elite Force Smoke Wagon is somewhat middle of the road when it comes to price, but when you consider the build quality and attention to detail that went into it, it does provide great value for money in our opinion.
.
Overall, if you are looking to slap leather and draw down like a real gunfighter, or you just want a single action airsoft revolver with outstanding form and feel, you likely won't do better than the Elite Force Legends Smoke Wagon.
Why Buy An Airsoft Revolver?
Sure, it's no secret that a semi-automatic is a far more practical choice for a sidearm than any airsoft revolver.
But airsoft revolvers do have some things going for them that make them an attractive choice for those inclined to them.
Power
Although not always the case, many airsoft revolvers tend to have pretty surprising muzzle velocities, especially as many run on CO2. In fact, a few have higher FPS ratings than some airsoft rifles.
Although not always a great option for CQB, they can be a great option for those who want their backup weapon to pack a little more punch.
Airsoft revolver shells
Unlike most airsoft pistols, airsoft revolvers don't use magazines. Instead, they often (though not always) make use of replica airsoft revolver shells, or bullets.
Like an airsoft shotgun, these hollow shells store the gun's BBs replicate the look of real steel bullets and allow airsoft players to mimic the action of loading and reloading bullets, adding a greater sense of realism that can't often be found when loading dozens of BBs into a mag.
They look cool…and different
With their prominent cylinders, decorative grips, custom holsters, retro styling, chunky frames and often all-metal construction, airsoft revolvers look pretty cool.
More than that, they certainly look different and will stand out in an airsoft field full of 1911 clones.
They have a pretty unique action
At the end of the day airsoft is supposed to be about having fun, and using an airsoft revolver is a much different experience than other airsoft guns, but particularly compared to a semi-auto. .
With a revolver action, users can draw back the hammer, idly spin the cylinder, and sometimes even hear an audible click as the cylinder revolves.
And, as mentioned above, there is the very realistic feeling of being able to physically load shells into the chamber, even if they do just contain BBs.
What Are Some Of The Drawbacks Of An Airsoft Revolver?
When it comes down to it, airsoft revolvers are really more about their unique look and feel than functionality, since they aren't really all that practical a sidearm in game and.
Limited shots
While there are some exceptions, generally speaking airsoft revolvers only hold about six shots, which is considerably less than a semi-auto that can load a mid cap magazine containing 15 rounds or more.
Slower reload time
Many airsoft revolvers use BB-holding shells and, while cool and fun to use, does mean that reloading an airsoft revolver is a bit more time consuming since users have to open the cylinder to insert BBs into the shells in-game one at a time.
Even with a speed loader, this action is more complicated than using a magazine and, although there are things like moon clips to help out, it is generally more cumbersome and awkward to carry multiple spare rounds compared to traditional mags.
Hop ups
Although this has been getting better in recent years, many airsoft revolvers are still sold with fixed hop ups or even without hop ups altogether.
This limits their effective accuracy and range compared to their semi-auto cousins.
Build Quality
Because they are something of a niche item that are often bought more for looks than practical use, companies that make airsoft revolvers don't alwatys spend as much on quality control as they do with their more popular rifles and semi auto pistols.
Consequently, users have to be a little more careful when picking out their airsoft revolvers, as they can be prone to faulty cylinder pins, poorly fitting cylinders, bad seals, weak hammers and more.
Single Action Vs Double Action Airsoft Revolvers – What Does It All Mean?
Two phrases you may hear in any discussion of revolvers (airsoft or otherwise) are 'single action' and 'double action'.
At first, they can sound a bit baffling to new shooters, but they're actually pretty simple to understand.

Essentially, they refer to how the trigger works when firing the revolver.
In a single action airsoft revolver, the trigger only serves to fire the BB out of the chamber.
The gun's hammer needs to be cocked manually before each shot.
A double action airsoft revolver's trigger, on the other hand, draws the hammer, rotates the cylinder, releases the hammer and fires the gun, making firing the revolver a lot simpler.
It's important to note, however, that most double action revolvers also are capable of single action – users can typically manually cock the hammer if they so choose.
As a rule, single action airsoft revolvers tend to be a lot slower to use in-game since you can't just keep pulling the trigger to blast your opponents, although there are some tricks you can use, like learning to fan the hammer.
That said, the risk of accidental discharge is a lot lower with single actions since there's an extra step involved.
But the main benefit of a single action is that it tends to keep the gun's trigger pull a lot shorter and lighter, since it doesn't have to draw back the hammer as an extra step, which is something to consider.
In general, most airsoft revolvers are double action, due to their ease of use and ability to be fired as single action if users so desire, but there are some single actions out there, which we've noted.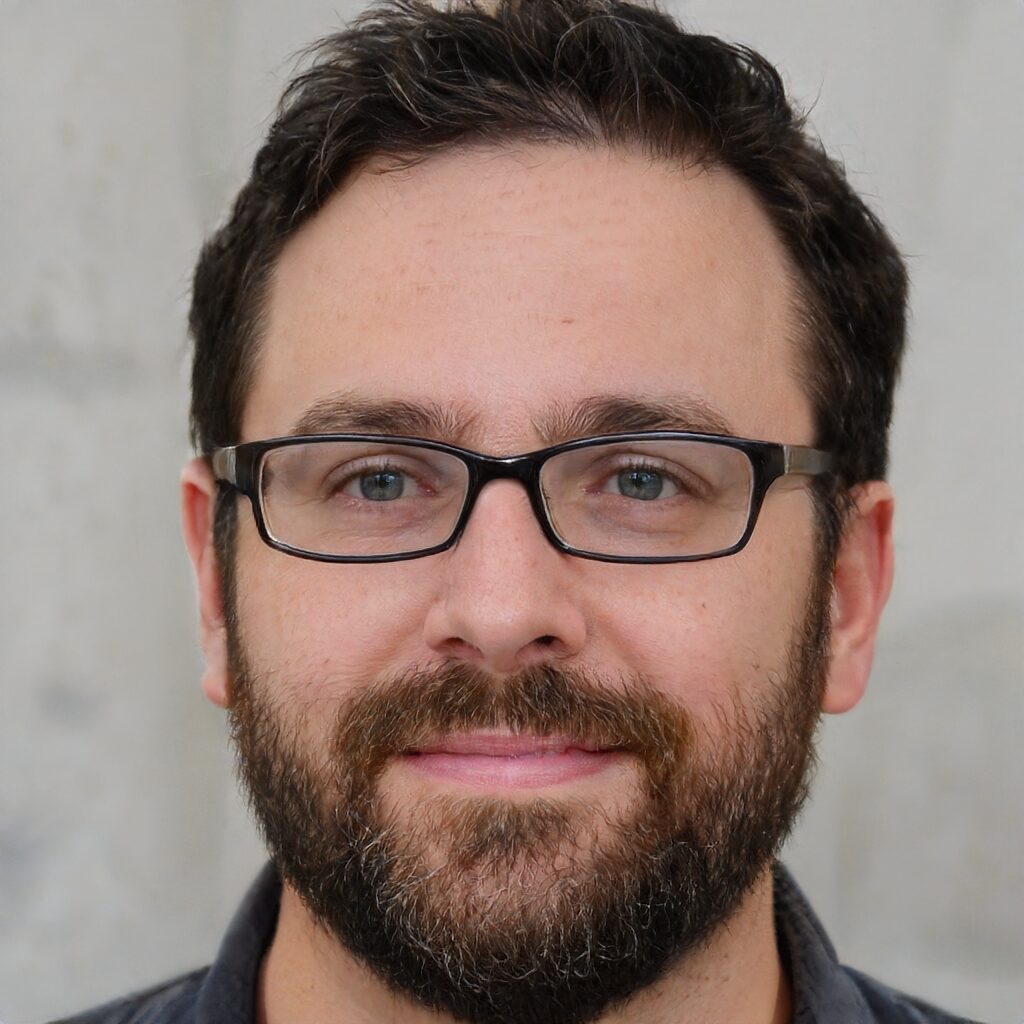 David Lewis – A longtime airsoft and airgun enthusiast and collector, our editor David's lifelong passion for tactical sports began in high school with some friends, a cheap knock-off airsoft M4, and an open field behind his parents' house.

When he's not plinking around, he enjoys sharing his knowledge of airsoft and helping those just starting out.