Few weapons so successfully blend vintage style and adrenaline-pumping action as an airsoft Tommy gun.

Inspired by the Thompson submachine gun, which earned its fame and notoriety on the beaches of Normandy and in the hands of gangsters and lawmen respectively, airsoft Tommy guns have a certain cache and design that make them a jewel in any airsoft collection.
Owing to this popularity, and unlike some other pre-WW2 replicas, there actually are quite a few models of Thompsons out there to choose from.
To help you find one that's worth your time and money, we came up with this list of our favorite models.
In A Rush? Check Out Our Top Tommy Gun Picks
What We Look For In An Airsoft Tommy Gun
Authentic Design
The Thompson or Tommy gun is an iconic firearm that is still immediately identifiable at a glance some 100+ years after its initial launch, even by non-firearms enthusiasts. 
Being an iconic and highly collectable vintage piece, authentic design is obviously a priority in any airsoft Tommy gun replica.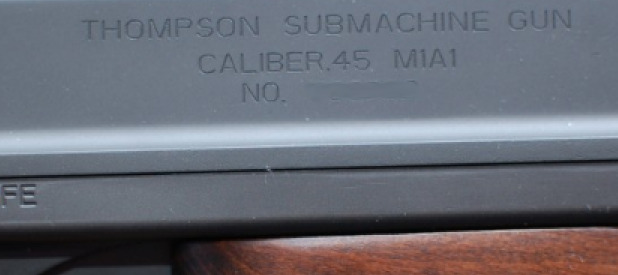 In terms of broad dimensions, any airsoft Tommy gun should be around 32 inches long (~810mm).
Weight is a bit tricky here as a real steel tommy gun tipped the scale at over 10 lbs (4.8kg) empty and 14 lbs (6.4 kg) loaded, which honestly is a bit over the top for any non-machine gun airsoft replica.
That said, like a Kalashnikov, a Tommy gun is a wood and steel affair and should feel substantial in-hand.
We therefore favor airsoft Thompsons that weigh at least 2.5 kg.
In terms of external details, there are two main airsoft designs out there – the M1A1 and the 1928 Chicago Typewriter – which we describe in greater detail a little later.
Broadly speaking, however, we do look for a gun with a full metal frame, real wood furniture, trades, finger-style grip and other period/version-accurate externals, notably involving the barrel, compensator and vertical grip. 
Build Quality and Design
An issue common to many vintage or unique airsoft guns is that their production tends not to be the main focus of their manufacturer, who will likely find churning out tactical M4 clones to be far more profitable.
Consequently, we do pay a little closer attention to airsoft Tommy guns in terms of their fit and finish, looking specifically for rattling and looseness, cracking wood, squeaking wood, bendy alloys, poor magazine fit/misfeeds, leakiness and so on.
Power and Performance
One of the main benefits of vintage-style airsoft guns is that, thanks to sharing many internal components with flagship models, unlike an old firearm they shouldn't generally be any less capable than a modern-style replica on the field.
As a result, we expect our airsoft Tommys to have at least the same performance as a SMG or carbine rifle, that is it should have around 350 FPS, have a 12-14 RPS automatic function and be able to hit targets out to the 100-150 foot range or so with a little effort.
One thing to be careful with, as with many other vintage airsoft guns, is with manufacturers who attempt to cram as much power into their guns as possible in order to attract attention and sales.
While a 450-500 FPS Tommy gun might be funny to fire off in your backyard, they probably won't make you too many friends on a field and will definitely fall afoul of FPS limits and other safety regulations.
Price
As with other vintage-inspired airsoft guns, price is a challenging criteria to consider when it comes to airsoft Tommy guns.
On the one hand, Thompsons are not going to ever be most player's go-to primary and so they're not something you're going to want to spend $500+ on.
On the other hand, part of the appeal of an airsoft Tommy gun is their old-school wood-and-steel look and substantial feel, so they're also not something you're going to want to skimp out on too much.
As a result, and barring any particularly outstanding options or features, we feel the $200-350 price range is a solid one for good AEGs and gas blowback replicas of this gun.
M1A1 Thompson vs 1928 "Chicago Typewriter" Models – What's The Difference?
Airsoft tommy guns tend to come in two different versions – the WW2 classic M1A1 and the staple of 1930s-era crime films and tv shows, the so-called Chicago Typewriter.
The most obvious difference between these two models is their physical appearance.
"Typewriter" airsoft Tommy guns tend to have a fairly elaborate, "roaring-20s" look to them, much of which has to do with their distinct barrel-cooling fins that (on real steel models) help dissipate heat during automatic fire.
The guns are also notable for the absence of a foregrip, instead having a finger-cut wooden vertical grip that sort of hangs off the front of the gun and is, in real steel versions anyway, there to help users stabilize the gun while firing.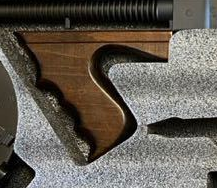 Airsoft Chicago Typewriters also tend to have a Cutt compensator on the end of the barrel, which is a compensator with several horizontal vents along the top, a feature they share with interwar M1928 versions of the gun, of which there are very few airsoft replicas being made.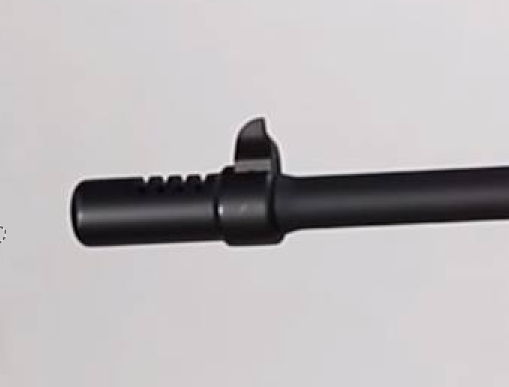 In contrast, M1A1 models have a more simplified look to them, designed as they are to suit mass wartime manufacturing.
On the whole the guns are about an inch shorter in length, largely due to the absence of a Cutt compensator.
M1A1 airsoft Thompsons also tend to lack a vertical grip, instead being fitted with a generally more maneuverable (and cheaper to manufacture) wooden foregrip. 

Most noticeably, M1A1 barrels are sleeker and lack the cooling fins found on earlier models, as metallurgy and barrel manufacturing techniques had improved by the 1940s as to render them unnecessary. 
One thing to note is that airsoft manufacturers do tend to sell their M1A1 with a more traditional box magazine, and the 1921/Chicago Typewriter Tommy guns with a drum, in line with the differences between the military and commercial versions of the Thompson submachine gun.
External looks aside, both M1A1 and Typewriter-style airsoft tommy guns do tend to offer pretty much the same function and performance on the field.
That said, M1A1 Tommy guns, by dint of having been used in WW2 pretty extensively tend to be primarily favored by milsim enthusiasts and fans of vintage military loadouts.
The Chicago Typewriter on the other hand, which is more associated with gangers and vintage gangster films and shows, tends to be more popular with fans of the genre, classic firearms enthusiasts and, of course, cosplayers.
Because both models are fairly popular with airsoft players for different reasons, we did our best to include both options on our list.
Our Top Picks
Best AEG Airsoft Thompson M1A1- King Arms M1A1 Thompson (with MOSFET)

| | |
| --- | --- |
| Realism of design | ⭐⭐⭐⭐⭐ |
| Power and Performance | ⭐⭐⭐⭐⭐ |
| Overall build quality | ⭐⭐⭐⭐⭐ |
| Cost | ⭐⭐⭐⭐ |
| | |
| --- | --- |
| Pros | Cons |
| Full metal, real wood furniture | Pricey |
| Realistic design and weight | |
| Authentic trades and US government markings | |
| Solid power and performance | |
| Good mag compatibility | |
| LiPO ready | |
If you're looking for far and away the best and most accurately designed M1A1 Thompson around, then we think your best bet is the Cybergun-licensed King Arms M1A1 AEG.
Unlike many other airsoft Tommy guns out there, this gun has both a full metal frame and has real wood furniture, which is nice and dark and comes finely finished/sanded out of the box.
As a result, the gun feels very realistic, tipping the scales at around 6.6 lbs (3 kg) and its metal receivers have even been given a matte grayish, military-style finish that helps it look the part far more than its typically black-painted competitors.
In addition, being fully licensed, the King Arms M1A1 Thompson also comes engraved with all the trades and marks that a collector might want, including faux US government roll marks – a nod to the M1A1's WW2-heritage.
Fit and finish on this gun is quite good, in our opinion, with parts being tightly screwed and/or fitted together with a good degree of care.
When we handled it, there was little to no wobble or looseness that we could find, all the gun's switches and controls clicked solidly into place and the foregrips were free of any annoying squeaking or lateral movement, which is always nice.
Inside, the gun has been fitted with some pretty capable components.
It comes with a metal v6 gearbox with 9mm bearings, 18:1 steel gears, Deans wiring, a fairly torquey short-type motor located in the pistol grip, easy access rotary-style hop up, ported piston head and aluminum inner barrel.
The gun even comes stock with a MOSFET that, while perhaps not the most sophisticated on the market, is certainly a step up from most competing Thompsons (and vintage airsoft guns in general) and helps make the gun LiPO-ready, which is always nice.
In terms of performance, the King Arms is quite powerful.
Using 9.6V, we saw the gun chrono at around 390 FPS, which certainly lets it keep up with the big boys and means it can deliver enough of a punch to keep your opponents heads down.
Keep in mind, this out of the box power can be a bit too much for some locations, particularly indoor and CBQ fields that restrict guns to 350 FPS.
Luckily, the gun does come with a quick change spring that allows users to downpower it pretty easily, although it does require them to pop out the gearbox first.
In terms of accuracy, the gun is pretty solid and will hit targets pretty reliably to about 150 feet or so (45 m), with its best groupings at the 50-75 foot range, as with most airsoft SMGs.
The gun usually comes with a 110-round plastic magazine that is decent enough, even if it isn't metal, but the gun is broadly compatible with most airsoft Thompson magazines, so users can pretty easily pop in a more accurate or more capacious version if they'd like.
Pricewise, the King Arms M1A1 Thompson isn't exactly cheap.
At well over $300, it isn't too far off from what most users will spend on their primary.
That said, the gun is beautiful to look at, very well made, accurate in terms of look and feel and is actually capable of delivering impressive and reliable performance on the field…all of which we feel helps the King Arms Tommy gun live up to the famous reputation of its real steel inspiration.
Best Airsoft Thompson 1928 AEG – King Arms M1928 Thompson (with MOSFET)
| | |
| --- | --- |
| Realism of design | ⭐⭐⭐⭐⭐ |
| Power and Performance | ⭐⭐⭐⭐⭐ |
| Overall build quality | ⭐⭐⭐⭐⭐ |
| Cost | ⭐⭐⭐⭐ |
| | |
| --- | --- |
| Pros | Cons |
| Full metal, real wood furniture | Pretty pricey |
| Realistic design and weight | |
| Authentic trades and Thompson markings | |
| Solid power and performance | |
| Good mag compatibility | |
| LiPO ready | |
If the realistic build and performance of the King Arms M1A1 appeals to you but you're in the market for something a bit more gangster, then its sibling, the M1928, is probably right for you.
Inside, the guns are pretty much identical, with the M1928 using the same high quality MOSFET-sportiny and largely upgradable V6 gearbox as its military-inspired counterpart.
On the field, the gun even has largely the same performance characteristics, capable of delivering around 390 FPS and nailing targets at a distance competitive with most popular M4 carbine clones.
Where the guns obviously differ is in their styling.
The King Arms M1928 is based around the civilian Tommy gun design, complete with period-accurate (and stylish) barrel fins, wood finger-cut vertical grip and, yes, a ready-to-rip high cap drum magazine, rather than a mid cap stick.
Like the M1A1, the King Arms M1928 is made out of a dark gray alloy and uses nicely finished real wood furniture, giving the gun an excellent and realistic feel as well as a true-to-life look.
Interestingly, the gun is also offered with highly polished silver and gold colored receivers, although we would probably go with the regular matte gray ourselves as it is more likely to stand up to nicks and scratches.
Being licensed by Cybergun, the M1928 even comes with fully engraved trades and Mark's, although being based on the civilian model it does lack faux US government ones.
Pricewise, the King Arms M1928 is somewhat pricey, coming in at just under $400 it is even a bit more expensive than its military-style counterpart.
That said, if you want a functional, roaring 20s inspired Tommy gun to add to your collection, then this gun is well worth the money. 
Best Gas Blowback Thompson – WE Tech M1A1 Thompson 
| | |
| --- | --- |
| Realism of design | ⭐⭐⭐⭐ |
| Power and Performance | ⭐⭐⭐⭐⭐ |
| Overall build quality | ⭐⭐⭐⭐ |
| Cost | ⭐⭐⭐⭐⭐ |
| | |
| --- | --- |
| Pros | Cons |
| Excellent gas blowback kick and action | Imitation wood furniture |
| Realistic full metal construction | |
| Nice, dark furniture | |
| Auto Ordnance trades and Thompson markings | |
| Reliable 50 round mag | |
| Solid all around power and accuracy | |
If you're looking for a gas blowback Thompson, one that can provide enough kick to keep things realistic when blazing away at your opponents gangster-style, there sadly aren't a ton of options out there.
Luckily, WE Tech has made an M1A1 Thompson GBB model that is not only widely available, but is actually quite a decent all-arounder.
The gun's frame is made out of a sturdy and thick aluminum alloy, which not only helps the gun stand up to its use of gas and the typical knocks of an airsoft game but also gives the gun a realistic weight to go along with its realistic size (around 31.7 inches).
At around 7 lbs (3.2 kg), the gun is quite hefty and feels very much like a real Thompson yet is still a bit easier to carry around during long games compared to the 10+ lb original.
Adding to this sense of realism are the many Thompson and Auto Ordnance trades and markings that are stamped (rather than etched) into the side of the gun and which are very cool to look at.
Sadly, the gun's furniture is polymer, although it is wood-patterned and has a rich, dark tone to it that makes it seem quite realistic in our opinion.
That said, those interested in beefing things up even more can find an assortment of actual wood and steel parts online that fit this gun, which can make things even more realistic and..well, heavy.
When we handled the gun, we found the fit and finish to be pretty decent.
Aside from a very slight wobble towards the front, the gun was pretty well put together and all the gun's controls felt properly installed and clicked into place with a reassuring heft.
Interestingly, WE has fitted the gun with a very user-friendly and capable rotary hop up, which makes adjusting the gun's fire quite simple.
It's also easily accessible, being open and located just in front of the bolt itself, although this can expose it to dust and debris.
Amusingly, the outer barrel is also threaded (14mm CCW), so users can attach their choice of suppressors or tracer units should they feel the need to tactical-up this 1920s submachine gun.
Performance-wise, the WE is a pretty good all around gas blowback SMG.
Built for green gas, it chrono's at around 315-320 FPS, which perhaps while not the most powerful SMG out there does make the WE M1A1 able to slide under just about any FPS limits and allows it to be taken to practically any field, indoor or out.
In terms of accuracy, once dialed in we saw the gun hit center-mass size targets pretty reliably to about 120 feet (~36m), making it a pretty decent medium range gas blowback SMG option to take to the field, vintage or no.
One thing we really liked about the WE is its expansive 50-round full metal M1A1 stick mag, which gives users quite a bit of BBs to play around with on full auto, especially considering that most users will get around 2 or so mags per fill with this gun.
On the whole, the mag is very reliable and didn't suffer from any misfeeds, leaking or jams when we used it.
It is, however, a bit on the pricey side, with replacements costing about $75 or so.
In terms of price, the WE Tech M1A1 typically retails at around the $350 range, which makes it pretty good value as a gas blowback airsoft gun, particularly as it is a vintage-inspired model and does have fairly well-balanced and capable performance. 
Best Budget Model – CYMA Sport M1A1 Thompson AEG
| | |
| --- | --- |
| Realism of design | ⭐⭐⭐⭐ |
| Power and Performance | ⭐⭐⭐⭐⭐ |
| Overall build quality | ⭐⭐⭐⭐ |
| Cost | ⭐⭐⭐⭐⭐ |
| | |
| --- | --- |
| Pros | Cons |
| Reliable and durably made | Some proprietary parts |
| Affordable | Imitation wood and ABS lower |
| Full metal upper receiver | |
| Auto Ordnance trades and Thompson markings | |
| Powerful | |
| Easy to adjust hop up | |
| High mag compatibility | |
If you really want the look and feel of a classic Tommy gun but don't really feel like spending nearly $400 on an airsoft gun, then the CYMA M1A1 Thompson AEG might just be the right pick for you.
To be sure, the CYMA M1A1 doesn't quite have all the bells and whistles that some of the more upscale Thompsons in our list have.
Only the guns upper receiver is metal, with the lower receiver and furniture being made of plastic (in the latter case a pretty realisitv looking faux wood polymer, but nevertheless).
That said the gun is, in typical CYMA-fashion, well put together and, when we handled it, showed little sign of wobbling, looseness or squeaking.
It's also officially licensed, sporting all the Auto Ordnance and Thompson markings and trades that an enthusiast could ask for.
And, critically, it costs about half the price of most upper end airsoft Tommy gun.
Insidd, the gun sports a fully upgradable V6 gearbox that is largely (with the exception of its nozzle, cylinder head and tappet) compatible with TM V2 parts, as well as a decent enough and easily accessible rotary hop up unit and torquey motor – all of which contribute to very non-budget performance.
With a 9.6v battery and 0.20s, we saw the gun hit at a solid 370 FPS and hit targets well past 130 feet, with tight groupings out to the 50 foot range.
The gun doesn't come with a MOSFET, so your contacts will thank you to avoid powerful LiPOs, but we found the gun to give a solid enough RPS when set to full auto on typical NiMHs.
The gun comes with a high cap 450 round mag that sits pretty firmly in the magwell and feeds quite reliably.
It is also Tokyo Marui compatible, giving the gun broad compatibility that should help users save money in the long run.
Pricewise, the CYMA M1A1 Thompson comes in at around $170 or so.
Given its performance, decent build quality and official licensing, on the while we feel this makes it a solid Thompson for budget-conscious airsofters. 
Check out our in-depth review of the CYMA Thompson here
Or 
Advantages of an Airsoft Tommy Gun
They're really cool to look at and handle
With their use of hefty wood and metal and iconic design, a good airsoft Tommy gun can be a thing of beauty and a jewel in any airsoft collection and something about them just makes you want to fire them from the hip.
They're historically significant
An SMG from the early 1920s, the Tommy gun developed a reputation through its use by gangsters, federal agents, police, film actors and, eventually, through its adoption by Allied forces in World War 2.
Ultimately, there is no doubt that the Tommy gun is one of the most immediately recognizable firearms ever made.
They're not another M4
Let's face it, sometimes you just want something that will help you stand out from the millions of M4-clone wielding airsoft players that are out there.
With its heavy use of metal, compact-but-blocky vintage design (sometimes with cooling fins on the barrel) and extensive wood furniture, an airsoft Tommy gun will certainly do that and is not something that anyone in their right mind would confuse with an AR.
They can be easy to maneuver around with
At around 32 inches long, airsoft Tommy guns are not all that much longer than an M4 carbine, and typically don't weigh too much more either.
As a result, the guns aren't really all that hard to carry around all day or even use in closer quarters.
They can perform as well as a typical modern airsoft model
Due to the fact that they use many of the same components as their mainstream AEG and GBB counterparts, including modern gas systems/gearboxes, quality barrels and hop ups, good airsoft Tommy guns can deliver the same performance as a comparable M4 or AK, which can be a nasty surprise for those who underestimate this classic looking piece.
Disadvantages of an Airsoft Tommy Gun
They are relatively heavy and big for an SMG
The Thompson submachine gun, as the name implies, was designed as an SMG.
With its long barrel, wood components and fixed stock, compared to other airsoft alternatives, such as a Scorpion Evo 3 or an MP7, a Tommy gun is kind of large, bulky and heavy and can be a bit more of a pain to use in CQB.
Replacement parts aren't as readily available
Sadly, there will come a time when something on your airsoft Tommy gun will break and, as a vintage-inspired replica, replacement parts aren't nearly as common or cheap as an M4.
Mags can be expensive
There are a number of different companies making Thompson mags, both in stick and drum form.
Unfortunately, they can be a bit on the pricey side, especially for higher quality GBB options.
They aren't the most performance-oriented
Although at least as good as a typical airsoft carbine, airsoft Tommy guns are usually bought for looks and aren't quite as rip-roaringly fast or powerful as more performance-oriented/competitive SMGs out there.
Bottom Line
Adding a Thompson or Tommy gun to your airsoft collection can be a great idea.
While they aren't quite as common or popular as some other SMG options, compared to other vintage-style airsoft guns there are quite a few Tommy guns out there.
In order to make sure you get your money's worth, make sure that any Thompson you consider be as realistic, well-built and capable as possible.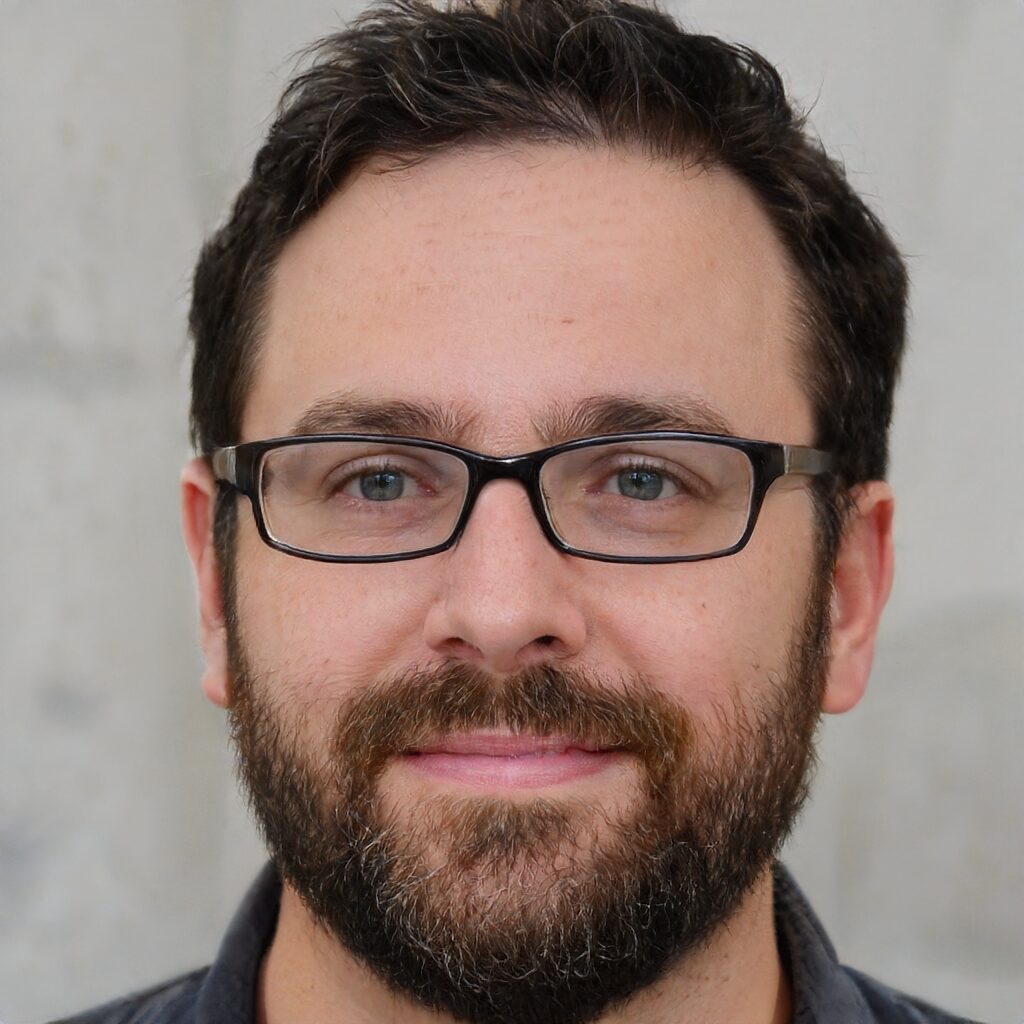 David Lewis – A longtime airsoft and airgun enthusiast and collector, our editor David's lifelong passion for tactical sports began in high school with some friends, a cheap knock-off airsoft M4, and an open field behind his parents' house.

When he's not plinking around, he enjoys sharing his knowledge of airsoft and helping those just starting out.