Durability and Build Quality

92%
| | |
| --- | --- |
| ✅ Cool, ultramodern style | ❌ Uses some proprietary parts |
| ✅ Well-built, durable design | ❌ Hop up adjustment a little unusual |
| ✅ Powerful | |
| ✅ Good accuracy at range | |
| ✅ Automatic capable with high ROF | |
| ✅ Comfortable to handle and hold | |
| ✅ Can turn lower into pistol with slide | |
| ✅ Lots of attachment options | |
| ✅ Good blowback action | |
The G&G SMC9 is a pistol caliber carbine that is based on the company's relatively well known and respected GTP9 pistol line.

Since its introduction, the SMC9 has raised a few appreciative eyebrows in the airsoft world, both for its cool looks, modularity and its very capable overall performance.

If you think you might be in the market for this airsoft pistol carbine, or if you already have a GTP 9 pistol and are looking to get a little more serious on the field, then read on as we take a closer look.
Specifications
| | |
| --- | --- |
| Manufacturer | G&G |
| Power | Green Gas |
| Action | Semi, Full Auto |
| FPS | ~ 370 FPS @ 0.20g BBs |
| Hop up | Adjustable |
| Inner barrel | 8.66 inch (220 mm) |
| Total Length | 24.8 inches (630 mm) |
| Weight | 4.67 lbs (2.12 kg) |
| Construction | Polymer Lower, Metal upper, Aluminum M-LOK |
| Rounds | 50 |
How closely does the G&G SMC9 resemble a real steel firearm?
G&G SMC9
G&G GTP9
Weight
4.67 lbs (2.12 kg)
1.5 lb (680 g) empty
Overall length
Folded: 16.5 in (420 mm)
Extended: 24.8 in (630 mm)
8.9 in (226 mm)
Action
Semi, Automatic
Semi automatic
Caliber
6mm
6mm
Capacity
50
27 rd
Construction
Metal upper, nylon-reinforced polymer lower
Reinforced polymer frame, metal slide
Sights
Removable, adjustable flip up
Fixed
Rail
12 O Clock + M-LOK
6 O' Clock
Unlike most of the airsoft guns we review, the G&G SMC9 is not actually based on any particular real steel firearm.
Instead, it is actually an airsoft pistol carbine of G&G's own design based on their GTP9 pistol, which is itself a unique G&G take on an ultramodern 9mm pistol. 
Rather than compare it to a particular real steel inspiration, then, it is more helpful to compare it to the stock GTP9 in order to show the rather dramatic effects it can have on the gun's overall style and dimensions.
As can be seen, the SMC9 is considerably longer and heavier than the GTP9, turning it from a standard semi-auto pistol into an SMG or pistol carbine.  
This includes changing the action of the gun from a slide blowback to a charging handle, adding a folding stock for greater stability, an M-LOK handguard and top rail for maximum attachments and giving it adjustable (and removable) flip up sights.
In terms of looks, the difference between the SMC and the GTP is quite stark.
While the GTP9 has a very cool, modern look to it, with its front and rear serrations, extended trigger guard, chromed outer barrel, accessory rail, low rise sights and textured and adjustable grip, it is fairly similar in overall style to most non-vintage 9mm inspired airsoft pistols. 
The SMC9, in contrast, uses much more aggressive styling.
Its M-LOK handguard and folding stock give the gun a highly skeletonized look, the full-length picatinny rail on top gives the gun a ridgeback, its front end is sharp and angular (thanks to the sheared-off cut of the M-LOK), and the gun's length and thinner-than-normal profile give it a very needle-like appearance.
As it is a unique airsoft design and not one inspired by an actual firearm there are, of course, no trademarks to speak of with the G&G SMC9, other than some pretty cool "G&G Armament" and SMC9 model markings.
 How Well Does The G&G SMC9 Perform as an Airsoft Carbine?

Build-quality and Construction
The G&G SMC9 is essentially an upper carbine receiver that fits atop a GTP9 lower.
Users can get the SMC9 as a simple conversion kit (i.e. just the upper receiver) or with the lower as a complete airsoft PCC gun. 
For the sake of comprehensiveness, this review will look at the full, ready to use model.
Like many other modern-style airsoft guns, the SMC9 is made out of a mix of plastic and metal materials.
The carbine upper receiver is made out of aluminum alloy and sports a CNC machined aluminum M-LOK handguard, while the gun's lower is from a GTP9 and is made out of pretty sturdy nylon-reinforced polymer, as is the gun's skeletonized folding stock.
The result is a gun that is quite strong and certainly capable of handling the increased pressure that green (or even red) gas will put on it, not to mention the usual scratches, knocks and bumps that a typical airsoft game will put it through.
Fit and finish on this gun is, typical of G&G, quite good.
When we handled it, we felt that everything was screwed together quite tightly and the gun felt quite solid on the whole.
The gun's switches and controls were all properly installed, the handguard was solid and showed no signs of wobble and in general there wasn't any rattle, looseness or bending that we could notice.
Very importantly, we didn't feel any play between the pistol lower and the carbine upper, which was very reassuring.
As mentioned, the G&G SMC9 comes with a 7 inch aluminum M-LOK handguard (cut in the front at a really cool and sharp angle).

In addition to giving the SMC9 an aggressive, ultramodern skeletonized look, it also lets users place their choice of accessories (such as lasers, flashlights and more) in a wide number of positions, including the usual 3,6, 9 o' clock positions as well as 45 degree offset.
At the same time, and in contrast to a standard, full-length groove-and-ridge quad rail, M-LOKs tend to keep the handguard smooth, which makes the gun a lot more comfortable to hold and less likely to snag on clothing or equipment when drawn.
The only downside is that it does require users to attach a short rail segment first before mounting an accessory, which adds an extra step when setting up a gun.
In addition to its M-LOK, the G&G SMC9 also comes with a full-length metal top rail, which makes adding optics and other sighting accessories pretty simple.
Interestingly, the SMC9 comes with a pair of metal flip up sights.
These are pretty standard high-profile tower sights, so they can get in the way a bit in CQB when flipped up.
They are detachable, however, so they can quickly be popped off from the gun's top rail if needed.
That said, the sights are fully adjustable for windage and elevation, which can be helpful for backyard plinkerers given the rather impressive range of this gun, and they can be a pretty decent backup option if everything ends up going sideways with a main optic.
Rounding out the gun's support for attachments, the G&G SMC9 also comes with a 14mm CCW threaded outer barrel, which means it can readily accept the most common mock suppressors and barrel mounted tracer units out there.
One thing users should note however, is that the outer barrel of the SMC9 doesn't really extend much past the handguard (much like G&G's ARP9 or CA Nemesis X9), which can make it harder to fit large diameter suppressors or tracer units without a barrel extender.
It's also important to note that (like the GTP 9 it is based on) the unit's hop up adjustment is located in the outer barrel and slightly protrudes past its threads, so users need to be careful when adding attachments with shorter inner threads not to damage anything or knock something out of alignment.
Inside, the SMC9 is quite well put together although, as a unique design from G&G, it does use quite a few proprietary parts, such as the inner barrel, hop up, blowback system/nozzle and more.
Now, that's not necessarily a bad thing as G&G has clearly put a lot of effort into the gun's mechanisms.
There is, for example, a standard diameter 220mm brass barrel that is extremely well-finished and smooth, some pretty solid looking recoil springs and an extremely adjustable and precise 120 click hop up unit.
The hop up system on this gun (and the GTP 9) is actually fairly unusual and quite a bit different than the typical rotary style adjusters, wheels and grub screws that we usually find on airsoft pistols and SMGs.
Rather than using any of those, the gun actually features a small sleeve of sorts that sits between the inner and outer barrels.
Users adjust the hop up using a small key tool that hides away in the gun's grip. 
When they want to make an adjustment, they slide it into the barrel and turn gently either clockwise or counterclockwise to adjust the level of hop.
What this does is apparently slide the inner barrel forwards or backwards very gently and incrementally, placing greater or lesser pressure on a small steel spacer that then places/releases pressure on the bucking.
As we said, this system is pretty unusual for airsoft and requires the use of a specialized tool that you probably don't want to lose.
It does have a number of benefits, however.
In particular, it makes adjustments a lot easier to do on the fly, such as during a game and does allow for more precise fine tuning than a large chunky dial would give you.
The bucking itself is an AEG-style G&G green bucking.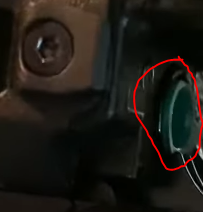 These are moderately hard, are designed to better endure cold weather and generally tend to be better than the typical stock buckings found in most airsoft guns.
As well as the hop up, one thing that caught our eye is the SMC9's valve.
It is one of G&G's Whirl Valves, which have a spiral design rather than being a straight cylinder. 
The idea here is that these valves actually rotate as they operate, which can make it harder for frost to build up, preventing the valve from sticking or freezing in cold weather and keeping its performance a little more consistent, which is kind of cool.
Finally, the SMC9 comes with a polymer folding stock.
The stock isn't adjustable, although it is of a pretty decent length and is quite comfortable to shoulder due to a fairly thick rubber pad on the butt.
Unlike most other airsoft folding stocks, it doesn't really clip to the side of the gun.
Instead, the side of the G&G SMC9 has a small magnet screwed into it that locks on to the stock's ferromagnetic screws, holding it in place very securely when folded. 
Even when running around with it, we didn't hear any rattling nor did the stock suddenly come free at any time, which is always helpful.
Performance and Accuracy
Overall, we found that the SMC9 is capable of delivering quite a bit of performance on the field.
Once settled in, the gun chrono'd at around 370 FPS or so using green gas and 0.20g BBs, which tends to puts it right in the sweet spot between power and usability in CQB or indoor ranges.
Those who live in areas with stricter (<350) FPS limits may still find this to be a bit much, however.
Luckily, G&G makes downpower nozzles for this gun that can bring it down to the lower 300s.
Interestingly, due to a specialized internal mechanism, the SMC9 is capable of turning the otherwise semi-only GTP9 into a pretty impressive automatic-capable, select fire carbine.
Throw the gun into full auto and it tends to fire out BBs at an eyebrow-raising 21-22 RPS, which is very impressive for a GBB and which puts it right up there with other notable full auto SMG GBBs, such as the KWA MP9.
In terms of accuracy, we found the SMC9 to be extremely capable.
Once dialed in, at 50 feet (15m) it provided pretty tight groupings and we found it to be easily capable of hitting man-sized targets at the 150 foot range (50-60m) or so, a significant improvement over the GTP9's pistol performance, which is generally best at the 50-70 foot range.
We found the gun's trigger to be light, smooth and responsive with a relatively short reset that made it feel very Glock-like on the whole.
In terms of blowback, the action is pretty decent overall.
Although the gun's functional charging handle doesn't reciprocate when fired, the gun still provides a pretty decent kick and sound that, although not quite as powerful as the vaunted TM MP7, is still very enjoyable and noticeable.
Finally, in terms of gas efficiency, the gun gets about 2 mags per fill on green gas at room temperature.
While that doesn't initially sound all that impressive, it should be noted that the gun comes with a 50 round mid cap magazine.
In other words, you'll get about 100 bbs per fill, which is actually quite decent.
Handling and Feel
The SMG9 is really a conversion kit that is capable of turning the standard-sized GTP9 airsoft pistol into something of a submachine gun.
The gun is light (sub-5 lbs) and quite compact.
It is about the same length (folded or extended) as a Scorpion Evo 3 A1 or the Nemesis X9, but considerably thinner along its handguard, which allows users to more easily get a firm hold around it, which is useful if you like to use a c-clamp grip.
Consequently, the gun is extremely easy to hold, use and maneuver around with in close quarters, particularly when compared to a standard carbine rifle.
In terms of grip, the gun uses a GTP9 lower and so features that gun's heavily stippled and diamond texturing, which allows users to get a solid hold on the gun regardless of weather (or if they're wearing gloves).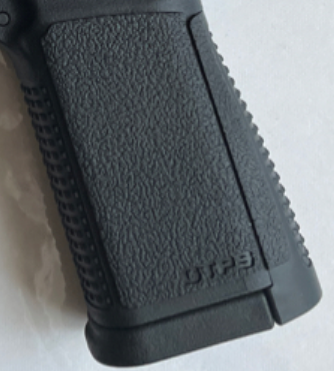 It even comes with an additional backstrap, which can be popped on to accommodate those with larger hands, that actually includes a spare hop up adjustment tool, which is quite thoughtful.
One thing we really found interesting with the SMC9 is its modularity.
You can use the gun as a SMG or, with the flip of a latch, detach the lower receiver, pop on a slide and…presto, you have yourself a GTP9 sidearm.
The SMC9 is also completely ambidextrous.

The gun sports reversible mag releases, dual safeties, two-sided fire selection, reversible QD sling, reversible magnet for the stock and a trigger safety.
There are even dual ejection ports on either side of the gun (one of which locks closed by default with a kind of plastic pin), which is a nice thought although perhaps a little less necessary in a gas blowback airsoft gun compared to a real steel, shell-ejecting firearm.
All of this allows the gun to be more easily used by left-handed airsofters and those who like to practice their off-hand shooting, which we always appreciate.
Maintenance and Upgrades
A carbine conversion of an airsoft pistol, basic disassembly of the G&G SMC9 is very straightforward and easy to do.
Throw a large, prominent latch located just before the stock and the lower receiver detaches from the upper, allowing you to clean, check the hop up, inspect the gun for damage and lubricate any parts that need it.
As the G&G SMC9 does use quite a few proprietary parts there aren't quite as many upgrades and 3rd party replacement parts available for it compared to, say, a TM-spec GBB pistol or rifle.
While there are some (inner barrel stabilizers, downgrade nozzles and buckings, for example), and while G&G does sell replacement parts for repair, this isn't really a gun that you'll be able to tear apart and customize quite as much as some others.
Magazine type and capacity
The SMC9 comes with a pretty solid feeling and hefty 50 round mid cap green gas magazine that projects downwards in a cool, Uzi/Mac 10 style.  
When we looked at it, the magazine seemed to have a good seal and fed quite reliably, which is a pleasant surprise for a mag of its capacity.
It is, perhaps unsurprisingly, a proprietary design and the gun really can only use G&G GTP9 magazines.
While that does raise the cost of running the gun to some degree (a spare 50 round mag can cost $50), G&G does make quite a few GTP magazines that you can pick up, such as a 23 round mag and even a drum, which we feel certainly suits this higher ROF gun quite nicely.
Price
Note: All prices correct as of writing, all prices in USD.
There are a couple ways you can pick up the SMC9.
It is available as a full, ready to go gun (i.e. including a GTP9 lower receiver), usually coming in at around $320-350 or so.
Those who already own a G&G GTP9 can pick up a conversion kit (just the upper) for about $100 cheaper ($220-250).
On the whole this price puts it in around the midrange for a GBB SMG, being a little more expensive than a Tokyo Marui MP7A1 or the KWA MP9, but generally less expensive than a KWA M11 or a Cybergun P90 PDW.
On the whole, however, we feel that the G&G SMC9 can deliver quite a lot of value for money as it is well-built, modular, gas efficient, accurate and a lot of fun to fire. 
Or
Advantages of the G&G SMC9
Cool looking and aggressively-styled
The G&G SMC9 is a modern, aggressive looking airsoft pistol carbine.
With its dagger-like profile, sheared-off front end, skeletonized handguards and stock, the gun is almost as intimidating to look at as it is to face on the field, which is saying something.
Well-built, durable and well put together
The SMC9 is very solidly build an quite durable.
Its pistol lowers are made from hard-wearing reinforced polymer while its uppers are a mix of metal and CNC'd aluminum.
As a result, it should be able to stand up quite well to most of what a typical airsoft game can throw at it.
Automatic capable, good performance
Unlike its GTP9 counterpart, the G&G SMC9 is capable of fully automatic fire, and does so at a blazing 20+ RPS and at around 370 FPS.
Modular
The SMC9 is also quite modular as an airsoft weapon.
Detach the lower receiver, slap on a slide and you instantly have one of G&G's high-quality GTP 9 airsoft pistols as a sidearm.
Accurate at range
The G&G SMC9 also has decent range, being capable of grouping tightly at 50 feet and reliably being able to hit man-sized targets at 150 or more.
Lots of attachment options
The G&G SMC9 can be loaded up with an wide assortment of accessories thanks to its 14mm CCW threading, picatinny top rail and highly configurable M-LOK handguard.
Snappy blowback
While it lacks a reciprocating charging handle, the blowback action on the SMC9 is still quite impressive, providing a noticeable kick and sound that makes shooting it a blast.
Comfortable to hold
With its light weight, smooth handguard, narrow and thin profile, rubber buttstock, highly textured grip and adjustable backstraps, the G&G SMC9 is surprisingly comfortable to hold and use, even for long periods of time.
Disadvantages
Does use proprietary parts
Being a unique G&G design, the SMC9 uses a variety of proprietary internals that can make it a little challenging to upgrade and customize.
Hop up adjustment is a little unusual
The SMC9 uses a rather different hop up design that has users adjust its 120 click unit from inside the outer barrel using a special tool.
This action can be a little unfamiliar to many airsoft players and losing the required tool (and its spare) can make things a little more difficult and unfortunate.
Bottom Line
If you're looking for an airsoft pistol carbine and want something that's cool looking, gas powered, easy to carry, and capable of delivering when and where it counts, the G&G SMC9 just might be what you're looking for. 

Will Martin – Will has been into airsoft and paintball for well over 10 years, and has done it all – from upgrading and fixing gearboxes as a tech to building custom airsoft loadouts for his friends to supporting off those friends as a DM.