Spring powered airsoft pistols aren't usually at the top of an airsoft player's wishlist.
Compared to gas-powered and even electrics (AEPs), they fire more slowly, are manually operated, offer less power and often feel a bit plasticky and like a toy.
Yet with their low cost and lack of power source, spring airsoft pistols can have much to offer beginners and experienced players alike.
If you like a bit of backyard plinking, low-cost target practice or just want to participate in a springer only airsoft game, a spring airsoft pistol might just be what you're looking for.
With so many airsoft spring pistols on the market, it can however be hard to choose one that fits your needs. And, being one of the most, if not the most, inexpensive airsoft weapon types out there, there is certainly a lot of junk out there to steer clear from.
To help out, we've created a guide to some of the best spring airsoft pistols that we've found and that are worth a look.
In a rush? Check out our top spring airsoft pistol picks
What to look for in a spring airsoft pistol
When it comes to spring pistols, there are a few things that we look for to make sure that what we're buying is actually somewhat useful on the field.
Price
Let's face it, with their inherent limitations, you're probably not buying a spring airsoft pistol to be your primary airsoft gun.
Chances are you are going to use one for casual use, for fun or as an emergency back up weapon.
As a result, you probably don't want to spend too much on it.
That said, as a class of airsoft weapon, spring airsoft pistols aren't exactly all that expensive to begin with and there are a lot (a lot) of poor quality, extremely cheap models out there that are more likely to fall apart than hit a target.
As a result, it can be a bit of a challenge balancing quality with price, but typically we like spring airsoft pistols that fall between $20-50.
Beyond that, you might as well consider a gas blowback.
Power
Generally speaking, spring airsoft guns are less powerful than gas or electric ones. This is just a fact- you're simply going to trade raw power for consistency and reliability.
That said, keep in mind that power isn't everything and airsoft pistols are mostly used at closer range, usually under 50 feet or so, where there are usually rules limiting an airsoft gun's firepower anyway.
Still, that doesn't mean we should discount FPS completely, it really is a fine balance. After all, the most reliable airsoft gun in the world is still useless if the BBs just dribble out the barrel at a target.
Although more powerful spring airsoft pistols exist, we generally prefer spring airsoft pistols that chrono at over 220 FPS, making them somewhat more effective for different types of games (CQB and outdoors, for example).
Accuracy and range
No matter what method you use to power your piece, you have to be able to hit what you're aiming at.
Spring airsoft pistols, usually being relatively inexpensive pieces, can often be built with relatively cheap parts and poor quality control that can hamper a gun's accuracy.
And, because they are often sold for less than $40, many spring airsoft pistols are sold without a hop up unit, meaning that they can't provide the spin necessary to let a BB travel for any kind of real distance.
While we recognize that a springer pistol will never have the capability or range of a GBB, we do like to know that our airsoft spring pistol can hit a target up to about 50 feet reasonably accurately (good for backyard plinking) and we prefer a pistol with some kind of hop up unit, preferably adjustable, that will provide enough spin to hit a target more than a few feet in front of us.
Build quality
One of the main benefits of a spring airsoft pistol is price – they are cheap to buy and, with no gas or batteries required, cheap to run.
Unfortunately this cost savings can come with a downside. Companies tend not to put a lot of effort into an airsoft pistol priced at $20 so they tend to be relatively cheaply made.
But if you're in a game and in a situation where you're pulling out your pistol, or you're just casually hitting bottles in the backyard, you want to be certain that it's going to work and not suddenly break.
Consequently, we tend to look for spring pistols that are well built and well put together, that have no feeding issues to speak of and feel sturdy enough to take the occasional drop.
Realism
If you're spending good money on something you want it to look good, particularly in airsoft.
Whether in your hand or on your wall, whatever spring pistol you buy should add value to an airsoft collection and, we feel, should look and feel as much like a real steel gun as possible.
Best Overall – ASG CZ 75D
| | |
| --- | --- |
| Pros | Cons |
| High quality polymer construction | Slide serrations a bit shallow |
| Adjustable, white dot rear sights | |
| Undermount rail | |
| Decent power and capable of using heavier BBs | |
| Adjustable hop up helps accuracy | |
| Very comfortable to hold and shoot | |
| Fun to mag drop | |
Starting the list off strong is our top pick – the ASG Ceska Zbrojovka CZ75D.
Based on the Czech made CZ75D, this springer pistol is very realistic and of exceptional quality for a spring airsoft pistol.
A licensed reproduction of the classic compact 9mm real steel version, the ASG CZ75D is made of very durable polymer materials, feeling much like those used in their more upmarket airsoft guns. As a result, the gun feels very solid in-hand, with no creaking or flexing when handled.
The build quality, too, is quite good, especially considering the low cost of the pistol. We found there to be no looseness or wobble to the gun, the safety clicked nicely into place and the mag release felt pretty well installed.
In fact, with its slightly weighted mags, mags slide nicely out of the ASG CZ75D with a push of the release, making it ideal for those who love a good mag drop.
The hammer is totally functional, which is kind of nice, pulling back and releasing with a pull of the trigger.
The sights came properly fitted and, surprisingly, the rear sight is actually adjustable for windage with a hex key. The sights are white-dot, as well, meaning they'll be good when sighting low-contrast targets or in lower light conditions.
The slide action is relatively smooth, not too heavy, but the slide does have relatively shallow serrations, which can make it a little more challenging to cock if you're wearing heavy gloves, which is something to be aware of.
That said, the gun has nice, rubberized and comfortable textured grips that make getting a good grip on the gun, even in wet conditions, quite easy.
Interestingly, the gun comes with an undermount rail, so adding accessories such as a flashlight or laser is pretty simple and easy to do (even if they would probably cost almost as much as the gun itself, if not more).
Its looks aren't let down by its performance, either.
All things considered, the CZ75D handles itself quite well for a spring pistol.
It boasts a very respectable power of about 220-240 FPS on .20g, which is pretty decent for a spring airsoft pistol, most of which tend to struggle at distance with anything heavier than 0.12g. Some users report being able to load it with even heavier weight BBs, but we would probably stick to the .20s.
Something that really interested us is that the ASG CZ75D comes with an adjustable hop up, a slider unit located on the ejection port.
Unlike most other spring airsoft pistols, which at best have fixed hop ups, this means those using the ASG CZ75D will have better control over their accuracy at ranges over 30-40 feet, making the gun far more useful and versatile than many of its competitors – although not ideal, you can actually use it for more than just casual plinking.
While replacement mags are widely available for this gun, they are somewhat small, only holding about 14 rounds or so, but it is a step up from most 12 round spring mags out there. .
In terms of price, however, the ASG CZ75D is a great deal.
Coming in at just over $20, its build quality, accuracy and versatility means it offers a great deal of value to those interested in it for very little money, and makes it our top choice as an airsoft spring pistol.
Best Spring Airsoft Revolver – UHC Cobra Spring Revolver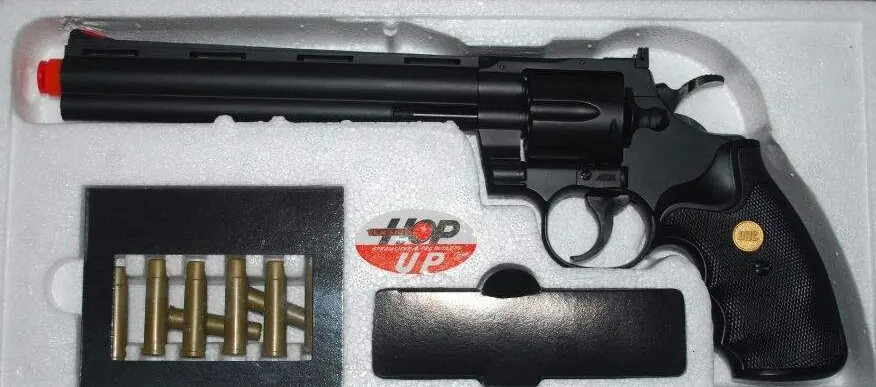 | | |
| --- | --- |
| Pros | Cons |
| Easy and satisfying to charge | Tricky to reload |
| Feels realistic | |
| Lot of variety in lengths and styles | |
| Respectable power | |
| long lasting | |
| Adjustable rear sight | |
At first glance, revolvers would seem to be more of a natural fit for spring power.
For one thing, even gas powered airsoft revolvers have a low rate of fire, so switching to spring really doesn't make that much of a difference. More than that, charging the spring before each shot fits neatly with a revolver's design, bringing to mind the old single-actions of the Old West.
If you are in the market for a spring airsoft revolver, the UHC Cobra might just be what you're looking for.
Modeled after the .38 Colt Cobra, the UHC Cobra looks quite nice and feels very realistic.
Like other spring airsoft pistols, and unlike most gas airsoft revolvers, the Cobra uses ABS plastic rather than metal, but it still has decent enough heft so that it doesn't feel like a kid's toy when you hold it.
The gun comes in a number of lengths, from a highly intimidating 8" model to a super compact 2.5" snub nose, perfect if you like to LARP as a 1970s detective (mustache and sideburns not included).
With airsoft revolvers, we tend to prefer 4" or 6" barrels due to their ease of draw in game, but since most people will use these spring models for more casual purposes, it's really more about aesthetic preference than anything else.
Overall, the build quality of the UHC Cobra line is quite good. There isn't a lot of creaking or rattling with these, something that is helped along by their plastic construction, and they come with pretty high quality plastic, diamond-textured grips.
These are very ergonomic and provide excellent grip, and they come in black and a faux wood that lend a nice, cowboy style to the gun.
One thing we especially liked was the adjustable rear sights- not a common feature on budget airsoft pistols, let alone many more expensive airsoft revolvers.
In terms of performance, the Cobra offers decent enough power, at 240 FPS with 0.20g BBs.
While something of a far cry from CO2 gas powered airsoft revolvers (which tend to hit quite hard), it offers respectable enough performance for a spring airsoft pistol and should do fine for indoor use and casual target practice.
The accuracy is decent and helped along by a fixed hop up unit. Users should be able to reliably hit targets easily enough at 50 feet (15 m) and even further with a little practice and patience.
As with other airsoft revolvers, the gun takes airsoft shells, which are kind of cool that can be a unique and fun experience if you've never owned an airsoft revolver before.
This does, however, mean that shooting can be a little slow and there is a chance that rounds can slip back out if you aren't holding the weapon at the correct angle. This isn't a huge flaw, though, and can easily be mitigated with a bit of practice.
Coming in at just under $30, the UHC Cobra, with a strong blend of style and performance, is one of the better value for money airsoft revolvers out there, and can be a great spring pistol option, as well as a great, low-cost way to try out airsoft revolvers if you're looking into them.
Best Spring Colt 1911 Airsoft Pistol – SoftAir Colt M1911A1
| | |
| --- | --- |
| Pros | Cons |
| Looks great | Some 1911 features are purely decorative |
| Good all around FPS makes it versatile | A little more expensive than some other choices |
| Metal slide and some reinforcement make it quite durable | |
| Decent performance | |
| Good heft | |
| Officially licensed with Colt trademarks | |
It's hard to think of a single design as influential to pistols as Colt's venerable 1911.
It's so widespread, especially in airsoft, that it would be kind of weird if we didn't have at least one 1911 springer on the list.
An officially licensed model, the SoftAir Colt M1911A1 looks good. At nearly 9" long, it is a full-sized replica and comes complete with all the trademarks you might expect from a real steel Colt 1911, as well as an embossed Colt logo on the gun's finely textured grips.
The gun's frame is largely plastic but the gun includes a heavy metal slide, which should increase its longevity, allowing it to stand up to slightly harsher conditions and a bit of rough handling and provide a little more long term reliability.
Everything on the gun is well constructed – the slide draws back with a satisfying metal click and the safety lever clicks into place smoothly.
Adding to the gun's weight, and giving it a more realistic feel in-hand, the Softair M1911 has twin metal plates under its grips, an interesting touch that makes it, in our opinion, a lot more fun to draw, hold and use.
In fact, the gun is quite easy to handle and use, especially for first timers looking to dip their toes into airsoft with a 1911.
In terms of performance, the SoftAir M1911A1 offers pretty good power for a springer – 320 or so FPS on 0.12g and around 280FPS with .20g BBs, it is definitely up there among some of the more powerful airsoft spring pistols on the market and something that can actually be taken along for indoor games, if you really feel like it..
The gun is also pretty decent in terms of accuracy, something helped along by the presence of a hop up unit (albeit a fixed one) and should do ok hitting targets to around 60 feet (18 m) or so, but really shines at under 40-50 feet (15 m).
On the downside, the gun's magazines are all plastic, so users will have to be careful if they like to mag drop. Carrying just 12 rounds, they aren't anything to write home about, either.
Similarly, for fans of realism, hammer, bolt catch and beavertail safety are strictly aesthetic.
That said, for under $40 the SoftAir Spring Colt M1911A1 can be an excellent first airsoft 1911. For not a lot of money you can pick up an officially licensed 1:1 1911 replica that looks good, is fun to shoot, performs well and that should last quite some time.
Best High(er) FPS Airsoft Spring Pistol – Game Face Stinger P311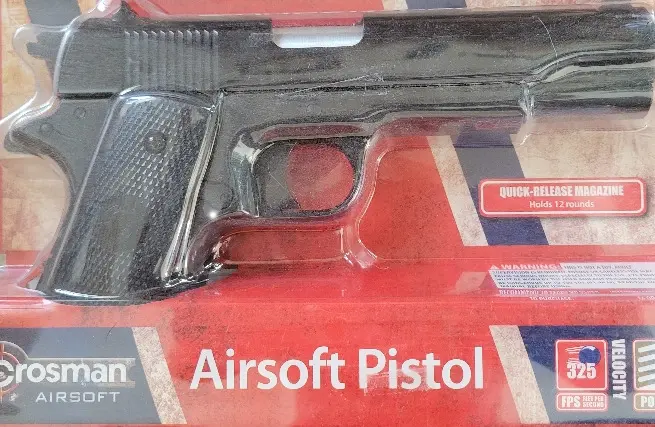 | | |
| --- | --- |
| Pros | Cons |
| Impressive FPS for a spring pistol | Can feel very lightweight in-hand |
| Good accuracy | Accuracy could benefit from adjustable hop up |
| Decent range | |
| Easy to reload | |
| Reliable | |
One of the major drawbacks to a spring airsoft pistol, aside from needing to recock them after every shot, is that their power can leave a lot to be desired compared to a gas blowback model.
For those who are interested in a spring airsoft pistol that has a little more oomph to it, the Game Face Stinger P311 can be a fine option.
On the surface, the Stinger P311 looks like a typical 1911 clone.
It looks quite nice, but is not officially licensed, so there aren't any Colt trademarks to lovingly gaze at. Similarly, it is made of plastic which, while durable, lacks the heft of a replica with a metal slide, such as the SoftAir and can feel fairly lightweight at times.
The body is well-done and replicates the 1911 look quite nicely, with comfortable grips and fairly deep serrations on the slide that let you get a good grip in most weather conditions and while wearing gloves.
Look past the fairly standard 1911 looks of the Stinger and you'll find that the gun is actually a strong performer where it counts.
Clocking in at around 325 FPS, the Game Face Stinger P311 offers excellent FPS performance for an airsoft spring pistol, topping any other gun on our list in terms of power, and even rivals many green gas airsoft pistols on the market.
Harnessing the power of the gun, the P311 comes with a fixed hop up unit that offers pretty good spin, although we would have probably preferred an adjustable hop up to really get as much as we can out of this spring pistol.
As a result, the P311 has quite good range, able to comfortably hit targets around 70 feet (about 20m) away.
The included plastic 12 round magazine is small but takes BBs easily, and ejecting and reloading mags is actually quite smooth.
Coming in at just over $20, the Game Face P311 airsoft spring pistol can be a great option for those looking for the most spring power for the money.
While it might not have quite the same heft or all the bells and whistles of a more expensive 1911 replica, it offers users relatively impressive FPS and decent accuracy for a low price.
Best High Capacity Airsoft Spring Pistol – FN Herstal FNS-9
| | |
| --- | --- |
| Pros | Cons |
| Very inexpensive, especially for a licensed model | Feels very light |
| Large capacity magazine | Fixed sights |
| Undermount rail for accessories | |
| Solid accuracy | |
| Reliable | |
| Decently powerful | |
| Officially licensed | |
If you're looking for something a little different than a standard 1911 airsoft pistol, the Cybergun FN Herstal FNS-9 might be just what you're looking for.
Licensed by FN Herstal, a Belgian company and the largest arms manufacturer in Europe, the Cybergun FNS-9 is an airsoft pistol that offers solid performance, a huge capacity and has a few extras that are definitely worth a look.
While the gun is all plastic, it is actually fairly true-to-life as the real steel FNS-9 is, itself, built with a polymer frame.
Although true to the real steel version, the spring model is very lightweight and can feel a bit like a toy to some users.
That said, the Cybergun FNS-9 comes with all the trademarks and looks of a real steel FNS-9 that you might expect and looks quite sleek and cool, with an undermounted picatinny rail for the easy addition of accessories.
The slide on the gun comes with fairly deep serrations, making it easy to cock and handle, and it comes with textured grips, although these can be a little too lightly textured for some users' preferences.
When it comes to performance, the FNS-9 proves itself an excellent all-rounder.
It offers good power, around 250 FPS with 0.20g BBs, and has great accuracy, producing nice, tight groupings even at range.
It's reliable, too, with users reporting few issues or breakages.
When it comes to mags, the Cybergun FNS-9 comes with an absolutely massive (for a spring airsoft gun) 120-round magazine, so there's no need to worry about running out of ammo. In fact, we'd wager your racking hand will get tired long before you run out of BBs.
On the downside, the gun is quite lightweight and can feel toy-like at times. Similarly, the sights are fixed, so there's not a whole lot users can do when it comes to adjustments for windage or elevation.
Often coming in at just under $20 or so, the Cybergun FNS-9 is an extremely affordable airsoft gun, even compared to many other spring airsoft pistols. Yet, despite its low price it does offer more than decent performance and accuracy and can be a great option for those starting out in airsoft, those looking for something other than a typical 1911 springer or those looking to dip their toes into airsoft pistols.
Advantages of a spring airsoft pistol
Suffice to say, spring powered airsoft pistols don't exactly have a great reputation in the airsoft world and they probably shouldn't be your first choice when it comes to a serious side arm for airsoft field use.
But if you're new to airsoft, dipping your toes into the world of airsoft pistols or are just looking for something inexpensive to fire off as part of some indoor/backyard target practice, there can be some significant advantages to spring airsoft pistols.
Price
With no motor, battery or gas system, spring powered airsoft pistols are the cheapest variety of airsoft pistols and are a very economical choice for someone looking to dip their toes in or do some casual airsoft shooting.
Generally speaking, you can easily pick up a decent quality airsoft spring pistol that will last you through a few years of shooting for less than $50.
And it's not just about the initial purchase price, either.
Upkeep costs are pretty low for spring pistols – there is no need to buy any gas canisters or cartridges, or batteries as in the case of AEPs, and a solid, well-made spring mechanism will last you for many years with minimal upkeep (some silicon lube to keep things smooth).
Reliability
Spring airsoft guns work by the user manually cocking them by hand. As mentioned above, there is no need for any gas system or electric motor to keep them operating.
As such, whether you're hanging around your backyard plinking away or playing with friends, as long as you have functioning arms (and a ready supply of BBs) you can always keep cocking the gun and shooting away – there is no need to worry about refilling or swapping anything.
Consistent power
As gas chambers empty, the amount of power that gas powered airsoft pistols supply starts to drop, and their FPS output can become unpredictable.
Weather, too, can have an effect on gas powered airsoft pistols, with FPS dropping significantly in cold weather and the guns becoming less gas efficient.
In contrast, spring-power is constant. No matter the weather or how long it's been in use, you can be sure that your weapon will perform pretty much the same as long as you still have the energy to cock it.

Simplicity
For an absolute beginner, or someone who just wants to hit some targets indoors or in their backyard, spring airsoft pistols are probably the easiest and simplest option to start out with.
They are usually easy to load, easy to maintain (needing only a little lube here and there on good quality models) and easy to fire.
While they may not be all that fast or powerful, with a spring pistol all you'll really have to do is concentrate on your aim.
Disadvantages of spring airsoft pistols
With all that said, there are reasons that spring airsoft pistols tend to be looked at with some skepticism by more serious-minded airsoft enthusiasts and reasons why they really aren't seen all that frequently on airsoft fields (aside from springer only games).
Relative Lack of Power
Compared to gas-powered airsoft pistols, spring powered airsoft pistols as a rule tend to be rather anemic when it comes to FPS, struggling to hit 300 in most cases.
While some companies, such as Tokyo Marui, often make gas airsoft pistols that chrono in the mid-200s, the lack of power is often made up for by far greater accuracy and build quality, as well as often being able to take advantage of a myriad of custom and upgrade parts to improve power output.
Slow Rate of Fire
Spring airsoft pistols don't have a great rate of fire for the simple reason that the vast majority require users to cock them by hand after every shot, like a single action but with more effort.
As a result, when facing opponents who only need to pull a trigger to fire off a shot (and sometimes have automatic functions) they can become something of a liability to their user in game.
Lack of Convenience
While it is nice to know that you'll never run out of gas or battery with an airsoft spring pistol, it can be quite physically tiring to constantly have to rack a slide before each shot.
Poor Reputation for Build Quality
While there are some great spring airsoft pistol models out there (like those on our list), spring pistols are typically the cheapest models that an airsoft manufacturer offers and, as a result, many put a lot less effort into their construction and quality control compared to their more profitable gas models.
Simply put, performance aside, there are a lot of cheap, poorly made models out there that have given spring airsoft pistols a bad name in the airsoft community.
Bottom Line
Spring airsoft pistols aren't every airsofters cup of tea, but they can be an affordable and convenient option for backyard plinkers and can be a great way for beginners to test the waters to see if they like the hobby altogether.
Being so affordable, however, it does mean that those looking to buy an airsoft spring pistol have to be careful to avoid the myriad of poor quality models that have flooded the market in recent years and look for models that can deliver some value for money.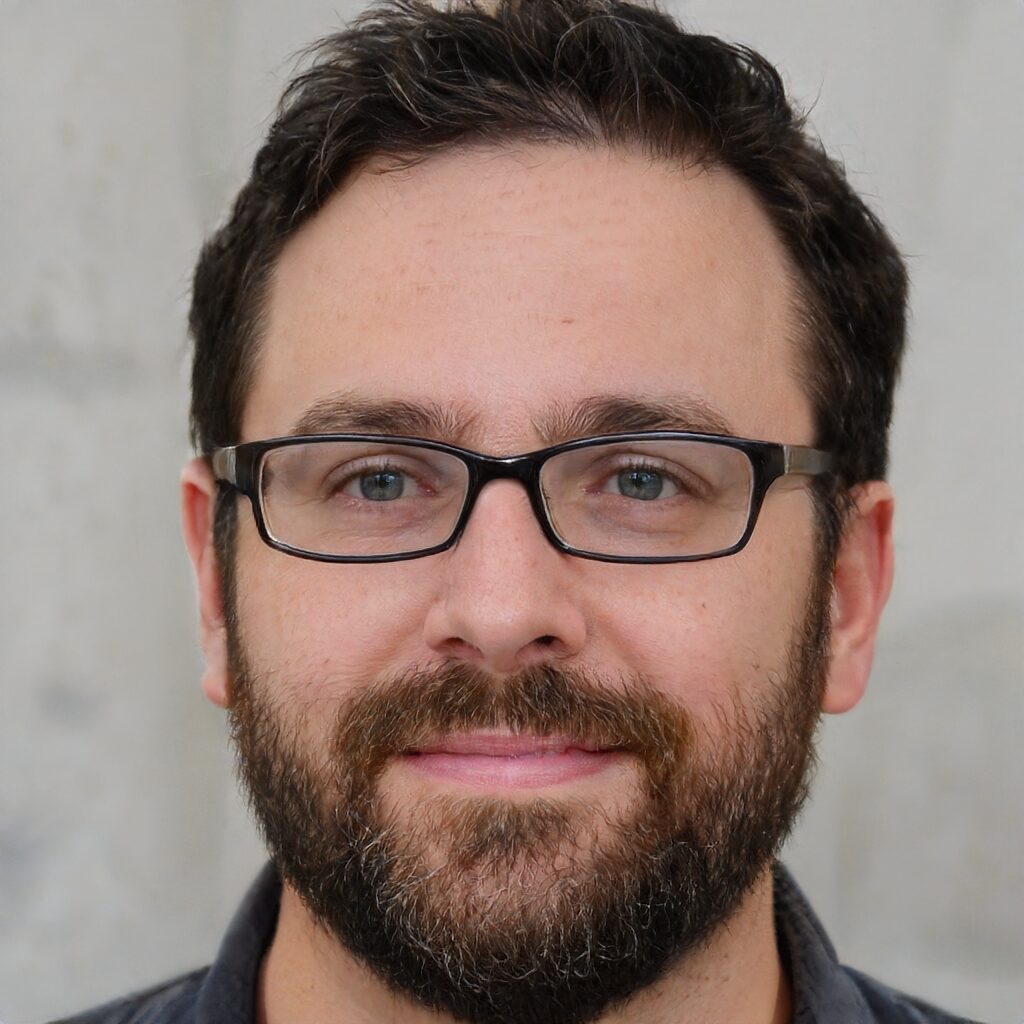 David Lewis – A longtime airsoft and airgun enthusiast and collector, our editor David's lifelong passion for tactical sports began in high school with some friends, a cheap knock-off airsoft M4, and an open field behind his parents' house.

When he's not plinking around, he enjoys sharing his knowledge of airsoft and helping those just starting out.